Electrophoretic Deposition and Characteristics of Chitosan–Nanosilver Composite Coatings on a Nanotubular TiO2 Layer
1
Department of Materials Engineering and Bonding, Gdańsk University of Technology, Narutowicza 11/12, 80–233 Gdansk, Poland
2
Department of Solid State Physics, Gdańsk University of Technology, Narutowicza 11/12, 80–233 Gdansk, Poland
3
Department of Analytical Chemistry, Gdańsk University of Technology, Narutowicza 11/12, 80–233 Gdansk, Poland
*
Author to whom correspondence should be addressed.
Received: 28 January 2020 / Revised: 26 February 2020 / Accepted: 3 March 2020 / Published: 6 March 2020
The surface treatment of titanium implants has been applied mainly to increase surface bioactivity and, more recently, to introduce antibacterial properties. To this end, composite coatings have been investigated, particularly those based on hydroxyapatite. The present research was aimed at the development of another coating type, chitosan–nanosilver, deposited on a Ti13Zr13Nb alloy. The research comprised characterization of the coating's microstructure and morphology, time-dependent nanosilver dissolution in simulated body fluid, and investigation of the nanomechanical properties of surface coatings composed of chitosan and nanosilver, with or without a surface-active substance, deposited at different voltages for 1 min on a nanotubular TiO
2
layer. The microstructure, morphology, topography, and phase composition were examined, and the silver dissolution rate in simulated body fluid, nanoscale mechanical properties, and water contact angle were measured. The voltage value significantly influenced surface roughness. All specimens possessed high biocompatibility. The highest and best adhesion of the coatings was observed in the absence of a surface-active substance. Silver dissolution caused the appearance of silver ions in solution at levels effective against bacteria and below the upper safe limit value.
View Full-Text
►

▼

Show Figures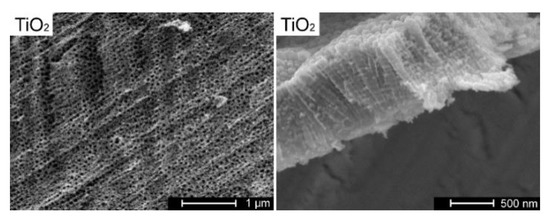 Figure 1
This is an open access article distributed under the
Creative Commons Attribution License
which permits unrestricted use, distribution, and reproduction in any medium, provided the original work is properly cited

MDPI and ACS Style
Bartmański, M.; Pawłowski, Ł.; Zieliński, A.; Mielewczyk-Gryń, A.; Strugała, G.; Cieślik, B. Electrophoretic Deposition and Characteristics of Chitosan–Nanosilver Composite Coatings on a Nanotubular TiO2 Layer. Coatings 2020, 10, 245.
Show more citation formats
Show less citations formats
Note that from the first issue of 2016, MDPI journals use article numbers instead of page numbers. See further details
here
.