Comparative Genomics among Closely Related
Streptomyces

Strains Revealed Specialized Metabolite Biosynthetic Gene Cluster Diversity

1

Université de Lorraine, INRA, DynAMic, F-54000 Nancy, France

2

Institute for Integrative Biology of the Cell (I2BC), CEA, CNRS, University Paris-Sud, University Paris-Saclay, Gif-sur-Yvette CEDEX, France

3

Biomolecules and Application Laboratory, Faculty of Exact Sciences and Natural and Life Sciences, University of Tebessa, Tebessa 12002, Algeria

4

Department of Biochemistry, Faculty of Science, University Badji Mokhtar Annaba, Annaba 23000, Algeria

*

Authors to whom correspondence should be addressed.

Received: 12 September 2018 / Revised: 27 September 2018 / Accepted: 28 September 2018 / Published: 2 October 2018
Abstract
Specialized metabolites are of great interest due to their possible industrial and clinical applications. The increasing number of antimicrobial resistant infectious agents is a major health threat and therefore, the discovery of chemical diversity and new antimicrobials is crucial. Extensive genomic data from
Streptomyces
spp. confirm their production potential and great importance. Genome sequencing of the same species strains indicates that specialized metabolite biosynthetic gene cluster (SMBGC) diversity is not exhausted, and instead, a pool of novel specialized metabolites still exists. Here, we analyze the genome sequence data from six phylogenetically close
Streptomyces
strains. The results reveal that the closer strains are phylogenetically, the number of shared gene clusters is higher. Eight specialized metabolites comprise the core metabolome, although some strains have only six core gene clusters. The number of conserved gene clusters common between the isolated strains and their closest phylogenetic counterparts varies from nine to 23 SMBGCs. However, the analysis of these phylogenetic relationships is not affected by the acquisition of gene clusters, probably by horizontal gene transfer events, as each strain also harbors strain-specific SMBGCs. Between one and 15 strain-specific gene clusters were identified, of which up to six gene clusters in a single strain are unknown and have no identifiable orthologs in other species, attesting to the existing SMBGC novelty at the strain level.
View Full-Text
►

▼

Figures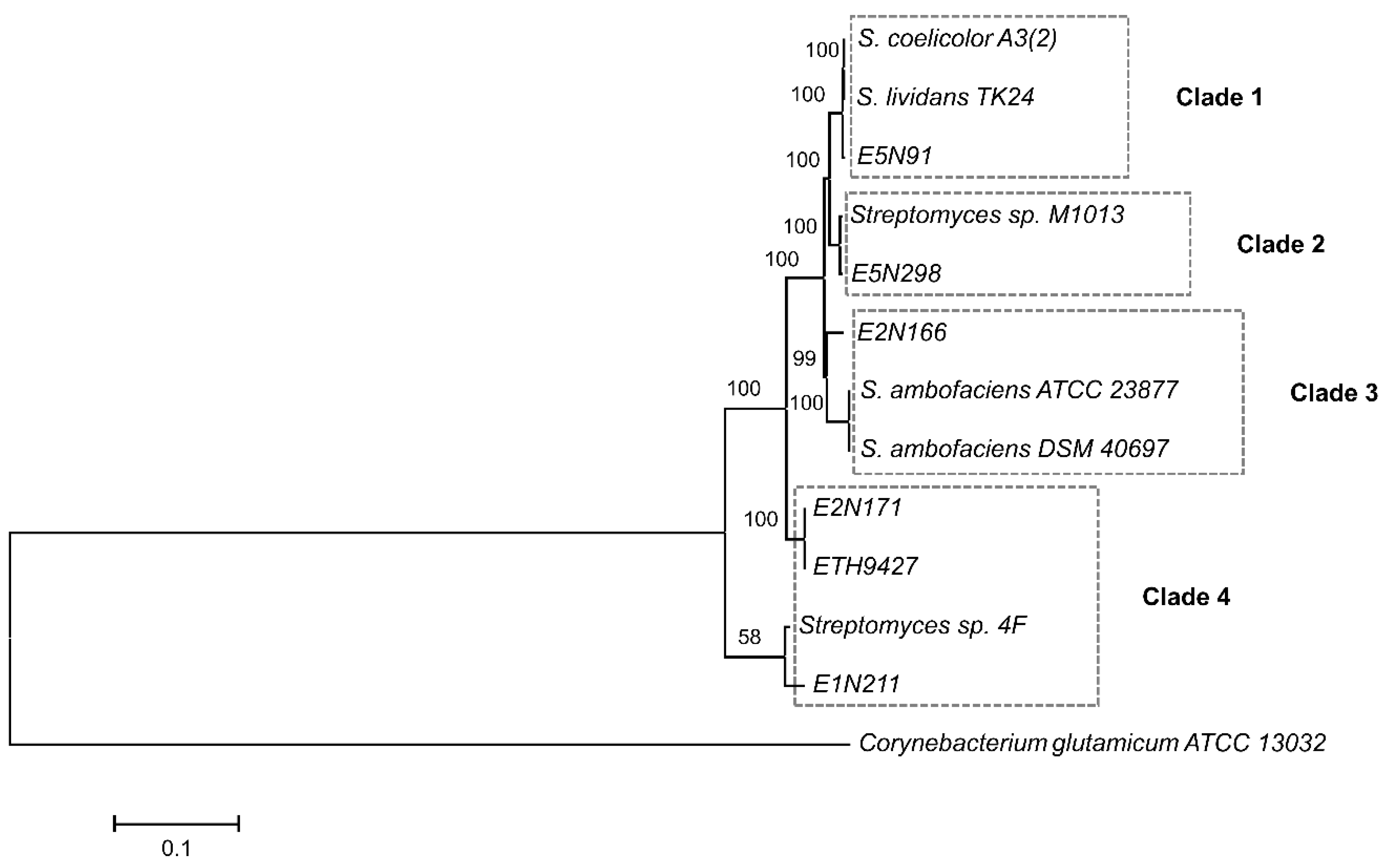 Figure 1
This is an open access article distributed under the
Creative Commons Attribution License
which permits unrestricted use, distribution, and reproduction in any medium, provided the original work is properly cited (CC BY 4.0).

Share & Cite This Article
MDPI and ACS Style
Vicente, C.M.; Thibessard, A.; Lorenzi, J.-N.; Benhadj, M.; Hôtel, L.; Gacemi-Kirane, D.; Lespinet, O.; Leblond, P.; Aigle, B. Comparative Genomics among Closely Related Streptomyces Strains Revealed Specialized Metabolite Biosynthetic Gene Cluster Diversity. Antibiotics 2018, 7, 86.
Note that from the first issue of 2016, MDPI journals use article numbers instead of page numbers. See further details here.
Related Articles
Comments
[Return to top]