Open Access This article is
freely available
re-usable
Review
Engineering of Phage-Derived Lytic Enzymes: Improving Their Potential as Antimicrobials
Research Institute for Medicines (iMed.ULisboa), Faculty of Pharmacy, Universidade de Lisboa, Av. Prof. Gama Pinto, 1649-003 Lisboa, Portugal
Received: 2 February 2018 / Accepted: 20 March 2018 / Published: 22 March 2018
Abstract
:
Lytic enzymes encoded by bacteriophages have been intensively explored as alternative agents for combating bacterial pathogens in different contexts. The antibacterial character of these enzymes (enzybiotics) results from their degrading activity towards peptidoglycan, an essential component of the bacterial cell wall. In fact, phage lytic products have the capacity to kill target bacteria when added exogenously in the form of recombinant proteins. However, there is also growing recognition that the natural bactericidal activity of these agents can, and sometimes needs to be, substantially improved through manipulation of their functional domains or by equipping them with new functions. In addition, often, native lytic proteins exhibit features that restrict their applicability as effective antibacterials, such as poor solubility or reduced stability. Here, I present an overview of the engineering approaches that can be followed not only to overcome these and other restrictions, but also to generate completely new antibacterial agents with significantly enhanced characteristics. As conventional antibiotics are running short, the remarkable progress in this field opens up the possibility of tailoring efficient enzybiotics to tackle the most menacing bacterial infections.
Keywords:
endolysin; lysin; lytic enzyme; peptidoglycan hydrolase; antimicrobial; antibacterial; antibiotic resistance; antimicrobial resistance; bacteriophage
1. Introduction
Based on several examples, the following sections will present how PLE features can be improved through protein modification and engineering strategies. Since the rational for several of the PLE tailoring approaches resulted from key knowledge on the mode of action and biochemical characteristics of the lytic enzymes, these aspects we will be covered first.
2. Mode of Action of VALs and Endolysins during Phage Infection
Understanding the biological context and mode of action of PLEs may provide valuable information for their exploration as enzybiotics. VALs are typically associated with the phage DNA injection machinery. Most frequently, they correspond to individual components or to domains of phage tail substructures, like the tape measure protein, central fibers, tail tip knobs, and tail tip puncturing devices, but they can also be capsid inner proteins [
10
,
12
,
19
]. Specific binding of phage tail receptor binding proteins (RBPs) to host cell surface receptors triggers major virion conformational changes that place VALs in close contact with the bacterial CW [
24
]. This frequently involves the protrusion and insertion in the bacterial cell envelope of tail structures that carry VALs. A landmark example is provided by myoviruses like phage T4 and their contractile tails. Upon tail sheath contraction, the tail tube with a puncturing device at its tip penetrates the cell envelope [
25
]. One of the proteins composing the piercing apparatus in T4 is gp5, which has muralytic activity [
26
,
27
]. Some siphoviruses (long, non-contractile tails) were shown to eject and insert in the cell envelope the internal tail tube formed by the tape measure protein, which may also be endowed with peptidoglycan-cleaving activity [
28
,
29
]. After irreversible binding to cell receptors, podoviruses (short tails) like phage T7 eject the proteins composing the capsid inner core to form an extended tail tube that spans the cell envelope. One of the T7 core proteins is gp16 that has CW-degrading activity ([
30
] and references therein). Other podoviruses like φ29 simply seem to drill through the CW, helped by the peptidoglycan hydrolysis activity of one of the components of the tail tip knob [
31
]. In conclusion, independently of the mechanism of action, VALs are thought to promote a local digestion of the peptidoglycan structure to allow penetration or extension of the tail tube across the CW and its subsequent fusion to the CM. Tail tube insertion in the CM is then followed by the translocation of the viral DNA into the bacterial cytoplasm [
32
] (
Figure 1
a).
Endolysins are produced in the cytoplasm of infected cells and need, therefore, to overcome the CM barrier in order to reach the CW and exert their lytic action. These enzymes can be generally classified in canonical endolysins (c-endolysins) or exported endolysins (e-endolysins), depending on the pathway they follow to reach the CW. In the first case, endolysins require the action of a second phage-encoded function, the holin, to be able to escape the cytoplasm. Holins build and oligomerize in the CM, and at a genetically programed time they are triggered to form holes, which cause the lethal collapse of the CM proton-motive force (pmf) [
33
]. Additionally, these holes are large enough to allow escape of the cytoplasm-accumulated c-endolysin to the CW, which is an essential requirement for occurring lysis. This mechanism defines the so-called canonical lysis model and is prototyped by
Escherichia coli
phage λ [
33
] (
Figure 1
b). The endolysins that have been explored as enzybiotics are c-endolysins.
The currently known non-canonical lysis systems employ e-endolysins [
13
,
34
,
35
]. Here, the lytic enzymes are exported to the CW compartment by engaging host cell transport machineries, most frequently the general secretion pathway (the Sec system). E-endolysins start to accumulate in the CW during the viral reproductive cycle, but their lytic activity is inhibited by mechanisms that depend on an energized CM. In fact, although holins do not participate in endolysin channelling to the CW, they still maintain the key role of defining the lysis timing thanks to their pmf-dissipating action, which abolishes the mechanisms that restrain the lytic enzymes (
Figure 1
c). Interestingly, it was recently shown that energized bacterial cells can also counteract the lytic action of c-endolysins when artificially exported to the CW (from within), or when added from without as recombinant proteins. These results suggest that in canonical lysis, holins may also "activate" endolysins as result of their pmf-collapsing activity [
36
].
A notion that easily emerges from the comparison of the mode of action of the two types of PLEs is that VALs are "naturally designed" to act on the CW of viable and dividing bacteria, whereas in their natural context both c- and e-endolysins cut the peptidoglycan of cells that are first killed by the holin.
3. Enzymatic Activity of PLEs
The antibacterial potential of PLEs resides in their capacity to cleave different bonds of the CW peptidoglycan network. The murein polymer has as repeating unit a disaccharide made of
N
-acetylglucosamine (NAG) and
N
-acetylmuramic acid (NAM), linked by glycosidic bonds
β
(1 → 4). Neighbouring glycan strands are cross-linked by penta/tetrapeptide side stems that are attached to NAM via amide bonds. The most frequent type of cross-linking involves the amino acid residues at positions 3 (often L-Lys or meso-diaminopimelic acid (m-DAP)) and 4 (D-Ala) of adjacent peptide chains. The peptide stems are interconnected by a direct interpeptide bond in most Gram-negative bacteria and few Gram-positive species, whereas peptide chain cross-linking occurs via an interpeptide bridge in the majority of Gram-positive bacteria. The different peptidoglycan types among bacteria derive mostly from variations within the peptide moiety, notably in the amino acidic composition of the interpeptide bridges [
11
,
37
] (
Figure 2
).
The catalytic domains (CDs) of PLEs, also referred to as enzymatically active domains (EADs), can be classified into three major categories according to their murein cleavage specificity: glycosidases, amidases, and endopeptidases [
10
,
15
]. Glycosidases cleave one of the two glycosidic bonds in the glycan chain and can be subdivided into
N
-acetyl-
β-
d
-glucosaminidases (glucosaminidases),
N
-acetyl-
β-
d
-muramidases (muramidases or lysozymes), and lytic transglycosylases (
Figure 2
). Amidases (
N
-acetylmuramoyl-
l
-alanine amidases) hydrolyse the amide bond connecting NAM to the first amino acid residue of the peptide stem (generally L-Ala), while endopeptidases cleave within or between the peptide strands (
Figure 2
). All CDs seem to break the peptidoglycan though a hydrolysis mechanism, except lytic transglycosylases [
15
].
The most common CDs in known endolysins specify muramidase or amidase activity, whereas VALs seem to carry preferentially glycosidase and endopeptidase activities (the latter almost exclusively present in phages infecting Gram-positive bacteria). The CD may impact the range of activity of a given PLE, depending on whether it targets widely conserved peptidoglycan bonds (such as the glycosidic bonds) or linkages that are specific to particular CW types (like the pentaglycine peptide bridge of staphylococcal CW).
The increasing number of PLE sequences deposited in protein databases has enabled the organization of CDs and CW binding domains (see next) into different families and superfamilies [
15
,
38
]. This classification coupled to powerful bioinformatics tools [
39
] frequently allow the inclusion of PLE CDs into known superfamilies/families and infer about the type of muralytic activity. This analysis, however, should be confirmed experimentally to avoid erroneous assumptions. For example, CDs of the CHAP family most often display endopeptidase activity [
40
,
41
], but they can also work as amidases [
42
] or even exhibit both types of activity [
43
]. Another interesting observation is that CDs presenting the same murein cleavage specificity can be grouped into distinct families according to their sequence relatedness.
4. Domain Architecture of PLEs
In their simplest form, PLEs are monomeric, globular proteins that essentially correspond to the CD responsible for cleaving a specific peptidoglycan bond. In fact, this simple structure is predominant among endolysins of phages infecting Gram-negative bacteria. In the next step of complexity, endolysins may possess a cell wall binding domain (CWBD or CBD) connected to the CD by a linker segment. The CWBD has high affinity to a particular cell envelope component, and, in general, it contributes positively to the lytic action of endolysins against natural target bacteria. According to the level of conservation of the cell envelope ligand, the CWBD will variably influence the endolysin spectrum of activity. It should be noted, however, that depending on the endolysin and/or target bacteria, the presence of CWBD may or may not be essential for enzybiotic applications (see
Section 5.2
). Well-known examples of CW binding motifs targeting the murein or other polymeric components of the CW include LysM, SH3 (with different subtypes), the cell binding domains (CBDs) of listerial endolysins, and the choline-binding repeats (ChBRs) of streptococcal endolysins [
44
,
45
,
46
,
47
]. Modular endolysins with an N-terminal CD region coupled to a C-terminal CWBD are typical of phages infecting Gram-positive hosts and mycobacteria [
15
,
48
]. The modular character of endolysin CDs and CWBDs was early recognized in pioneer studies of the lytic enzymes of
S. pneumoniae
and its phages, which showed that natural chimeric enzymes are generated through evolution by the interchange of cleavage and binding modules [
47
,
49
].
In addition to the two basic domain configurations referred to above, other endolysin architectures exist that essentially vary regarding the presence, number, and relative position of CDs and CWBDs (for reviews on the diversity of endolysin domain architectures see [
15
,
38
,
50
]). For example, endolysins equipped with two CDs that target distinct peptidoglycan bonds or that carry tandem repetitions of CW binding motifs are quite common in Gram-positive systems. Moreover, a considerable number of endolysins with peptidoglycan binding modules at their N-terminus have already been described for phages infecting Gram-negative hosts ([
51
,
52
] and references therein). It is also worth noting that some endolysins seem to work as hetero-oligomeres, in which CD-containing subunits associate with several independently produced copies of the CWBD. In the case of the streptococcal multimeric endolysin PlyC, the dual-CD subunit (PlyCA) and the 8-mer CWBD (PlyCB) are expressed from separate genes [
42
,
53
]. In the case of the enterococcal Lys170 and of the clostridial CD27L and CPT1L lytic enzymes, a single gene with an internal translation start site generates both the full-length endolysin and independent CWBD subunits, which then associate [
54
,
55
].
Figure 3
a illustrates the CD and CWBD arrangements found among endolysins that have been studied as antibacterial agents. Besides CD and CWBD modules, most known endolysins involved in non-canonical lysis modes (e-endolysins, see
Section 2
) are endowed with N-terminal secretion signals such as Sec-type signal peptides or "signal-anchor-release" (SAR) domains [
13
,
35
].
VALs are much less studied than endolysins regarding their biochemical properties, murein degrading activity, and antimicrobial potential. In addition to the function associated with murein cleavage, they may play a role in the morphogenesis and stability of phage virions. VALs tend to be multidomain and much larger than endolysins, and some are found as oligomers in the virus particle. Still, the VAL CDs responsible for cutting peptidoglycan are related to their counterparts in endolysins. In contrast to VALs of phages infecting Gram-negative bacteria, those of Gram-positive systems frequently carry two CDs, with distinct cleavage specificities, and with variable modular organization. The vast majority of known VALs do not exhibit any obvious CWBD under in silico analysis. The presence of this domain is probably dispensable, because VAL/CW contact is guaranteed by the tight interaction between phage tails and host cell surface receptors. The absence of CWBD in VALs constitutes a major difference relative to endolysins (for reviews on VALs features, see [
10
,
19
]).
Figure 3
b presents the domain architecture of some VALs that have been explored (or their CDs) as enzybiotics.
5. Improving the Potential of PLEs as Antibacterials through Protein Engineering
As referred earlier, over the past twenty years numerous studies have supported that native PLEs, particularly endolysins targeting Gram-positive bacteria, are capable of antibacterial activity when added from without. More recently, however, a growing number of reports have described enzybiotics with improved features as result of PLEs modification and engineering of new derivatives. Among the upgraded properties, we can find the enhancement of killing activity against bacteria growing in different conditions and environments, the expansion of the natural bactericidal spectrum, and the extension of PLEs as efficient antibacterial agents towards Gram-negative pathogens. At the production level, different strategies have been followed to increase enzybiotic solubility when heterologously expressed (almost always in
E. coli
) and subsequent stability. Remarkably, as we will see next, several of these improvements may be achieved by a single engineering approach.
The seminal studies demonstrating the modular character of the functional domains of peptidoglycan hydrolases from Gram-positive systems were the basis for the most widely used engineering strategy applied to PLEs, that is, the shuffling and fusion of CDs and CWBDs of different origin to generate chimeric lytic enzymes (also known as chimeolysins). The design of chimeolysins has been much helped by the increasing availability of PLEs tridimensional structures and bioinformatics tools. These normally allow identification and delimitation of enzyme functional domains at the sequence level, and fairly good prediction of their biochemical properties. The native features of PLEs functional domains are usually preserved after being combined to generate certain chimeolysins. This has been explored to tailor enzybiotics with specific properties.
Other tailoring approaches applied to PLEs include fusion of full-length lytic enzymes, domain deletion, addition or duplication, random or site-directed mutagenesis, fusion to peptides, and the combination of few of these [
17
,
23
,
63
]. Examples of PLE engineering or modification strategies and how they enhance specific enzybiotic features are provided next.
5.1. Generation of Chimeolysins with Increased Lytic Spectrum and Activity
5.2. Other Enginnering Approaches to Expand the Lytic Spectrum and Activity of PLEs
5.3. Improving the Production, Solubility, and Stability of PLEs
5.4. Minimizing Development of Resistance to PLEs
The presently available studies support that emergence of resistance to endolysins should occur at much reduced levels when compared to antibiotics and other lytic enzymes like exolysins (studies summarized in [
15
,
127
]). It has been hypothesized that endolysins probably evolved to target essential CW components that cannot be easily modified without seriously compromising bacterial fitness, thus ensuring virion release and phage survival at the end of infection [
127
]. Nevertheless, in a recent study Becker et al. [
116
] hypothesized that the chances of resistance development could be further reduced if multiple, different CDs were assembled in a single enzybiotic. This was tested using fusions incorporating the two CDs of LysK and the CD of lysostaphin, in two possible configurations, K-L or L-K. In K-L, a LysK segment encompassing its two CDs was fused to the N-terminus of lysostaphin. In the L-K configuration, the same dual-CD segment was inserted between the CD and the SH3b-type CWBD of lysostaphin. The chimeolysins carried thus the endopeptidase (CHAP) and amidase CDs of LysK and the endopeptidase CD (M23) of lysostaphin, while sharing the same C-terminal CWBD (SH3b from the exolysin). Depending on the assay, the triple-CD fusions showed slightly decreased or equivalent in vitro activity when compared to the parental lytic enzymes. However, when the
S. aureus
strain Newman was exposed to sub-lethal doses of the four agents during 10 growth rounds, either in liquid cultures or in solid medium, the emergence of resistance (assessed as the MIC fold-increase) was much lower with the chimeolysins, especially compared to lysostaphin. The fusions were effective as the parental enzymes at eradicating biofilms, whereas the L-K fusion exhibited superior killing activity in a rat nasal model.
In a previous study, Rodríguez-Rubio et al. [
128
] evaluated the emergence of
S. aureus
resistance to four lytic enzymes: lysostaphin, the LysK-like endolysin LysH5 (from phage phiIPLA88), and the fusions HydH5Lyso and HydH5SH3b. The latter chimeolysins were generated by adding lysostaphin, or its SH3b CWBD, respectively, to the dual-CD VAL (HydH5) of phage phiIPLA88 (
Figure 3
b). While
S. aureus
cells resistant to lysostaphin were rapidly isolated after 1 or 2 growth cycles, none could be detected after exposure to the endolysin or to the chimeolysins in 10 rounds of subculturing, either in liquid or solid medium.
5.5. Enhancing PLEs as Antibacterials towards Gram-Negative Bacteria
5.6. Targeting Intracellular Bacteria with PLEs
The use of enzybiotics has been mainly foreseen to combat bacterial pathogens that mostly present an extracellular life style when infecting or colonizing animal hosts, as happens with the species mentioned throughout this review. However, many of these pathogens (e.g.,
S. aureus
,
S. pneumoniae
,
S. pyogenes
,
E. coli
) can also have a phase of intracellular inhabitance that can be important for the establishment of infection, to evade antimicrobials and the immune system, or to persist within the host [
143
]. Somewhat unexpectedly, recent studies have uncovered the capacity of enzybiotics to get inside mammalian cells and kill resident bacteria. The first work used LysK (K), lysostaphin (L), and their fusion derivatives K-L and L-K. These fusions are triple-CD chimeolysins that were described to significantly reduce the chances of emergence of resistant bacteria (see
Section 5.4
) [
116
]. The authors assumed that these lytic agents could not enter animal cells. Therefore, following a previous proposal [
144
], eleven protein transduction domains (PTDs) were individually fused to the C-terminus of the four enzybiotics. PTDs are typically short, highly cationic peptides, some naturally occurring, which promote protein transduction across eukaryotic cell membranes [
145
]. Curiously, the PTDs only produced the expected effect when added to lysostaphin, with some L-PTDs capable of killing
S. aureus
internalized in three different cell lines. Strikingly, the K-L fusion had the intrinsic capacity to reduce
S. aureus
intracellular counts in two different cells lines, and addition of a PTD did not improve its killing effect. The K-L-PTD1 fusion was nevertheless superior at clearing
S. aureus
in a murine model of mastitis and in biofilm eradication when compared to K-L [
116
].
The results of the previous work further support that appending cationic peptides to enzybiotics designed to act on Gram-positive bacteria may enhance their antibacterial activity in certain conditions (see Art-240 above). In addition, the study brought to light the possibility of enzybiotic uptake by animal cells. In fact, quite recently Shen et al. [
146
] discovered that the multimeric streptococcal endolysin PlyC could significantly reduce the counts of
S. pyogenes
cells internalized in different human epithelial cell lines, including primary tonsillar epithelial cells. Two other streptococcal endolysins, B30 and Ply700, failed to significantly reduce intracellular
S. pyogenes
in the same assays. PlyC movement across the membrane of epithelial cells was shown to depend on the PlyCB subunit and on its capacity to bind membrane phospholipids, particularly phosphatidylserine. PlyC uptake depended also on caveolae-mediated endocytosis, and endolysin internalization was not harmful to epithelial cells. These results opened new venues for the enzybiotics field, as it is now attractive to explore the potential of these antibacterial agents as killers of intracellular pathogens. In addition, the identification of enzyme's elements like PlyCB that facilitate transport across animal cell membranes provides new engineering opportunities, as these elements may be used to deliver heterologous CDs or other cargos.
6. Conclusions
Enzybiotics derived from phage lytic products are among the most promising alternatives to fight antibiotic-resistant bacteria. In recent years, there has been great investment in modification and engineering approaches to develop enzybiotics with high therapeutic potential to enter clinical trials. Efforts have been made to obtain products with maximized bactericidal activity in vitro and in vivo, with good coverage of the most relevant clinical strains and with the necessary features for large scale production, formulation, and storage. Among the multiple strategies that have been followed, of particular note is the engineering of chimeolysins, the modification of PLEs net charge, and the Artilysin technology. Chimeolysins are among the most potent enzybiotics produced thus far and have been improved by the recent incorporation of VAL CDs in their design. Several studies point to an increase in the affinity and activity of PLEs when their net charge is progressively shifted from negative to positive, an effect that is explained by the fact that the bacterial cell envelope is usually negatively charged. Artilysation of PLEs was a crucial advancement to make enzybiotics a credible alternative to fight Gram-negative pathogens. Interestingly, there is a good chance that this technology may be adapted to improve also enzybiotics targeting Gram-positive bacteria. Finally, the recent discovery that PLEs can cross the membrane of animal cells and kill residing bacteria opens the possibility of using these agents to target obligatory or facultative intracellular pathogens.
Conflicts of Interest
The author declares no conflict of interest.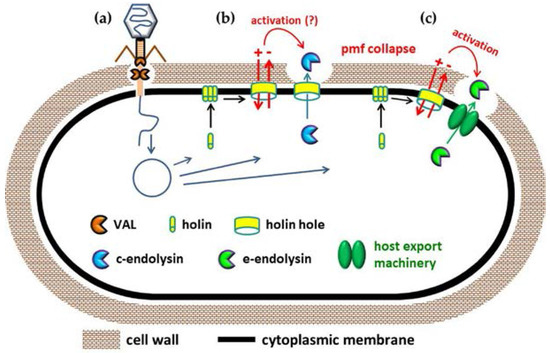 Figure 1. Natural context of action of phage lytic enzymes (PLEs). (a) Virion-associated lysins (VALs) promote a local digestion of the cell wall (CW) peptidoglycan to assist penetration of the phage tail tube and passage of the viral DNA to the host cell cytoplasm. After phage genome expression, infected cells must lyse to release the newly-formed virus particles. This is achieved thanks to the peptidoglycan-degrading activity of endolysins; (b) Most known endolysins gain access to the CW compartment through the holin channels (c-endolysins); (c) Some, however, are exported (e-endolysins) via host cell machineries (e.g., the bacterial Sec system). Holin-mediated dissipation of the cytoplasmic membrane proton-motive force (pmf) is an essential requirement for activation of e-endolysins, while it may also potentiate the lytic activity of c-endolysins (see text).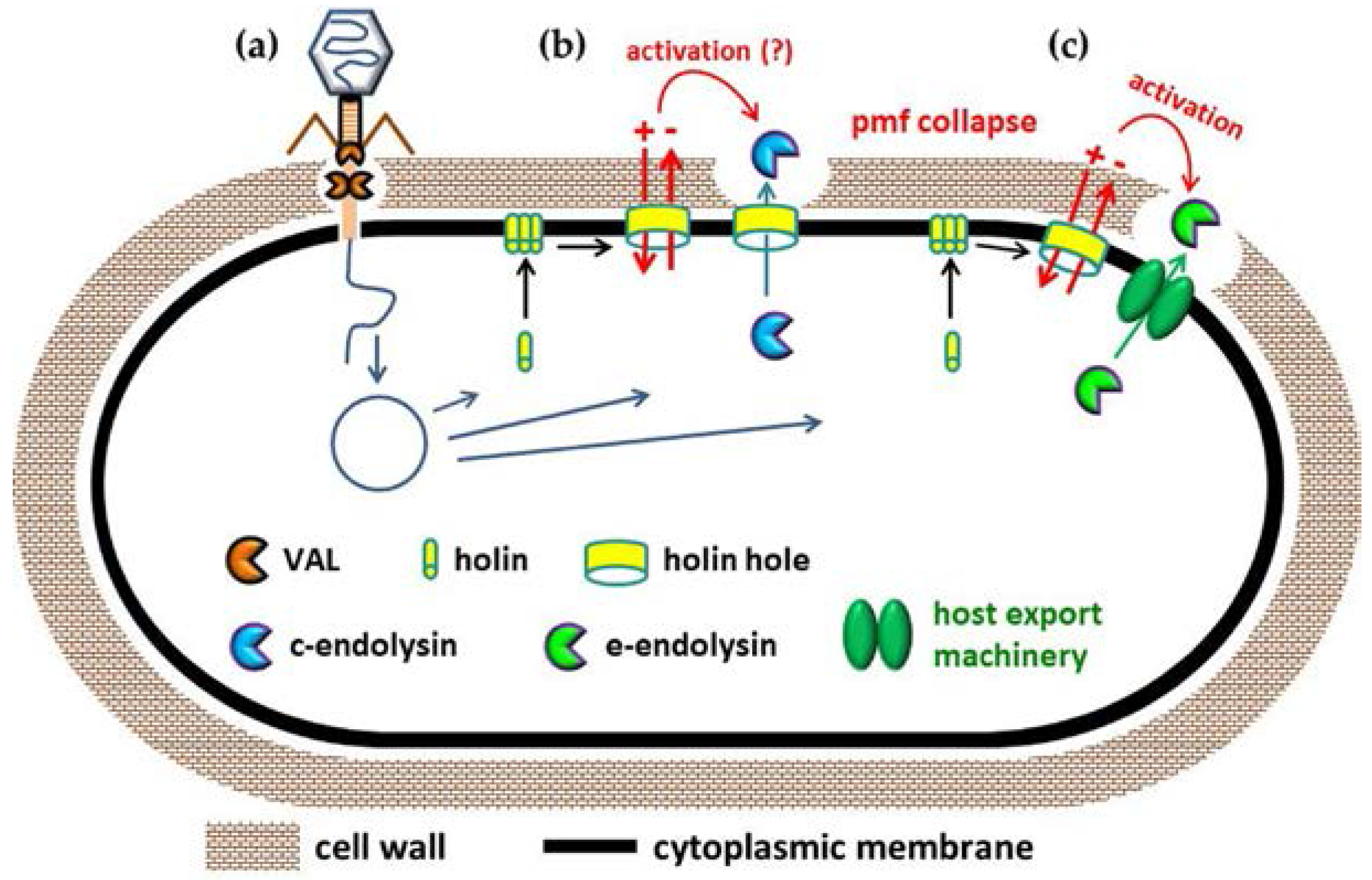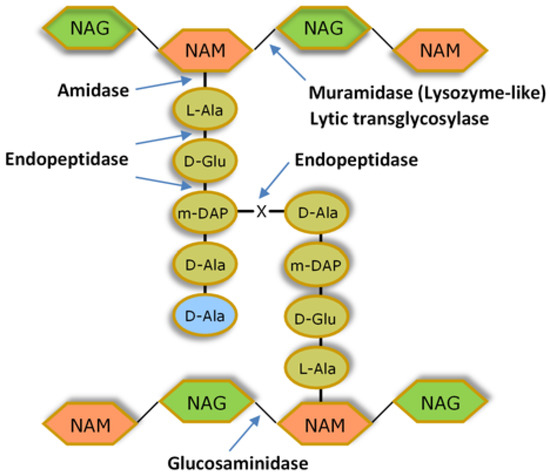 Figure 2.
Basic structure of the bacterial cell wall peptidoglycan. The possible enzymatic activities of PLEs and the bonds they cleave are indicated. Typically, PLEs carry one or two catalytic domains displaying one of the indicated enzymatic activities. m-DAP is found in the peptide chains of the peptidoglycan of most Gram-negative bacteria,
Bacillus
spp. and
Listeria
spp., which present also direct m-DAP-D-Ala bonding between adjacent stem peptides. In most Gram-positive bacteria, m-DAP is replaced by L-Lys. Cross-linking between this residue and D-Ala of a neighbor peptide chain usually occurs by an interpeptide bridge of variable amino acidic composition (X). Despite some variation observed among isolates of the same bacterial species, examples of X bridges are (Gly)
5
found in
Staphylococcus aureus
, L-Ala-L-Ala in
Enterococcus faecalis
and
Streptococcus pyogenes
, D-Asp in
E. faecium
, and L-Ser-L-Ala in
S. pneumoniae
. The D-Ala residue in light blue may be lost after peptidoglycan maturation.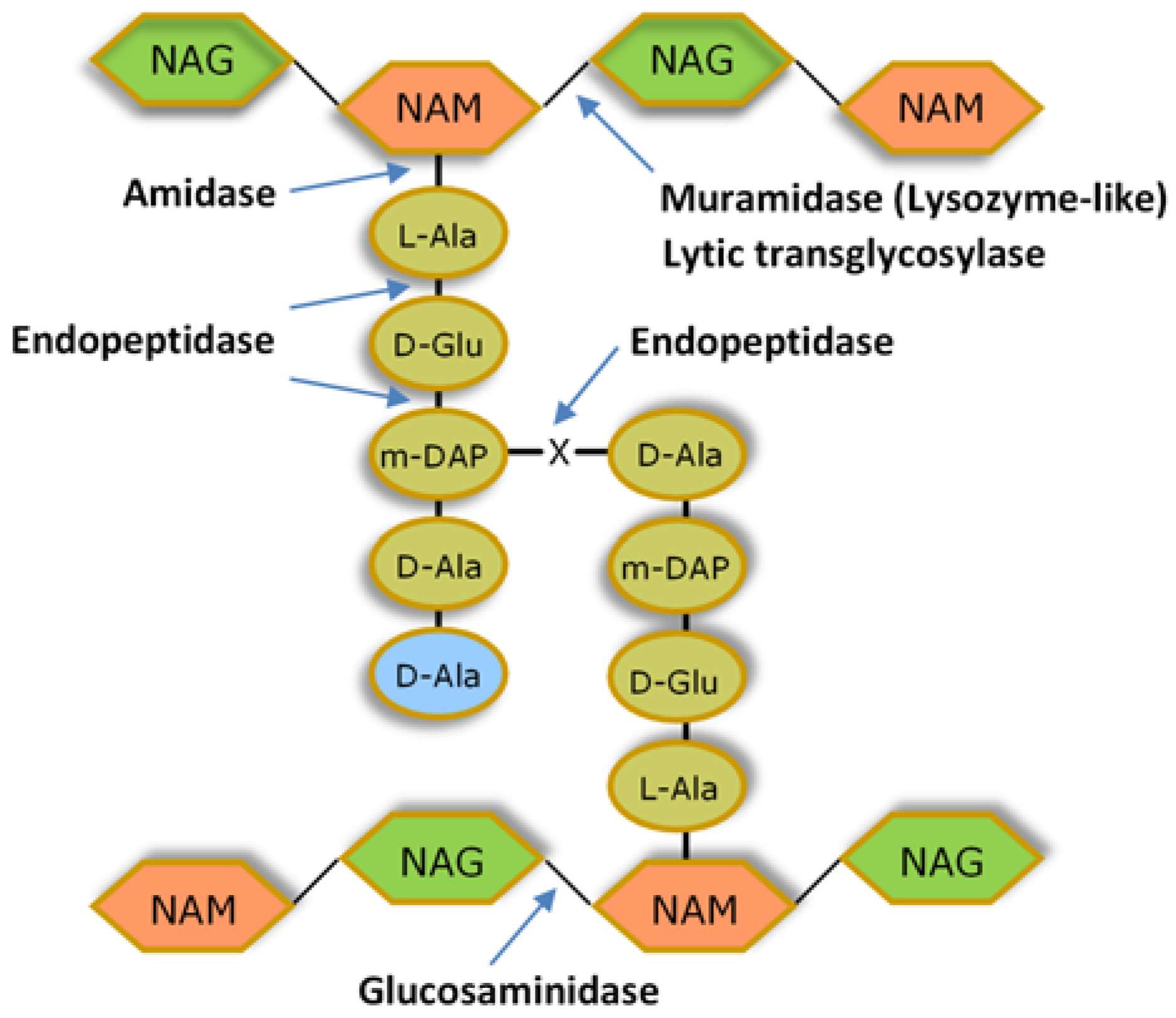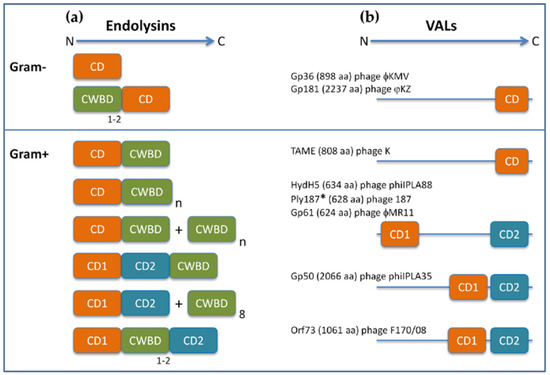 Figure 3.
Domain architecture of endolysins (
a
) and VALs (
b
) that have been explored as enzybiotics, from Gram-positive and Gram-negative systems. CD, catalytic domain; CWBD, cell wall binding domain. The cardinals indicate the copy number of CW binding motifs composing the CWBD. The "n" letter indicates that a variable number of CW binding motifs may compose the CWBD (2 to 7 copies). These may be present either as tandem repetitions (in monomeric enzymes) or as oligomers when the CWBD subunit is independently produced by in-frame, alternative start sites (see text). The subunits of hetero-oligomeric endolysins are separated by the "+" sign. The presented VALs are from phages infecting
Pseudomonas aeruginosa
[
56
,
57
],
S. aureus
[
58
,
59
,
60
,
61
], and
E. faecalis
[
62
]. * Ply187 was firstly described as an endolysin. Schemes of phage lytic enzymes are not drawn to scale.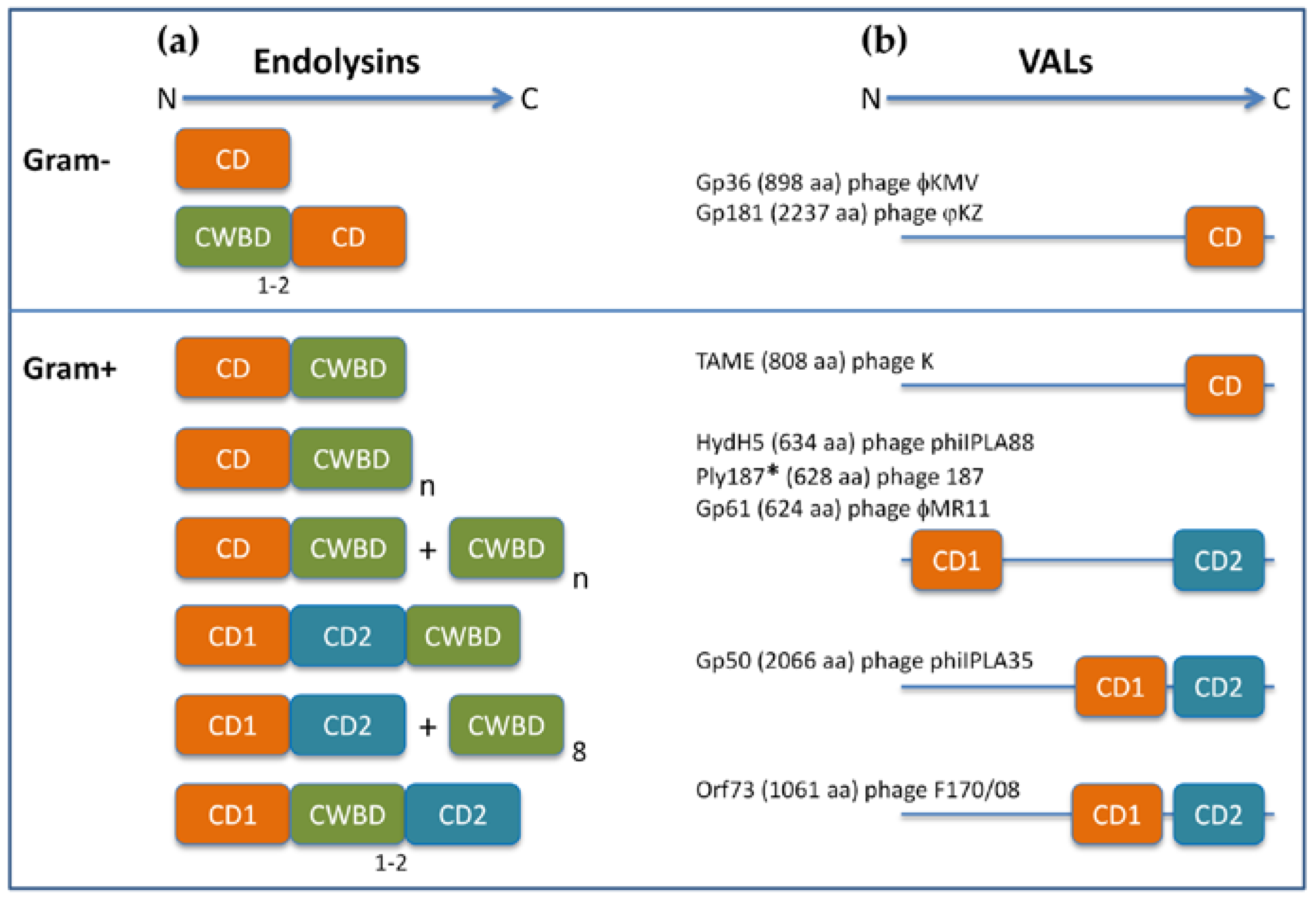 Chimeolysin
CD Source
CWBD Source
Susceptible Bacteria
In Vivo Assay(s)
Outcome
Reference
EAD118_III_CBDPSA
Endopeptidase CD of Ply118 (endolysin

L. monocytogenes

phage A118)
PlyPSA (endolysin

L. monocytogenes

phage PSA)

L. monocytogenes

Not reported
3-fold higher activity compared with parental PlyPSA
[65]
λSA2-E-Lyso-SH3b and λSA2-E-LysK-SH3b
Endopeptidase CD of λSA2 (endolysin

S. agalactiae

prophage λSA2)
SH3b-like CWBD of Lysostaphin or of LysK (endolysin of

S. aureus

phage K)
Staphylococci, streptococci
Mouse model of mastitis
Efficient activity extended to

S. aureus

while retaining significant streptolytic activity
[67,68]
ClyR
Amidase CD (CHAP) of PlyC (endolysin streptococcal phage C1)
PlySs2 (endolysin

S. suis

prophage)
Several streptococcal species (including

S. pneumoniae

),


E. faecalis

,


S. aureus

Murine models of

S. agalactiae

systemic infection and of

S. mutans

dental colonization
Higher activity and broader lytic spectrum than the parental and other streptococcal endolysins. Stable under storage
[69,70]
Cpl-711
Muramidase CD of Cpl-7S (improved variant of pneumococcal endolysin Cpl-7, see below)
Cpl-1 (endolysin pneumococcal phage Cpl-1)

S. pneumoniae

,


S. mitis

Murine bacteraemia model
Greater killing and antibiofilm activity than parental endolysins in vitro. Superior protection compared with Cpl-1 in a mouse model of bacteraemia
[71]
Csl2
Muramidase CD of Cpl-7 (endolysin pneumococcal phage Cp-7)
LySMP (endolysin

S. suis

phage SMP)

S. suis

,


S. pseudopneumonia

,


S. mitis

,


S. oralis

Adult zebrafish model of infection
Superior bactericidal and antibiofilm activity than parental LysSMP
[72]
PL3
Amidase CD of Pal (endolysin pneumococcal phage Dp-1)
First two choline-binding repeats of Pal and the last four of LytA (major pneumococcal autolysin)

S. pneumonia

and other choline-containing streptococci
Zebrafish embryo infection model
Superior bactericidal activity than parental enzymes and high stability
[73]
CHAPSH3b
Endopeptidase CD (CHAP) of HydH5 (VAL

S. aureus

phage phiIPLA88)
SH3b-like CWBD of lysostaphin (bacteriolysin

S. simulans

)

S. aureus

,


S. epidermidis

Not reported
Thermostability. Much higher activity than the parental HydH5
[59,74,75,76]
P128
Putative endopeptidase (CHAP) of Orf56 (VAL

S. aureus

phage K)
SH3b-like CWBD of lysostaphin (bacteriolysin

S. simulans

)

S. aureus

,


S. epidermidis

,


S. carnosus

,


S. simulans

Rat nasal colonization model (

S. aureus

USA 300)
P128 has much higher killing activity than the isolated CHAP CD of Orf56. Effective antibiofilm activity. Better thermostability than lysostaphin
[58,77,78]
Ply187AN-KSH3b
Putative endopeptidase CD of Ply187 (PLE from

S. aureus

phage 187)
SH3b-like CWBD of LysK (endolysin of

S. aureus

phage K)

S. aureus

and other staphylococcal species
Mouse model of

S. aureus


Endophthalmitis
More active than native Ply187 and Ply187AN truncated Enzyme. Effective antibiofilm activity
[79,80]
EC300
Putative endopeptidase CD (M23) of Orf73 (putative VAL

E. faecalis

phage F170/08)
Oligomerization-prone CWBD of Lys170 (endolysin

E. faecalis

phage F170/08)
Multidrug-resistant

E. faecalis

, including VRE
Not reported
In contrast to the parental endolysin, EC300 lysis

E. faecalis

actively growing in rich medium
[62]
ClyS
Endopeptidase CD of PlyTW (endolysin

S. aureus

phage Twort)
Endolysin

S. aureus

phage phiNM3 (highly soluble CWBD not related to the very common SH3b)

S. aureus

,


S. sciuri

,


S. simulans

,


S. epidermidis

Different murine colonization/infection models (nasal, skin and systemic)
Broad-spectrum activity and high solubility when compared to most staphylococcal endolysins
[81,82]
Lys168-87
Putative endopeptidase CD of Lys168 (endolysin

E. faecalis

phage F168/08)
Putative CWBD of Lys87 (endolysin

S. aureus

phage F87s/06)
Staphylococci,

E. faecalis

,


E. faecium

,


S. pyogenes

Not reported
High solubility compared to most native PLEs targeting

S. aureus

. Expanded spectrum of activity
[83]
PlyGVE2CpCWB
Amidase CD of PlyGVE2 (endolysin

Geobacillus

phage ФGVE2)
PlyCP26F (endolysin

C. perfringens

phage ФCP26F)

C. perfringens

Not reported
Better thermostability than parental PlyCP26F
[84]
Engineering Approach
Example(s) 1
Engineering Details 1
Susceptible Bacteria
In Vivo Assay(s)
Outcome
Reference
Fusion to lytic enzymes
B30-443-Lyso
B30-182-Lyso
Fusion of

S. agalactiae

phage B30 endolysin (or of its endopeptidase CD) to

S. simulans

lysostaphin
Several streptococcal species, including pathogens and dairy bacteria.


S. aureus

Not reported
Lytic spectrum extended to

S. aureus

and increased activity (B30-182-Lyso)
[94]
Domain deletion
CHAPK
CHAPK corresponds to the endopeptidase (CHAP) CD of LysK (first 165 aa of de endolysin of

S. aureus

phage K)

S. aureus

S aureus

elimination in the nares of mice
Higher lytic activity than LysK
[100,102,103]
PlyLCAT
(amidase)
PlyBa04CAT
(muramidase)
Deletion of the C-ter CWBDs of PlyL and PlyBa04, the endolysins of

B. anthracis

λBa02
Prophage and

B. anthracis

phage Ba04, respectively

B. cereus

,


B. megaterium

,


B. anthracis

,


B. subtilis

Not reported
Extended lytic spectrum. Enhanced lytic activity (especially against

B. subtilis

in the case of PlyLCAT)
[85,108]
CD27L1-179
(N-ter amidase CD)
Deletion of the C-ter CWBD of the clostridial endolysin CD27L

Clostridium

spp. (including

C. difficile

),

Bacillus

spp.,

Listeria

spp.
Not reported
Increased lytic activity and spectrum extended to two additional

Listeria

sp.
[109]
PlyGBS94
PlyGBS94 corresponds to the first 146 aa of native PlyGBS (endolysin

S. agalactiae

phage NCTC 11261), carrying only a endopeptidase CD
Group B streptococci (

Streptococcus agalactiae

)
Not reported
~25-fold increase of specific activity
[110]
λSa2-ECC
Deletion of C-ter glycosidase CD of λSA2 endolysin (

S. agalactiae

prophage λSA2)
Several streptococcal species and few

S. aureus

strains
Not reported
Increased activity towards certain streptococcal strains and few

S. aureus

strains
[111]
Domain addition
HydH5SH3b
Addition of lysostaphin CWBD (SH3b) to VAL HydH5 of

S. aureus

phage phiIPLA88

S. aureus

,


S. epidermidis

Not reported
Higher activity than the parental HydH5
[74]
Domain duplication
EAD_CBD500-500
Extra copy of CWBD added to Ply500 (endolysin

L. monocytogenes

phage A500)
Essentially

Listeria

spp.
Not reported
Much higher affinity improves endolysin activity at high salt concentrations
[65]
Random mutagenesis
PlyGBS90-1
Frameshift mutation truncates PlyGBS at aa 141 and adds 13 aa
Group B streptococci
(

Streptococcus agalactiae

)
Decolonization in a mouse vaginal model
~28-fold increase of specific activity, although less stable than native PlyGBS in certain conditions. Improved killing activity in vivo
[110]
29C3 mutant of PlyC
Mutation-prone PCR of PlyCA subunit of PlyC (endolysin streptococcal phage C1)

S. pyogenes

Not reported
The 29C3 mutant exhibits higher thermostability than PlyC, which should translate into extended shelf life
[112]
Site-directed mutagenesis
Cpl-7S
15 aa substitutions added positive charges to the CWBD of pneumococcal endolysin Cpl-7 (from −14.93 to +3.0 at neutral pH)

S. pneumoniae

,

E. faecalis

,

S. mitis

,

S. pyogenes

, and, to a lesser extent,

S. dysgalactiae

and

S. iniae

.


E. coli

and

P. putida

in presence of carvacrol
Zebrafish embryo infection model (

S. pneumoniae

and

S. pyogenes

)
Improved killing activity compared to the native Cpl-7 endolysin
[113]
(PlyC)T406R
T406R substitution in PlyCA subunit of PlyC (endolysin streptococcal phage C1)

S. pyogenes

Not reported
Thermostabilization of PlyC (16-fold increase of half-life at 45 °C), although with moderate loss of lytic activity in vitro
[114]
Multimerization
Cpl-1 dimer
Cpl-1C45S,D324C. Introduction of Cys residues at aa position 324 allowed intermolecular disulphide bonding. The C45S substitution avoided unwanted interactions with this Cys residue

S. pneumoniae

Not reported
2-fold increase of antipneumococcal activity and ~10-fold decrease in plasma clearance (mice) compared to native Cpl-1
[115]
Mixed approaches
L98WCD27L1-179
Deletion of CD27L C-ter CWBD and L98W mutation in CD27L CD

Clostridium

spp. (including

C. difficile

),

Bacillus

spp.,

Listeria

spp.
Not reported
The L98W mutation further increased lytic activity of CD27L1-179 against

L. monocytogenes

[109]
K-L
K-L-PTD
L-K
L-K-PTD
(triple-CD PLEs, i.e., 3 distinct CDs)
LysK/Lysostaphin chimeras added or not of protein transduction domains (PTD). K-L: CHAP-Amidase CDs of LysK fused to lysostaphin.
L-K: LysK CDs inserted between the CD (M23) and CWBD (SH3b) of lysostaphin

S. aureus

and coagulase negative staphylococci
Decolonization in rat nasal model.
Murine model of mastitis
The presence of 3 distinct CDs in the chimeras reduces emergence of resistant strains. Superior killing activity of L-K in rat nasal model
[116]
CHAP-Amidase
Codon-optimized CHAP and amidase CDs of LysK (endolysin

S. aureus

phage K) connected by the linker GSH6GS. No CWBD

S. aureus

, S.

epidermidis

,

E. faecium

, and

E. faecalis

Not reported
Enhanced production, stability, and solubility by improving codon-usage and the properties of primary, secondary, and tertiary structures
[117]
1 N-ter: N-terminal; C-ter: C-terminal.
Engineering Approach
Example(s)
Engineering Details 1
Susceptible Bacteria
In Vivo Assay(s)
Outcome
Reference
Fusion to domains targeting OM receptor/transport systems
Pesticin-T4 lysozyme hybrid
Pesticin (bacteriocin) domain targeting FyuA (OMP) fused to the N-ter of

E. coli

phage T4 endolysin
FyuA-expressing pathogenic bacteria (

Y. pestis

,

Y. pseudotuberculosis

, uropathogenic

E. coli

)
-
The hybrid protein crosses the OM through FyuA-mediated transport
[131]
Fusion to domains or peptides that destabilize the OM
LoGT-001
LoGT-008
LoGT-001: PCNP (polycationic nonapeptide) connected to the N-ter of OBPgp279 (endolysin

P. fluorescens

phage OBP)
LoGT-008: PCNP connected to the N-ter of PVP-SE1gp146 (endolysin

S. enterica

phage PVP-SE1)

P. aeruginosa.


Other Artilysins of the LoGT series also killed effectively

A. baumannii

and

E. coli

(≥1 Log reduction). Killing of

S.

Typhimurium

required EDTA

C. elegans

infection assay (LoGT-008)
The PCNP tag increased the intrinsic antibacterial of two modular endolysins (OBPgp279 and PVPSE1gp146) by facilitation OM crossing
[133]
Art-175
Antimicrobial peptide SMAP-29 fused to the N-ter of mutated KZ144 (endolysin

P. aeruginosa

phage φKZ)

P. aeruginosa

(and few other

Pseudomonas

spp.),

K. pneumoniae

,

A. baumannii

, colistin-resistant

E. coli

-
In contrast to KZ144, Art-175 crosses the outer membrane and efficiently kills target cells. Capacity to eliminate


P. aeruginosa

and

A. baumannii

persister cells. Art-175 outcompetes conventional antibiotics in bactericidal activity against

A. baumannii

[134,135,136]
Lysep3-D8
Lysep3 (endolysin

E. coli

phage vB_EcoM-ep3) fused to region D8 of the endolysin of

B. amyloliquefaciens

phage Morita2001

E. coli

,

P. aeruginosa

(3 strains),

A. baumannii

(1 strain),

Streptococcus

sp. (1 strain)
-
In contrast to isolated Lyse3 and D8, Lysep3-D8 has bactericidal activity
[137]

© 2018 by the author. Licensee MDPI, Basel, Switzerland. This article is an open access article distributed under the terms and conditions of the Creative Commons Attribution (CC BY) license (http://creativecommons.org/licenses/by/4.0/).