Gold Plate Electrodes Functionalized by Multiwall Carbon Nanotube Film for Potentiometric Thallium(I) Detection
1
Chemistry Department, Faculty of Science, Ain Shams University, Abbasia 11566, Cairo, Egypt
2
Electro Chemical Treatment Dept., Central Metallurgical Research and Development Institute (CMRDI), P.O. Box 87, Helwan 11421, Cairo, Egypt
3
Pharmaceutical Chemistry Department, Drug Exploration & Development Chair (DEDC), College of Pharmacy, King Saud University, Riyadh 11451, Saudi Arabia
4
Applied Organic Chemistry Department, National Research Center, Dokki 12622, Giza, Egypt
*
Authors to whom correspondence should be addressed.
Received: 22 June 2019 / Revised: 20 July 2019 / Accepted: 1 August 2019 / Published: 14 August 2019
Abstract
Solid-contact potentiometric ion-selective electrodes (SC-ISEs) for thallium determination have been designed using multiwall carbon nanotubes (MWCNTs) as the ion-to-electron transducer. Dispersed MWCNTs were drop-casted over a gold plate electrode. Two different crown ethers were used in the sensing membrane for the recognition of thallium (I). Sensorsbased on dibenzo-18-crown-6 (DB18C6) as a neutral carrier and NaTPB as an anionic additive exhibited a near Nernstian response of 57.3 mV/decade towards Tl
+
ions over the activity range 4.5 × 10
−6
–7.0 × 10
−4
M, with a limit of detection of 3.2 × 10
−7
M. The time required to achieve 95% of the steadyequilibrium potential was <10 s. The complex formation constant (log
βML
) between dibenzo-18-crown-6 and thallium (I) (i.e., 5.99) was measured using the sandwich membrane technique. The potential response was pH independent over the range 3.0–9.5. The introduction of MWCNTs as an electron-ion-transducer layer between gold plate and the sensing membrane lead to a smaller membrane resistance and a large double layer capacitance, which was proven using impedance spectra and chronopotentiometry (i.e., 114.9 ± 12 kΩ, 52.1 ± 3.3 pF, 200 ± 13.2 kΩ, and 50 ± 4.2 µF). Additionally, reduction ofthe water layer between the sensing membrane and the underlying conductor wastested. Thus, it is clear that MWCNTs can be used as a transducing layer in SC-ISEs. The proposed sensor was introduced as an indicator electrode for potentiometric titration of single and ternary mixtures of I
−
, Br
−
, and S
2−
anions.
View Full-Text
►

▼

Figures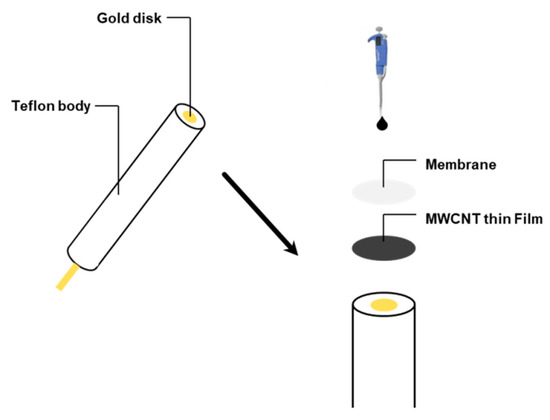 Figure 1
This is an open access article distributed under the
Creative Commons Attribution License
which permits unrestricted use, distribution, and reproduction in any medium, provided the original work is properly cited (CC BY 4.0).

Share & Cite This Article
MDPI and ACS Style
Hassan, S.S.M.; Abdelbasir, S.M.; Fathy, M.A.; Amr, A. .-G.; Al-Omar, M.A.; Kamel, A.H. Gold Plate Electrodes Functionalized by Multiwall Carbon Nanotube Film for Potentiometric Thallium(I) Detection. Nanomaterials 2019, 9, 1160.
Note that from the first issue of 2016, MDPI journals use article numbers instead of page numbers. See further details here.
Related Articles
Comments
[Return to top]