Open Access This article is
freely available
re-usable
Article
Bioinspired Cilia Sensors with Graphene Sensing Elements Fabricated Using 3D Printing and Casting
1
Advanced Production Engineering Group, Engineering and Technology Institute Groningen, Faculty of Science and Engineering, University of Groningen, Nijenborgh 4, 9747AG Groningen, The Netherlands
2
MIT Sea Grant College Program, Massachusetts Institute of Technology, 77 Massachusetts Avenue, Cambridge, MA 02139, USA
*
Author to whom correspondence should be addressed.
Received: 10 June 2019 / Accepted: 28 June 2019 / Published: 30 June 2019
Abstract
:
Sensor designs found in nature are optimal due to their evolution over millions of years, making them well-suited for sensing applications. However, replicating these complex, three-dimensional (3D), biomimetic designs in artificial and flexible sensors using conventional techniques such as lithography is challenging. In this paper, we introduce a new processing paradigm for the simplified fabrication of flexible sensors featuring complex and bioinspired structures. The proposed fabrication workflow entailed 3D-printing a metallic mold with complex and intricate 3D features such as a micropillar and a microchannel, casting polydimethylsiloxane (PDMS) inside the mold to obtain the desired structure, and drop-casting piezoresistive graphene nanoplatelets into the predesigned microchannel to form a flexible strain gauge. The graphene-on-PDMS strain gauge showed a high gauge factor of 37 as measured via cyclical tension-compression tests. The processing workflow was used to fabricate a flow sensor inspired by hair-like 'cilia' sensors found in nature, which comprised a cilia-inspired pillar and a cantilever with a microchannel that housed the graphene strain gauge. The sensor showed good sensitivity against both tactile and water flow stimuli, with detection thresholds as low as 12 µm in the former and 58 mm/s in the latter, demonstrating the feasibility of our method in developing flexible flow sensors.
Keywords:
3D printing; biomimetic sensor; flexible electronics; graphene; PDMS; gauge factor
2. Materials and Methods
2.1. Sensor Fabrication
2.1.1. 3D Printing of the Metallic Mold
The flow sensor structure utilized a cantilever-pillar design, with a vertically standing cylindrical hair-like structure (Ø 1.5 mm × 4 mm) located at the free end of the horizontal cantilever (4.5 mm × 1.5 mm × 1.5 mm); further, a U-shaped microchannel (0.3 mm × 0.3 mm × 6.5 mm) designed on the top surface of the cantilever accommodated the GN sensing element. The metallic mold for the sensor, i.e. the 'negative' of the sensor design, was 3D-printed using the selective laser melting process (SLM 125
HL
, SLM Solutions GmbH, Lübeck, Germany) [
53
], where a focused laser beam selectively fused 17–4 PH stainless steel powder (10-50 µm size distribution, LPW Carpenter Additive, Runcorn, UK) into the final 3D mold shape in a layer-by-layer manner, using a powder layer thickness of 30 µm. The focused laser beam had a spot size of 70 µm, making the minimum feature size printable with this process to be 140 µm in the build plane. Manufacturer-recommended processing parameters (e.g. 200 W laser power, 800 mm/s laser scan speed, 120 µm hatch spacing, etc.), optimized to maximize the density of the 3D-printed mold, were used for the selective laser melting (SLM) process. After printing, the inner walls of the 3D-printed mold were first sandblasted to improve their surface quality and then lubricated using a commercially available degreaser (WD-40, San Diego, CA, USA) to facilitate demolding.
2.1.2. PDMS Casting and GN Infusion
PDMS (SYLGARD
TM
184, Dow Corning, Midland, MI, USA) solution was prepared by thoroughly mixing a ratio of 10 parts base monomer to 1 part curing agent by weight, after which it was degassed in a vacuum chamber for 40 min, poured into the 3D-printed mold, degassed for another 10 min, allowed to cure at room temperature for a period of 48 h, and finally demolded to obtain the sensor structure. Conductive graphene dispersion (Graphene Supermarket, Ronkonkoma, NY, USA), consisting of a solution of GN (average thickness of 7 nm) in n-butyl acetate and a proprietary dispersant (23 wt. % graphene), was further diluted with ethanol to reduce its viscosity and then drop cast into the microchannel on the cantilever surface using a syringe and a 22-gauge needle. The GN solution flowed easily in the microchannel due to the capillary effect and formed a thin film on the PDMS substrate upon drying, after which it was gently annealed at 120 °C for 30 minutes to improve its conductivity as per the supplier's recommendation. Electrical connections were made at the ends of the microchannel using conductive silver paste (EPOTEK H20E, Epoxy Technology Inc., Billerica, MA, USA). A schematic of the sensor fabrication work flow is presented in
Figure 2
.
Figure 3
a shows an optical micrograph of the sensor structure with graphene infused into the microchannel, while
Figure 3
b,c show scanning electron microscopy (SEM) micrographs of the GN inside the microchannel, demonstrating that the GN were successfully drop-cast into the microchannel without any unintended connections across it. The GN sensing elements were homogeneously distributed inside the microchannel and contacted each other.
2.2. Gauge Factor Characterization
Since the GN strain gauge present on the top surface of the cantilever forms the fundamental piezoresistive sensing element, the determination of its gauge factor (GF) is a crucial step towards the sensor characterization. The GF of a strain gauge, defined as the ratio of the fractional resistance change () to the mechanical strain (ɛ), where
R
and
R0
are the sensor resistances in the stressed and unstressed conditions respectively, was measured through a uniaxial tension-compression test. A rectangular cuboid tensile test specimen (50 mm × 10 mm × 10 mm) with a microchannel (23 mm × 0.3 mm × 0.3 mm) on one surface was cast in PDMS using a 3D-printed mold, after which GN was drop-cast into the microchannel and gently annealed using the procedure described in
Figure 2
. Electrical connections were made at the ends of the microchannel using conductive silver paste. The rectangular tensile specimen was subjected to 10 tensile-compressive cycles using a micromechanical testing machine (Kammrath & Weiss GmbH, Dortmund, Germany). 10 mm of the tensile specimen length was clamped on each side during the test, giving a gauge length of 30 mm which was used for all the strain calculations. Each strain cycle started at a compressive strain of −1.92%, and consisted of: i) ramping up to a tensile strain of 1.92%, ii) holding at the 1.92% tensile strain for 30 seconds, iii) ramping down to a compressive strain of −1.92%, and iv) holding the −1.92% compressive strain for 30 s. A constant strain rate () of ± 6.67 × 10
-4
s
−1
was used for all the ramps, making each cycle approximately 174 s long. The resistance of the sensor was continuously monitored via the setup described in
Section 2.3.1
.
2.3. Sensor Testing
2.3.1. Data Acquisition
The two ends of the GN-containing microchannel were connected to a Wheatstone bridge circuit powered by a 9 Volt direct current (DC) power supply, and the unamplified voltage output from the sensor was continuously monitored using a National Instruments (Austin, TX, USA) data acquisition system (NI-DAQ UBS-6003) and recorded using the NI Signal Express software. The sampling rate for the gauge factor and oscillatory flow sensing experiments were 10 and 1000 Hz, respectively. For the gauge factor characterization, the recorded voltage was converted to electrical resistance using Kirchhoff's laws applied to the Wheatstone bridge circuit [
55
].
2.3.2. Experimental Setup for Oscillatory Stimuli
A vibrating dipole apparatus, described in detail in Ref. [
24
], was used for the oscillatory stimuli. The dipole stimulus was chosen for the flow sensing experiments since the flow field generated by an oscillating sphere is well studied and has been used by other researchers in the past [
24
,
27
] for characterizing artificial cilia sensors. In brief, the apparatus consisted of a vibrating stainless steel sphere (8 mm diameter) or 'dipole' whose driving voltage, frequency, and oscillatory function (e.g. sinusoidal, saw-tooth, etc.) could be tuned as desired. A permanent magnet mini-shaker (Bruel & Jkaer model 4810, Norcross, GA) having an axial resonant frequency greater than 18 kHz was used to drive the dipole at the desired frequencies and amplitudes. The driving voltage and frequency determined the amplitude and root-mean-square (RMS) velocity of the oscillating sphere; this relationship has been determined in the past through laser doppler vibrometry (LDV) for a sinusoidal driving function [
24
]; thus, it was possible to independently and accurately vary the frequency and the amplitude/RMS velocity of the vibrating dipole.
3. Results
3.1. Gauge Factor of Graphene-on-PDMS Strain Gauge
Figure 4
shows the measured resistance of the graphene strain gauge for the applied tensile-compressive strain profile. The resistance change was observed to be linear and nearly identical during both the elongation and compression regions of the ten cycles, with a resistance change rate (Δ
R
/Δ
t
) of 1.135 ± 0.053 kΩ/s calculated by averaging over a total of twenty (ten ramp-up and ten ramp-down) regions. The GN showed excellent recovery over the course of all the ten cycles; the resistance during the compressive hold period was steady, while it drifted by around 5 kΩ during every tensile hold period, indicating higher stability in compression than in tension. Using the strain rate in the linear ramp region (Δɛ/Δ
t
= 8.7 × 10
−4
s
−1
) and the resistance of the unstressed sample (
R0
= 46 kΩ), the average GF was calculated to be 37 ± 1.7, which is in the range of GF's reported in the literature for graphene strain gauges on elastomeric substrates, as shown in
Table 1
.
The measured GF for GN is one order of magnitude higher than the GF for a comparable copper strain gauge on a flexible substrate which had a gauge factor of 3 [
56
]. This can be attributed to the piezoresistivity exhibited by the GN, where the change in resistance due to the applied strain is due not only to geometrical changes (as in metal strain gauges) but rather to a change in resistivity caused by slippage of neighbouring nanoplatelets; tensile strains cause the nanoplatelets to slip away from each other, decreasing the contact area and hence increasing the contact resistance, whereas compressive strains have the opposite effect and reduce the contact resistance [
44
,
48
]. The high GF measured in this study thus demonstrated the potential of our methodology for fabricating flexible graphene-on-PDMS strain gauges, and the utility of such a flexible strain gauge in flow and tactile sensing is described in
Section 3.2
.
3.2. Characterization of the Biomimetic Cilium Sensor
Finally, in order to determine the response of the sensor to dynamic flow stimuli, the sensor output was tested in deionized (DI) water using the vibrating dipole stimulus. In this test, the sphere vibrated along the vertical (i.e. Z) direction with the cilium also oriented along the vertical (–Z) direction. The oscillating sphere was completely submerged in the water, while only the cilium was kept submerged inside the water to avoid contact of the water with the conductive GN strain gauge. The lower tip of the cilium was at a distance 8.48 mm from the center of the vibrating sphere (6mm each along the vertical and horizontal directions), sufficiently far to ensure no contact between the dipole and the cilium at any of the tested amplitudes. Two sweeps were undertaken: varying the RMS velocity (by tuning the RMS driving voltage) of the sphere, from 53 to 90 mm/s at a constant frequency of 35 Hz, and varying the frequency at a constant RMS driving voltage of 707 mV.
4. Conclusions and Future Research
In this work, a novel processing methodology involving high-resolution metal 3D printing and polymer casting was developed to fabricate flexible, bioinspired, flow sensors. The PDMS sensor consisted of a cilium-inspired pillar and a cantilever with microchannels that housed a graphene nanoplatelet strain gauge. The gauge factor of the graphene-on-PDMS strain gauge was measured using cyclic tension-compression tests to be 37, an order of magnitude higher than comparable metal strain gauges. The bioinspired sensor was subjected to both tactile and flow stimuli, and displayed good sensitivity in all cases, showing a detection threshold of 12 µm for an oscillating tactile stimulus and 58 mm/s for an oscillatory flow stimulus in water. In conclusion, the developed fabrication method was successful for the fabrication of a soft polymer sensor and shows promise in batch fabrication of flexible electronics. Future work will focus on optimizing and miniaturizing the design of the sensor, optimizing the GN drop-casting procedure to ensure uniform and repeatable thin film characteristics, and fabricating cilia-inspired sensor arrays to mimic the fish lateral line. More generally, the approach presented in this work is part of a recent trend towards the utilization of 3D printing techniques for complex-shaped sensor fabrication. Recent developments in 3D printable technology—such as micron-scale printing resolutions and multi-material printing—can enable monolithic fabrication of biomimetic MEMS sensors with integrated piezoresisitive and/or piezoelectric sensing elements, thus obviating multi-step and expensive cleanroom fabrication processes.
Author Contributions
Conceptualization, A.M.K. and A.G.P.K.; methodology, A.M.K. and A.G.P.K.; data analysis, A.M.K. and A.G.P.K.; writing—original draft preparation, A.M.K. and A.G.P.K.; writing—review and editing, Y.P. and A.G.P.K.; supervision, Y.P. and A.G.P.K.
Funding
This research was partially supported by the University of Groningen's start-up grant awarded to A.G.P.K. A.M.K. and Y.P. gratefully acknowledge the funding from the Netherlands Organization for Scientific Research (NWO) under project number 15808.
Conflicts of Interest
The authors declare no conflict of interest.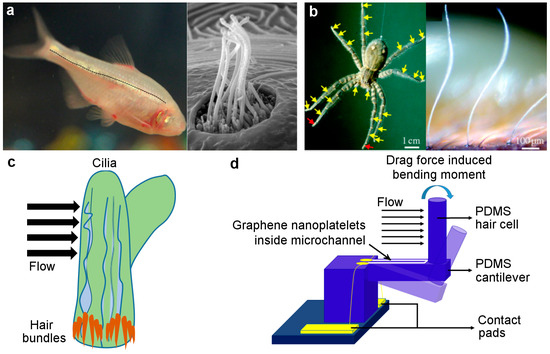 Figure 1.
Biomimetic flow sensing: (
a
) lateral line sensors on fish skin (shown by black dotted line) containing hair-like cilia bundles (credit: Prof. Andrew Forge [
20
]) for water flow sensing; (
b
) hair-like sensilla on spider legs (reprinted with permission from [
14
], Copyright The Royal Society, 2008); (
c
) schematic of flow-induced bending of cilia bundles encapsulated by a protective cupula; and (
d
) sensing principle of bioinspired sensor comprising hair cell and cantilever used in this work.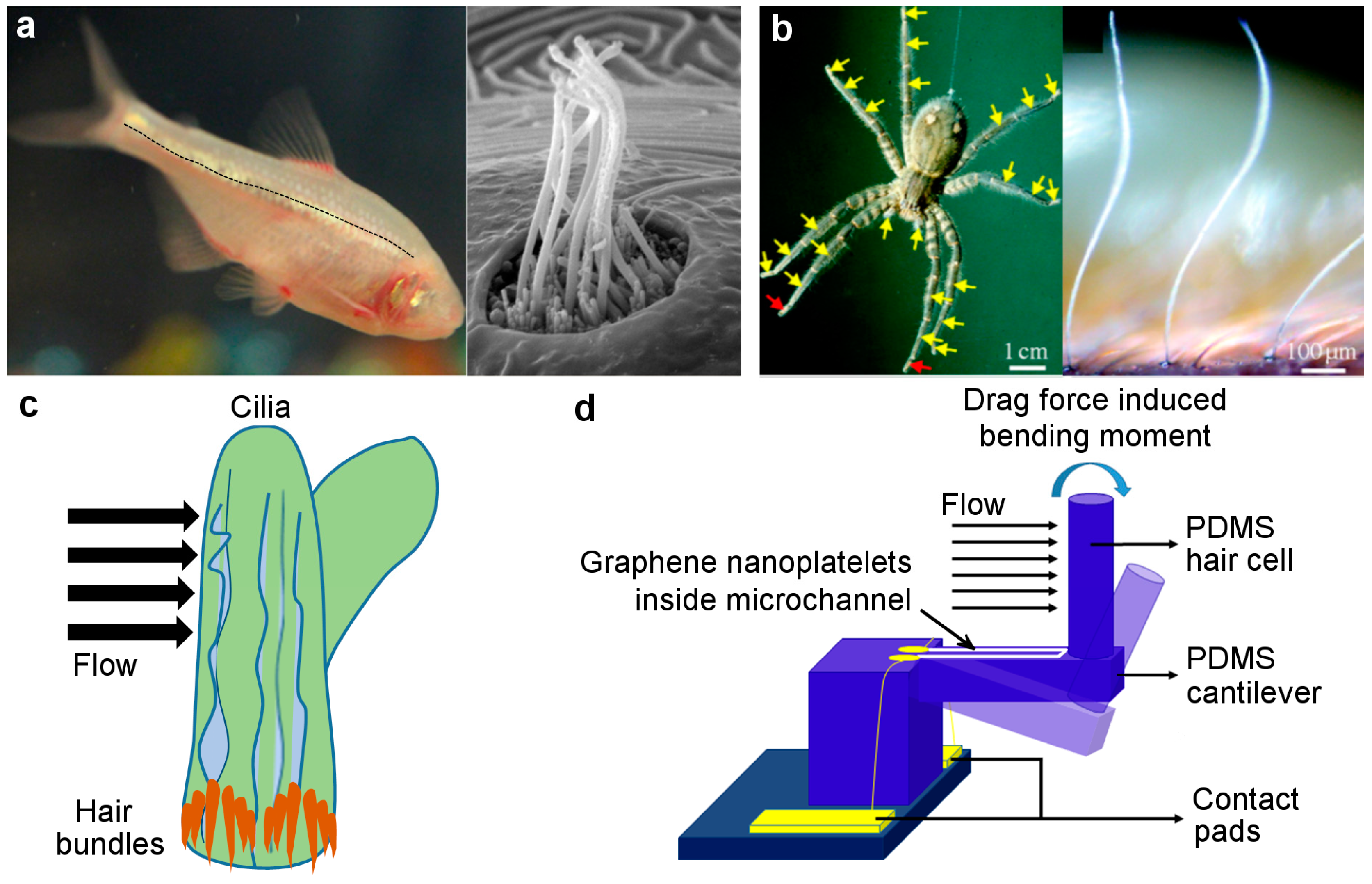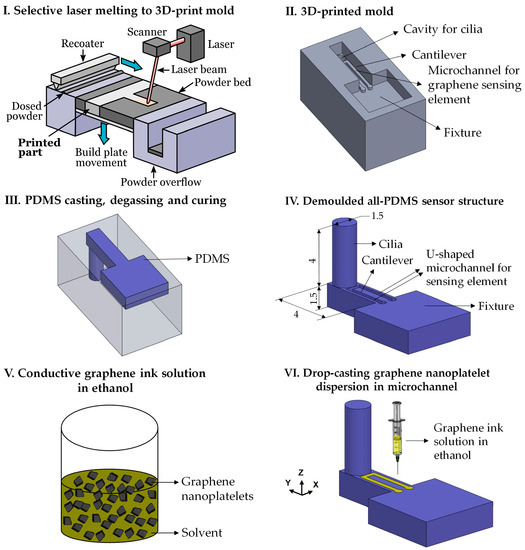 Figure 2.
Schematic of fabrication process flow involving metal 3D printing (selective laser melting), PDMS casting, and graphene infusion into microchannel. Selective laser melting (SLM) process schematic (Image I) reprinted with permission from [
54
], Copyright Elsevier, 2019. All dimensions in Image IV are in mm. The size of the graphene nanoplatelets in Image V is exaggerated.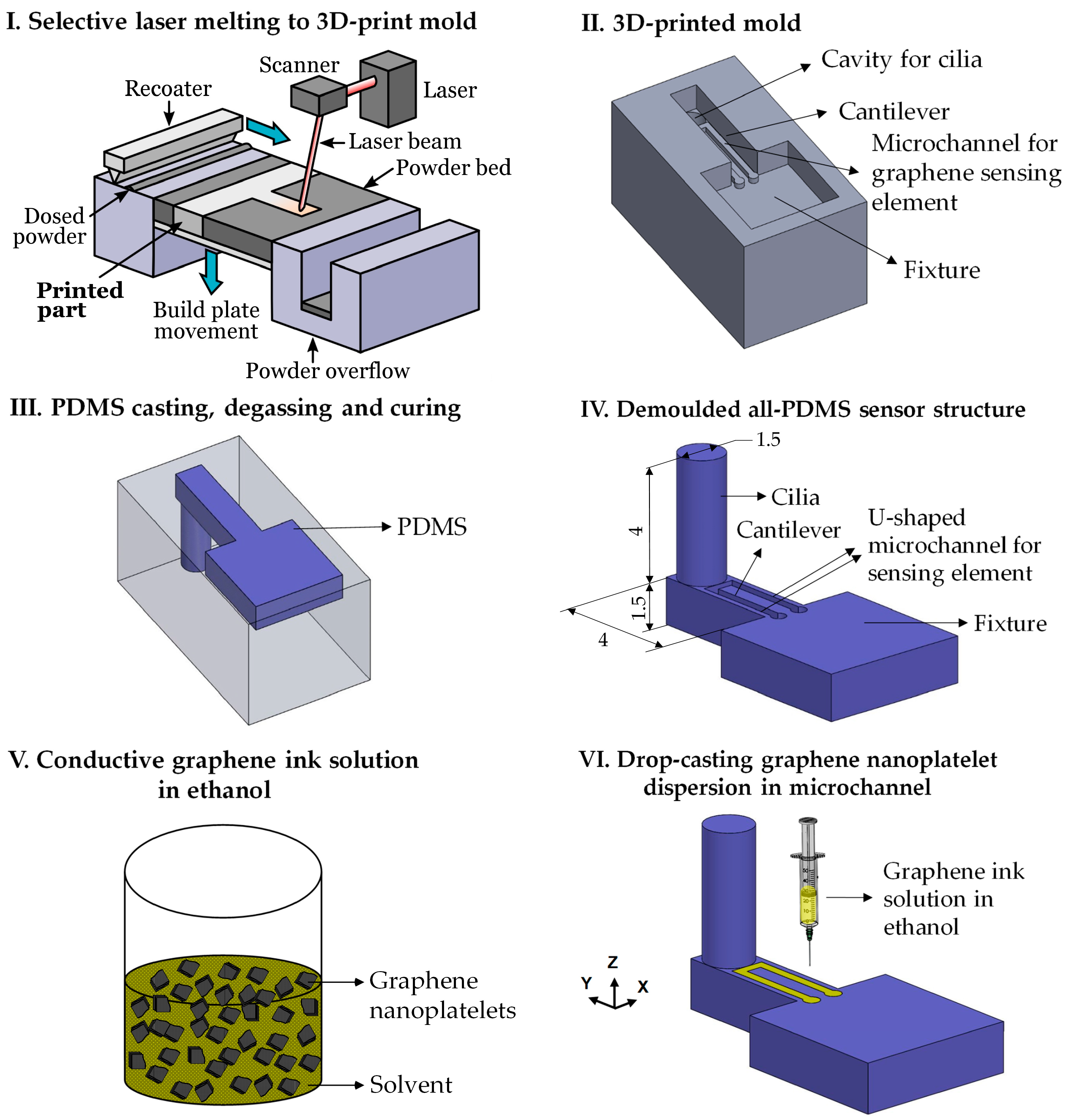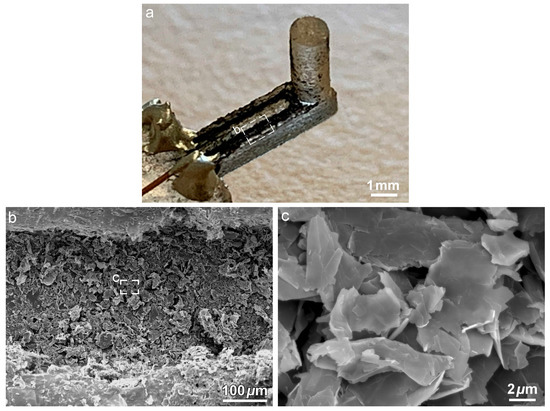 Figure 3. Micrographs of sensor structure with graphene infused into the microchannel: (a) optical micrograph of the developed sensor, (b) SEM image of GN inside the microchannel and (c) high magnification SEM image showing the morphology of GN sensing elements.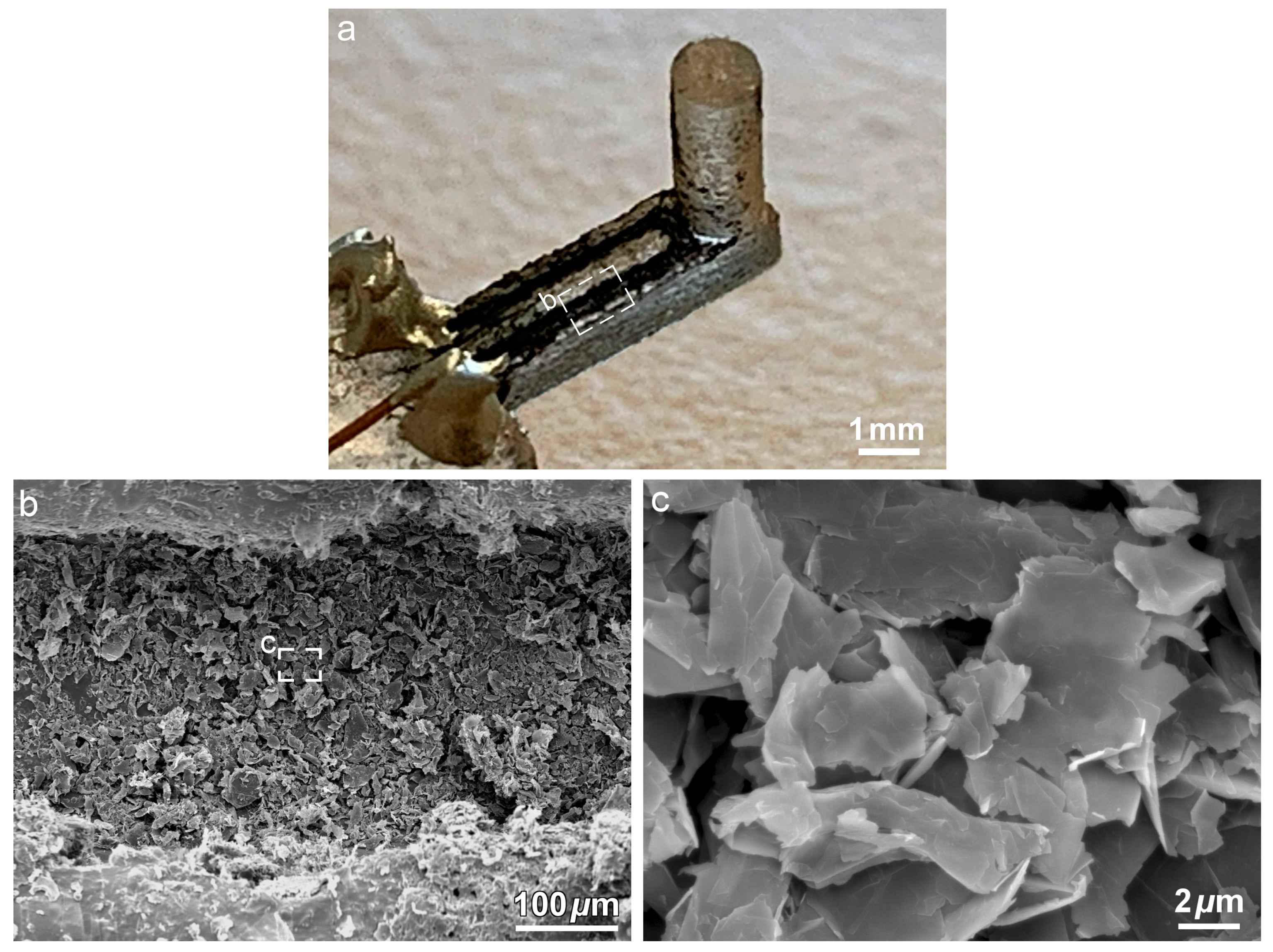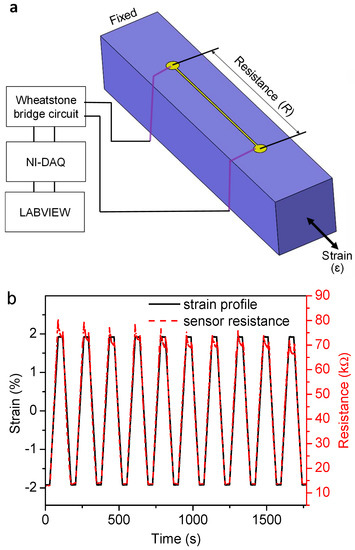 Figure 4. Gauge factor measurement: (a) schematic of tensile test setup to measure resistance for an applied strain (blue: PDMS, yellow: graphene); and (b) applied strain profile and measured resistance change for 10 tension-compression cycles.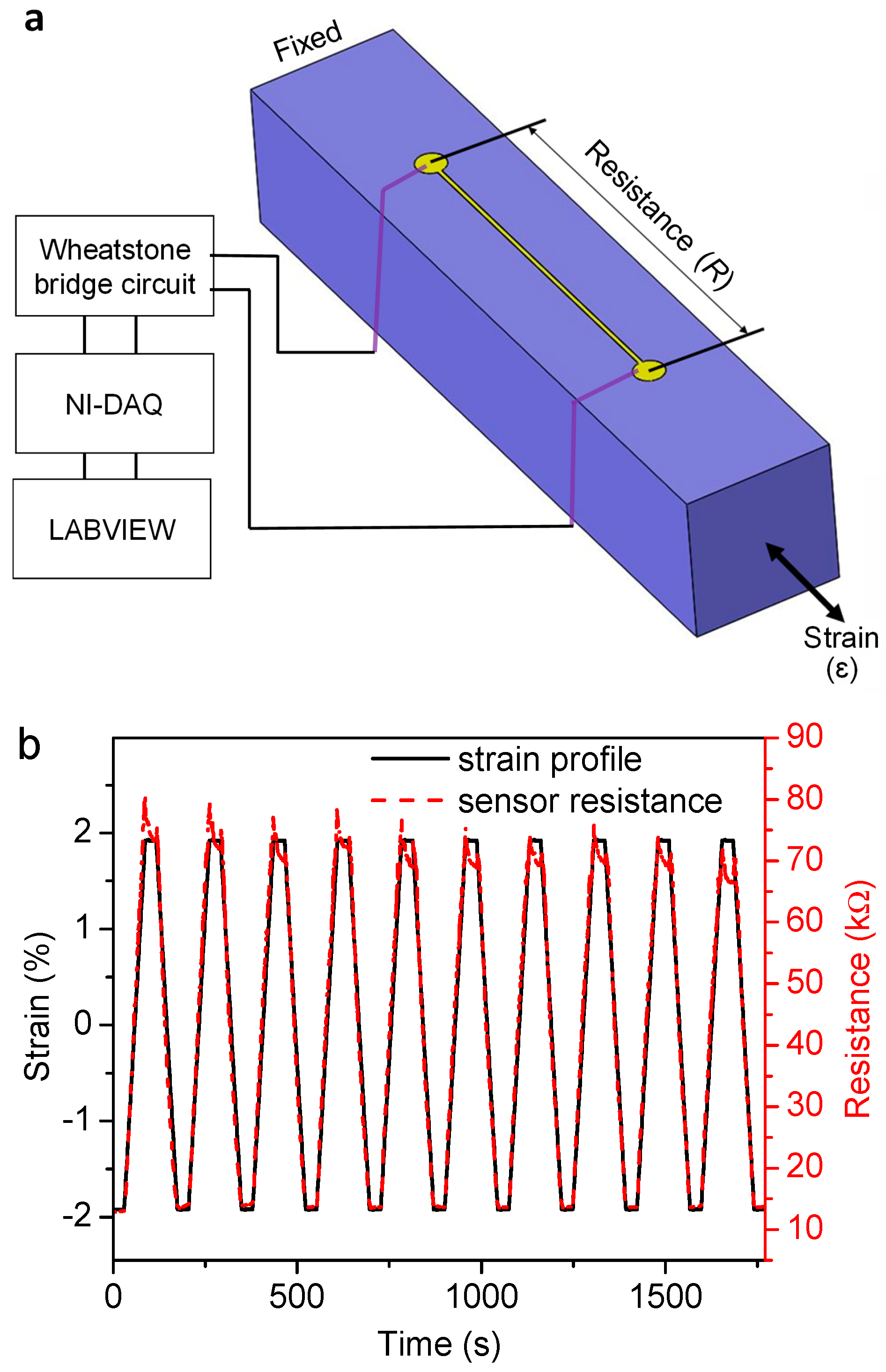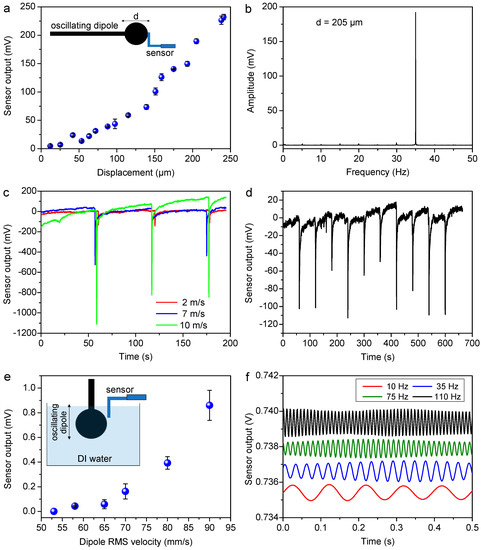 Figure 5.
Sensor tests: (
a
) oscillatory tactile stimuli; (
b
) example of FFT peak at 35 Hz for
d
= 205 µm; (
c
) compressed air stimuli along X-axis; (
d
) respiratory exhalation along Y-axis; (
e
) oscillatory flow stimuli in DI water (RMS velocity sweep); (
f
) oscillatory flow stimuli in DI water (frequency sweep).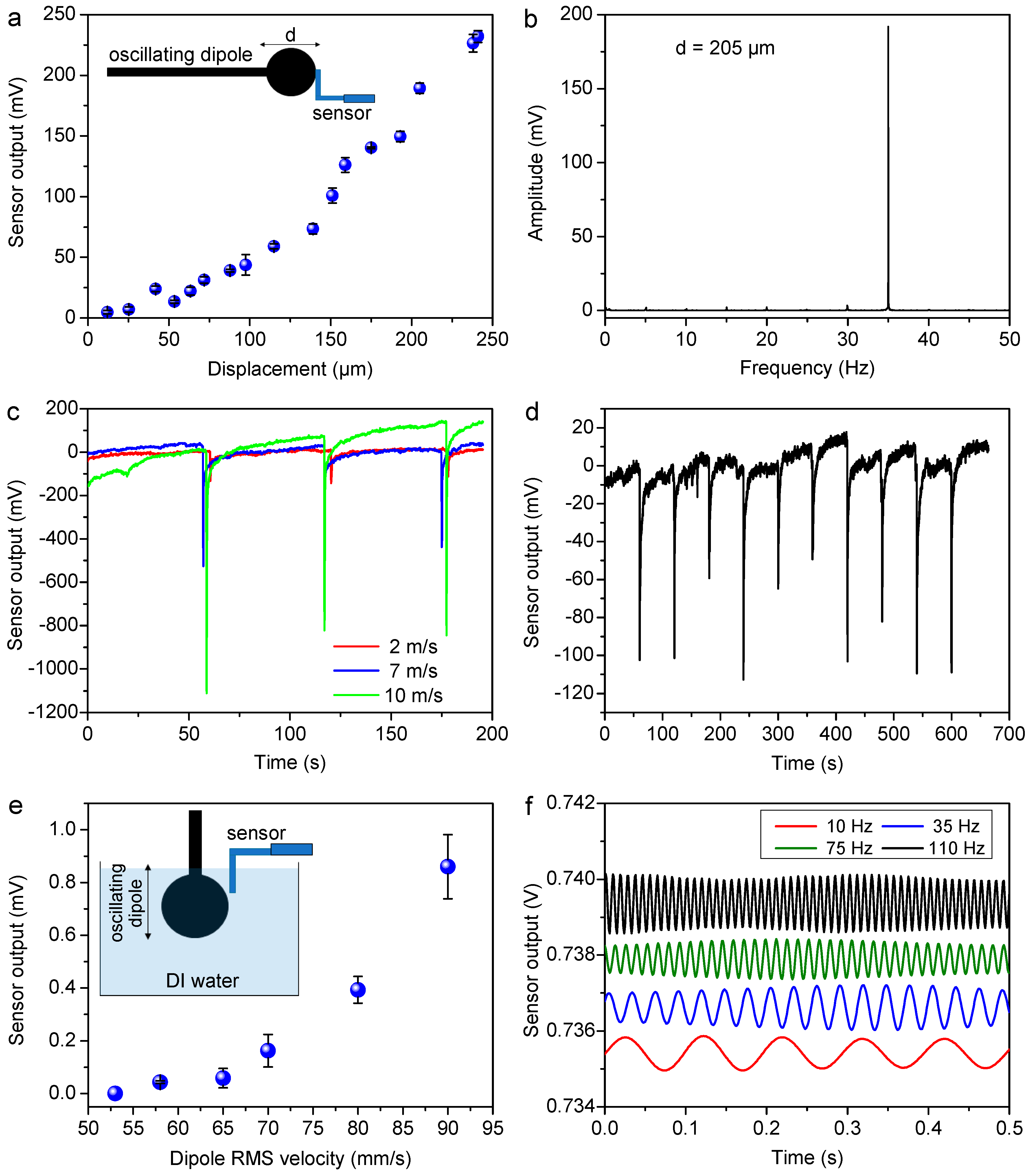 | Materials | Methods | Strain (%) | Gauge Factor | Reference |
| --- | --- | --- | --- | --- |
| Graphene film on rubber | Spray coating | 5 | 6–35 | [43] |
| Graphene rosette strain gauge on PDMS film | Reactive ion etching, stamping | 7.1 | 14 | [38] |
| Graphene serpentine strain sensor on PDMS | Chemical vapor deposition, photolithography, spray coating | 20 | 42.2 | [40] |
| Graphene thin film on polyethylene terephthalate (PET) substrate | Spray deposition | 1.5 | 10–100 (depending on graphene concentration) | [44] |
| Graphene nanoplatelets in microchannel on PDMS | PDMS casting inside 3D-printed mold, graphene ink drop-casting | ±1.92 | 37 | This work |

© 2019 by the authors. Licensee MDPI, Basel, Switzerland. This article is an open access article distributed under the terms and conditions of the Creative Commons Attribution (CC BY) license (http://creativecommons.org/licenses/by/4.0/).