Nano Hard Carbon Anodes for Sodium-Ion Batteries
1
Division of Marine Engineering, Korea Maritime and Ocean University, 727 Taejong-ro, Yeongdo-gu, Busan 49112, Korea
2
Korea Maritime Equipment Research Institute/ICT Convergence Team, 435 Haeyang-ro, Yeongdo-gu, Busan 49111, Korea
3
Department of Ocean Advanced Materials Convergence Engineering, Korea Maritime and Ocean University, 727 Taejong-ro, Yeongdo-gu, Busan 49112, Korea
4
Division of Marine Information Technology, Korea Maritime and Ocean University, 727 Taejong-ro, Yeongdo-gu, Busan 49112, Korea
5
Division of Marine System Engineering, Korea Maritime and Ocean University, 727 Taejong-ro, Yeongdo-gu, Busan 49112, Korea
6
Department of Materials Science and Engineering, POSTECH, 77 Cheongam-ro, Pohang 37673, Korea
*
Authors to whom correspondence should be addressed.
Received: 20 April 2019 / Revised: 14 May 2019 / Accepted: 17 May 2019 / Published: 23 May 2019
Abstract
A hindrance to the practical use of sodium-ion batteries is the lack of adequate anode materials. By utilizing the co-intercalation reaction, graphite, which is the most common anode material of lithium-ion batteries, was used for storing sodium ion. However, its performance, such as reversible capacity and coulombic efficiency, remains unsatisfactory for practical needs. Therefore, to overcome these drawbacks, a new carbon material was synthesized so that co-intercalation could occur efficiently. This carbon material has the same morphology as carbon black; that is, it has a wide pathway due to a turbostratic structure, and a short pathway due to small primary particles that allows the co-intercalation reaction to occur efficiently. Additionally, due to the numerous voids present in the inner amorphous structure, the sodium storage capacity was greatly increased. Furthermore, owing to the coarse co-intercalation reaction due to the surface pore structure, the formation of solid-electrolyte interphase was greatly suppressed and the first cycle coulombic efficiency reached 80%. This study shows that the carbon material alone can be used to design good electrode materials for sodium-ion batteries without the use of next-generation materials.
View Full-Text
►

▼

Figures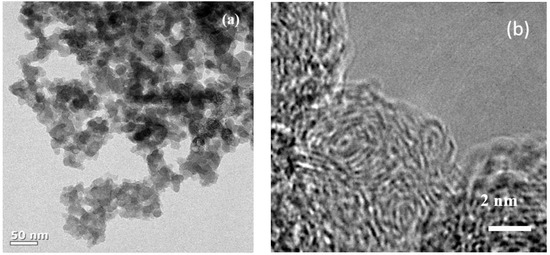 Figure 1
This is an open access article distributed under the
Creative Commons Attribution License
which permits unrestricted use, distribution, and reproduction in any medium, provided the original work is properly cited (CC BY 4.0).

Share & Cite This Article
MDPI and ACS Style
Kim, D.-Y.; Kim, D.-H.; Kim, S.-H.; Lee, E.-K.; Park, S.-K.; Lee, J.-W.; Yun, Y.-S.; Choi, S.-Y.; Kang, J. Nano Hard Carbon Anodes for Sodium-Ion Batteries. Nanomaterials 2019, 9, 793.
Note that from the first issue of 2016, MDPI journals use article numbers instead of page numbers. See further details here.
Related Articles
Comments
[Return to top]