High-Resolution SEM and EDX Characterization of Deposits Formed by CH4+Ar DBD Plasma Processing in a Packed Bed Reactor
1
Mesoscale Chemical Systems, MESA+ Institute for Nanotechnology, University of Twente, P.O. Box 217, 7500 AE Enschede, The Netherlands
2
Faculty of Science and Technology, University of Twente, P.O. Box 217, 7500 AE Enschede, The Netherlands
*
Author to whom correspondence should be addressed.
Received: 29 March 2019 / Revised: 7 April 2019 / Accepted: 8 April 2019 / Published: 10 April 2019
Abstract
The deposits formed during the DBD plasma conversion of CH
4
were characterized by high-resolution scanning electron microscopy (HRSEM) and energy dispersive X-ray elemental analysis (EDX) for both cases of a non-packed reactor and a packed reactor. For the non-packed plasma reactor, a layer of deposits was formed on the dielectric surface. HRSEM images in combination with EDX and CHN elemental analysis of this layer revealed that the deposits are made of a polymer-like layer with a high content of hydrogen (60 at%), possessing an amorphous structure. For the packed reactor, γ-alumina, Pd/γ-alumina, BaTiO
3
, silica-SBA-15, MgO/Al
2
O
3
, and α-alumina were used as the packing materials inside the DBD discharges. Carbon-rich agglomerates were formed on the γ-alumina after exposure to plasma. The EDX mapping furthermore indicated the carbon-rich areas in the structure. In contrast, the formation of agglomerates was not observed for Pd-loaded γ-alumina. This was ascribed to the presence of Pd, which enhances the hydrogenation of deposit precursors, and leads to a significantly lower amount of deposits. It was further found that the structure of all other plasma-processed materials, including MgO/Al
2
O
3
, silica-SBA-15, BaTiO
3
, and α-alumina, undergoes morphological changes. These alterations appeared in the forms of the generation of new pores (voids) in the structure, as well as the moderation of the surface roughness towards a smoother surface after the plasma treatment.
View Full-Text
►

▼

Figures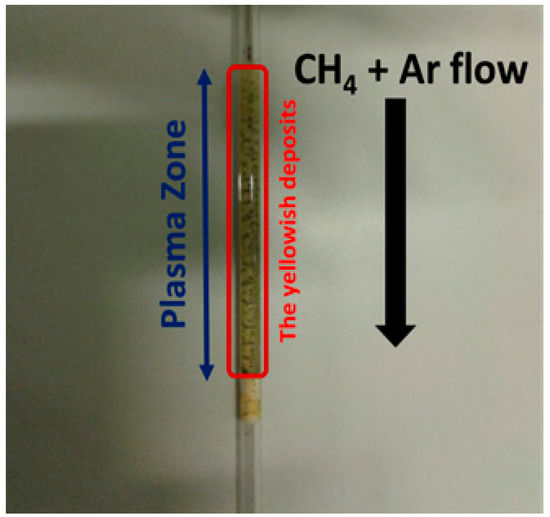 Figure 1
This is an open access article distributed under the
Creative Commons Attribution License
which permits unrestricted use, distribution, and reproduction in any medium, provided the original work is properly cited (CC BY 4.0).

Share & Cite This Article
MDPI and ACS Style
Taheraslani, M.; Gardeniers, H. High-Resolution SEM and EDX Characterization of Deposits Formed by CH4+Ar DBD Plasma Processing in a Packed Bed Reactor. Nanomaterials 2019, 9, 589.
Note that from the first issue of 2016, MDPI journals use article numbers instead of page numbers. See further details here.
Related Articles
Comments
[Return to top]