Transparent and Robust
All

-Cellulose Nanocomposite Packaging Materials Prepared in a Mixture of Trifluoroacetic Acid and Trifluoroacetic Anhydride

1

Smart Materials, Nanophysics, Istituto Italiano di Tecnologia, Via Morego, 30, 16163 Genova, Italy

2

Materials Characterization Facility, Istituto Italiano di Tecnologia, Via Morego, 30, 16163 Genova, Italy

3

Electron Microscopy Facility, Istituto Italiano di Tecnologia, Via Morego, 30, 16163 Genova, Italy

4

Instituto de Ciencia de Materiales de Sevilla, Centro mixto CSIC-Universidad de Sevilla, Calle Americo Vespucio 49, Isla de la Cartuja, 41092 Sevilla, Spain

*

Authors to whom correspondence should be addressed.

Received: 30 January 2019 / Revised: 21 February 2019 / Accepted: 24 February 2019 / Published: 5 March 2019
Abstract
All
-cellulose composites with a potential application as food packaging films were prepared by dissolving microcrystalline cellulose in a mixture of trifluoroacetic acid and trifluoroacetic anhydride, adding cellulose nanofibers, and evaporating the solvents. First, the effect of the solvents on the morphology, structure, and thermal properties of the nanofibers was evaluated by atomic force microscopy (AFM), X-ray diffraction (XRD), and thermogravimetric analysis (TGA), respectively. An important reduction in the crystallinity was observed. Then, the optical, morphological, mechanical, and water barrier properties of the nanocomposites were determined. In general, the final properties of the composites depended on the nanocellulose content. Thus, although the transparency decreased with the amount of cellulose nanofibers due to increased light scattering, normalized transmittance values were higher than 80% in all the cases. On the other hand, the best mechanical properties were achieved for concentrations of nanofibers between 5 and 9 wt.%. At higher concentrations, the cellulose nanofibers aggregated and/or folded, decreasing the mechanical parameters as confirmed analytically by modeling of the composite Young's modulus. Finally, regarding the water barrier properties, water uptake was not affected by the presence of cellulose nanofibers while water permeability was reduced because of the higher tortuosity induced by the nanocelluloses. In view of such properties, these materials are suggested as food packaging films.
View Full-Text
►

▼

Figures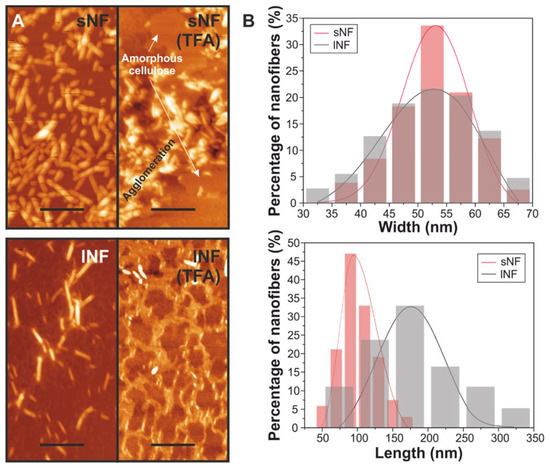 Figure 1
This is an open access article distributed under the
Creative Commons Attribution License
which permits unrestricted use, distribution, and reproduction in any medium, provided the original work is properly cited (CC BY 4.0).

Share & Cite This Article
MDPI and ACS Style
Guzman-Puyol, S.; Ceseracciu, L.; Tedeschi, G.; Marras, S.; Scarpellini, A.; Benítez, J.J.; Athanassiou, A.; Heredia-Guerrero, J.A. Transparent and Robust All-Cellulose Nanocomposite Packaging Materials Prepared in a Mixture of Trifluoroacetic Acid and Trifluoroacetic Anhydride. Nanomaterials 2019, 9, 368.
Note that from the first issue of 2016, MDPI journals use article numbers instead of page numbers. See further details here.
Related Articles
Comments
[Return to top]