In Situ X-ray Photoelectron Spectroscopic and Electrochemical Studies of the Bromide Anions Dissolved in 1-Ethyl-3-Methyl Imidazolium Tetrafluoroborate
1
Institute of Chemistry, University of Tartu, Ravila 14A, 50411 Tartu, Estonia
2
Institute of Physics, University of Tartu, W. Ostwaldi 1, 50411 Tartu, Estonia
*
Author to whom correspondence should be addressed.
Received: 22 January 2019 / Revised: 15 February 2019 / Accepted: 18 February 2019 / Published: 22 February 2019
Abstract
Influence of electrode potential on the electrochemical behavior of a 1-ethyl-3-methylimidazolium tetrafluoroborate (EMImBF
4
) solution containing 5 wt % 1-ethyl-3-methylimidazolium bromide (EMImBr) has been investigated using electrochemical and synchrotron-initiated high-resolution in situ X-ray photoelectron spectroscopy (XPS) methods. Observation of the Br 3d
5/2
in situ XPS signal, collected in a 5 wt % EMImBr solution at an EMImBF
4
–vacuum interface, enabled the detection of the start of the electrooxidation process of the Br
−
anion to Br
3
−
anion and thereafter to the Br
2
at the micro-mesoporous carbon electrode, polarized continuously at the high fixed positive potentials. A new photoelectron peak, corresponding to B–O bond formation in the B 1s in situ XPS spectra at
E
≤ −1.17 V, parallel to the start of the electroreduction of the residual water at the micro-mesoporous carbon electrode, was observed and is discussed. The electroreduction of the residual water caused a reduction in the absolute value of binding energy vs. potential plot slope twice to ca. d
BE
d
E
−1
= −0.5 eV V
−1
at
E
≤ −1.17 V for C 1s, N 1s, B 1s, F 1s, and Br 3d
5/2
photoelectrons.
View Full-Text
►

▼

Figures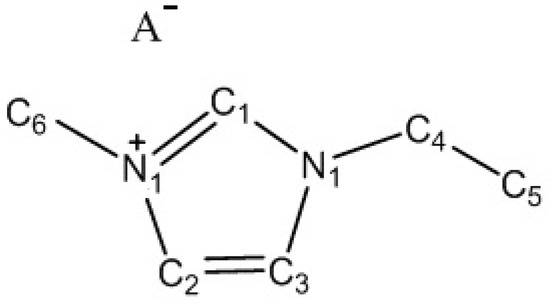 Figure 1
This is an open access article distributed under the
Creative Commons Attribution License
which permits unrestricted use, distribution, and reproduction in any medium, provided the original work is properly cited (CC BY 4.0).

Share & Cite This Article
MDPI and ACS Style
Kruusma, J.; Tõnisoo, A.; Pärna, R.; Nõmmiste, E.; Lust, E. In Situ X-ray Photoelectron Spectroscopic and Electrochemical Studies of the Bromide Anions Dissolved in 1-Ethyl-3-Methyl Imidazolium Tetrafluoroborate. Nanomaterials 2019, 9, 304.
Note that from the first issue of 2016, MDPI journals use article numbers instead of page numbers. See further details here.
Related Articles
Comments
[Return to top]