Open Access This article is
freely available
re-usable
Article
Understanding the Impact of Cu-In-Ga-S Nanoparticles Compactness on Holes Transfer of Perovskite Solar Cells
1
Department of Materials Science and Engineering, Shenzhen Key Laboratory of Full Spectral Solar Electricity Generation (FSSEG), Southern University of Science and Technology, No. 1088, Xueyuan Rd., Shenzhen 518055, Guangdong, China
2
Institute of Applied Physics and Materials Engineering, University of Macau, Macau SAR 999078, China
*
Author to whom correspondence should be addressed.
Received: 15 January 2019 / Accepted: 13 February 2019 / Published: 18 February 2019
Abstract
:
Although a compact holes-transport-layer (HTL) film has always been deemed mandatory for perovskite solar cells (PSCs), the impact their compactness on the device performance has rarely been studied in detail. In this work, based on a device structure of FTO/CIGS/perovskite/PCBM/ZrAcac/Ag, that effect was systematically investigated with respect to device performance along with photo-physics characterization tools. Depending on spin-coating speed, the grain size and coverage ratio of those CIGS films on FTO substrates can be tuned, and this can result in different hole transfer efficiencies at the anode interface. At a speed of 4000 r.p.m., the band level offset between the perovskite and CIGS modified FTO was reduced to a minimum of 0.02 eV, leading to the best device performance, with conversion efficiency of 15.16% and open-circuit voltage of 1.04 V, along with the suppression of hysteresis. We believe that the balance of grain size and coverage ratio of CIGS interlayers can be tuned to an optimal point in the competition between carrier transport and recombination at the interface based on the proposed mechanism. This paper definitely deepens our understanding of the hole transfer mechanism at the interface of PSC devices, and facilitates future design of high-performance devices.
Keywords:
holes transport layer; compactness; hole transfer; recombination; Cu-In-Ga-S; perovskite solar cells
1. Introduction
Here, we first applied CIGS nanoparticles as the HTL in inverted planar perovskite solar cells, which was obtained directly by spin coating the CIGS precursor solution onto the FTO substrate. As for CIGS, it has the advantages of chemical stability, bandgap tuning by means of composition engineering, and temperature and moisture stability in air. Therefore, it is promising to use CIGS to act as the HTL in perovskite solar cells in order to improve device stability.
2. Experimental
2.1. Materials
CuCl (99.999%), InCl3 (anhydrous, 99.99%) and PbI2 (99.9985%) were bought from Alfa Aesar (Beijing, China). Ga(NO3)3▪nH2O (99.99%), N, N-Dimethyl formamide (DMF), and Dimethyl sulfoxide (DMSO) were purchased from Sigma Aldrich (China). CH3NH3I was purchased from Taiwan Lumtec Corp. PC61BM (99.5%) was purchased from Shanghai MaterWin New Materials Co. (Shanghai, China), Ltd. All materials were used as received without further purification.
Preparation of CIGS precursor solution: The CIGS solution was prepared according to the reported procedures with some modification. 0.0358 g Ga(NO3)3 ▪ XH2O was added after dissolving 0.2283 g thiourea, 0.0395 g CuCl, and 0.0729 g InCl3 in 4 mL DMSO, which were added consecutively to the ink and allowed to dissolve under stirring before adding the next. After the addition of Ga(NO3)3 ▪ nH2O, the inks were heated for 2 h at 120 °C to form a clear solution. All were prepared in the glove box (O2 < 50 ppm, H2O < 0.1 ppm).
2.2. Fabrication of CIGS Film
First, the FTO substrates were cleaned with DI water, toluene, acetone, and isopropanol for 20 min. Then, after spin coating the CIGS precursor solution on the FTO glass at different speeds (1000 r.p.m., 2000 r.p.m., 3000 r.p.m., 4000 r.p.m., 5000 r.p.m. and 6000 r.p.m.), the CIGS films were heated at 250 °C for 1–2 min on the preheated plate.
2.3. Device Fabrication
First, the as-prepared perovskite precursor solution (PbI2 and CH3NH3I with mole ratio of 1:1 dissolved in a mixture of DMF and DMSO (2:1 v/v)) was filtered using 0.22 µm PTFE syringe filter and spin coated onto the CIGS films at a speed of 3500 r.p.m. for 35 s. During the last 15 s of the spinning process, the film was treated by gently drop-casting chlorobenzene solvent (200 µL). The substrate was then annealed on a hot plate at 100 °C for 10 min, followed by spin-coating a layer of PC61BM (2 wt. %, 1500 r.p.m.) on top and annealed for 20 min. Then, ZrAcac solution (1.0 mg/mL in methanol) was gently drop-casted (5000 r.p.m., 30 s) on top of PC61BM films. Finally, a 100-nm-thick Ag electrode was deposited through a shadow mask by thermal evaporation. The active area of the devices was 0.1 cm2.
2.4. Characterizations
The J–V curves were recorded using a Keithley 2400 sourcemeter. Simulated solar illumination was provided by a Newport solar simulator under AM 1.5 at 100 mW cm−2 illumination with the start voltage at −0.2 V and the end voltage at 1.2 V, the delay time was 40 ms. The EQE spectra were recorded with by an Enli Technology (Taiwan) EQE measurement system (QE-R), and the light intensity at each wavelength was calibrated with a standard single-crystal Si photovoltaic cell. Absorption and transmission spectra were recorded by a UV/Vis/NIR Spectrophotometer (LAMBDA 950, PerkinElmer Waltham, MA, USA). Room temperature photoluminescence (PL) and time-resolved PL spectra were recorded by fluorescence spectrophotometer (FS5, Edinburgh Instruments Livingston, UK). A 405 nm pulsed laser was selected as excitation source for the time resolved PL measurement. Top-view scanning electron microscopy (SEM) images were characterized by MERLIN (Carl Zeiss AG, Jena, Germany) using an SE2 detector operating at an accelerating voltage of 5 KV. Cross-section scanning electron microscopy (SEM) was prepared using a focused ion beam (FEI Helios Nanolab 600i) operating at 30 KV and subsequently imaged with the electron beam of the same instrument using an accelerating voltage of 5 KV. The work function of FTO with or without CIGS films were measured by Ultraviolet photoelectron spectroscopy (UPS) (AXIS Ultra DLD, KRATOS Analytical Manchester, UK). The X-ray diffraction (XRD) patterns were recorded using a Bruker D8 X-ray diffractometer. An Atomic Force Microscope (AFM) (MFP-3D-Stand Alone, Asylum Research Abingdon-on-Thames, UK) was employed to investigate the film surface morphology.
3. Results and Discussion
4. Conclusions
In summary, the CIGS nanoparticles films were involved in evaluating the impact of the compactness of hole transport layers in the performance of PSCs. By changing the spin-coating speed from 1000 to 6000 r.p.m., the device at a spin-coating speed of 4000 r.p.m. achieved the optimal PCE of 15.16%, and Voc of 1.04 V. In the UPS results, CIGS-4000 had the smallest band level offset (0.02 eV) with the perovskite, and achieved the most efficient hole transfer at the anode interface, also demonstrating that it was optimal in terms of the competition between recombination and transport at the interface. The optimum was yielded by a synergetic effect of both grain size and coverage ratio of the CIGS interlayer covering the surface of FTO electrodes. PL quenching and TRPL also confirm the variation law, along with the results of their Nyquist plots. This paper answers the question as to the necessary compactness of hole transport layers that is sufficient to separate holes from photon-generated carriers, and also definitely deepens the scope of our understanding of the detailed function of carrier transport layers.
Author Contributions
Conceptualization, D.Z. and Z.H; Methodology, D.Z. and Y.W.; Validation, G.X., H.L. and Z.H.; Formal Analysis, B.T; Investigation, D.Z.; Resources, Z.H.; Data Curation, D.Z.; Writing-Original Draft Preparation, D.Z.; Writing-Review & Editing, Z.H. and G.X.; Supervision, Z.H.; Project Administration, Z.H.; Funding Acquisition, Z.H.
Funding
This research was funded by the National Natural Science Foundation of China (NSFC) (Nos. 61775091, 51602149, 61705102, 61605073, and 91733302), the National Basic Research Program of China, Fundamental Studies of Perovskite Solar Cells (Grant 2015CB932200),the National Key Research Project MOST (No. 2016YFA0202400), Natural Science Foundation of Shenzhen Innovation Committee (No. JCYJ20150529152146471), the Shenzhen Key Laboratory Project (No. ZDSYS201602261933302), the Natural Science Foundation of Jiangsu Province, China (Grants BK20150064, BK20161011, and BK20161010), the Macau Science and Technology Development Fund (FDCT-116/2016/A3, FDCT-091/2017/A2, FDCT-014/2017/AMJ), the Research Grant (SRG2016-00087-FST, MYRG2018-00148-IAPME) from University of Macau, and the Young 1000 Talents Global Recruitment Program of China, Jiangsu Specially-Appointed Professor program, and "Six talent peaks" Project in Jiangsu Province, China.
Acknowledgments
Thanks Wei Chen for the useful discuss on experiments, and Xiyuan Feng for PL measurements.
Conflicts of Interest
The authors declare no conflict of interest.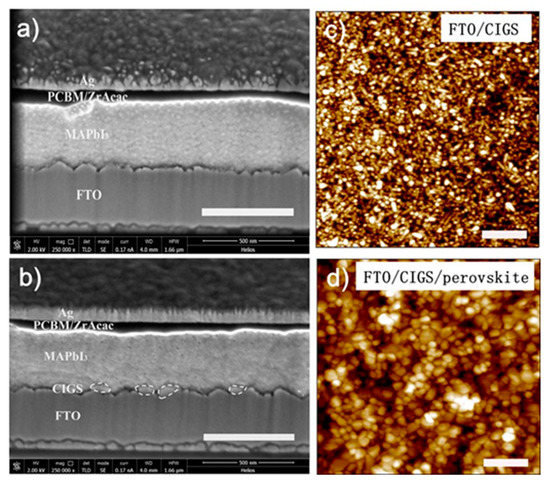 Figure 1. (a) Cross-section SEM image of the perovskite device without HTL layer. (b) Cross-section SEM image of the CIGS-based perovskite device. The scale bar is 500 nm. AFM images of the CIGS film (c) and the perovskite film on CIGS (d), respectively. The AFM image sizes are 5 μm × 5 μm and the scale bar is 1 μm.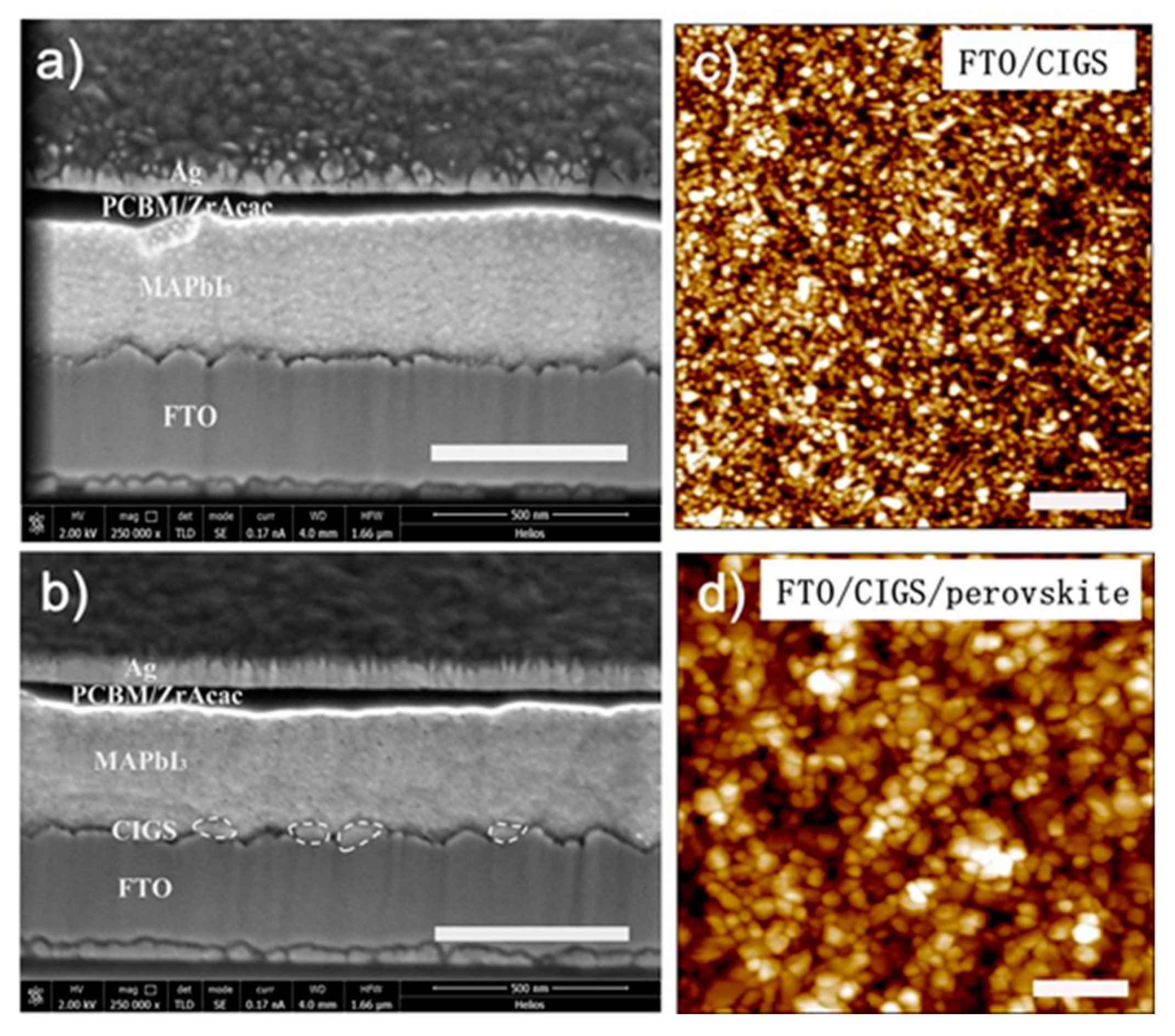 Figure 2.
(
a
)
J-V
curves of PSCs with and without CIGS HTL layer, the active area of the devices is 0.1 cm
2
. (
b
) EQE spectra of the PSCs. The
Jsc
were integrated from each EQE curve.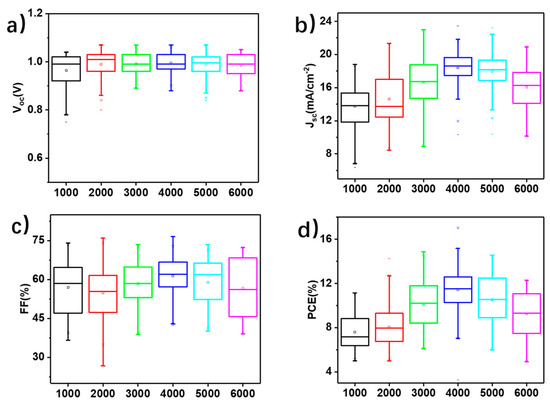 Figure 3.
Comparison of the PSCs with CIGS thin films spin-coated at different speeds. Statistics for (
a
) V
oc
, (
b
)
Jsc
, (
c
)
FF
, and (
d
) PCE.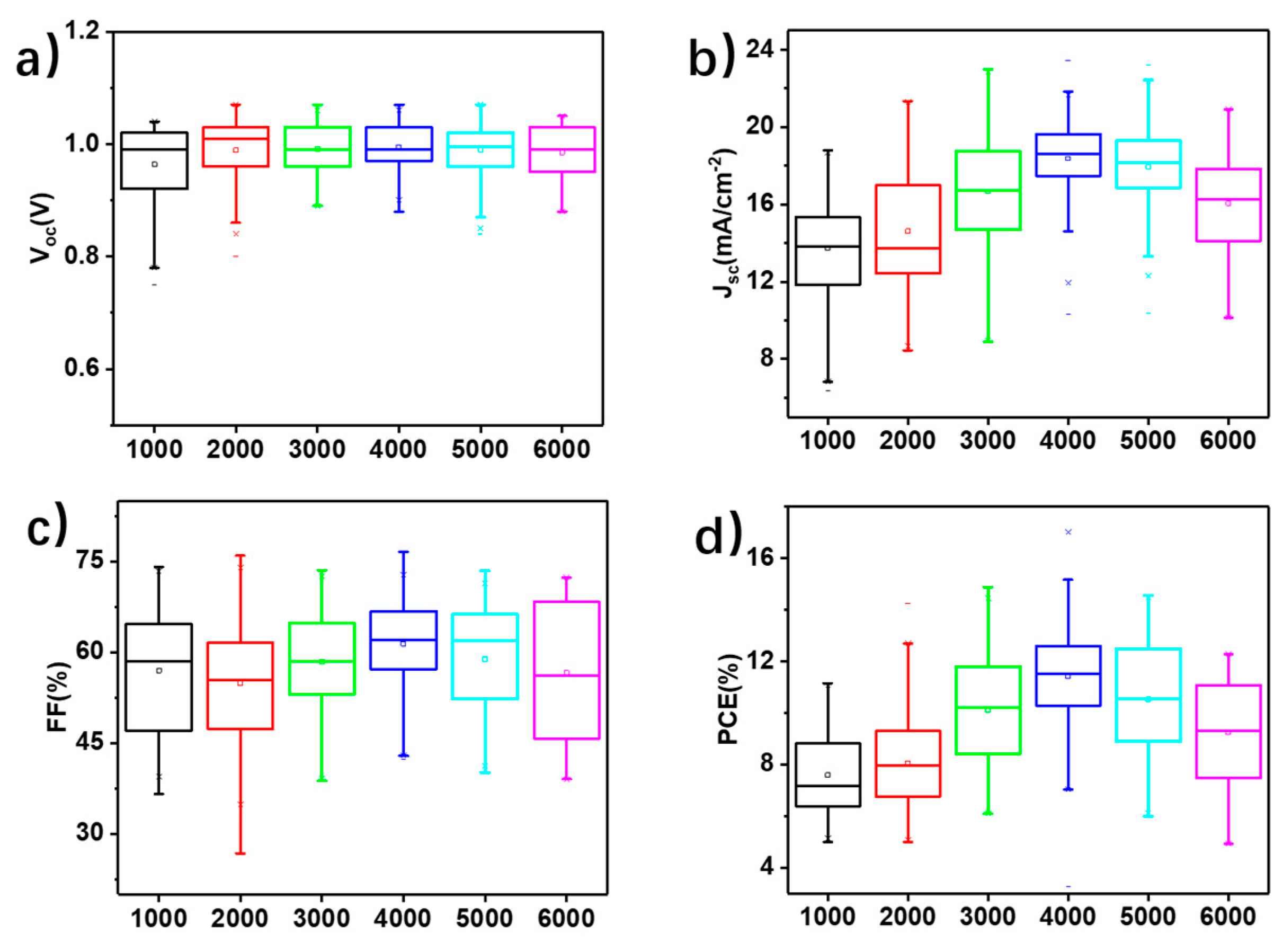 Figure 4. The morphologies of the CIGS thin film at different spin-coating rates on the FTO substrate. (a) 1000 r.p.m., (b) 2000 r.p.m., (c) 3000 r.p.m., (d) 4000 r.p.m., (e) 5000 r.p.m., (f) 6000 r.p.m. Scale bar is 1 µm.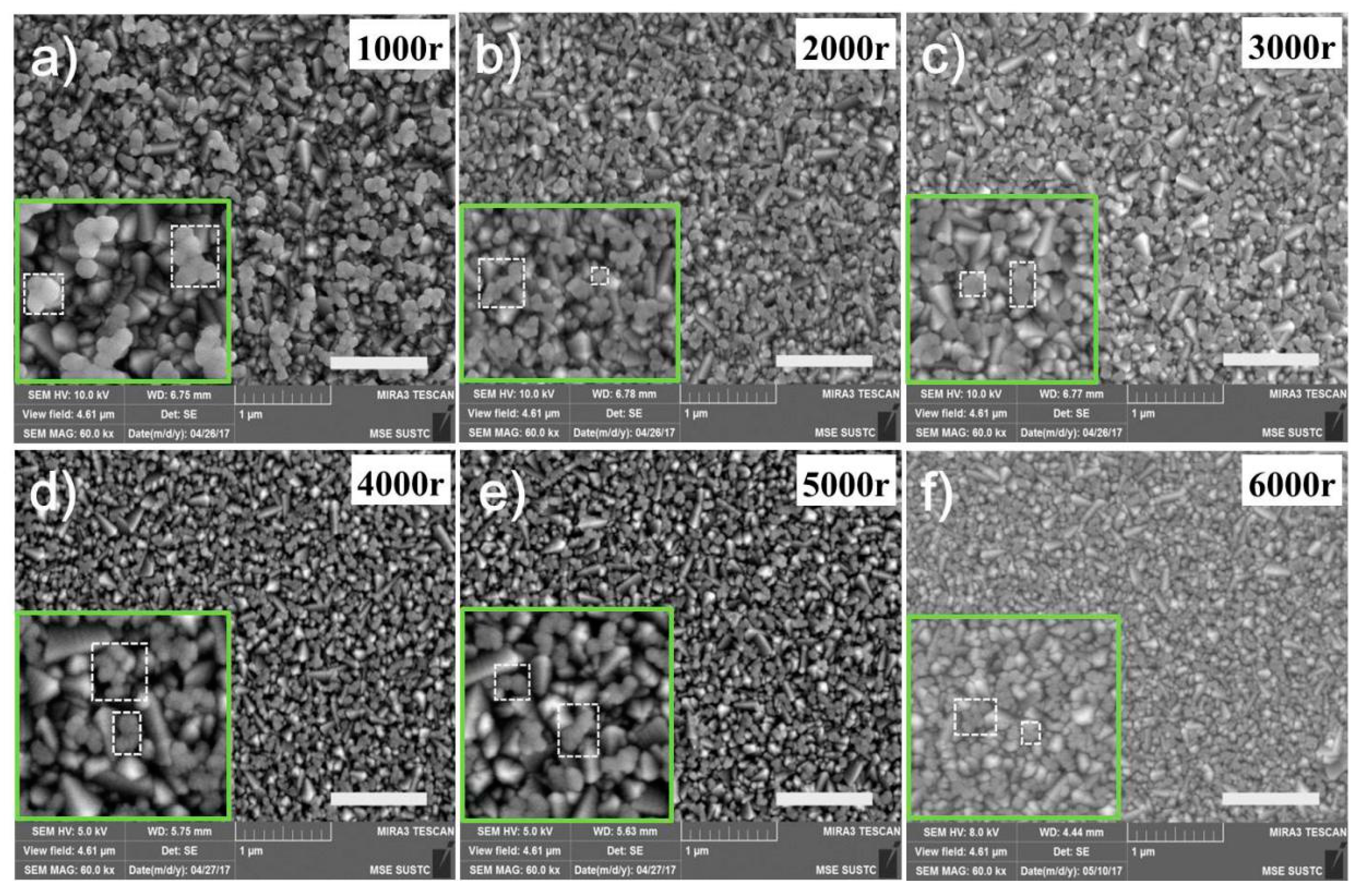 Figure 5. (a) Absorption spectra of the CIGS thin films at different spin-coating speeds. (b) Optical transmittance spectra of the pristine FTO and CIGS thin films at different spin-coating speeds.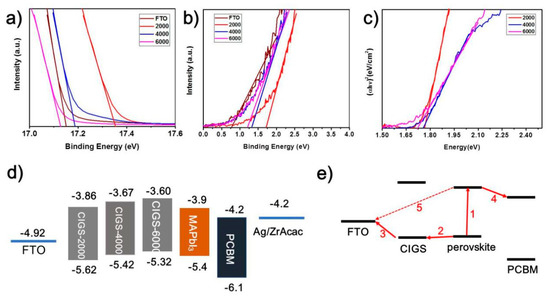 Figure 6.
(
a
) and (
b
) are the UPS spectra of the CIGS thin films (spin coated at 2000 r.p.m., 4000 r.p.m., 6000 r.p.m., respectively) and FTO. (
c
) Tauc plots extracted from their corresponding absorption spectrum presented in
Figure 3
g. (
d
) Schematic diagram of charge transfer process in devices. (
e
) Band energy levels of each layer in the device as deduced from the data in
Figure 4
a–c.
Figure 7. (a) Steady-state PL spectra and (b) time-resolved PL decays of perovskite films on the pristine FTO and the CIGS films at different spin speeds. (c) Nyquist plots for the PSCs with and without CIGS thin film as HTL.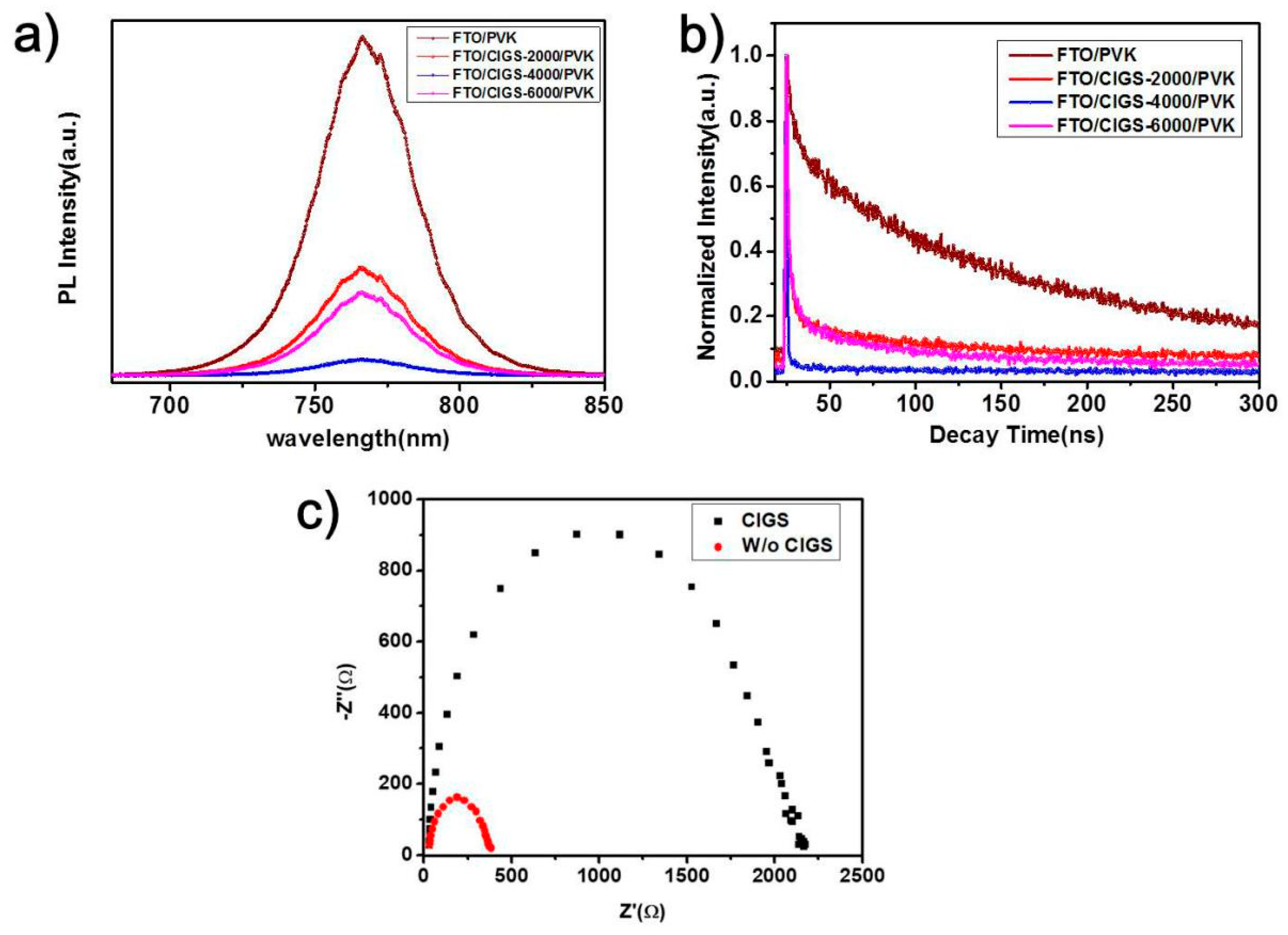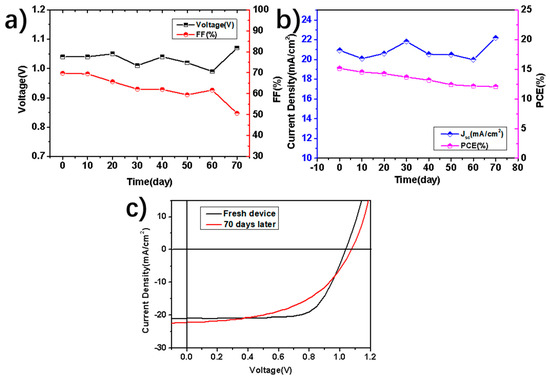 Figure 8.
Long-term stability of the CIGS-based PSCs: (
a
)
Voc
and
FF,
and (
b
)
Jsc
and PCE degradation of storage time in an inert atmosphere without encapsulation and tested in the air. (
c
)
J-V
curves of the fresh device and the same one after aging 70 days.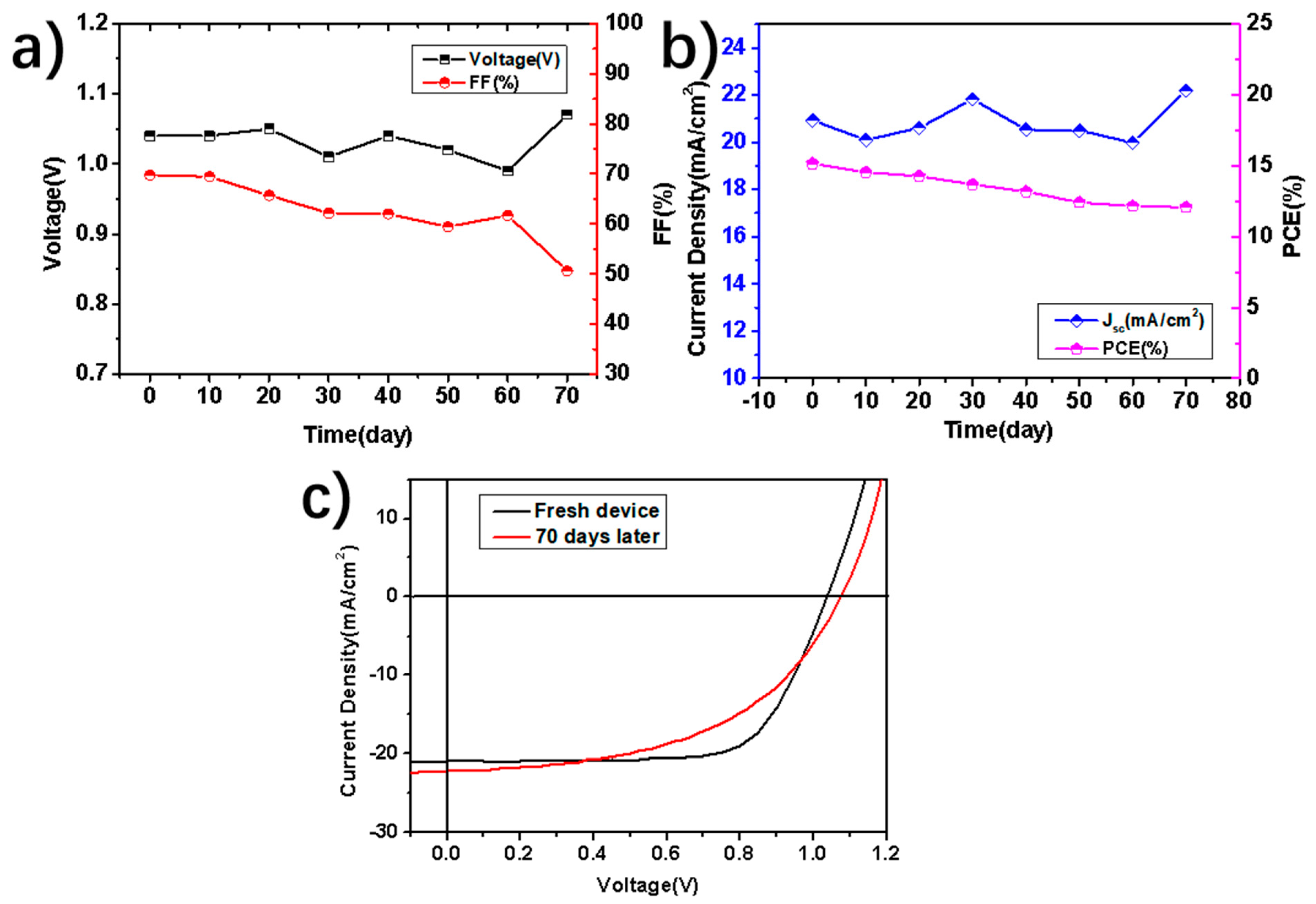 © 2019 by the authors. Licensee MDPI, Basel, Switzerland. This article is an open access article distributed under the terms and conditions of the Creative Commons Attribution (CC BY) license (http://creativecommons.org/licenses/by/4.0/).