Elaboration of
Trans

-Resveratrol Derivative-Loaded Superparamagnetic Iron Oxide Nanoparticles for Glioma Treatment

1

Laboratoire Interdisciplinaire Carnot de Bourgogne (ICB), UMR 6303 CNRS/Université Bourgogne Franche-Comté, 21000 Dijon, France

2

Institut de Chimie Moléculaire de l'Université de Bourgogne (ICMUB), UMR 6302 CNRS/Université Bourgogne Franche-Comté, 21000 Dijon, France

3

Laboratoire Bio-PeroxIL, EA7270, Université de Bourgogne Franche-Comté/Inserm, 21000 Dijon, France

*

Author to whom correspondence should be addressed.

Received: 9 January 2019 / Revised: 31 January 2019 / Accepted: 15 February 2019 / Published: 18 February 2019
Abstract
In this work, new nanohybrids based on superparamagnetic iron oxide nanoparticles (SPIONs) were elaborated and discussed for the first time as nanovectors of a derivative molecule of trans-resveratrol (RSV), a natural antioxidant molecule, which can be useful for brain disease treatment. The derivative molecule was chemically synthesized (4'-hydroxy-4-(3-aminopropoxy) trans-stilbene: HAPtS) and then grafted onto SPIONs surface using an organosilane coupling agent, which is 3-chloropropyltriethoxysilane (CPTES) and based on nucleophilic substitution reactions. The amount of HAPtS loaded onto SPIONs surface was estimated by thermogravimetric analysis (TGA) and X-ray photoelectron spectroscopy (XPS) analyses at 116 µmol·g
−1
SPIONs. The synthesized HAPtS molecule, as well as the associated nanohybrids, were fully characterized by transmission electron microscopy (TEM), XPS, TGA, infrared (IR) and UV-visible spectroscopies, dynamic light scattering (DLS), and zeta potential measurements. The in vitro biological assessment of the synthesized nanohybrid's efficiency was carried out on C6 glioma cells and showed that the nanovector SPIONs-CPTES-HAPtS do not affect the mitochondrial metabolism (MTT test), but damage the plasma membrane (FDA test), which could contribute to limiting the proliferation of cancerous cells (clonogenic test) at a HAPtS concentration of 50 µM. These nanoparticles have a potential cytotoxic effect that could be used to eliminate cancer cells.
View Full-Text
►

▼

Figures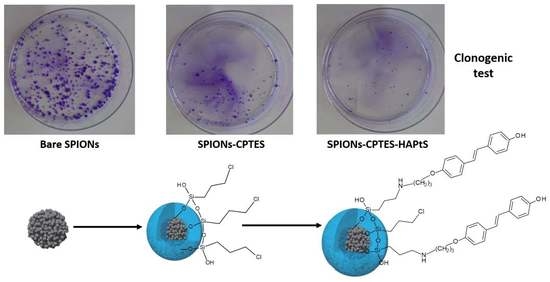 Graphical abstract
This is an open access article distributed under the
Creative Commons Attribution License
which permits unrestricted use, distribution, and reproduction in any medium, provided the original work is properly cited (CC BY 4.0).

Share & Cite This Article
MDPI and ACS Style
Sallem, F.; Haji, R.; Vervandier-Fasseur, D.; Nury, T.; Maurizi, L.; Boudon, J.; Lizard, G.; Millot, N. Elaboration of Trans-Resveratrol Derivative-Loaded Superparamagnetic Iron Oxide Nanoparticles for Glioma Treatment. Nanomaterials 2019, 9, 287.
Note that from the first issue of 2016, MDPI journals use article numbers instead of page numbers. See further details here.
Related Articles
Comments
[Return to top]