A Smart Nanovector for Cancer Targeted Drug Delivery Based on Graphene Quantum Dots
1
Department of Engineering, University of Messina, Contrada Di Dio, I-98166 Messina, Italy
2
Department of Mathematical and Computer Sciences, Physical Sciences and Earth Sciences, Viale F. Stagno d'Alcontres, 98166 Messina, Italy
3
Department of Chemical, Biological, Pharmaceutical and Environmental Sciences, University of Messina, Viale Annunziata, I-98168 Messina, Italy
4
Laboratory of Industrial and Synthetic Organic Chemistry (LISOC), Department of Chemistry and Chemical Technologies, University of Calabria, Via Pietro Bucci 12/C, 87036 Arcavacata di Rende (CS), Italy
5
Department of Biomedical and Dental Sciences and Morphological and Functional Images, University Hospital of Messina, Via Consolare Valeria, 1, 98100 Messina, Italy
*
Authors to whom correspondence should be addressed.
Received: 9 January 2019 / Revised: 8 February 2019 / Accepted: 10 February 2019 / Published: 18 February 2019
Abstract
Graphene quantum dots (GQD), the new generation members of graphene-family, have shown promising applications in anticancer therapy. In this study, we report the synthesis of a fluorescent and biocompatible nanovector, based on GQD, for the targeted delivery of an anticancer drug with benzofuran structure (BFG) and bearing the targeting ligand riboflavin (RF, vitamin B2). The highly water-dispersible nanoparticles, synthesized from multi-walled carbon nanotubes (MWCNT) by prolonged acidic treatment, were linked covalently to the drug by means of a cleavable PEG linker while the targeting ligand RF was conjugated to the GQD by π–π interaction using a pyrene linker. The cytotoxic effect of the synthesized drug delivery system (DDS)
[email protected]
was tested on three cancer cell lines and this effect was compared with that exerted by the same nanovector lacking the RF ligand (GQD-PEG-BFG) or the anticancer drug (
[email protected]
). The results of biological tests underlined the low cytotoxicity of the GQD sample and the cytotoxic activity of the DDS against the investigated cancer cell lines with a higher or similar potency to that exerted by the BFG alone, thus opening new possibilities for the use of this drug or other anticancer agents endowed of cytotoxicity and serious side effects.
View Full-Text
►

▼

Figures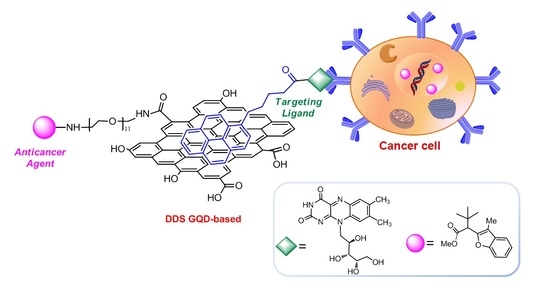 Graphical abstract
This is an open access article distributed under the
Creative Commons Attribution License
which permits unrestricted use, distribution, and reproduction in any medium, provided the original work is properly cited (CC BY 4.0).

Share & Cite This Article
MDPI and ACS Style
Iannazzo, D.; Pistone, A.; Celesti, C.; Triolo, C.; Patané, S.; Giofré, S.V.; Romeo, R.; Ziccarelli, I.; Mancuso, R.; Gabriele, B.; Visalli, G.; Facciolà, A.; Di Pietro, A. A Smart Nanovector for Cancer Targeted Drug Delivery Based on Graphene Quantum Dots. Nanomaterials 2019, 9, 282.
Note that from the first issue of 2016, MDPI journals use article numbers instead of page numbers. See further details here.
Related Articles
Comments
[Return to top]