Oxygen-Scavenging Multilayered Biopapers Containing Palladium Nanoparticles Obtained by the Electrospinning Coating Technique
1
Novel Materials and Nanotechnology Group, Institute of Agrochemistry and Food Technology (IATA), Spanish Council for Scientific Research (CSIC), Calle Catedrático Agustín Escardino Benlloch 7, 46980 Paterna, Spain
2
AGH University of Science and Technology, International Centre of Electron Microscopy for Materials Science, Faculty of Metals Engineering and Industrial Computer Science, Al. A. Mickiewicza 30, 30-059 Kraków, Poland
*
Author to whom correspondence should be addressed.
Received: 11 January 2019 / Revised: 3 February 2019 / Accepted: 11 February 2019 / Published: 14 February 2019
Abstract
The main goal of this study was to obtain, for the first time, highly efficient water barrier and oxygen-scavenging multilayered electrospun biopaper coatings of biodegradable polymers over conventional cellulose paper, using the electrospinning coating technique. In order to do so, poly(3-hydroxybutyrate) (PHB) and polycaprolactone (PCL) polymer-containing palladium nanoparticles (PdNPs) were electrospun over paper, and the morphology, thermal properties, water vapor barrier, and oxygen absorption properties of nanocomposites and multilayers were investigated. In order to reduce the porosity, and to enhance the barrier properties and interlayer adhesion, the biopapers were annealed after electrospinning. A previous study showed that electrospun PHB-containing PdNP did show significant oxygen scavenging capacity, but this was strongly reduced after annealing, a process that is necessary to form a continuous film with the water barrier. The results in the current work indicate that the PdNP were better dispersed and distributed in the PCL matrix, as suggested by focus ion beam-scanning electron microscopy (FIB-SEM) experiments, and that the Pd enhanced, to some extent, the onset of PCL degradation. More importantly, the PCL/PdNP nanobiopaper exhibited much higher oxygen scavenging capacity than the homologous PHB/PdNP, due to most likely, the higher oxygen permeability of the PCL polymer and the somewhat higher dispersion of the Pd. The passive and active multilayered biopapers developed here may be of significant relevance to put forward the next generation of fully biodegradable barrier papers of interest in, for instance, food packaging.
View Full-Text
►

▼

Figures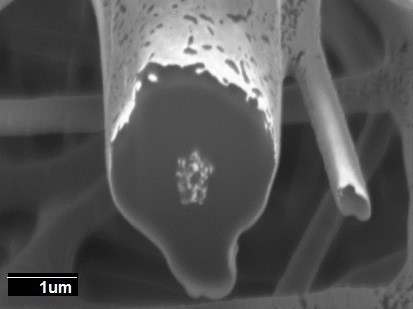 Graphical abstract
This is an open access article distributed under the
Creative Commons Attribution License
which permits unrestricted use, distribution, and reproduction in any medium, provided the original work is properly cited (CC BY 4.0).

Share & Cite This Article
MDPI and ACS Style
Cherpinski, A.; Szewczyk, P.K.; Gruszczyński, A.; Stachewicz, U.; Lagaron, J.M. Oxygen-Scavenging Multilayered Biopapers Containing Palladium Nanoparticles Obtained by the Electrospinning Coating Technique. Nanomaterials 2019, 9, 262.
Note that from the first issue of 2016, MDPI journals use article numbers instead of page numbers. See further details here.
Related Articles
Comments
[Return to top]