Tunable Synthesis of Mesoporous Carbons from Fe3O(BDC)3 for Chloramphenicol Antibiotic Remediation
1
Center of Excellence for Green Energy and Environmental Nanomaterials (
[email protected]
), Nguyen Tat Thanh University, 300A Nguyen Tat Thanh, District 4, Ho Chi Minh City 755414, Vietnam
2
NTT Hi-Tech Institute, Nguyen Tat Thanh University, 300A Nguyen Tat Thanh, District 4, Ho Chi Minh City 755414, Vietnam
3
Department of Pharmacy, Nguyen Tat Thanh University, 298–300A Nguyen Tat Thanh, Ward 13, District 4, Ho Chi Minh City 700000, Vietnam
4
Institute of Hygiene and Public Health, 159 Hung Phu, Ward 8, District 8, Ho Chi Minh City 700000, Vietnam
5
Center of Excellence for Functional Polymers and NanoEngineering, Nguyen Tat Thanh University, 300A Nguyen Tat Thanh, District 4, Ho Chi Minh City 755414, Vietnam
6
Faculty of Chemical & Natural Resources Engineering, Universiti Malaysia Pahang, Lebuhraya Tun Razak, 26300 Gambang, Kuantan, Pahang, Malaysia
7
Department of Chemical Engineering, Pukyong National University, 365 Shinsunro, Nam-ku, 48547 Busan, Korea
*
Author to whom correspondence should be addressed.
Received: 10 January 2019 / Revised: 4 February 2019 / Accepted: 5 February 2019 / Published: 10 February 2019
Abstract
Chloramphenicol (CAP) is commonly employed in veterinary clinics, but illegal and uncontrollable consumption can result in its potential contamination in environmental soil, and aquatic matrix, and thereby, regenerating microbial resistance, and antibiotic-resistant genes. Adsorption by efficient, and recyclable adsorbents such as mesoporous carbons (MPCs) is commonly regarded as a "green and sustainable" approach. Herein, the MPCs were facilely synthesized via the pyrolysis of the metal–organic framework Fe
3
O(BDC)
3
with calcination temperatures (
x
°C) between 600 and 900 °C under nitrogen atmosphere. The characterization results pointed out mesoporous carbon matrix (MPC700) coating zero-valent iron particles with high surface area (~225 m
2
/g). Also, significant investigations including fabrication condition, CAP concentration, effect of pH, dosage, and ionic strength on the absorptive removal of CAP were systematically studied. The optimal conditions consisted of pH = 6, concentration 10 mg/L and dose 0.5 g/L for the highest chloramphenicol removal efficiency at nearly 100% after 4 h. Furthermore, the nonlinear kinetic and isotherm adsorption studies revealed the monolayer adsorption behavior of CAP onto MPC700 and Fe
3
O(BDC)
3
materials via chemisorption, while the thermodynamic studies implied that the adsorption of CAP was a spontaneous process. Finally, adsorption mechanism including H-bonding, electrostatic attraction, π–π interaction, and metal–bridging interaction was proposed to elucidate how chloramphenicol molecules were adsorbed on the surface of materials. With excellent maximum adsorption capacity (96.3 mg/g), high stability, and good recyclability (4 cycles), the MPC700 nanocomposite could be utilized as a promising alternative for decontamination of chloramphenicol antibiotic from wastewater.
View Full-Text
►

▼

Figures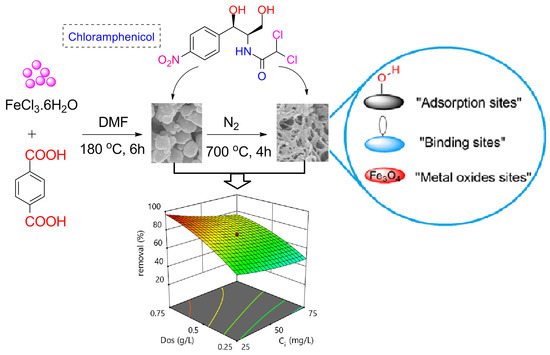 Graphical abstract
This is an open access article distributed under the
Creative Commons Attribution License
which permits unrestricted use, distribution, and reproduction in any medium, provided the original work is properly cited (CC BY 4.0).

Share & Cite This Article
MDPI and ACS Style
Tran, T.V.; Nguyen, D.T.C.; Le, H.T.N.; Bach, L.G.; Vo, D.-V.N.; Hong, S.S.; Phan, T.-Q.T.; Nguyen, T.D. Tunable Synthesis of Mesoporous Carbons from Fe3O(BDC)3 for Chloramphenicol Antibiotic Remediation. Nanomaterials 2019, 9, 237.
Note that from the first issue of 2016, MDPI journals use article numbers instead of page numbers. See further details here.
Related Articles
Comments
[Return to top]