Facile Preparation of Rod-like MnO Nanomixtures via Hydrothermal Approach and Highly Efficient Removal of Methylene Blue for Wastewater Treatment
1
State Key Laboratory of Metastable Materials Science and Technology, Yanshan University, Qinhuangdao 066004, China
2
Hebei Key Laboratory of Applied Chemistry, School of Environmental and Chemical Engineering, Yanshan University, Qinhuangdao 066004, China
3
Institute of Energy Resources, Hebei Academy of Sciences, Shijiazhuang 050081, China
4
Hebei Engineering Research Center for Water Saving in Industry, Shijiazhuang 050081, China
*
Authors to whom correspondence should be addressed.
Received: 12 December 2018 / Accepted: 13 December 2018 / Published: 22 December 2018
Abstract
In the present study, nanoscale rod-shaped manganese oxide (MnO) mixtures were successfully prepared from graphitic carbon nitride (C
3
N
4
) and potassium permanganate (KMnO
4
) through a hydrothermal method. The as-prepared MnO nanomixtures exhibited high activity in the adsorption and degradation of methylene blue (MB). The as-synthesized products were characterized by scanning electron microscopy (SEM), transmission electron microscopy (TEM), surface area analysis, X-ray diffraction (XRD), and X-ray photoelectron spectroscopy (XPS). Furthermore, the effects of the dose of MnO nanomixtures, pH of the solution, initial concentration of MB, and the temperature of MB removal in dye adsorption and degradation experiments was investigated. The degradation mechanism of MB upon treatment with MnO nanomixtures and H
2
O
2
was studied and discussed. The results showed that a maximum adsorption capacity of 154 mg g
−1
was obtained for a 60 mg L
−1
MB solution at pH 9.0 and 25 °C, and the highest MB degradation ratio reached 99.8% under the following optimum conditions: 50 mL of MB solution (20 mg L
−1
) at room temperature and pH ≈ 8.0 with 7 mg of C, N-doped MnO and 0.5 mL of H
2
O
2
.
View Full-Text
►

▼

Figures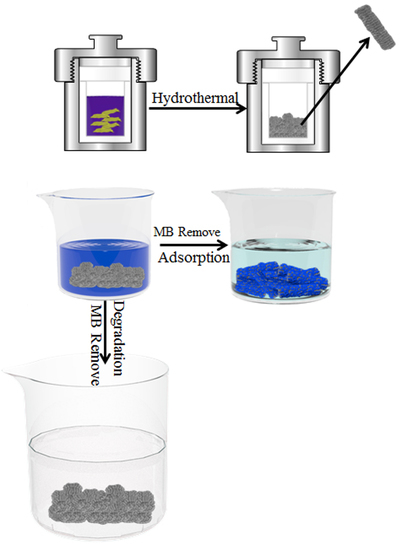 Graphical abstract
This is an open access article distributed under the
Creative Commons Attribution License
which permits unrestricted use, distribution, and reproduction in any medium, provided the original work is properly cited (CC BY 4.0).

Share & Cite This Article
MDPI and ACS Style
Xu, Y.; Ren, B.; Wang, R.; Zhang, L.; Jiao, T.; Liu, Z. Facile Preparation of Rod-like MnO Nanomixtures via Hydrothermal Approach and Highly Efficient Removal of Methylene Blue for Wastewater Treatment. Nanomaterials 2019, 9, 10.
Note that from the first issue of 2016, MDPI journals use article numbers instead of page numbers. See further details here.
Related Articles
Comments
[Return to top]