Thickness-Dependent Differential Reflectance Spectra of Monolayer and Few-Layer MoS2, MoSe2, WS2 and WSe2
1
National Center for International Research on Green Optoelectronics & Guangdong Provincial Key Laboratory of Optical Information Materials and Technology, Institute of Electronic Paper Displays, South China Academy of Advanced Optoelectronics, South China Normal University, Guangzhou 510006, China
2
Instituto Madrileño de Estudios Avanzados en Nanociencia (IMDEA Nanociencia), Campus de Cantoblanco, E-28049 Madrid, Spain
3
National Key Laboratory of Science and Technology on Advanced Composites in Special Environments, Harbin Institute of Technology, Harbin 150001, China
4
Materials Science Factory, Instituto de Ciencia de Materiales de Madrid (ICMM), Consejo Superior de Investigaciones Científicas (CSIC), Sor Juana Inés de la Cruz 3, 28049 Madrid, Spain
5
Institute of Solid-state Theory, University of Münster, 48149 Münster, Germany
6
Institute of Physics and Center for Nanotechnology, University of Münster, 48149 Münster, Germany
7
Faculty of Physics, Khaje Nasir Toosi University of Technology (KNTU), Tehrān 19697 64499, Iran
8
Institute of Photonics, Vienna University of Technology, Gusshausstrasse 27–29, 1040 Vienna, Austria
*
Author to whom correspondence should be addressed.
Received: 13 August 2018 / Revised: 2 September 2018 / Accepted: 7 September 2018 / Published: 14 September 2018
Abstract
The research field of two dimensional (2D) materials strongly relies on optical microscopy characterization tools to identify atomically thin materials and to determine their number of layers. Moreover, optical microscopy-based techniques opened the door to study the optical properties of these nanomaterials. We presented a comprehensive study of the differential reflectance spectra of 2D semiconducting transition metal dichalcogenides (TMDCs), MoS
2
, MoSe
2
, WS
2
, and WSe
2
, with thickness ranging from one layer up to six layers. We analyzed the thickness-dependent energy of the different excitonic features, indicating the change in the band structure of the different TMDC materials with the number of layers. Our work provided a route to employ differential reflectance spectroscopy for determining the number of layers of MoS
2
, MoSe
2
, WS
2
, and WSe
2
.
View Full-Text
►

▼

Figures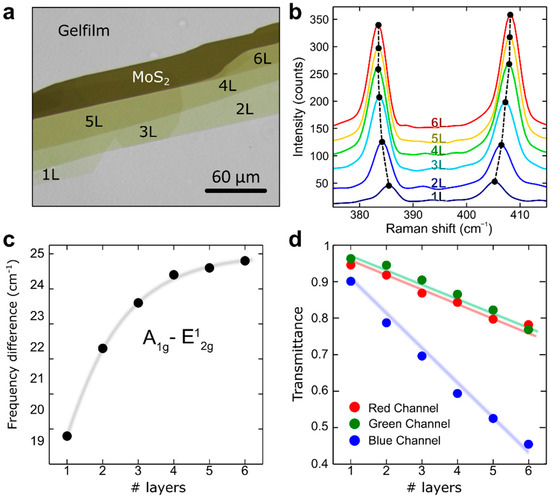 Figure 1
This is an open access article distributed under the
Creative Commons Attribution License
which permits unrestricted use, distribution, and reproduction in any medium, provided the original work is properly cited (CC BY 4.0).

Share & Cite This Article
MDPI and ACS Style
Niu, Y.; Gonzalez-Abad, S.; Frisenda, R.; Marauhn, P.; Drüppel, M.; Gant, P.; Schmidt, R.; Taghavi, N.S.; Barcons, D.; Molina-Mendoza, A.J.; De Vasconcellos, S.M.; Bratschitsch, R.; Perez De Lara, D.; Rohlfing, M.; Castellanos-Gomez, A. Thickness-Dependent Differential Reflectance Spectra of Monolayer and Few-Layer MoS2, MoSe2, WS2 and WSe2. Nanomaterials 2018, 8, 725.
Note that from the first issue of 2016, MDPI journals use article numbers instead of page numbers. See further details here.
Related Articles
Comments
[Return to top]