Biosynthesis of Silver Nanoparticles from Oropharyngeal
Candida glabrata

Isolates and Their Antimicrobial Activity against Clinical Strains of Bacteria and Fungi

1

Department of Microbiology, Jawaharlal Nehru Medical College and Hospital, Aligarh Muslim University, Aligarh 202002, India

2

Department of Epidemic Disease Research, Institutes of Research and Medical Consultations (IRMC), Imam Abdulrahman Bin Faisal University, 31441 Dammam, Saudi Arabia

3

Department of Medical Laboratories, College of applied Medical sciences, Qassim University, Qassim 51431, Saudi Arabia

4

Department of Applied Chemistry, Aligarh Muslim University, Aligarh 202002, India

*

Authors to whom correspondence should be addressed.

†

These authors contributed equally to this work.

Received: 5 July 2018 / Revised: 19 July 2018 / Accepted: 20 July 2018 / Published: 1 August 2018
Abstract
The objective of the present study was one step extracellular biosynthesis of silver nanoparticles (AgNPs) using supernatant of
Candida glabrata
isolated from oropharyngeal mucosa of human immunodeficiency virus (HIV) patients and evaluation of their antibacterial and antifungal potential against human pathogenic bacteria and fungi. The mycosynthesized AgNPs were characterized by color visualization, ultraviolet-visible (UV) spectroscopy, fourier transform infrared spectroscopy (FTIR), and transmission electron microscopy (TEM). The FTIR spectra revealed the binding and stabilization of nanoparticles with protein. The TEM analysis showed that nanoparticles were well dispersed and predominantly spherical in shape within the size range of 2–15 nm. The antibacterial and antifungal potential of AgNPs were characterized by determining minimum inhibitory concentration (MIC), minimum bactericidal concentration (MBC)/ minimum fungicidal concentration (MFC), and well diffusion methods. The MBC and MFC were found in the range of 62.5–250 μg/mL and 125–500 μg/mL, which revealed that bacterial strains were more susceptible to AgNPs than fungal strains. These differences in bactericidal and fungicidal concentrations of the AgNPs were due to the differences in the cell structure and organization of bacteria and yeast cells. The interaction of AgNPs with
C. albicans
analyzed by TEM showed the penetration of nanoparticles inside the
Candida
cells, which led the formation of "pits" and "pores" that result from the rupturing of the cell wall and membrane. Further, TEM analysis showed that
Candida
cells treated with AgNPs were highly deformed and the cells had shrunken to a greater extent because of their interaction with the fungal cell wall and membrane, which disrupted the structure of the cell membrane and inhibited the normal budding process due to the destruction and loss of membrane integrity and formation of pores that may led to the cell death.
View Full-Text
►

▼

Figures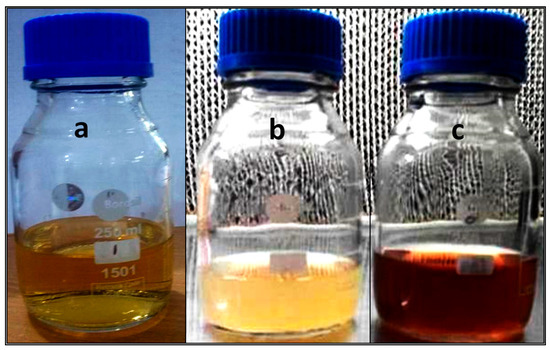 Figure 1
This is an open access article distributed under the
Creative Commons Attribution License
which permits unrestricted use, distribution, and reproduction in any medium, provided the original work is properly cited (CC BY 4.0).

Share & Cite This Article
MDPI and ACS Style
Jalal, M.; Ansari, M.A.; Alzohairy, M.A.; Ali, S.G.; Khan, H.M.; Almatroudi, A.; Raees, K. Biosynthesis of Silver Nanoparticles from Oropharyngeal Candida glabrata Isolates and Their Antimicrobial Activity against Clinical Strains of Bacteria and Fungi. Nanomaterials 2018, 8, 586.
Note that from the first issue of 2016, MDPI journals use article numbers instead of page numbers. See further details here.
Related Articles
Comments
[Return to top]