Open Access This article is
freely available
re-usable
Article
Enhanced Thermoelectric Conversion Efficiency of CVD Graphene with Reduced Grain Sizes
1
School of Mechanical and Aerospace Engineering, Seoul National University, Seoul 08826, Korea
2
Department of Mechanical, Aerospace, and Biomedical Engineering, University of Tennessee, Knoxville, TN 37996, USA
3
Korea Institute of Science and Technology, Seoul 02792, Korea
4
School of Mechanical Engineering, Korea University, Seoul 02841, Korea
5
Institute of Advanced Machinery and Design (SNU-IAMD), Seoul National University, Gwanak-ro, Gwanak-gu, Seoul 08826, Korea
*
Author to whom correspondence should be addressed.
Received: 23 June 2018 / Accepted: 16 July 2018 / Published: 22 July 2018
Abstract
:
The grain size of CVD (Chemical Vapor Deposition) graphene was controlled by changing the precursor gas flow rates, operation temperature, and chamber pressure. Graphene of average grain sizes of 4.1 µm, 2.2 µm, and 0.5 µm was synthesized in high quality and full coverage. The possibility to tailor the thermoelectric conversion characteristics of graphene has been exhibited by examining the grain size effect on the three elementary thermal and electrical properties of
σ
,
S
, and
k
. Electrical conductivity (
σ
) and Seebeck coefficients (
S
) were measured in a vacuum for supported graphene on SiO
2
/Si FET (Field Effect Transistor) substrates so that the charge carrier density could be changed by applying a gate voltage (). Mobility (
µ
) values of 529, 459, and 314 cm
2
/V·s for holes and 1042, 745, and 490 cm
2
/V·s for electrons for the three grain sizes of 4.1 µm, 2.2 µm, and 0.5 µm, respectively, were obtained from the slopes of the measured
σ
vs. graphs. The power factor (PF), the electrical portion of the thermoelectric figure of merit (ZT), decreased by about one half as the grain size was decreased, while the thermal conductivity (
k
) decreased by one quarter for the same grain decrease. Finally, the resulting ZT increased more than two times when the grain size was reduced from 4.1 µm to 0.5 µm.
Keywords:
thermoelectric conversion efficiency; CVD graphene; grain sizes; FET 4-point measurements; electrical conductivity; Seebeck coefficient
1. Introduction
The thermoelectric effect enables direct energy conversions between temperature and electric voltage differences. When a temperature gradient is applied, the momentum difference between charge carriers causes them to shift to one side, yielding voltage potential inside the materials. Since it allows for the conversion of wasted heat into electrical energy, having control over the thermoelectric effect would give rise to one of the most promising sources of renewable energy, because the eco-friendly generation of electrical energy only requires a temperature difference to reuse the wasted heat energy.
Graphene has high potential for becoming a thermoelectric material due to its high electrical conductivity and Seebeck coefficient. Its high thermal conductivity, however, has prevented graphene from being used as a thermoelectric material in reality. In order to enhance graphene's thermoelectric properties, many ideas have been proposed aimed at lowering its thermal conductivity, including defect controlling [
1
] and management of grain size [
2
,
3
]. Among the various proposals, controlling grain size seems to be a highly viable way to handle the carriers' scattering of graphene, because it does not add artificial disorder, but only modifies the preexisting grain boundaries of CVD graphene. To the authors' knowledge, thus far no study has attempted to characterize the figure of merit () for graphene with controlled grain sizes. Measurements have been made for electrical conductivity with controlled grain sizes [
3
]; however, no measurements on Seebeck coefficients have been reported. In our previous study, we have experimentally verified a decrement of thermal conductivity by controlling the polycrystalline graphene domain sizes [
2
], which can lead to the possibility of ZT enhancement of CVD graphene.
In this paper, as there is still a need for examining the ZT values, we focus on measuring both the electrical conductivity (
σ
) and the Seebeck coefficients (
S
). Graphene was synthesized on Cu foil using the LPCVD (Low Pressure Chemical Vapor Deposition) method, which allows for the control of the grain sizes, and then subsequently transferred onto a SiO
2
/Si (450 nm/525 µm) FET substrate. The electrical properties (
σ
and
S
) of graphene were measured using the four-point technique for three different grain sizes of 0.5 µm, 2.2 µm, and 4.1 µm, while the charge carrier density was controlled by varying the gate voltage levels.
3. Results and Discussion
4. Conclusions
We investigated the dependence of the thermoelectric figure of merit, ZT, on the grain size of CVD graphene. Electrical conductivity (
σ
) and Seebeck coefficients (
S
) were measured for three different grain sizes: 4.1, 2.2, and 0.5 μm, using a FET 4-point measurement technique. Since the decrement of the corresponding thermal conductivity (
k
) was larger than the decrement of the PF, more than two times the original ZT value was observed as the grain size was decreased from 4.1 μm to 0.5 μm. We have shown the possibility that ZT can be tailored by altering the grain size of graphene, which is a crucial factor in CVD graphene synthesis. Furthermore, this enhancement of the thermoelectric properties opens the possibility of graphene to be considered as a more realistic thermoelectric material.
Author Contributions
G.L. and K.D.K. carried out experiments including graphene synthesis, FET fabrication, transfer, and measurements and wrote this paper; H.G.K., W.L. (Woorim Lee), and W.L. (Woomin Lee) contributed to CVD graphene synthesis, and, together with K.P., helped to transfer graphene onto the FET electrodes and developed the electrical properties measurements system; H.G.K. and S.C. conducted work on the theoretical aspects of the manuscript; P.L. and J.M. contributed to fabricate FET substrates; and S.K. advised the experimental layouts and participated in discussions to elaborate the experimental results.
Acknowledgments
This research was primarily supported by the Nano-Material Technology Development Program (R2011-003-2009) and Magnavox Professorship fund (R0-1137-3164) from the University of Tennessee.
Conflicts of Interest
The authors declare no conflict of interest.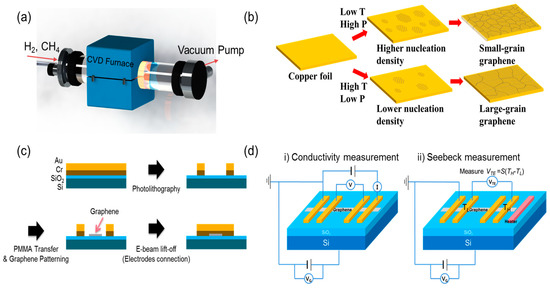 Figure 1. (a) Schematic of CVD graphene synthesis system, (b) grain size control by synthesis temperature and pressure variations, (c) fabrication process diagram for the Field Effect Transistor (FET) substrate with electrode/graphene sample laid down, and (d) schematic of the 4-point measurement layout.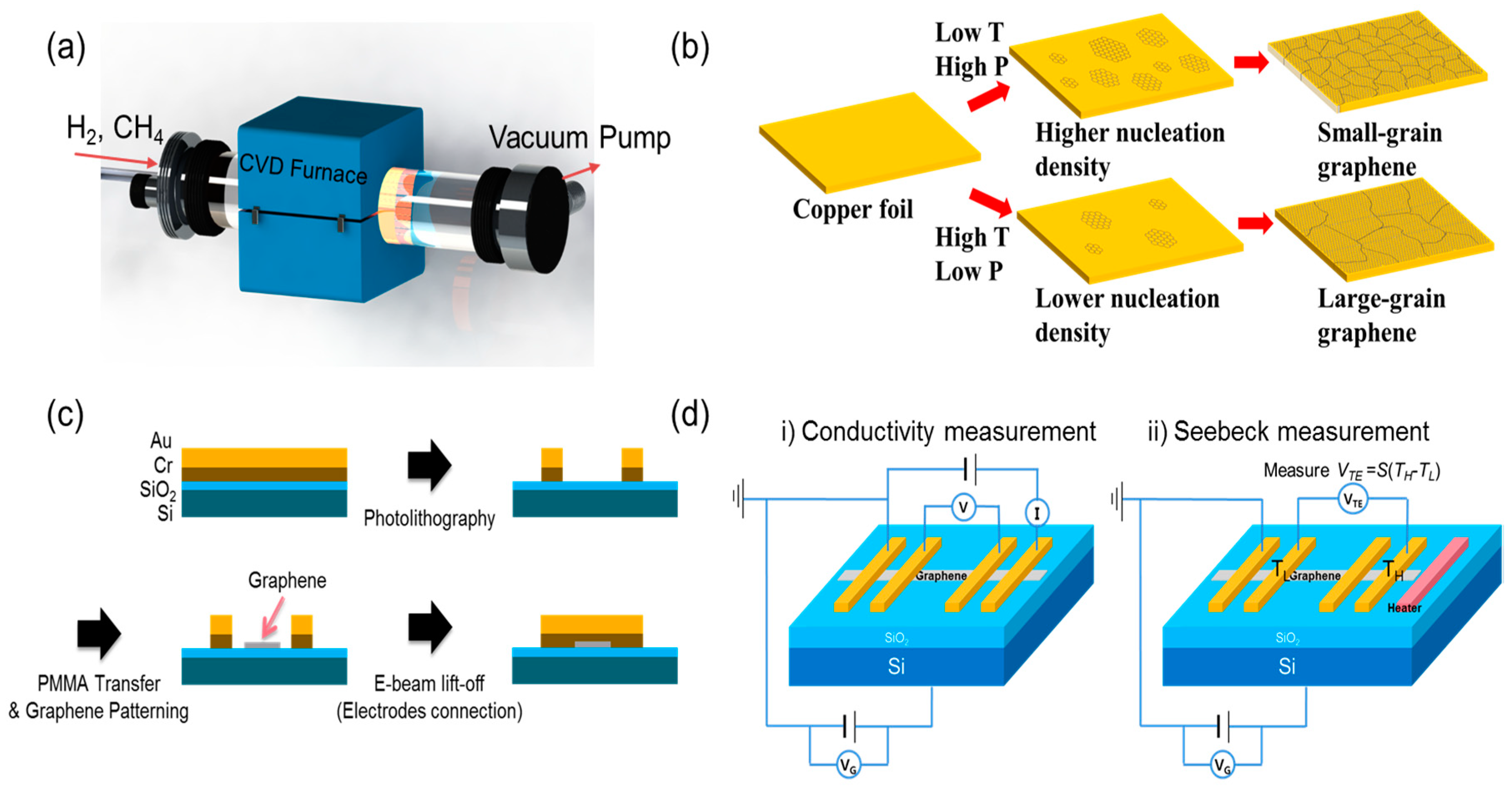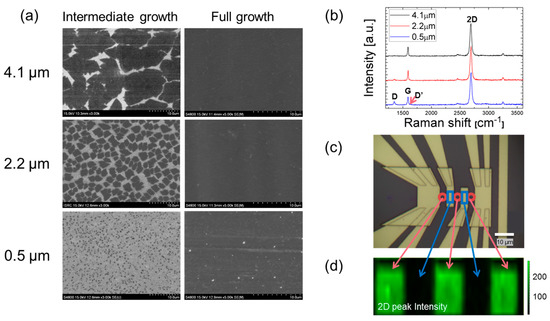 Figure 2. (a) SEM images of graphene growth on Cu foil for three different grain sizes. (b) Raman spectra of graphene samples laid on the FET substrate. (c) Optical image of the 4-point electrodes with graphene sample integrated. (d) 2D peak Raman mapping of graphene to distinguish the exposed graphene regions (green) from the electrode-covered regions (black).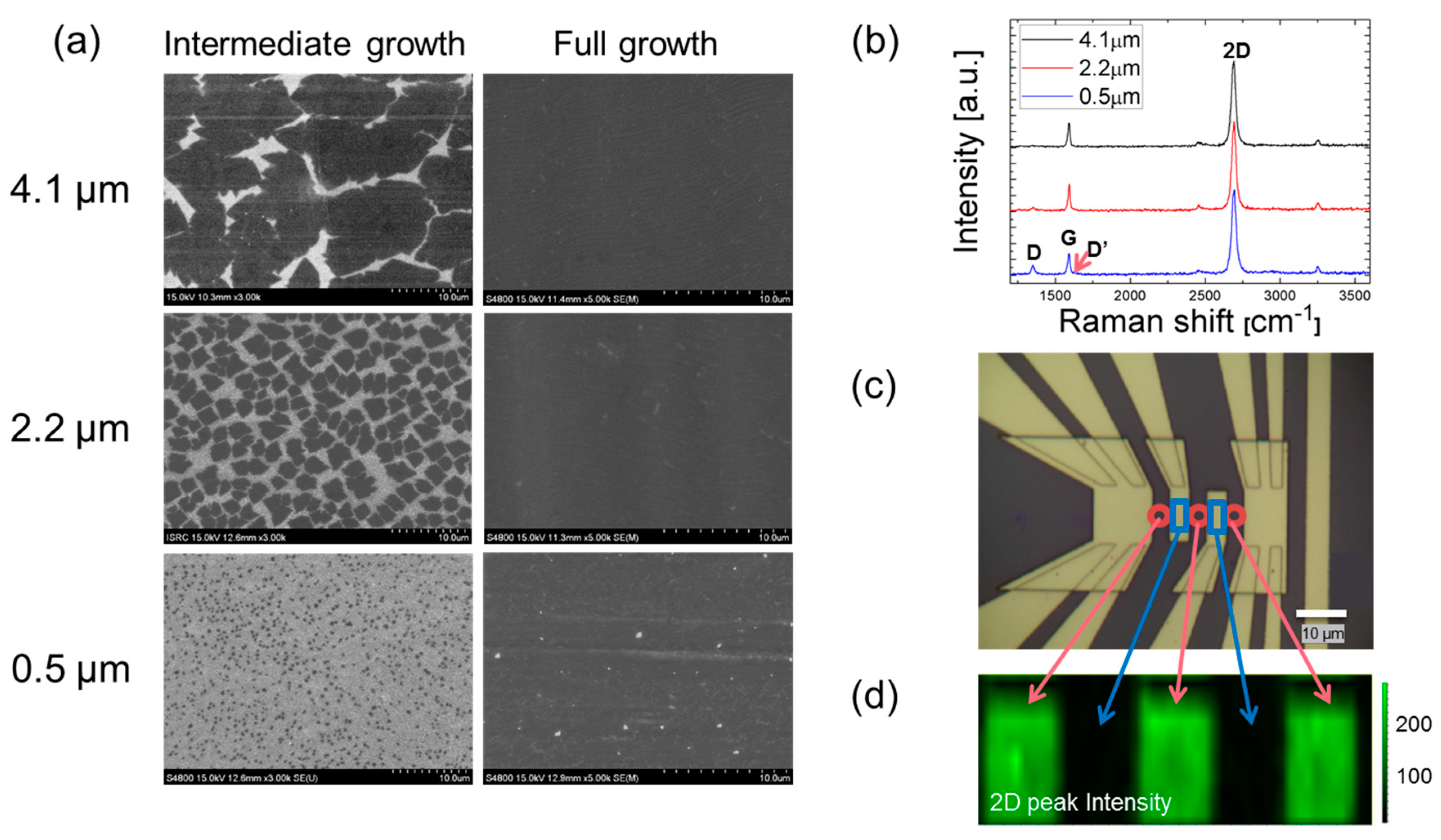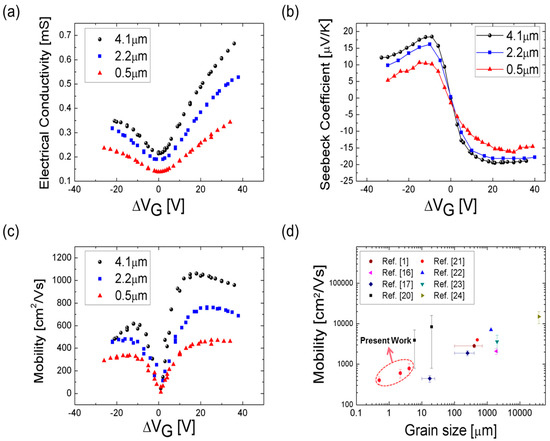 Figure 3. (a) Electrical conductivity for the three grain sizes of 4.1 µm, 2.2 µm, and 0.5 µm as functions of the gate voltage sweep. (b) Seebeck coefficient for the three grain sizes as functions of the gate voltage sweep. (c) Mobility for the three grain sizes as functions of the gate voltage. (d) Measured mobility data compared with published data for varied grain sizes.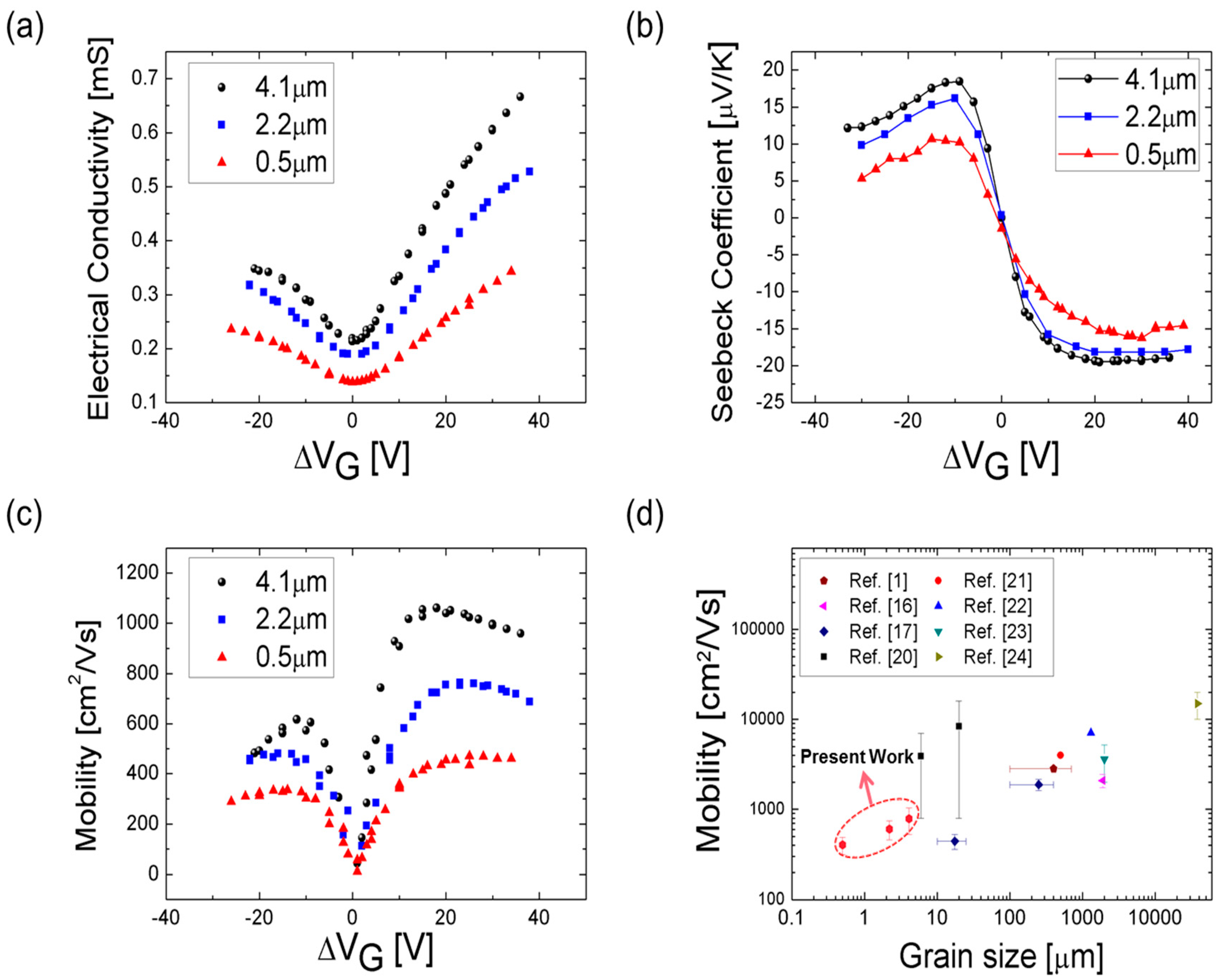 Figure 4. (a) Power factor dependence on the grain sizes of graphene. (b) Gradually increasing ZT with decreasing grain sizes. (c) Electron mean free path as a function of gate voltage for the graphene of grain sizes 4.1 µm, 2.2 µm, and 0.5 µm. (d) Phonon and electron mean-free-path of graphene of grain sizes 4.1 µm, 2.2 µm, and 0.5 µm.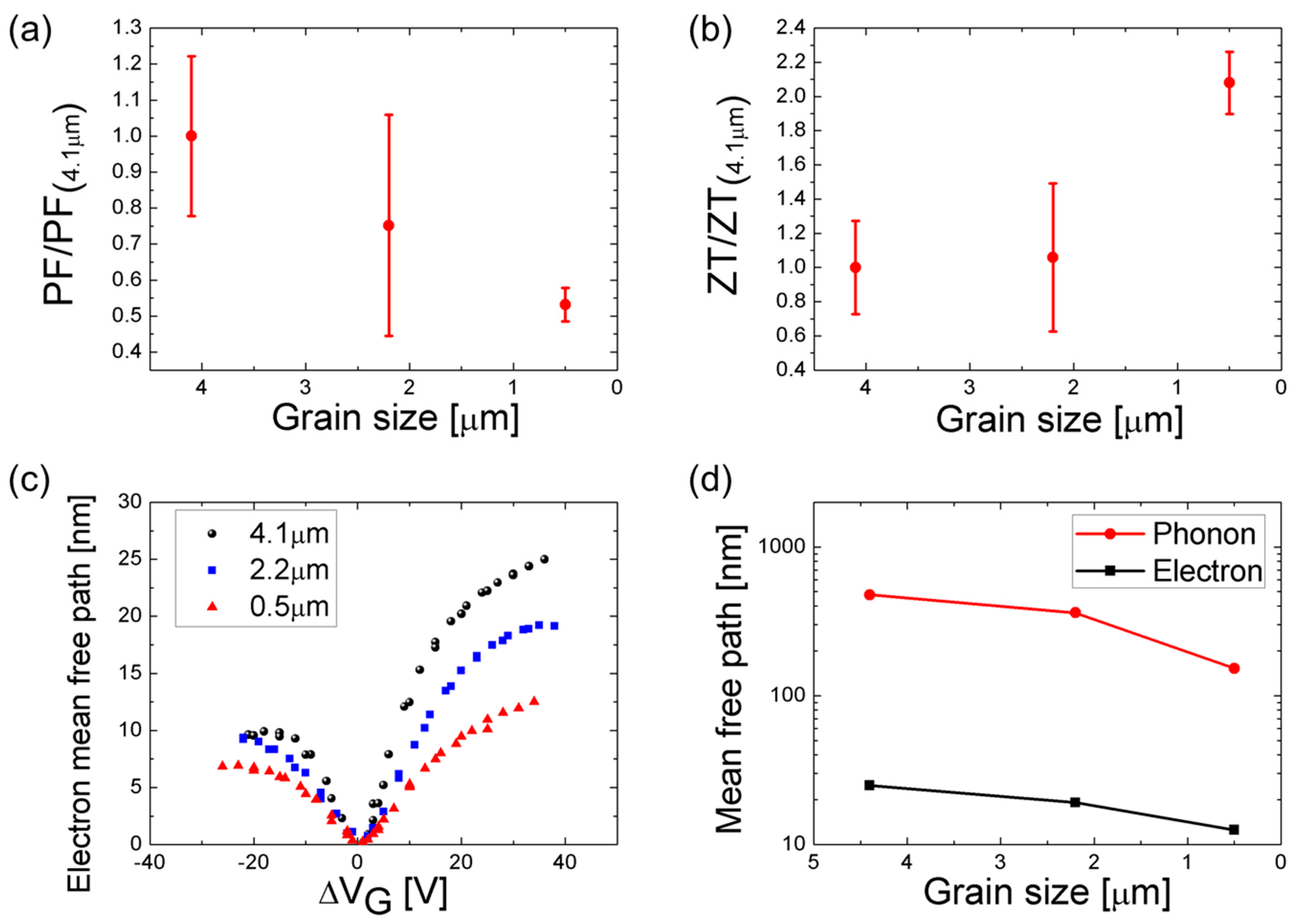 Grain Size [µm]
4.1
2.2
0.5
Temperature [°C]
1000
900
800
Pressure [Torr]
Step 1
Step 2
Step 1
Step 2
1.09
0.19
0.30
0.37
1.08
Gas flow rate ratio CH4:H2 [sccm:sccm]
30:5
60:5
80:5
200:100
200:100
Gas flow duration [min]
10
5
20
10
25
Reference
Published Year
Grain Size
Seebeck Coefficient
Descriptions
Ref. [26]
2010
-
~9 µV/K @ 300 K
Linear dependence of S on T for 50 < T < 300 K
Ref. [27]
2011
-
~50 µV/K @ 500K
~30 µV/K @ 300K
Sensitivity of S to the surface charge doping by exposure to the air, N2O, and NH3
Ref. [28]
2013
-
~10 µV/K @ 300K
Linear dependence of S and electrical conductivity on T for 75 < T < 300 K
Ref. [15]
2014
-
~20 µV/K @ 150K
Observation on the large fluctuation of S near the Dirac point associated with the disorder in graphene at high magnetic field & low temperature
Ref. [29]
2015
-
~100 µV/K @ 300K
N-type doping of CVD graphene by H2 exposure verified by S measurement
Ref. [1]
2017
Average 300 µm (100–700)
~55 µV/K @ RT
ZT enhancement using O2 plasma irradiation. (ZT/ZT0~3)
Ref. [31]
2018
-
~30 µV/K @ RT
Estimation of electrical conductivity and Seebeck of graphene sheet and graphene nanoribbon by experimental and theoretical approach
Note: The grain size dependence of Seebeck coefficients is unavailable from any of these studies.

© 2018 by the authors. Licensee MDPI, Basel, Switzerland. This article is an open access article distributed under the terms and conditions of the Creative Commons Attribution (CC BY) license (http://creativecommons.org/licenses/by/4.0/).