Open Access This article is
freely available
re-usable
Article
Scalable Fabrication of High-Performance Transparent Conductors Using Graphene Oxide-Stabilized Single-Walled Carbon Nanotube Inks
1
Department of Physics, City University of Hong Kong, Tat Chee Avenue, Kowloon, Hong Kong, China
2
Department of Materials Science and Engineering, Southern University of Science and Technology, Shenzhen 518055, China
*
Authors to whom correspondence should be addressed.
Received: 2 March 2018 / Accepted: 5 April 2018 / Published: 7 April 2018
Abstract
:
Recent development in liquid-phase processing of single-walled carbon nanotubes (SWNTs) has revealed rod-coating as a promising approach for large-scale production of SWNT-based transparent conductors. Of great importance in the ink formulation is the stabilizer having excellent dispersion stability, environmental friendly and tunable rheology in the liquid state, and also can be readily removed to enhance electrical conductivity and mechanical stability. Herein we demonstrate the promise of graphene oxide (GO) as a synergistic stabilizer for SWNTs in water. SWNTs dispersed in GO is formulated into inks with homogeneous nanotube distribution, good wetting and rheological properties, and compatible with industrial rod coating practice. Microwave treatment of rod-coated films can reduce GOs and enhance electro-optical performance. The resultant films offer a sheet resistance of ~80 Ω/sq at 86% transparency, along with good mechanical flexibility. Doping the films with nitric acid can further decrease the sheet resistance to ~25 Ω/sq. Comparing with the films fabricated from typical surfactant-based SWNT inks, our films offer superior adhesion as assessed by the Scotch tape test. This study provides new insight into the selection of suitable stabilizers for functional SWNT inks with strong potential for printed electronics.
Keywords:
aqueous dispersion; carbon nanotube; graphene oxide; ink; rod coating; electrical conductivity; optical transmittance; mechanical flexibility
2. Materials and Methods
2.1. Materials and Synthesis
Chemical vapor deposited SWNTs (>95 wt % purity; diameter of 0.8~1.6 nm and length of 5~30 μm) (
Figure S1
) were supplied by Chengdu Organic Chemicals Co. Ltd., Chengdu, China. Graphite flakes were bought from Sigma-Aldrich, Inc., St. Louis, MO, USA. Graphite oxide was prepared from graphite flakes by means of Hummers process [
19
]. It was readily exfoliated into monolayer GO sheets in water (
Figure S2
). All chemical reagents were used as received without further purification.
2.2. rGO-SWNT Films
Aqueous GO dispersions of different concentrations were obtained by stirring graphite oxide solids in water for 4 h, and the mixtures were then sonicated (Tru-Sweep 575 HTAG, Crest Ultrasonics Corporation, Ewing Township, NJ, USA) for 30 min. To such dispersions SWNTs were added, obtaining a concentration of 0.2 mg/mL SWNTs. This concentration was relatively lower than in previous works to ensure full exfoliation of nanotube bundles, since long nanotubes generally caused higher viscosity and decreased the dispersion efficiency. These GO-SWNT dispersions were then tip sonicated (SCIENTZ-II D Ultrasonic Homogenizer) in an ice-water bath for 2 h. This sonication process reduced the size of GO sheets and the diameter of nanotube bundles, resulting in more homogeneous GO-SWNT dispersions. To prepare films, formulated GO-SWNT dispersions were coated onto polyethylene terephthalate (PET) sheets by a Mayer rod. The thickness of the films was controlled by the diameter of a wire coiled on the rod. To convert GO to rGO, the films were firstly exposed to a hydrazine atmosphere for 1 h to partly recover its conductivity, then treated in a microwave oven (Panasonic NN-ST253W, 800 W, Panasonic Corporation, Osaka, Japan) in an argon atmosphere for 2~3 s. This microwave treatment rapidly heated the films and thermally reduced GO to rGO [
31
,
32
].
2.3. Material Characterization
The quality of GO-SWNT inks was examined with UV-vis spectroscopy (Agilent Cary 5000 Spectrophotometer, Agilent Technologies Inc., Santa Clara, CA, USA), Raman spectroscopy (Horiba Jobin Yvon LabRAM HR Evolution Micro-Raman spectrometer; excitation wavelength of 532 nm, Horiba Ltd., Kyoto, Japan), transmission electron microscopy (TEM; Philips FEG CM 20, Philips Company, Amsterdam, Netherlands) and zeta potential measurements (Zetaplus, Brookheaven, NY, USA). The contact angle of those inks on PET was obtained with an advanced goniometer (Ramé-Hart Instrument Model 200). The viscosity of the inks was measured using a rheometer (TA Instruments, HR-2 Discovery Hybrid Rheometer, TA Instruments, New Castle, DE, USA). The surface morphology of rGO-SWNT films was observed in both field-emission scanning electron microscope (SEM; Jeol FEG JSM 6335, JEOL Company, Tokyo, Japan) and atomic force microscope (AFM; Veeco Nanoscope V, Veeco Inc., Plainview, NY, USA). We employed X-ray photoelectron spectroscopy (XPS; PHI-5802; Physical Electronics, Chanhassen, MN, USA) with Al Kα source radiation to record chemical bonding states of constituent carbon in the films. The electrical sheet resistance of thin films was determined with a Van der Pauw setup using four electrodes aligned along the circumference of thin films. The light transmittance tests at ambient were performed with a UV-vis spectrophotometer (PerkinElmer Lambda 2S, Perkin Elmer Incorporation, Waltham, MA, USA). For bending cycling, samples were bent to a radius of curvature of 2 mm by sliding around a metal rod. In the meanwhile, electrical resistance was measured up to 2000 cycles. For the film adhesion testing, a strip of tape was applied to the sample and pressed down to uniformly contact the film surface, and then peeled off at ~10 mm/s at a ~45° angle. The sheet resistance and film transmittance before and after the tests were measured to determine the film adhesion properties.
3. Results
3.1. Dispersing SWNTs in Water Using GO
3.2. Wetting Behavior and Rheological Properties of GO-SWNT Dispersions
Mayer rod coating of optimized GO-SWNT dispersions generally produces homogeneous defect-free films. The thickness of these films can be controlled by simply choosing coiled rods of different sizes. In this study, the diameter of wire coiled on the rod ranges from 0.2 mm to 2 mm, resulting in wet thicknesses of 20–200 µm and final dry thicknesses of ~10–100 nm.
3.3. Fabrication & Characterization of rGO-SWNT Films
4. Conclusions
We have presented a promising graphene oxide-based approach for preparing carbon nanotube inks for scalable production of carbon-based TCs. This strategy combines scalable, low-cost production of graphene oxide with tunable nanotube ink formulation for a technique compatible with large-scale production, thus providing new opportunities for broad integration of the films in industrial applications. The resulting films exhibit many of the desirable properties such as good film adhesion, sheet resistance of ~80 Ω/sq at 86% transparency, being the best amongst solution-processed carbonaceous films. Moreover, nitric acid doping can further decrease the sheet resistance to ~25 Ω/sq. Finally, microwave treatment induces rapid welding between the film and the substrate, yielding the films resilient to strong mechanical stresses including cyclic bending and adhesion testing. The concurrent realization of these properties in a scalable and adaptable process represents a significant advance for using nanotube inks in manufacturing transparent conductors.
Supplementary Materials
The following are available online at
https://www.mdpi.com/2079-4991/8/4/224/s1
. Figure S1: TEM micrograph of as-received SWNTs. Figure S2: AFM image of as-synthesized GOs (on freshly cleaved mica). Figure S3: Contact angle results for GO-SWNT inks with different compositions on PET substrates. (A) 1 mg/mL, (B) 2 mg/mL, (C) 3 mg/mL, (D) 4 mg/mL and (E) 6 mg/mL. The SWNT content is 0.2 mg/mL. Contact angles (from left to right) are 59.7°, 54.4°, 59.9°, 56.4° and 55.6°, respectively. Figure S4: Contact angle results for GO-SWNT inks with different compositions on PET substrates after oxygen plasma treatment. (A) 1 mg/mL, (B) 2 mg/mL, (C) 3 mg/mL, (D) 4 mg/mL and (E) 6 mg/mL. The SWNT content is 0.2 mg/mL. Contact angles (from left to right) are 10.2°, 10.5°, 10.7°, 10.7° and 10.6°, respectively. Figure S5: 3D topography of rGO-SWNT films prepared from different GO-SWNT dispersions: (A) 5:1, (B) 10:1 and (C) 20:1. Figure S6: (A) AFM height and (b) amplitude micrographs of rGO-SWNT film prepared from the ink having GO to SWNT mass ratio of 30:1. Figure S7: (A) Effect of nitric acid doping on electro-optical performance of 86% transparent rGO-SWNT films. (B) Stability of nitric acid-doped 86% transparent rGO-SWNT film. Figure S8: (A) Photograph of a GO-SWNT film of ~4 × 5 inch
2
prepared from GO-SWNT ink by rod coating. (B) and (C) Low magnification SEM micrographs of location I and II showing morphological uniformity of the film. The white dots are catalyst impurities.
Acknowledgments
The authors gratefully acknowledged financial support of this work by the National Natural Science Foundation of China (Grant No. 21703096).
Author Contributions
L. He synthesized and fabricated rGO-SWNT films, performed AFM, Raman, XPS, contact angle, viscosity, electrical resistance and optical transmittance measurements. C. Liao carried out optical, SEM and TEM examinations. S.C. Tjong designed the project, analyzed the data and wrote the manuscript.
Conflicts of Interest
The authors declare no conflict of interest.
Figure 1. (A) UV-vis absorbance of diluted GO and GO-SWNT (weight ratio of 10:1) dispersions. Pure SWNT solution (weakly oxidized by nitric acid) is shown for comparison. The inset photo displays GO-SWNT (left) and GO (right) dispersions. (B) Absorbance of GO-SWNT dispersion for different time periods. (C,D) Raman profiles of GO-SWNT dispersion (weight ratio of 10:1), GO and SWNT.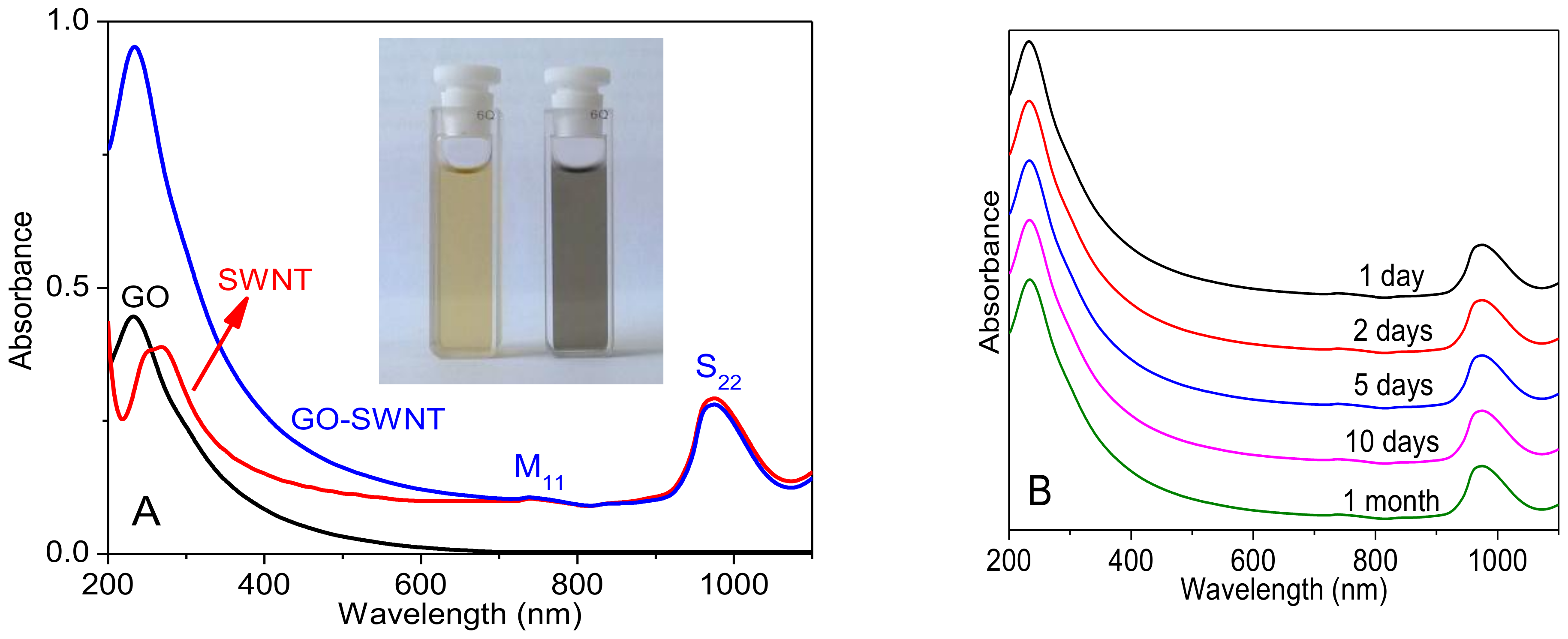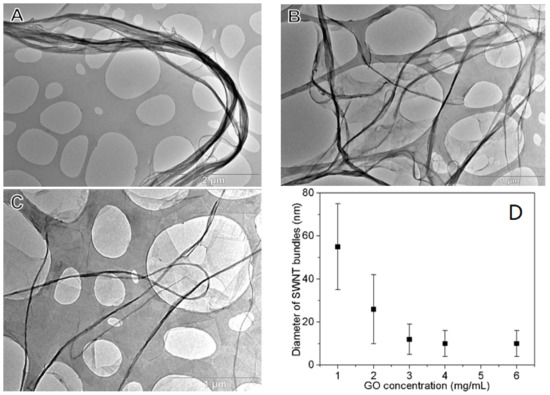 Figure 2. TEM micrographs of (A) SWNT bundles in water; (B) GO-SWNT dispersion with a GO:SWNT mass ratio of 10:1; (C) GO-SWNT dispersion with a GO:SWNT mass ratio of 20:1. The concentration of SWNT in each case is 0.2 mg/mL; (D) Effect of GO concentration on the diameter of SWNT bundles in the dispersion. The SWNT content in the ink is 0.2 mg/mL.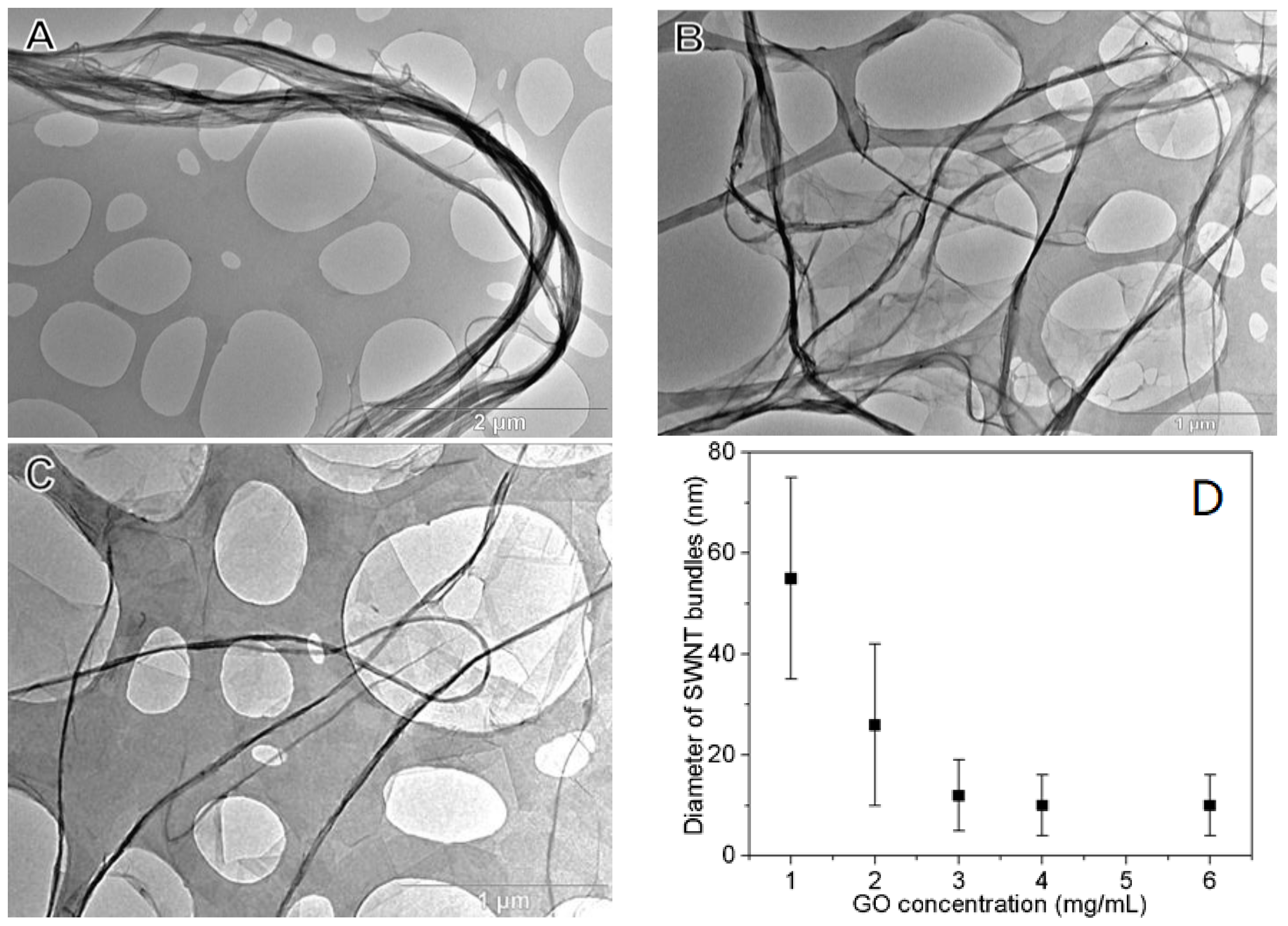 Figure 3. Contact angles for GO-SWNT ink on PET substrate: (A) before and (B) after plasma treatment. The contact angle is 59.7° and 10.2°, respectively.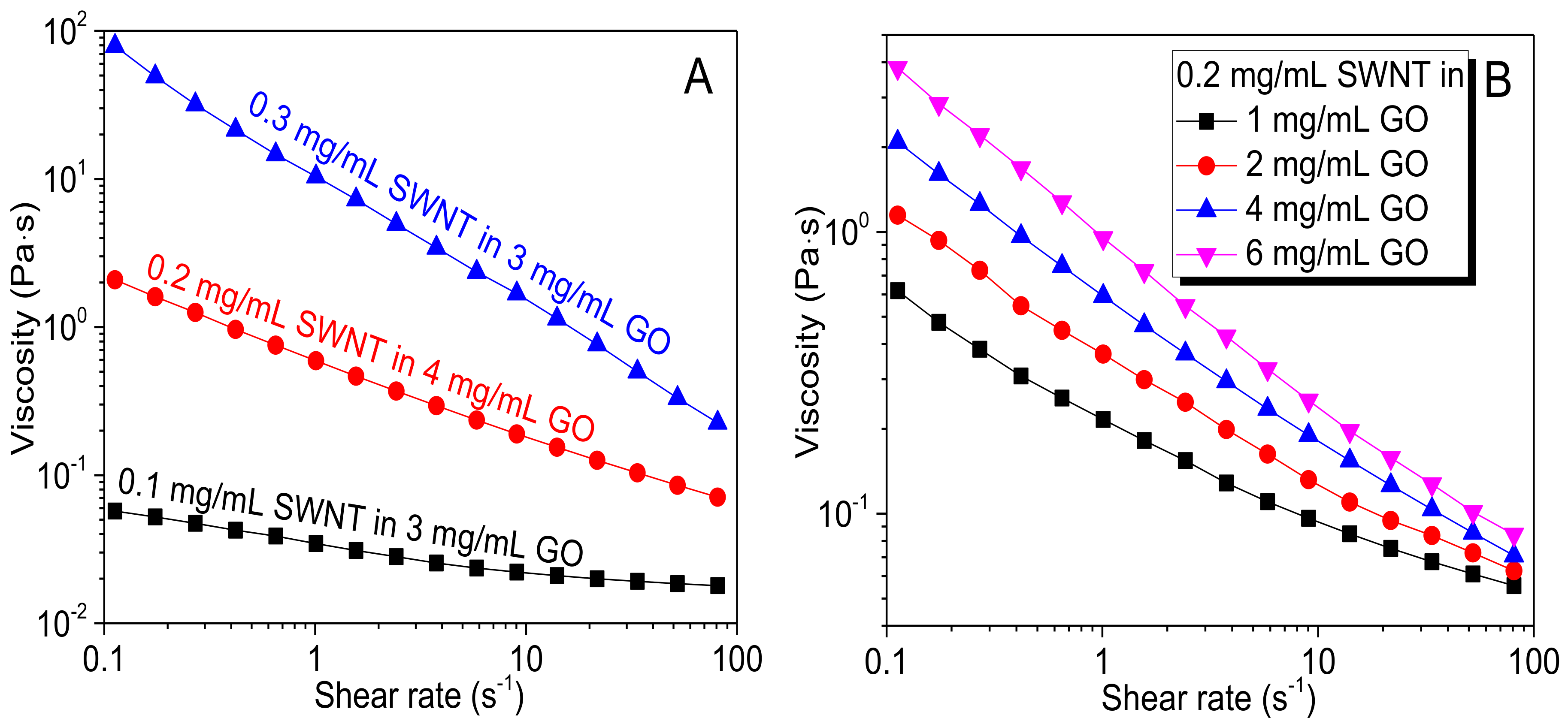 Figure 5. SEM micrographs of rGO-SWNT films prepared from inks with different GO to SWNT mass ratios: (A) 5:1, (B) 10:1 and (C) 20:1.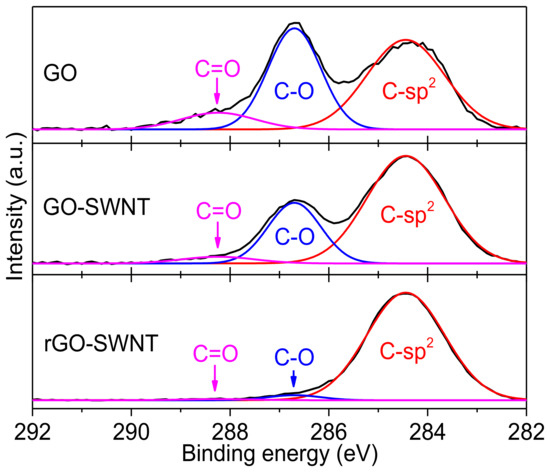 Figure 6. XPS C-1s spectra of GO, GO-SWNT (weight ratio of 10:1) and rGO-SWNT films. Peaks relate to different carbon bonds are indicated.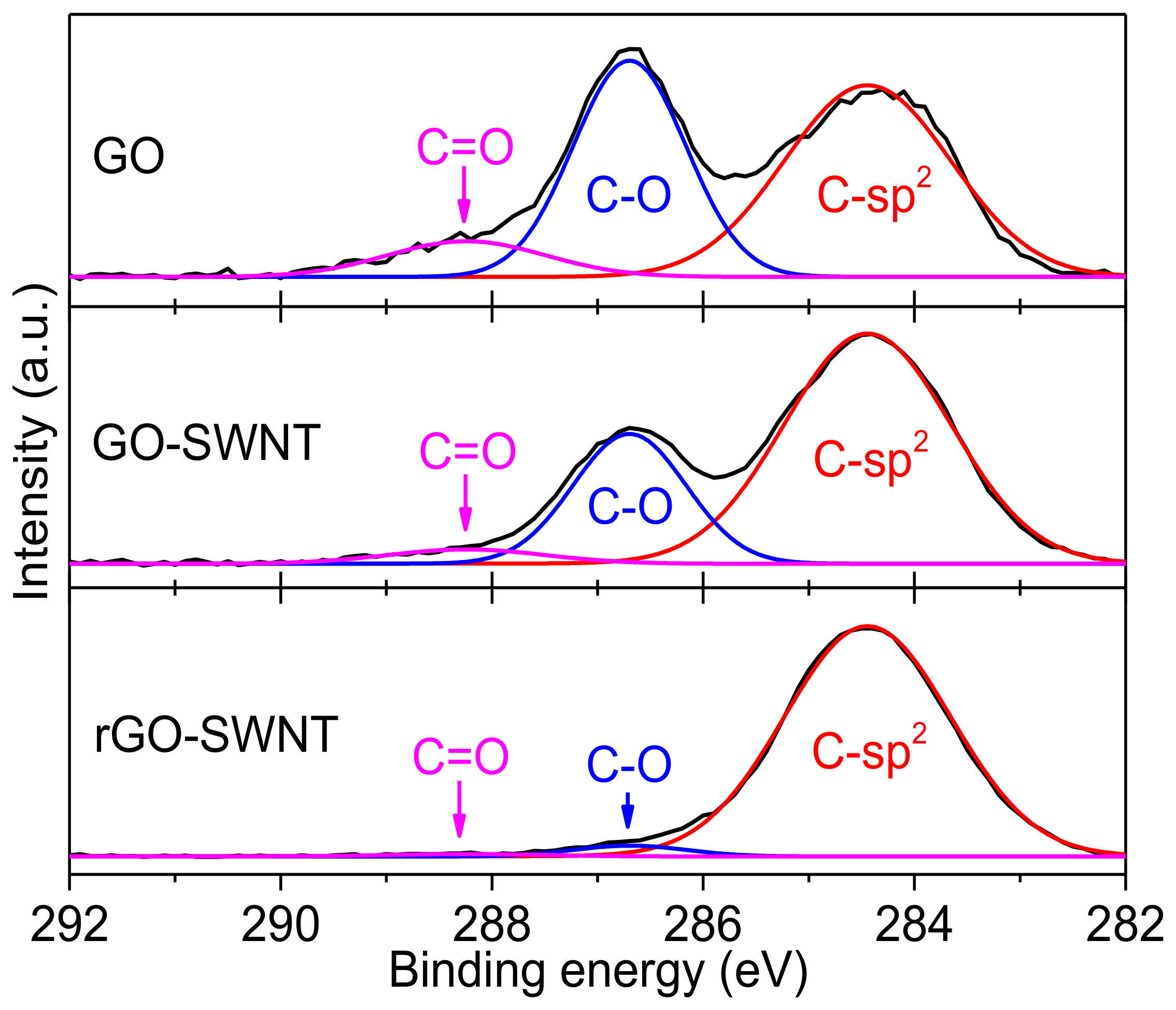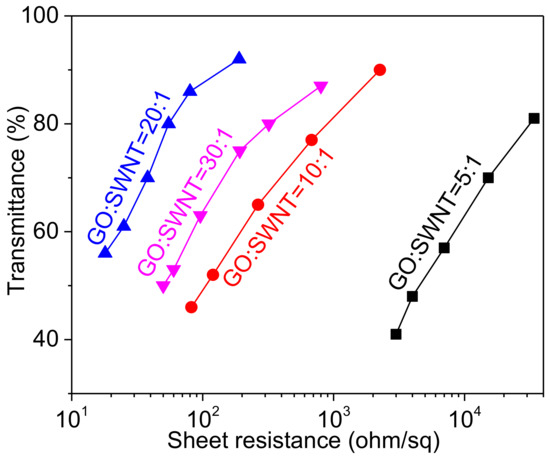 Figure 7. Sheet resistance versus optical transmittance for rGO-SWNT films fabricated from inks with different GO to SWNT mass ratios. The SWNT content in the ink is 0.2 mg/mL.
Figure 8. AFM height (A, C and E) and amplitude (B, D and F) microgrqaphs of rGO-SWNT films prepared from inks with different GO to SWNT mass ratios: (A) 5:1, (B) 10:1 and (C) 20:1.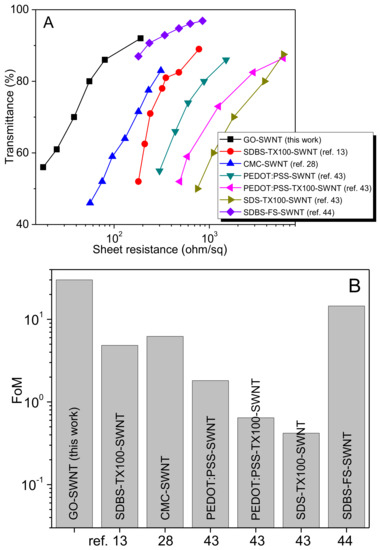 Figure 9. Comparison of electrical properties of rGO-SWNT film with those films contained other dispersing agents. (A) Transmittance versus sheet resistance profiles; (B) Comparison of figure of merit (FoM) CMC: sodium carboxymethyl cellulose; SDS: sodium dodecyl sulphate; FS: fluorosurfactant (FC-4430).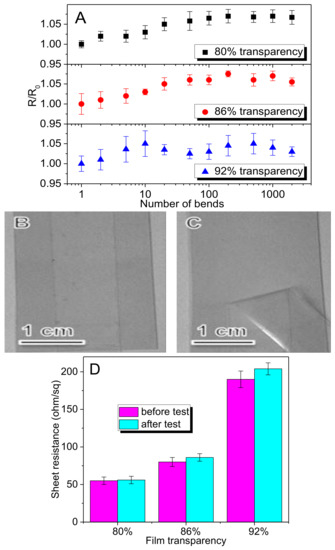 Figure 10. (A) Relative sheet resistance vs. benching cycles for rGO-SWNT films. R0 is the electrical resistance of samples before bending, and R is the electrical resistance that changes with bending cycles. Error bars reflect standard deviation for five measurements; (B,C) Mechanical stability of rGO-SWNT/PET film: before and after the Scotch tape test; (D) Sheet resistance vs. transparency before and after Scotch tape peeling test.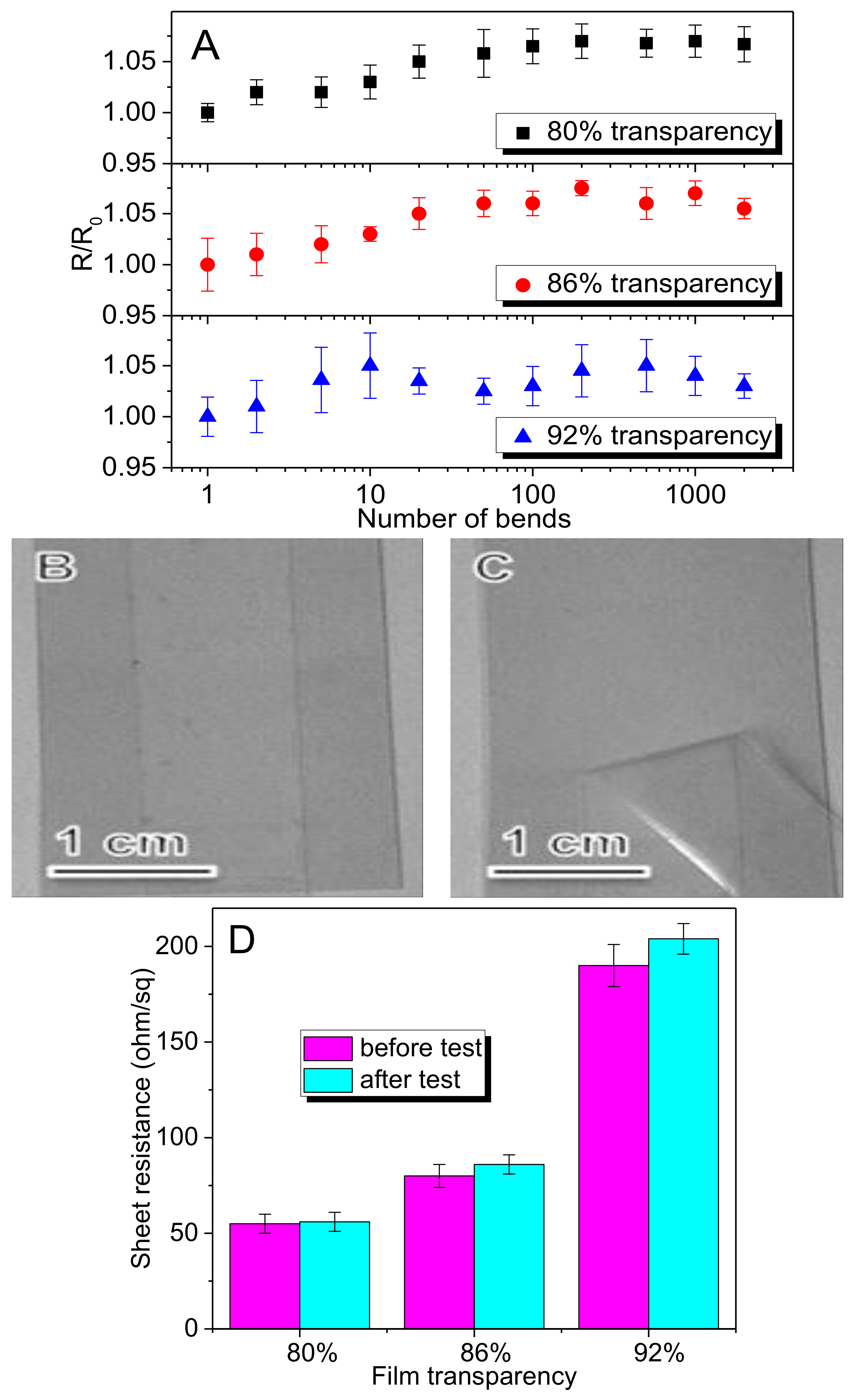 Ink Composition

t

level (s)

t

dry (s)

t

dewet (s)
0.2 mg/mL SWNT + 1 mg/mL GO
8.33 × 10−4
600
3.32 × 103
0.2 mg/mL SWNT + 2 mg/mL GO
1.10 × 10−3
500
6.16 × 103
0.2 mg/mL SWNT + 4 mg/mL GO
1.41 × 10−3
400
1.12 × 104
0.2 mg/mL SWNT + 6 mg/mL GO
1.83 × 10−3
300
2.05 × 104
where

t

level was calculated using high-shear (~50 s−1) viscosity;

t

dewet was determined with low-shear (~0.1 s−1) viscosity; and

t

dry was estimated by recording the time taken to cause gelation in the coated films. The diameter of wire coiled on the rod was ~0.6 mm. A length scale (

l

) of 2 mm (~10% of width of the coated film) was used for calculating

t

dewet. The wet coating thickness and wire diameter are assumed to be 1:10 [46].

© 2018 by the authors. Licensee MDPI, Basel, Switzerland. This article is an open access article distributed under the terms and conditions of the Creative Commons Attribution (CC BY) license (http://creativecommons.org/licenses/by/4.0/).