Metal (Ag/Ti)-Containing Hydrogenated Amorphous Carbon Nanocomposite Films with Enhanced Nanoscratch Resistance: Hybrid PECVD/PVD System and Microstructural Characteristics
1
Research Unit for Nanostructured Materials Systems, Department of Mechanical Engineering and Materials Science and Engineering, Cyprus University of Technology, 3041 Lemesos, Cyprus
2
Department of Materials Science and Engineering, University of Ioannina, University Campus, 45110 Ioannina, Greece
3
Department of Environmental Science and Technology, Cyprus University of Technology, 3041 Lemesos, Cyprus
4
Department of Physics, Aristotle University of Thessaloniki, 54124 Thessaloniki, Greece
*
Author to whom correspondence should be addressed.
Received: 27 February 2018 / Revised: 26 March 2018 / Accepted: 28 March 2018 / Published: 30 March 2018
Abstract
This study aimed to develop hydrogenated amorphous carbon thin films with embedded metallic nanoparticles (a–C:H:Me) of controlled size and concentration. Towards this end, a novel hybrid deposition system is presented that uses a combination of Plasma Enhanced Chemical Vapor Deposition (PECVD) and Physical Vapor Deposition (PVD) technologies. The a–C:H matrix was deposited through the acceleration of carbon ions generated through a radio-frequency (RF) plasma source by cracking methane, whereas metallic nanoparticles were generated and deposited using terminated gas condensation (TGC) technology. The resulting material was a hydrogenated amorphous carbon film with controlled physical properties and evenly dispersed metallic nanoparticles (here Ag or Ti). The physical, chemical, morphological and mechanical characteristics of the films were investigated through X-ray reflectivity (XRR), Raman spectroscopy, Scanning Electron Microscopy (SEM), Atomic Force Microscopy (AFM), Transmission Electron Microscopy (TEM) and nanoscratch testing. The resulting amorphous carbon metal nanocomposite films (a–C:H:Ag and a–C:H:Ti) exhibited enhanced nanoscratch resistance (up to +50%) and low values of friction coefficient (<0.05), properties desirable for protective coatings and/or solid lubricant applications. The ability to form nanocomposite structures with tunable coating performance by potentially controlling the carbon bonding, hydrogen content, and the type/size/percent of metallic nanoparticles opens new avenues for a broad range of applications in which mechanical, physical, biological and/or combinatorial properties are required.
View Full-Text
►

▼

Figures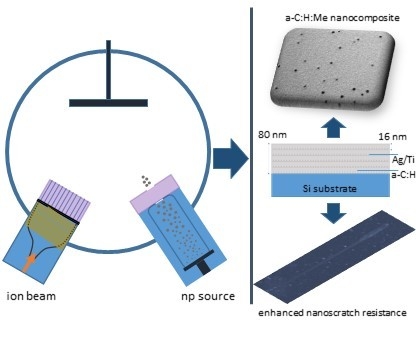 Graphical abstract
This is an open access article distributed under the
Creative Commons Attribution License
which permits unrestricted use, distribution, and reproduction in any medium, provided the original work is properly cited (CC BY 4.0).

Share & Cite This Article
MDPI and ACS Style
Constantinou, M.; Nikolaou, P.; Koutsokeras, L.; Avgeropoulos, A.; Moschovas, D.; Varotsis, C.; Patsalas, P.; Kelires, P.; Constantinides, G. Metal (Ag/Ti)-Containing Hydrogenated Amorphous Carbon Nanocomposite Films with Enhanced Nanoscratch Resistance: Hybrid PECVD/PVD System and Microstructural Characteristics. Nanomaterials 2018, 8, 209.
Note that from the first issue of 2016, MDPI journals use article numbers instead of page numbers. See further details here.
Related Articles
Comments
[Return to top]