Cyano-Bridged Cu-Ni Coordination Polymer Nanoflakes and Their Thermal Conversion to Mixed Cu-Ni Oxides
1
Key Laboratory of Eco-Chemical Engineering, College of Chemistry and Molecular Engineering, Qingdao University of Science and Technology, Qingdao 266042, China
2
International Research Center for Materials Nanoarchitechtonics (WPI-MANA), National Institute for Materials Science (NIMS), 1-1 Namiki, Tsukuba, Ibaraki 305-0044, Japan
3
Faculty of Science and Engineering, Waseda University, 3-4-1 Okubo, Shinjuku, Tokyo, 169-8555, Japan
4
School of Chemical Engineering and Australian Institute for Bioengineering and Nanotechnology (AIBN), The University of Queensland, Brisbane, QLD 4072, Australia
5
Department of Plant & Environmental New Resources, Kyung Hee University, 1732 Deogyeong-daero, Giheung-gu, Yongin-si, Gyeonggi-do 446-701, Korea
6
Advanced Material Research Chair, Chemistry Department P.O. Box 2455, College of Science, King Saud University (KSU), Riyadh 11451, Saudi Arabia
*
Authors to whom correspondence should be addressed.
Received: 1 October 2018 / Revised: 10 November 2018 / Accepted: 14 November 2018 / Published: 23 November 2018
Abstract
Herein, we demonstrate the bottom-up synthesis of 2D cyano-bridged Cu-Ni coordination polymer (CP) nanoflakes through a controlled crystallization process and their conversion to Cu-Ni mixed oxides via a thermal treatment in air. The chelating effect of citrate anions effectively prevents the rapid coordination reaction between Cu
2+
and K
2
[Ni(CN)
4
], resulting in the deceleration of the crystallization process of CPs. Specifically, with addition of trisodium citrate dehydrate, the number of nuclei formed at the early stage of the reaction is decreased. Less nuclei undergo a crystal growth by interacting with [Ni(CN)
4
]
2−
, leading to the formation of larger Cu-Ni CP nanoflakes. Following heat treatment in air, the -CN- groups present within the CP nanoflakes are removed and nanoporous Cu-Ni mixed oxide nanoflakes are generated. When tested as an electrode material for supercapacitors using a three-electrode system, the optimum Cu-Ni mixed oxide sample shows a maximum specific capacitance of 158 F g
−1
at a current density of 1 A g
−1
. It is expected that the proposed method will be useful for the preparation of other types of 2D and 3D CPs as precursors for the creation of various nanoporous metal oxides.
View Full-Text
►

▼

Figures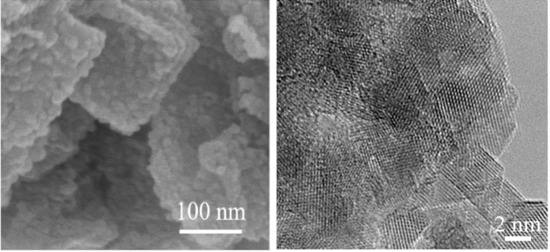 Graphical abstract
This is an open access article distributed under the
Creative Commons Attribution License
which permits unrestricted use, distribution, and reproduction in any medium, provided the original work is properly cited (CC BY 4.0).

Share & Cite This Article
MDPI and ACS Style
Azhar, A.; Young, C.; Kaneti, Y.V.; Yamauchi, Y.; Badjah, A.Y.; Naushad, M.; Habila, M.; Wabaidur, S.; Alothman, Z.A.; Kim, J. Cyano-Bridged Cu-Ni Coordination Polymer Nanoflakes and Their Thermal Conversion to Mixed Cu-Ni Oxides. Nanomaterials 2018, 8, 968.
Note that from the first issue of 2016, MDPI journals use article numbers instead of page numbers. See further details here.
Related Articles
Comments
[Return to top]