Magnetic Polyion Complex Micelles for Cell Toxicity Induced by Radiofrequency Magnetic Field Hyperthermia
1
University Bordeaux, LCPO, UMR 5629, F-33600 Pessac, France
2
Department of Chemistry, University of Waterloo, Waterloo, ON N2L 3G1, Canada
3
CNRS, Laboratoire de Chimie des Polymères Organiques, UMR 5629, F-33600 Pessac, France
4
University of Liège, Mammalian Cell Culture Laboratory, GIGA-R, B-4000 Liège, Belgium
*
Authors to whom correspondence should be addressed.
Received: 11 November 2018 / Revised: 1 December 2018 / Accepted: 3 December 2018 / Published: 6 December 2018
Abstract
Magnetic nanoparticles (MNPs) of magnetite (Fe
3
O
4
) were prepared using a polystyrene-
graft
-poly(2-vinylpyridine) copolymer (denoted G0PS-
g
-P2VP or G1) as template. These MNPs were subjected to self-assembly with a poly(acrylic acid)-
block
-poly(2-hydroxyethyl acrylate) double-hydrophilic block copolymer (DHBC), PAA-
b
-PHEA, to form water-dispersible magnetic polyion complex (MPIC) micelles. Large Fe
3
O
4
crystallites were visualized by transmission electron microscopy (TEM) and magnetic suspensions of MPIC micelles exhibited improved colloidal stability in aqueous environments over a wide pH and ionic strength range. Biological cells incubated for 48 h with MPIC micelles at the highest concentration (1250 µg of Fe
3
O
4
per mL) had a cell viability of 91%, as compared with 51% when incubated with bare (unprotected) MNPs. Cell internalization, visualized by confocal laser scanning microscopy (CLSM) and TEM, exhibited strong dependence on the MPIC micelle concentration and incubation time, as also evidenced by fluorescence-activated cell sorting (FACS). The usefulness of MPIC micelles for cellular radiofrequency magnetic field hyperthermia (MFH) was also confirmed, as the MPIC micelles showed a dual dose-dependent effect (concentration and duration of magnetic field exposure) on the viability of L929 mouse fibroblasts and U87 human glioblastoma epithelial cells.
View Full-Text
►

▼

Figures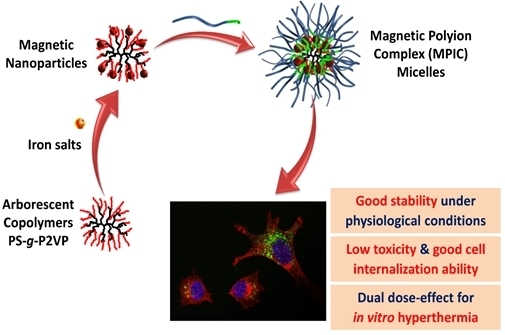 Graphical abstract
This is an open access article distributed under the
Creative Commons Attribution License
which permits unrestricted use, distribution, and reproduction in any medium, provided the original work is properly cited (CC BY 4.0).

Share & Cite This Article
MDPI and ACS Style
Nguyen, V.T.A.; De Pauw-Gillet, M.-C.; Gauthier, M.; Sandre, O. Magnetic Polyion Complex Micelles for Cell Toxicity Induced by Radiofrequency Magnetic Field Hyperthermia. Nanomaterials 2018, 8, 1014.
Note that from the first issue of 2016, MDPI journals use article numbers instead of page numbers. See further details here.
Related Articles
Comments
[Return to top]