Magnetofluorescent Nanocomposite Comprised of Carboxymethyl Dextran Coated Superparamagnetic Iron Oxide Nanoparticles and β-Diketon Coordinated Europium Complexes
1
Department of Cell Biology, Konyang University College of Medicine, Daejeon 302-718, Korea
2
Department of Anatomy, College of Medicine, Konyang University, Daejeon 302-718, Korea
3
Myunggok Medical Research Institute, Konyang University College of Medicine, Daejeon 302-718, Korea
*
Authors to whom correspondence should be addressed.
Received: 10 December 2018 / Revised: 27 December 2018 / Accepted: 29 December 2018 / Published: 4 January 2019
Abstract
Red emitting europium (III) complexes Eu(TFAAN)
3
(P(Oct)
3
)
3
(TFAAN = 2-(4,4,4-Trifluoroacetoacetyl)naphthalene, P(Oct)
3
= trioctylphosphine) chelated on carboxymethyl dextran coated superparamagnetic iron oxide nanoparticles (CMD-SPIONs) was synthesized and the step wise synthetic process was reported. All the excitation spectra of distinctive photoluminesces were originated from f-f transition of Eu
III
with a strong red emission. The emission peaks are due to the hypersensitive transition
5
D
0
→
7
F
2
at 621 nm and
5
D
0
→
7
F
1
at 597 nm,
5
D
0
→
7
F
0
at 584 nm. No significant change in PL properties due to addition of CMD-SPIONs was observed. The cytotoxic effects of different concentrations and incubation times of Eu(TFAAN)
3
(P(Oct)
3
)
3
chelated CMD-SPIONs were evaluated in HEK293T and HepG2 cells using the WST assay. The results imply that Eu(TFAAN)
3
(P(Oct)
3
)
3
chelated CMD-SPIONs are not affecting the cell viability without altering the apoptosis and necrosis in the range of 10 to 240 μg/mL concentrations.
View Full-Text
►

▼

Figures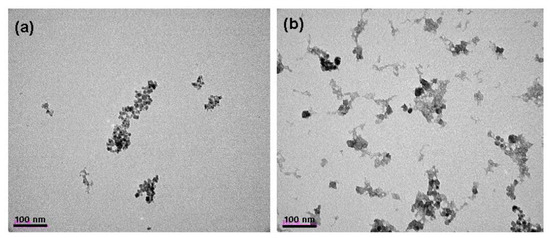 Figure 1
This is an open access article distributed under the
Creative Commons Attribution License
which permits unrestricted use, distribution, and reproduction in any medium, provided the original work is properly cited (CC BY 4.0).

Share & Cite This Article
MDPI and ACS Style
Han, D.; Han, S.-Y.; Lee, N.S.; Shin, J.; Jeong, Y.G.; Park, H.-W.; Kim, D.K. Magnetofluorescent Nanocomposite Comprised of Carboxymethyl Dextran Coated Superparamagnetic Iron Oxide Nanoparticles and β-Diketon Coordinated Europium Complexes. Nanomaterials 2019, 9, 62.
Note that from the first issue of 2016, MDPI journals use article numbers instead of page numbers. See further details here.
Related Articles
Comments
[Return to top]