Open Access This article is
freely available
re-usable
Article
Investigation of the Microstructures of Graphene Quantum Dots (GQDs) by Surface-Enhanced Raman Spectroscopy
The Beijing Key Laboratory for Nano-photonics and Nano-structure, Department of Physics, Capital Normal University, Beijing 100048, China
*
Author to whom correspondence should be addressed.
Received: 21 September 2018 / Accepted: 19 October 2018 / Published: 22 October 2018
Abstract
:
Photoluminescence (PL) is the most significant feature of graphene quantum dots (GQDs). However, the PL mechanism in GQDs has been debated due to the fact that the microstructures, such as edge and in-plane defects that are critical for PL emission, have not been convincingly identified due to the lack of effective detection methods. Conventional measures such as high-resolution transmission electron microscopy and infrared spectroscopy only show some localized lattice fringes of GQDs and the structures of some substituents, which have little significance in terms of thoroughly understanding the PL effect. Here, surface-enhanced Raman spectroscopy (SERS) was introduced as a highly sensitive surface technique to study the microstructures of GQDs. Pure GQDs were prepared by laser ablating and cutting highly oriented pyrolytic graphite (HOPG) parallel to the graphite layers. Consequently, abundant SERS signals of the GQDs were obtained on an Ag electrode in an electrochemical environment for the first time. The results convincingly and experimentally characterized the typical and detailed features of GQDs, such as the crystallinity of sp2 hexagons, the quantum confinement effect, various defects on the edges, sp3-like defects and disorders on the basal planes, and passivated structures on the periphery and surface of the GQDs. This work demonstrates that SERS is thus by far the most effective technique for probing the microstructures of GQDs.
Keywords:
graphene quantum dots; surface-enhanced Raman spectroscopy; photoluminescence; laser ablation; passivation
Author Contributions
J.W. and Y.F. conceived and designed the experiments; J.W. performed the experiments; P.W. and F.W. analyzed the data; J.W. and Y.F. wrote the paper.
Acknowledgments
This work was supported by the Natural Science Foundation of China (Grant No. 21473115), and the National High Technology Research and Development Program of China (Grant No.2012AA030303).
Conflicts of Interest
The authors declare no conflict of interest.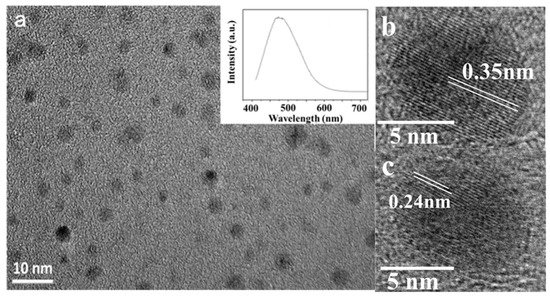 Figure 1. (a) TEM images of graphene quantum dots (GQDs) and the photoluminescence (PL) spectrum of GQDs excited at a wavelength of 400 nm (inset); (b) and (c) High-resolution transmission electron microscopy (HRTEM) images of GQDs.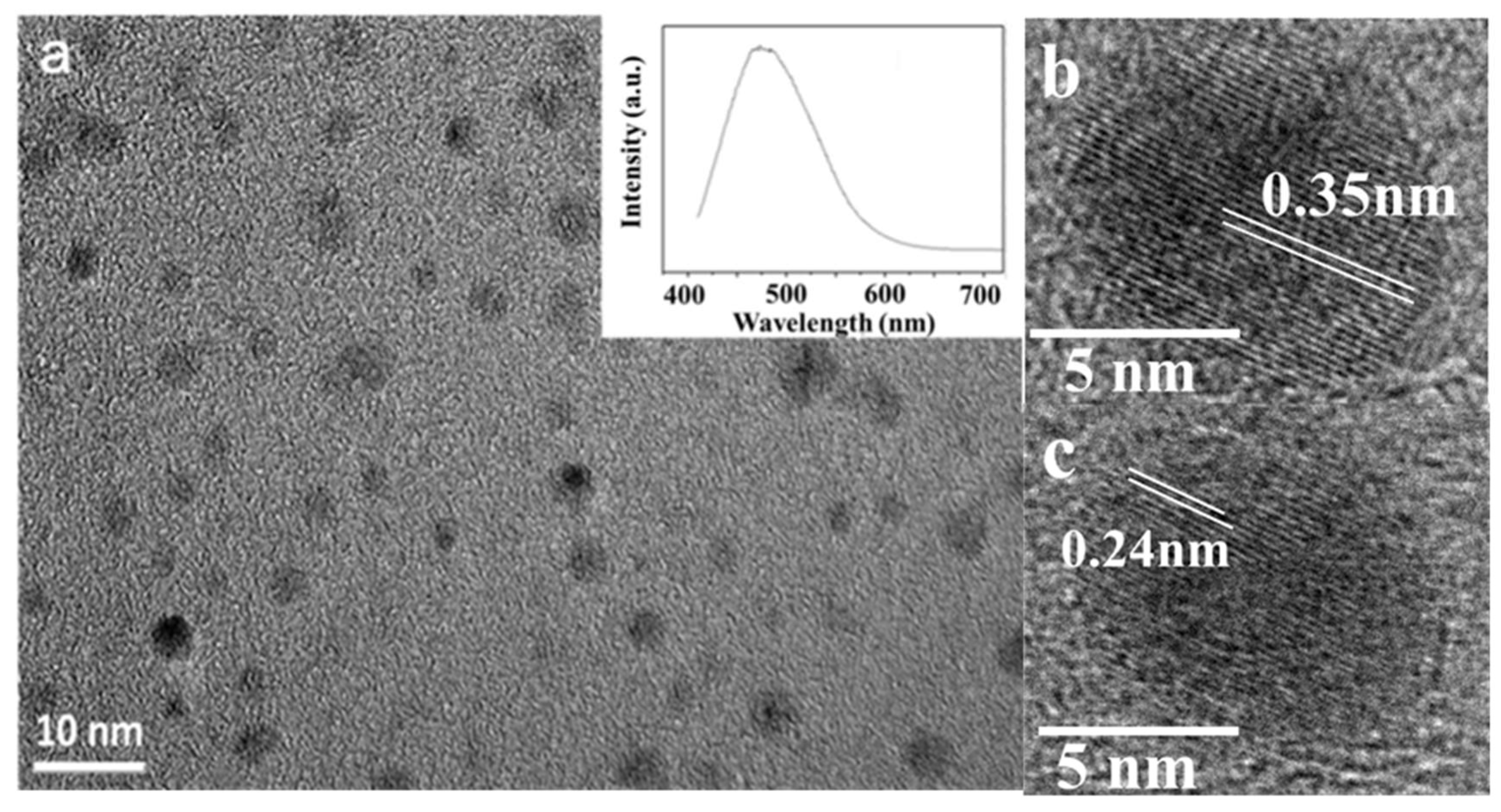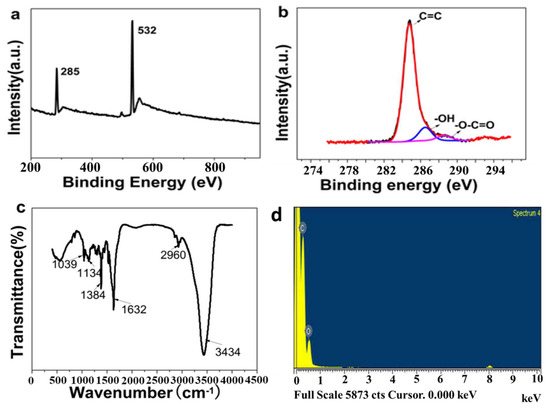 Figure 2. GQDs: (a) X-ray photoelectron spectroscopy (XPS) survey spectrum; (b) high-resolution XPS C1s spectrum; (c) Fourier transform infrared (FTIR) spectrum; (d) Energy disperse spectroscopy (EDS) spectrum.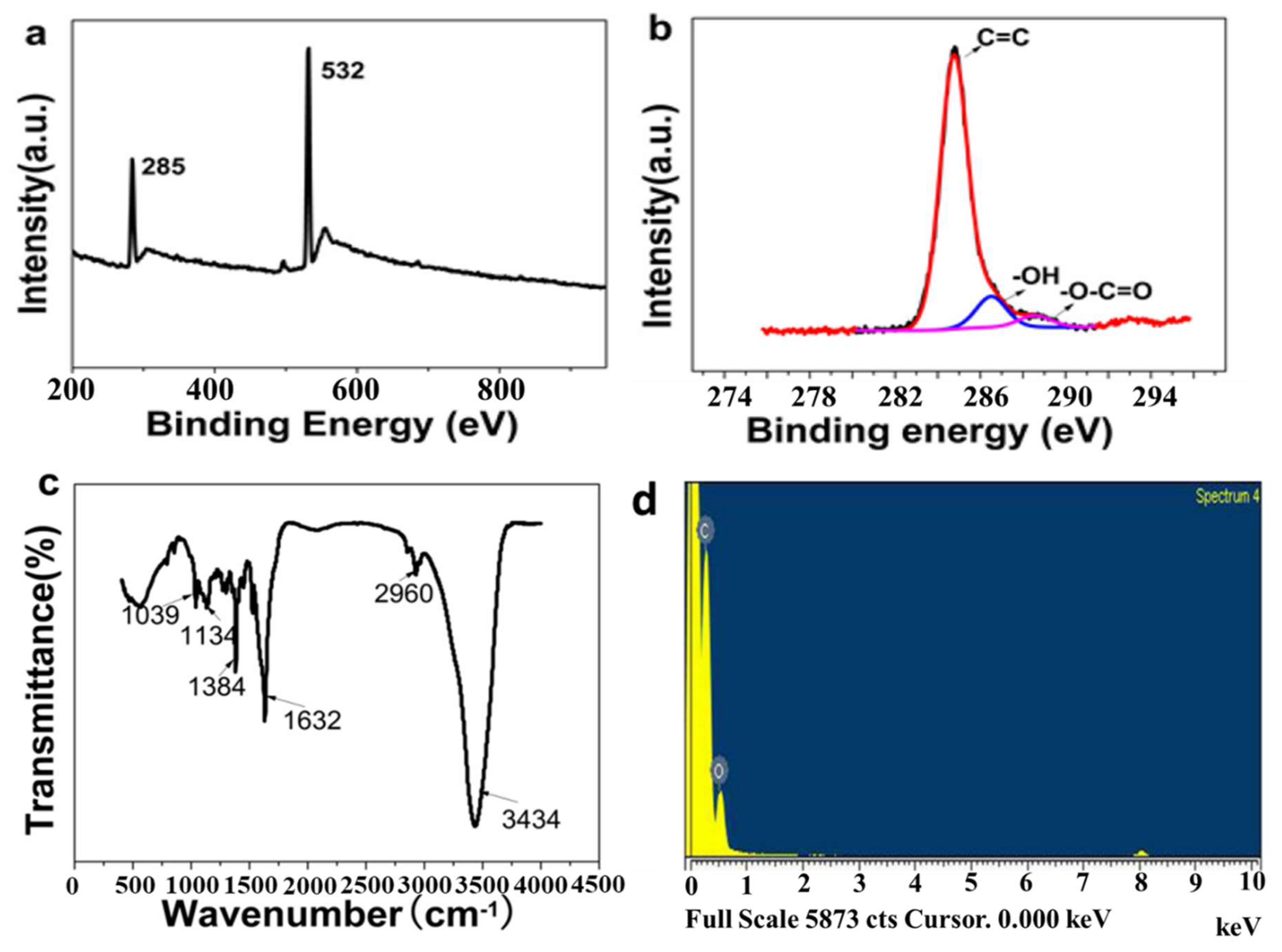 Figure 3.
(
a
) Curve a: Raman spectrum of GQDs on silicon, and curve b: Surface-enhanced Raman spectroscopy (SERS) spectrum of GQDs on silver nanoparticles (
[email protected]
); (
b
) SERS spectra of
[email protected]
coated on a Ag electrode with changing potentials from 0.0 V to −1.2 V; (
c
) The D band in SERS at −1.2 V (blue) and two fittings (black and red); and (
d
) the G band in SERS at −1.2 V. The excitation wavelength was 532 nm.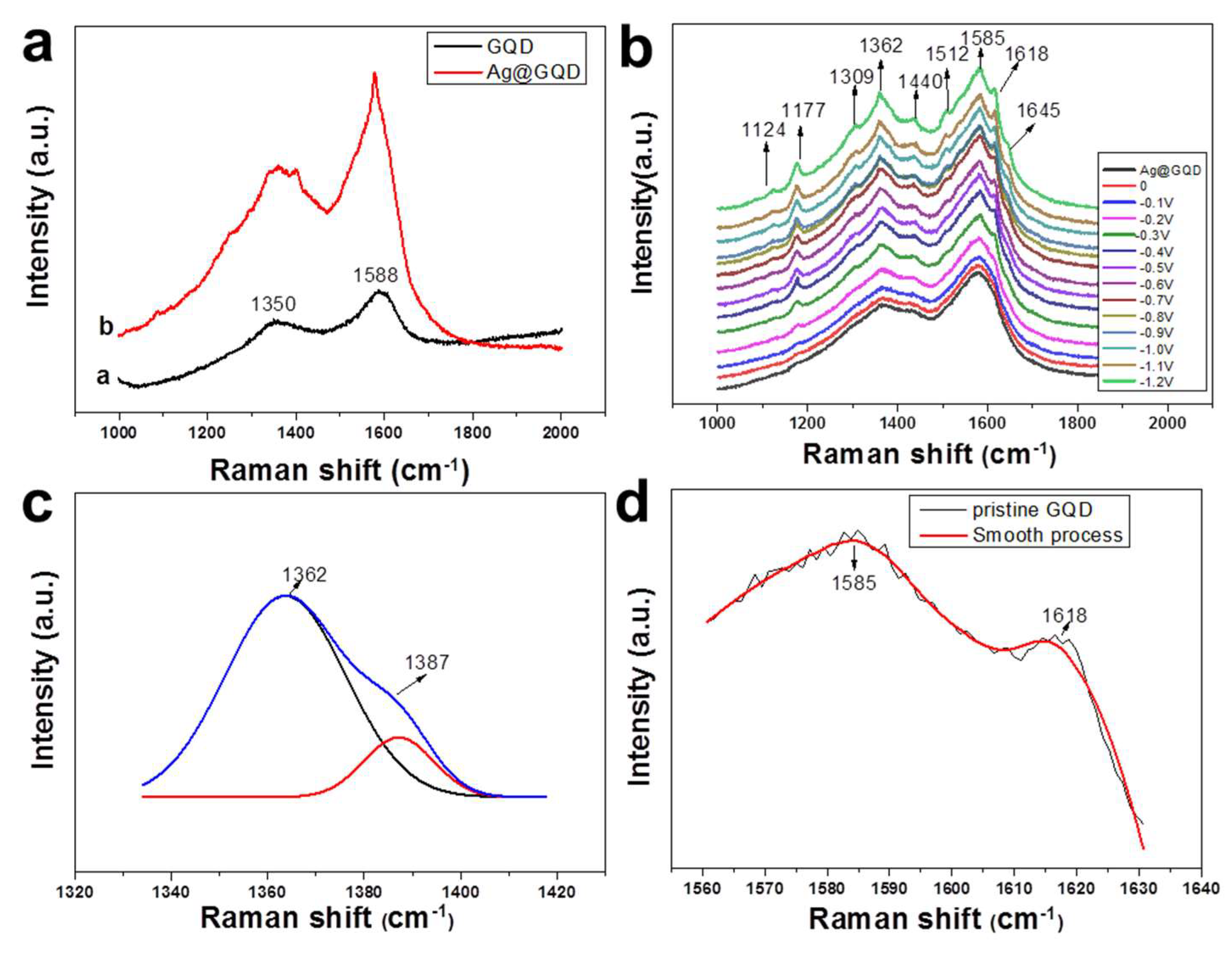 © 2018 by the authors. Licensee MDPI, Basel, Switzerland. This article is an open access article distributed under the terms and conditions of the Creative Commons Attribution (CC BY) license (http://creativecommons.org/licenses/by/4.0/).