Open Access This article is
freely available
re-usable
Article
Fabrication of ZnO/Red Phosphorus Heterostructure for Effective Photocatalytic H2 Evolution from Water Splitting
Shenzhen Key Laboratory of Laser Engineering, College of Optoelectronic Engineering, Shenzhen University, Shenzhen 518060, China
*
Author to whom correspondence should be addressed.
Received: 17 September 2018 / Accepted: 11 October 2018 / Published: 15 October 2018
Abstract
:
Photocatalysis is a green technique that can convert solar energy to chemical energy, especially in H2 production from water splitting. In this study, ZnO and red phosphorus (ZnO/RP) heterostructures were fabricated through a facile calcination method for the first time, which showed the considerable photocatalytic activity of H2 evolution. The photocatalytic activities of heterostructures with different ratios of RP have been investigated in detail. Compared to bare ZnO, ZnO/RP heterostructures exhibit a 20.8-fold enhancement for H2 production and furthermore overcome the photocorrosion issue of ZnO. The improved photocatalytic activities highly depend on the synergistic effect of the high migration efficiency of photo-induced electron–hole pairs with the inhibited charge carrier recombination on the surface. The presented strategy can also be applied to other semiconductors for various optoelectronics applications.
Keywords:
photocatalysis; H
2
evolution; red P; ZnO; heterostructure
1. Introduction
To solve the current energy crisis, H
2
evolution from water splitting has been considered as one of the most promising methods for harvesting clean fuels. Since the pioneering work from Fujishima and Honda to induce the photo-assisted decomposition of water into H
2
by using UV light in 1972, the photocatalytic properties of semiconductors have been studied in detail to directly convert solar energy into solar fuels [
1
,
2
,
3
]. Metal oxide semiconductors, such as TiO
2
[
4
], WO
3
[
5
], ZrO
2
[
6
], SnO
2
[
7
], CeO
2
[
8
], ZnO [
9
], have been utilized as promising photo-catalyzers to generate H
2
[
10
]. Among them, ZnO is nontoxic, low-cost and eco-friendly, and has been investigated for photoactivity [
11
,
12
,
13
]. However, the photocatalytic efficiency of ZnO is hindered by several shortages [
14
,
15
], including the high recombination rate of charge carriers, fatal photocorrosion [
16
], and the limited absorption of the solar spectra.
It is believed that heterojunction photocatalysts can promote carrier separation, which results in improved photocatalytic properties [
17
,
18
,
19
]. To enhance the photocatalytic performance of ZnO, constructing a heterojunction with other materials is a general strategy [
20
,
21
]. Recently, many metal-free elemental photocatalysts (Si, Se, P, S, B, Te) have received particular attention due to their good photoactivity [
22
]. Among them, red phosphorus (RP) is considered to be a promising candidate as it is a cost-effective and earth-abundant element [
23
,
24
]. Recently, black P/red P heterojunctions have been synthesized by an in-situ mechanical milling method, which shows enhanced photocatalytic activity for RhB dye degradation [
25
]. Xue et al. prepared a RP/C
3
N
4
heterojunction for photocatalytic H
2
production and CO
2
conversion [
26
]. Moreover, RP and CdS have been constructed as heterostructure photocatalysts with enhanced photocatalytic H
2
evolution activity [
27
]. However, heterostructure photocatalysts based on RP and ZnO have barely been studied.
In this study, ZnO/RP heterostructures have been prepared through a facile pressure-tight capsule calcination method, which shows enhanced photocatalytic H2 evolution performance and good photostability. By optimizing the composition and microstructure, the as-prepared nanoparticles exhibit excellent photocatalytic stability thanks to the coating of RP particles. The significantly enhanced H2 evolution rate is believed to result from the synergistic effect of the high migration efficiency of photo-induced electron–hole pairs with the inhibited charge carrier recombination in the interface.
2. Experiments
2.1. Synthesis of ZnO/RP Heterojunction Photocatalyst
Commercial ZnO (100 mg, Aladdin, Shanghai, China, AR 99.9%) was placed into SiO2 capsules and put into capsules with 1 mg, 5 mg, 10 mg, 15 mg of commercial RP (Aladdin, Shanghai, China), respectively. By adjusting the used amount of RP, the coverage density of the RP on the surface of the ZnO nanoparticle was controlled to obtain different ratios, which were marked as ZRP-X (X = weight percentage of added RP). Followed by vacuuming and sealing, the capsules were heated to 550 °C for 4 h at a heating rate of 5 °C/min, and then cooled down to room temperature naturally. For comparison, the pure ZnO power was also treated with the same procedure in the absence of red P.
2.2. Characterizations
X-ray diffraction (XRD) patterns were measured on instrument (D8Advance, Bruker, Karlsruhe, Germany) using Cu-K
α
-radiation. The acceleration voltage and the applied current were set as 40 kV and 40 mA, respectively. Scanning electron microscopy (SEM) was performed using a compact (SU70, Hitachi, Tokyo, Japan) with EDS mapping using Bruker XFlash 6I10 (XFlash 6I10, Bruker, Karlsruhe, Germany) at an accelerating voltage of 10 kV. Transmission electron microscopy (TEM) and high resolution TEM (HRTEM) analyses were measured on a JEM-2100&Aztec Energy TEM SP X-MaxN 80T (JEOL, Tokyo, Japan) using an accelerating voltage of 200 kV. The samples were prepared by applying a drop of ethanol suspension onto an amorphous carbon-coated copper grid and dried naturally. To figure out the surface chemical states, the X-ray photoelectron spectra (XPS) of the prepared photocatalysts were recorded on a Thermo Scientific ESCALAB 250Xi (ThermoFisher Scientific, Waltham, MA, USA). All spectra were calibrated to the binding energy of the adventitious C1s peak at 284.6 eV. UV-vis diffuse reflectance spectra (DRS) were recorded over the spectral range of 300–800 nm on a Perkin-Elmer Lambda 750 UV-vis spectrometer (Perkin Elmer, Waltham, MA, USA), using BaSO
4
as a reflectance standard. Specific surface area (SBET) was determined with a surface area analyzer (Nova 2000e, Quantachrome, FL, USA) from the Brunauer-Emmett-Teller (BET) theory. Photoluminescence (PL) and Raman spectra were obtained on a HORIBA Jobin Yvon LabRAM HR (Horiba, Kyoto, Japan) at an excitation wavelength of 325 nm and 514 nm, respectively. The transient fluorescence decay spectra were measured by Edinburgh Instruments FLS920 fluorescence spectrophotometer (Edinburgh Instruments, Edinburgh, UK) using the 325 nm line of the Xe lamp as the excitation source.
2.3. Photocatalytic H2 Evolution Experiments
The photocatalytic H2 evolution experiments were performed using a reaction (CLE-SPH2N, Aulight, Beijing, China) cell connected to a closed gas circulation and evacuation system. In a typical procedure, 50 mg of the sample was dispersed in 100 mL of deionized water, with 10 vol% Triethanolamine (TEOA, Aladdin, Shanghai, China) as the hole's sacrificial agent and 50 μL 3 wt% hydrochloroplatinic acid (ACS, 99.95%, Pt 37.5%, Alfa Aesar, Shanghai, China) as the co-catalyst. After being exposed to ultrasonic conditions for 5 min to get a homogeneous solution, the water splitting experiment was measured in a closed gas recirculation system equipped with a quartz reactor, connected to an evacuation pump and irradiated by a 300 W xenon lamp (CEL-HXF300, Aulight, Beijing, China) under one-sun light by using an AM 1.5 solar filter to obtain a measured intensity equivalent to standard AM 1.5 sunlight (100 mW/cm2). The light intensity was tested by an optical power meter (CEL-NP2000-10, Aulight, Beijing, China). The amount of H2 generated from the photocatalytic reaction was measured by a Techcomp GC 7920 gas chromatograph equipped with a TCD detector (Techcomp GC 7920, Shanghai, China) every 30 min. High-purity nitrogen gas was used as the carrier gas. In the long-time stability test, the reaction system was tested every 6 h of irradiation without adding extra TEOA or Pt.
3. Results and Discussion
4. Conclusions
We have developed a novel kind of type-I ZnO/RP heterostructure photocatalyst through a simple calcination method under vacuum. Compared to the pure ZnO and red P, ZnO/RP heterostructures exhibit enhanced photocatalytic activity for H2 evolution and excellent photostability under AM1.5 light irradiation. As confirmed by PL and transient fluorescence spectra, the enhancement of water splitting to H2 evolution is believed to result from the rapid transfer and effective separation of photogenerated electrons and holes between the heterointerface of ZnO and RP. Thus, the increased charge carrier lifetime and the decreased recombination rate of the photogenerated electron–hole pairs both contribute to the enhancement of photocatalytic activity. This work not only demonstrates a photocatalyst based on ZnO/RP heterostructure, but also provides a simple strategy to construct heterojunctions that can also be applied to other semiconductors for optoelectronics applications.
Supplementary Materials
The following are available online at
https://www.mdpi.com/2079-4991/8/10/835/s1
, Figure S1: Digital photograph of the heterostructure (A:ZRP-1, B:ZRP-5, C:ZRP-10, D:ZRP-15), Figure S2: The photocatalytic H2 production of red P, ZnO, and mechanical mixture (the content of red P is 5%), Figure S3: (a) The recycling H2 evolution reaction of ZRP-5 heterojunction. (b)The compared XPS pattern of ZRP-5 before and after irradiation, Figure S4: The valence band XPS of ZnO and ZRP-5, Figure S5: (a) SEM image of recycled ZRP-5 sample after water splitting photocatalytic reaction. (b–d) EDS mapping of O, Zn, P and Pt. (f) EDS spectra; Table S1: Specific surface area and pore volume of the samples.
Author Contributions
Conceptualization, J.C.; Methodology, J.C..; Software, J.W..; Validation, S.H. and Y.L; Formal Analysis, J.C.; Investigation, J.C..; Resources, S.R..; Data Curation, J.C. and H.L.; Writing-Original Draft Preparation, J.C.; Writing-Review & Editing, S.H. and Y.-J.Z.; Visualization, Z.L.; Supervision, Y.-J.Z. and S.R..; Project Administration, Y.-J.Z.; Funding Acquisition, Y.-J.Z. and S.R.
Acknowledgments
This work was supported by the National Natural Science Foundation of China under Grant No. 51502178, the Major Science and Technology Project of Guangdong Province No. 2014B010131006, the Shenzhen Science and Technology Project under Grant Nos. JCYJ20170412105400428 and KQJSCX20170727101208249.
Conflicts of Interest
The authors declare no conflict of interest.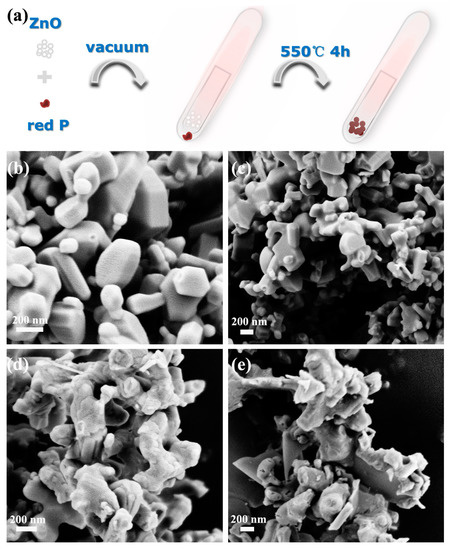 Figure 1. (a) Synthetic procedure for ZnO and red phosphorus (ZRP) heterostructure; (b–e) SEM images of ZnO-1, ZnO-5, ZnO-10 and ZnO-15.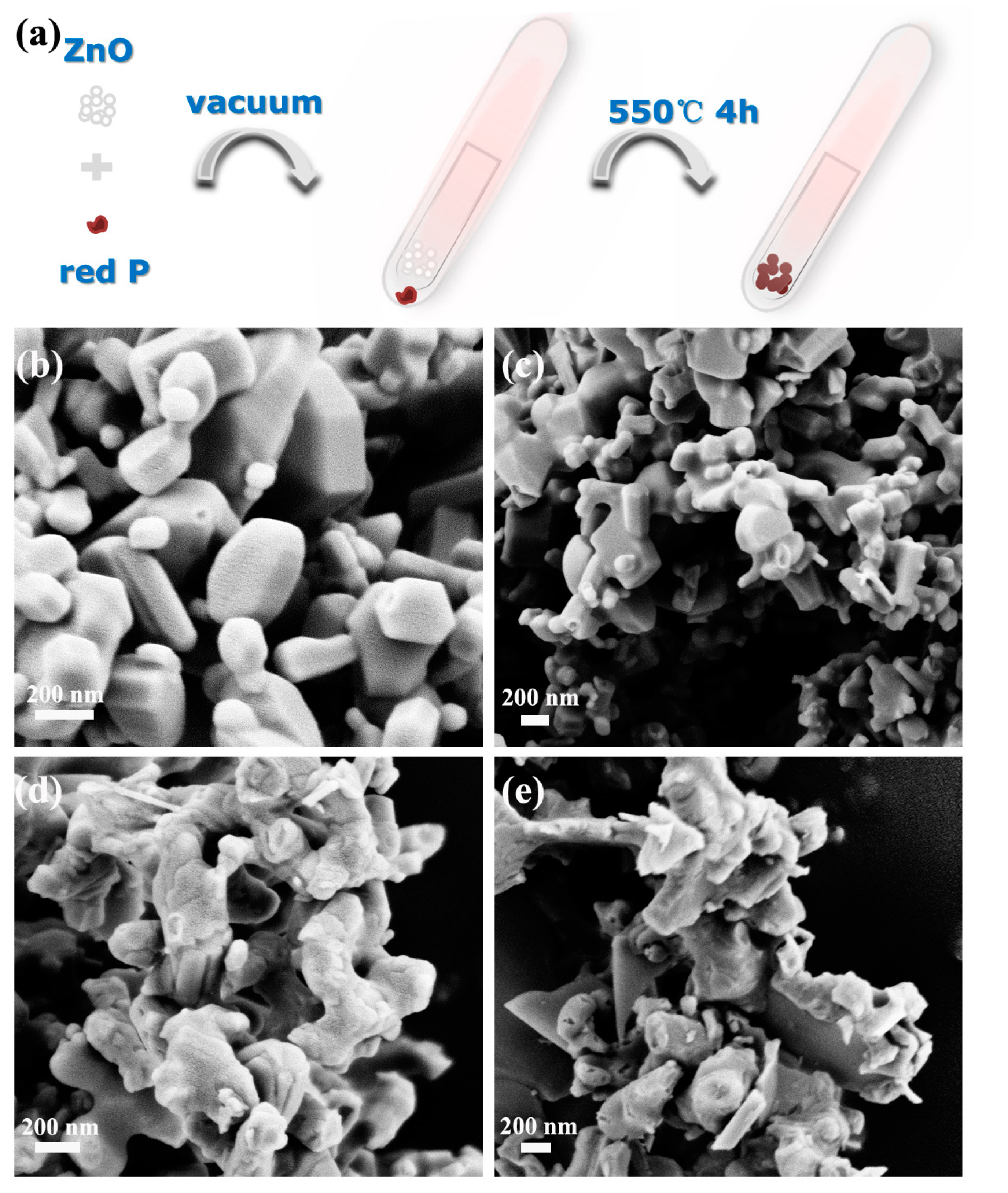 Figure 3. (a) Raman spectra of red P, ZnO and ZRP-5; (b) XRD patterns of the samples: ZnO, red P and ZRP-5.


Figure 4. (a) Photocatalytic H2 evolution of the as-synthesized heterojunctions under AM 1.5 irradiation; (b) Photocatalytic H2 release yield in 6 h.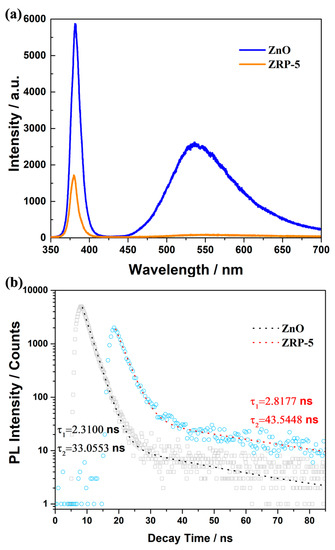 Figure 5. (a) Photoluminescence (PL) spectra of ZnO and ZRP-5; (b) Transient fluorescence decay spectra of ZnO and ZRP-5.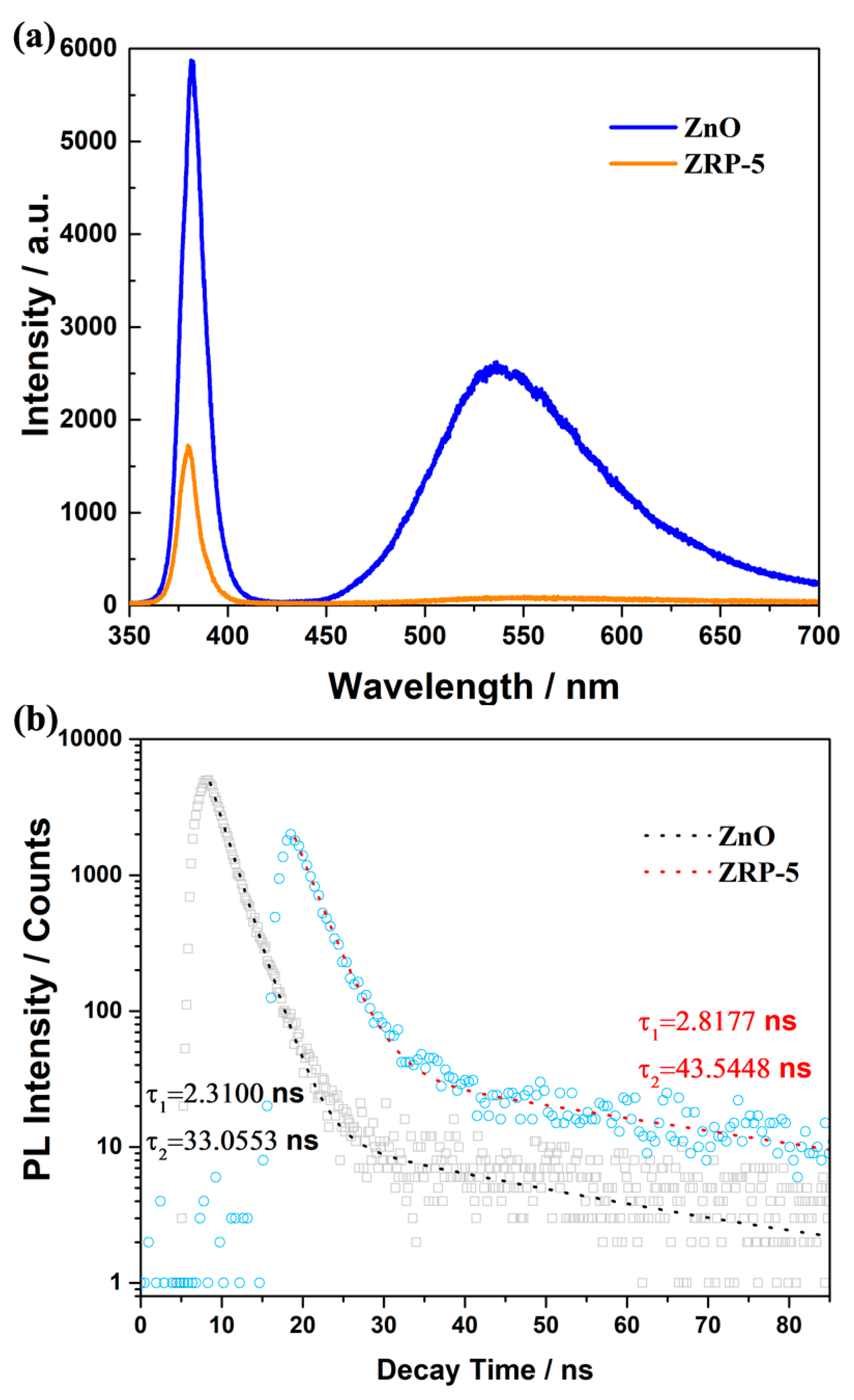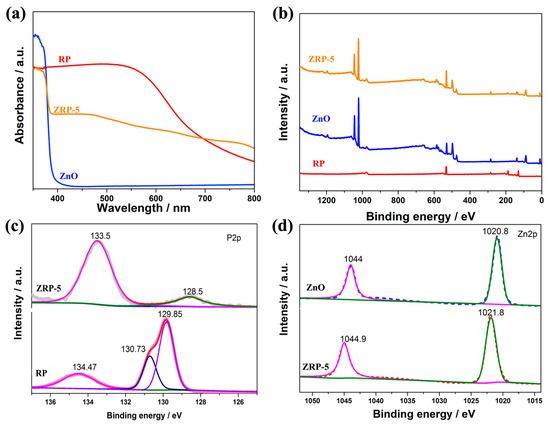 Figure 6.
(
a
) UV-vis diffuse reflectance spectra of ZnO, red P and ZRP-5; (
b
) The XPS survey spectra of ZnO, red P and ZRP-5; (
c
) The XPS spectra P
2p
of ZRP-5 and red P; (
d
) The XPS Zn
2p
spectra of ZnO and ZRP-5.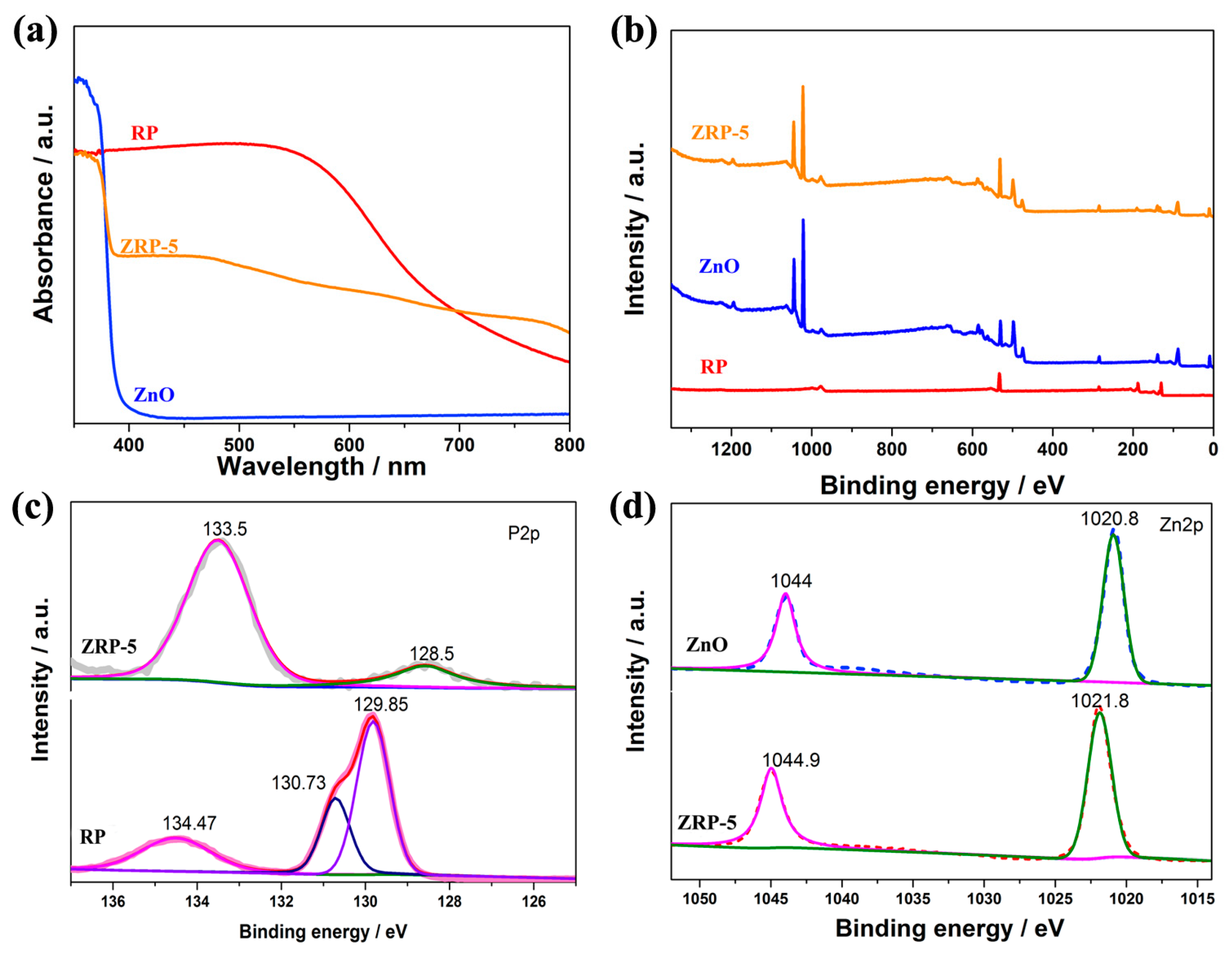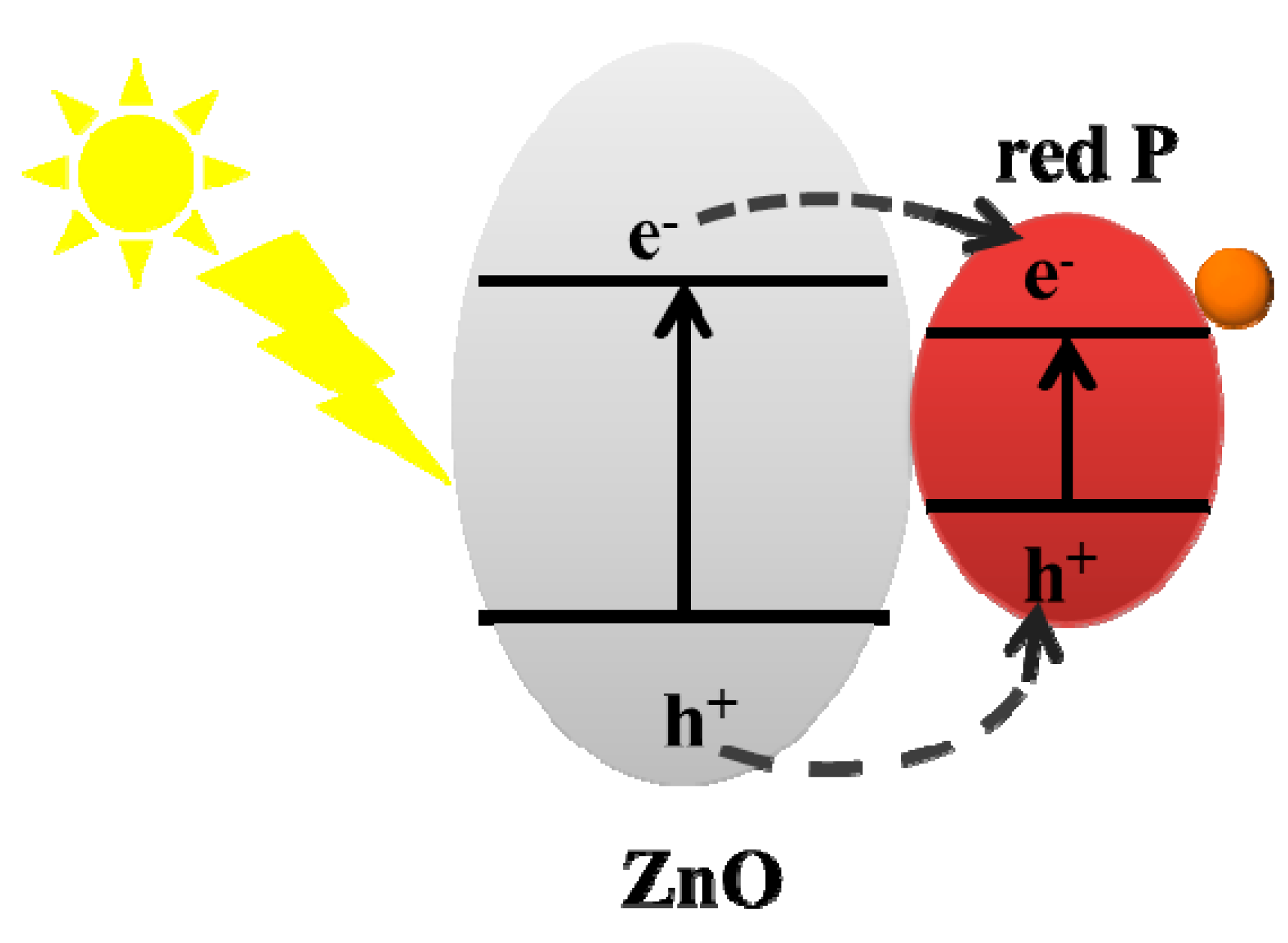 © 2018 by the authors. Licensee MDPI, Basel, Switzerland. This article is an open access article distributed under the terms and conditions of the Creative Commons Attribution (CC BY) license (http://creativecommons.org/licenses/by/4.0/).