Synthesis and Characterization of Rh/B–TNTs as a Recyclable Catalyst for Hydroformylation of Olefin Containing –CN Functional Group
1
College of Chemistry, Nankai University, Tianjin 300071, China
2
The Key Laboratory of Advanced Energy Materials Chemistry (Ministry of Education), Nankai University, Tianjin 300071, China
3
Collaborative Innovation Center of Chemical Science and Engineering, Tianjin 300071, China
*
Author to whom correspondence should be addressed.
Received: 7 September 2018 / Revised: 19 September 2018 / Accepted: 20 September 2018 / Published: 25 September 2018
Abstract
The TiO
2
-based nanotubes (TNTs, B–TNTs) of different surface acidities and their supported Rh catalysts were designed and synthesized. The catalysts were characterized by X-ray diffraction (XRD), scanning electron microscopy (SEM), transmission electron microscopy (TEM), X-ray photoelectron spectrometer (XPS), tempera–ture–programmed desorption of ammonia (NH
3
–TPD), atomic emission spectrometer (ICP), and Brunauer–Emmett–Tellerv (BET) surface-area analyzers. Images of SEM and TEM showed that the boron-decorated TiO
2
nanotubes (B–TNTs) had a perfect multiwalled tubular structure; their length was up to hundreds of nanometers and inner diameter was about 7 nm. The results of NH
3
-TPD analyses showed that B–TNTs had a stronger acid site compared with TNTs. For Rh/TNTs and Rh/B–TNTs, Rh nanoparticles highly dispersed on B–TNTs were about 2.79 nm in average diameter and much smaller than those on TNTs, which were about 4.94 nm. The catalytic performances of catalysts for the hydroformylation of 2-methyl-3-butennitrile (2M3BN) were also evaluated, and results showed that the existence of B in Rh/B–TNTs had a great influence on the catalytic performance of the catalysts. The Rh/B–TNTs displayed higher catalytic activity, selectivity for aldehydes, and stability than the Rh/TNTs.
View Full-Text
►

▼

Figures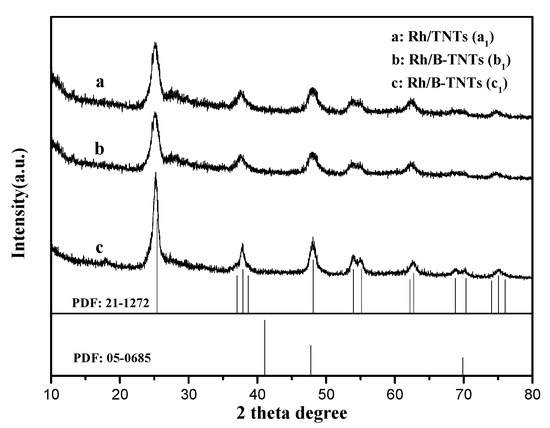 Figure 1
This is an open access article distributed under the
Creative Commons Attribution License
which permits unrestricted use, distribution, and reproduction in any medium, provided the original work is properly cited (CC BY 4.0).

Share & Cite This Article
MDPI and ACS Style
Su, P.; Liu, X.; Chen, Y.; Liu, H.; Zhu, B.; Zhang, S.; Huang, W. Synthesis and Characterization of Rh/B–TNTs as a Recyclable Catalyst for Hydroformylation of Olefin Containing –CN Functional Group. Nanomaterials 2018, 8, 755.
Note that from the first issue of 2016, MDPI journals use article numbers instead of page numbers. See further details here.
Related Articles
Comments
[Return to top]