Cytotoxic, Genotoxic, and Polymorphism Effects on
Vanilla planifolia

Jacks ex Andrews after Long-Term Exposure to Argovit® Silver Nanoparticles

1

Conacyt-Colegio de Postgraduados Campus Córdoba, Carretera Córdoba Veracruz, Amatlán de los Reyes Km 348, Veracruz 94946, Mexico

2

Colegio de Postgraduados Campus Córdoba, Carretera Córdoba Veracruz, Amatlán de los Reyes Km 348, Veracruz 94946, Mexico

3

Facultad de Ciencias, Universidad Autónoma de Baja California, Carretera Transpeninsular Tijuana 3917, Ensenada 22860, Mexico

4

Research School of Chemical and Biomedical Technologies, Tomsk Polytechnic University, Lenin Avenue 30, Tomsk 634050, Russia

5

Conacyt-Universidad Nacional Autónoma de México-Centro de Nanociencias y Nanotecnología, Carretera Tijuana-Ensenada Km 107, Ensenada 22860, Mexico

6

Centro de Nanociencias y Nanotecnología, Universidad Nacional Autónoma de México, Carretera Tijuana-Ensenada Km 107, Ensenada 22860, México

*

Authors to whom correspondence should be addressed.

Received: 15 July 2018 / Revised: 20 September 2018 / Accepted: 20 September 2018 / Published: 25 September 2018
Abstract
Worldwide demands of
Vanilla planifolia
lead to finding new options to produce large-scale and contaminant-free crops. Particularly, the Mexican Government has classified
Vanilla planifolia
at risk and it subject to protection programs since wild species are in danger of extinction and no more than 30 clones have been found. Nanotechnology could help to solve both demands and genetic variability, but toxicological concerns must be solved. In this work, we present the first study of the cytotoxic and genotoxic effects promoted by AgNPs in
Vanilla planifolia
plantlets after a very long exposure time of six weeks. Our results show that
Vanilla planifolia
plantlets growth with doses of 25 and 50 mg/L is favored with a small decrease in the mitotic index. A dose-dependency in the frequency of cells with chromosomal aberrations and micronuclei was found. However, genotoxic effects could be considered as minimum due to with the highest concentration employed (200 mg/L), the total percentage of chromatic aberrations is lower than 5% with only three micronuclei in 3000 cells, despite the long-time exposure to AgNP. Therefore, 25 and 50 mg/L (1.5 and 3 mg/L of metallic silver) were identified as safe concentrations for
Vanilla planifolia
growth on in vitro conditions. Exposure of plantlets to AgNPs increase the polymorphism registered by inter-simple sequence repeat method (ISSR), which could be useful to promote the genetic variability of this species.
View Full-Text
►

▼

Figures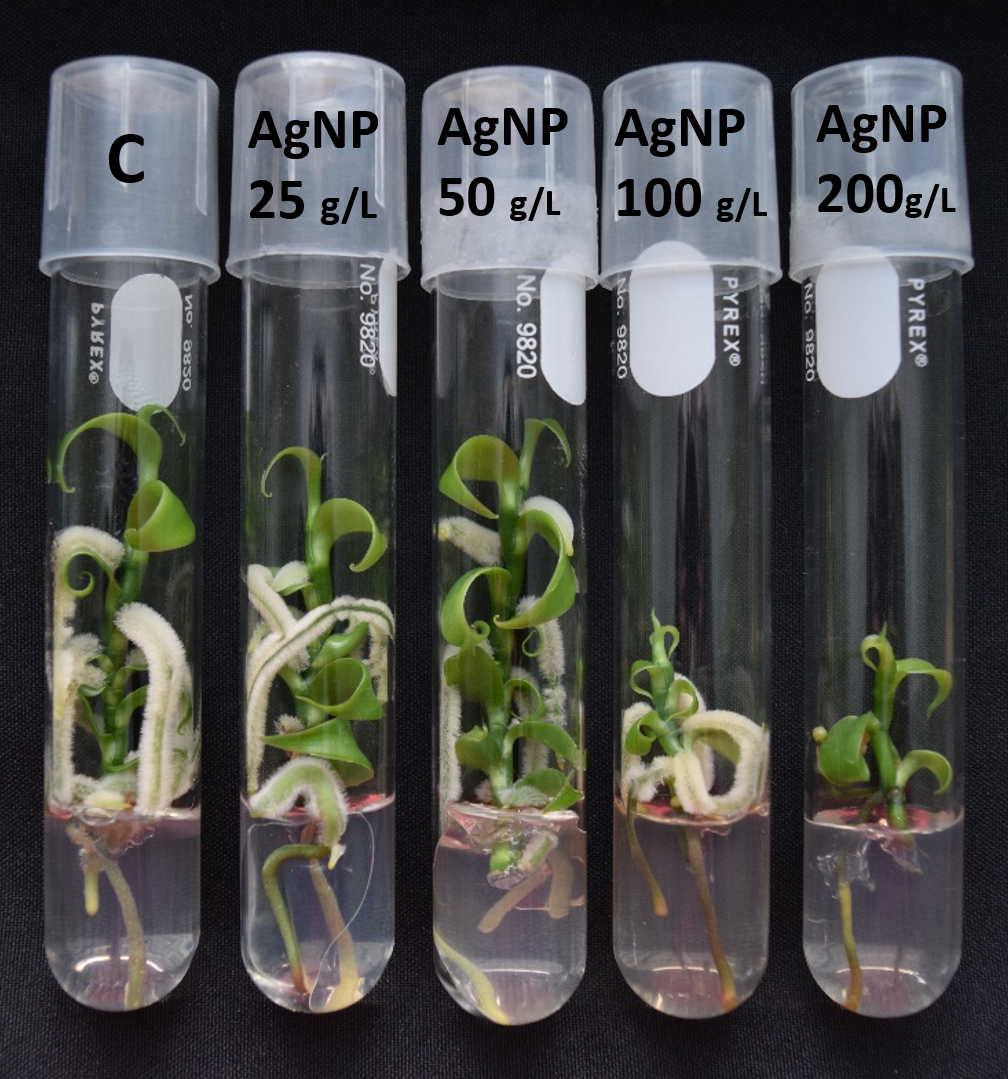 Graphical abstract
This is an open access article distributed under the
Creative Commons Attribution License
which permits unrestricted use, distribution, and reproduction in any medium, provided the original work is properly cited (CC BY 4.0).

Share & Cite This Article
MDPI and ACS Style
Bello-Bello, J.J.; Spinoso-Castillo, J.L.; Arano-Avalos, S.; Martínez-Estrada, E.; Arellano-García, M.E.; Pestryakov, A.; Toledano-Magaña, Y.; García-Ramos, J.C.; Bogdanchikova, N. Cytotoxic, Genotoxic, and Polymorphism Effects on Vanilla planifolia Jacks ex Andrews after Long-Term Exposure to Argovit® Silver Nanoparticles. Nanomaterials 2018, 8, 754.
Note that from the first issue of 2016, MDPI journals use article numbers instead of page numbers. See further details here.
Related Articles
Comments
[Return to top]