Open Access This article is
freely available
re-usable
Article
Protecting Touch: Authenticated App-To-Server Channels for Mobile Devices Using NFC Tags
1
Banco do Brasil S.A., 70790-125 Brasília, Brazil
2
University of Applied Sciences Upper Austria, 4232 Hagenberg, Austria
3
Institute of Networks and Security, Johannes Kepler University Linz, 4040 Linz, Austria
4
Department of Computer Science and Statistics, São Paulo State University—UNESP, 15054-000 São José do Rio Preto, Brazil
*
Authors to whom correspondence should be addressed.
Received: 26 May 2017 / Accepted: 28 June 2017 / Published: 6 July 2017
Abstract
:
Traditional authentication methods (e.g., password, PIN) often do not scale well to the context of mobile devices in terms of security and usability. However, the adoption of Near Field Communication (NFC) on a broad range of smartphones enables the use of NFC-enabled tokens as an additional authentication factor. This additional factor can help to improve the security, as well as usability of mobile apps. In this paper, we evaluate the use of different types of existing NFC tags as tokens for establishing authenticated secure sessions between smartphone apps and web services. Based on this evaluation, we present two concepts for a user-friendly secure authentication mechanism for mobile apps, the Protecting Touch (PT) architectures. These two architectures are designed to be implemented with either end of the spectrum of inexpensive and widely-available NFC tags while maintaining a reasonable trade-off between security, availability and cost.
Keywords:
secure channel; two-factor authentication; Near Field Communication (NFC); Android; mobile security
1. Introduction
Currently, one of the most wide-spread security mechanisms to authenticate users against online services are username and password combinations. While passwords are seemingly easy to implement from a developer's perspective, they put a significant amount of responsibility on the user. In order to make passwords secure, users would have to choose and remember long and complex combinations of letters or words, digits and other symbols (cf. Yan et al. [
1
]). Particularly on mobile devices, the limited input capabilities (e.g., small on-screen keyboards) often prevent users from choosing such a secure password (see the study by Greene et al. [
2
]). Moreover, eavesdropping (e.g., through shoulder surfing or keyloggers), phishing, taking notes of passwords and even intentional sharing can pose a risk to systems protected by this security mechanism.
In order to reduce the risk associated with passwords (or user knowledge in general), critical online services often add a secondary authentication factor (e.g., something that the user has) to the authentication process. For instance, online banking systems often use one-time passwords transmitted to the user's mobile phone via SMS messages or an app. In that scenario, the mobile device is considered something personal, that users would always carry close to themselves. Consequently, the mobile device together with the SMS channel are considered a second factor held by the user.
This second factor is well separated from the main path to the online service when that service is, for example, accessed through a web browser on a desktop PC. However, with the mass adoption of smartphones, more and more online services that were originally designed to be accessed from desktop PCs are now used through the same mobile devices that were previously considered as second factor (cf. Schartner and Bürger [
3
]). Consequently, the malware on a smartphone could both eavesdrop on keystrokes to record passwords, as well as intercept received SMS messages to get hold of one-time passwords transmitted over the secondary channel (see Konoth et al. [
4
]).
This suggests that different methods are needed to implement two-factor authentication for services targeting mobile devices. The adoption of Near Field Communication (NFC) on a broad range of smartphones opens up NFC-enabled tokens as a secondary authentication factor usable on mobile devices. An NFC tag could be used as the storage for the secret key material that is then used for authentication and to secure communication between mobile apps and their online backend services.
NFC-enabled tokens are already widely used for physical access control systems. Similar concepts were brought to the smartphone world. For instance, the FIDO Alliance recently published a specification for using a special NFC-enabled token as a second authentication factor based on public-key cryptography [
5
]. Furthermore, recent Android versions support using NFC tags as identifiers to unlock the lock screen. However, these methods typically either require new generations of NFC tags or rely on easily duplicable information (e.g., anti-collision identifiers of NFC tags). Therefore, they are not usable with NFC tags and contactless smart cards that are already widely in use by and available to smartphone users (e.g., membership cards, employee ID badges, general-purpose NFC tags available in online stores).
In order to remain with the previously-mentioned example of online banking, we focus our considerations on an exemplary mobile banking app. This app, targeting smartphones and tablets, gives users access to their bank account. Users may check their account balance, review transactions and transfer money to other bank accounts. To perform each of these operations, the mobile banking app connects to a backend server of the bank through a secure channel. Both endpoints of the secure channel, i.e., the backend server on one side and the specific app installation and its user on the other side, need to be authenticated. Using, for instance, TLS (Transport Layer Security) and certificate pinning, the app can easily authenticate the backend server. Our approach focuses on authentication of the mobile device side. For one, we use key material stored on an NFC tag to verify that the user possesses a specific token. Second, we combine that with key material stored within the app (or a system-provided secured key vault accessible by the app) to bind the NFC tag and the access to the secure channel to one specific installation of the app (after an initial password-based login).
In this paper, we assess the capabilities of different types of existing NFC tag technologies and evaluate how these tags can be used as tokens for establishing authenticated secure sessions between smartphone apps and web services. Two concepts for a user-friendly secure authentication mechanism for mobile apps based on NFC tags, the Protecting Touch (PT) architectures, are outlined. These two architectures cater to both ends of the spectrum of available, low-cost NFC tag products providing a reasonable trade-off between security, availability and cost. Without loss of generality, we focus on the requirements of our exemplary mobile banking app, but these concepts could easily be applied to other app-to-backend communication use-cases with similar security requirements, as well.
2. Related Work
The goal of this paper is to assess the possibilities and design new protocols for leveraging existing, widely-used, low-cost NFC tags and contactless smart cards for the purpose of establishing an authenticated channel between a mobile app and a web service. Existing approaches either rely on special and not (yet) widely-used NFC tokens, or they do not use any cryptography at all. Moreover, current approaches mainly focus on using NFC tags/cards as tokens that are authenticated through challenge-response protocols between two endpoints. As opposed to this, our Protecting Touch architecture aims at using NFC tags as a storage for key material used for establishing an encrypted and authenticated communication channel between the mobile app and its backend and, consequently, as an integral part of that secure channel.
3. Functionality of NFC Tags
The NFC Forum, a non-profit industry association driving the development of the whole NFC ecosystem, maintains five specifications for NFC tag types: the Tag Operation specifications [
14
,
15
,
16
,
17
,
18
]. These standardize the memory structures and interface commands for access to different types of NFC tag hardware. Memory is either organized in a flat linearly-addressable structure or in a file-oriented structure. The NFC Data Exchange Format (NDEF) [
19
] maps the hardware-specific memory structures to one common data format and defines an abstraction layer on top of any tag hardware. The memory allocatable to NDEF data on currently available tag products ranges from a few bytes up to a few kilobytes (though the theoretical limit according to the specifications is approximately 1 MB).
According to the specifications, NFC tags are designed to be freely readable by any device in close proximity. Therefore, NFC tags may only be used as freely readable data storage based on NDEF in order to achieve a maximum level of interoperability. No authentication or protection mechanisms against reading of tag contents are standardized. The only protection that is part of the tag operation specifications is a mechanism to restrict writing or modification of tag contents. Consequently, contents of NFC tags can easily be copied from one tag to another. Moreover, an attacker eavesdropping on the communication between the app and the tag could also obtain sufficient information to duplicate the tag since the communication is not encrypted.
Most NFC tags have identifiers (4–10 bytes) that are used for anti-collision and enumeration of NFC tags in the range of a reader device. Manufacturers usually assign them in a way that each tag gets a unique identifier. The identifiers are assigned during production and typically stored in read-only memory. Since these identifiers cannot be modified on regular tag hardware, it is possible to use them to uniquely identify tags or to cryptographically bind the NDEF data to one specific tag. However, special emulators and special tags with modifiable identifiers are known to exist (cf. Duc et al. [
13
]). Consequently, these identifiers cannot reliably protect against tag cloning.
Some existing tag products implement additional security features that go beyond permanently locking tag contents to read-only by providing different forms of authentication mechanisms (e.g., MIFARE DESFire). These product-specific security features make use of proprietary commands that are not part of the NFC Forum Tag Operation specifications. As a result, these extensions can only be used on platforms that permit the exchange of the necessary low-level commands (e.g., Android).
The most simple mechanism is a password that is transmitted to the tag in clear-text and confirmed or rejected by the tag. Data on the tag may only become readable after authentication with the password. This further protects against cloning, unless an attacker has the capability to eavesdrop on the communication with the tag or to extract the password from the app. Moreover, if the password verification yields a binary "yes"/"no" result and the data are freely readable, special tag or emulator hardware could simply acknowledge any password in order to bypass actual verification (cf. Murdoch et al. [
20
], who revealed a similar issue with PIN verification on payment cards).
A more sophisticated approach is symmetric mutual challenge-response authentication using a shared key. Some tag products also use the challenge-response authentication to establish an ephemeral session key that is then used to authenticate and optionally encrypt the communication between the reader and the tag. Mutual challenge-response authentication prevents eavesdropping on the shared secret. Such authentication can be performed directly between a tag and a backend server using the app as a transparent proxy. Thus, the app on the mobile device does not need to store the shared secret and is, consequently, not prone to extraction of the secret key from its memory.
Besides simple NFC tags, there are also other tag and contactless smart card products specifically focusing on cryptographic functionality. For instance, application-specific and programmable processor smart cards (e.g., Java Card) can be used to implement authentication applications (e.g., electronic ID cards, bank cards, solutions like YubiKey). However, these types of tags and smart cards are either not widely available, bound to specific existing applications and infrastructure or not available as low-cost products. Therefore, these products are beyond the scope of this paper, since our focus is on widely available, low-cost, general-purpose NFC tag products.
4. Protecting Touch
Analyzing the functionality of existing NFC tag products revealed that there is a broad spectrum of tag capabilities ranging from pure, freely-readable memory to tags that allow mutually authenticated and encrypted communication channels. We designed two concepts for a user-friendly secure authentication mechanism for mobile apps based on NFC tags: the Protecting Touch (PT) architectures. Each of the two PT architectures was designed for one of the two ends of the spectrum of available low-cost NFC tag products:
The first architecture (PT1) uses freely-readable NFC tags as storage for key material that is bound to a specific installation of the authenticating mobile app and can be used for authentication towards the backend system. This architecture is designed to work with any NFC tag, given that the tag has sufficient memory space for the key material. PT1 relies solely on the NDEF abstraction layer to provide a maximum level of interoperability.

The second architecture (PT2) uses the mutual three-pass authentication protocol of MIFARE DESFire tags and specific side-effects of the DESFire communication protocol to generate deterministic random symmetric session keys between the mobile app and its backend. This architecture specifically targets MIFARE DESFire and, thus, the upper end (in terms of capabilities and cost) of available NFC tags. While PT2 requires more expensive tags, the price is still far below smart card solutions such as the YubiKey NEO (more than a factor of 10; see

Section 4.5

).
5. Conclusions and Future Work
We assessed different types of existing NFC tag technologies with regard to their usability as tokens for authentication in smartphone apps. Based on the requirements of an exemplary mobile banking app, we created the Protecting Touch (PT) architectures, two concepts for a user-friendly secure authentication mechanism for mobile apps and their backend systems based on NFC tags. As opposed to existing approaches to authentication with NFC-compatible tokens, our approach uses key material obtained from the tags to secure the whole communication.
We analyzed the two protocols PT1 and PT2 with regard to their security properties and created prototypes to verify that both can be implemented for recent Android devices. The two protocols were designed to leverage the features of both ends of the spectrum of available NFC tag hardware resulting in different trade-offs in terms of availability, security and usability. While PT1 works with virtually any NFC tag, tags are widely available at lowest cost and tags can be pre-authenticated offline, it suffers from a limited, but remaining, risk of tag cloning. PT2, on the other hand, provides good protection against tag cloning. However, this comes at the price of requiring real-time communication between the backend and the tag over the mobile network. Tags are slightly more expensive (though still low-cost compared to other solutions) and also have good availability.
Finally, we mainly base our assumptions that NFC tags provide a better trade-off between security and usability than passwords on mobile devices and that our solution is, hence, more user-friendly on various studies criticizing passwords. Future work, e.g., in the form of a user study, needs to quantitatively assess if carrying an NFC tag is indeed more user-friendly than choosing, remembering and typing strong passwords.
Acknowledgments
The first author would like to thank Banco do Brasil S/A for funding the international collaboration at Johannes Kepler University Linz. A special note of thanks to the Institute of Networks and Security for hosting and supporting this author. Moreover, this work has been carried out within the scope of the Josef Ressel Center for User-Friendly Secure Mobile Environments ("u'smile"), funded by the Christian Doppler Gesellschaft, A1 Telekom Austria AG, Drei-Banken-EDV GmbH, LG Nexera Business Solutions AG, NXP Semiconductors Austria GmbH and Österreichische Staatsdruckerei GmbH.
Author Contributions
Fernando Kaway Carvalho Ota, Michael Roland and Michael Hölzl designed and evaluated the protocols; René Mayrhofer and Aleardo Manacero supervised the design of the protocol; Michael Roland, Fernando Kaway Carvalho Ota and Michael Hölzl wrote the paper.
Conflicts of Interest
The authors declare no conflict of interest.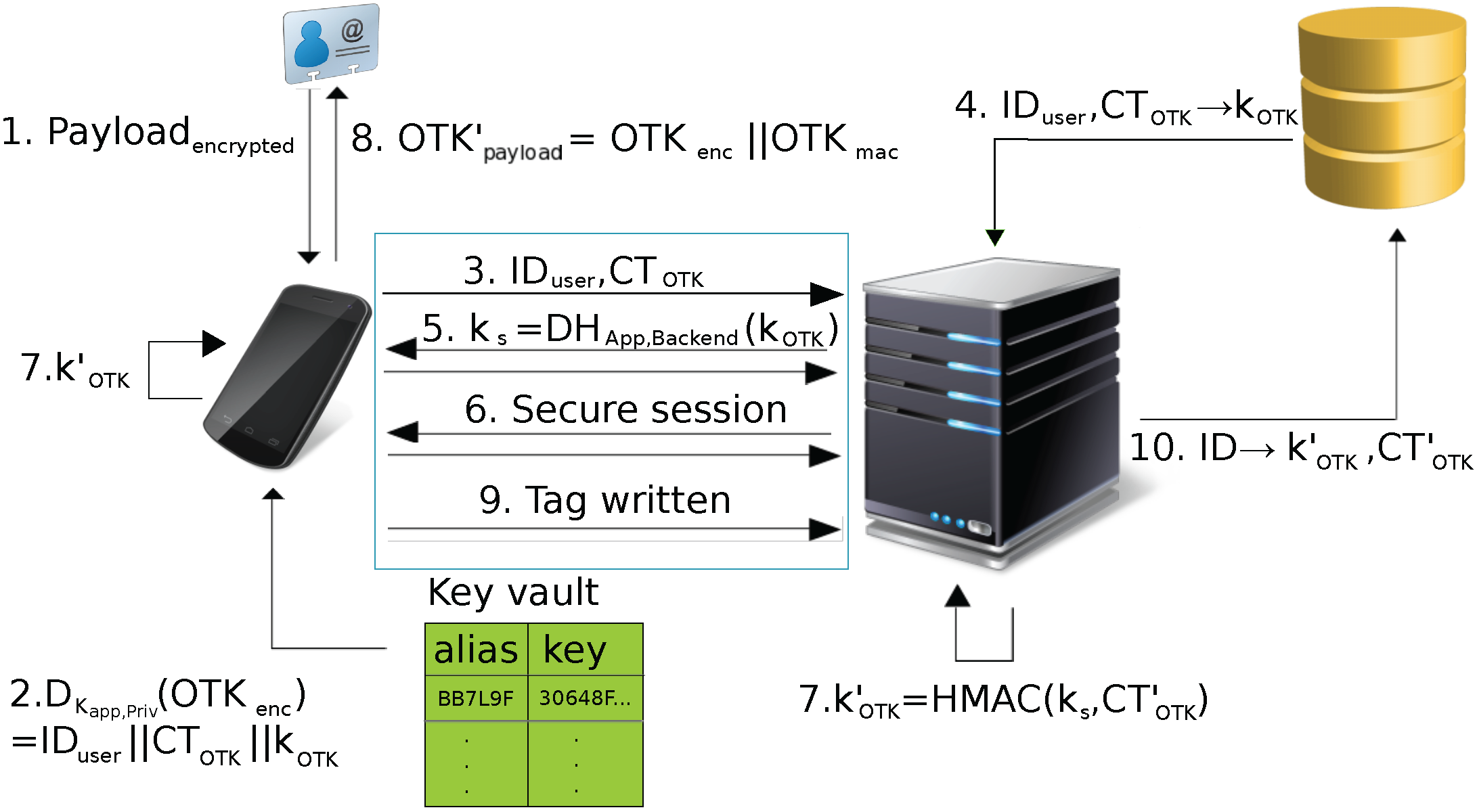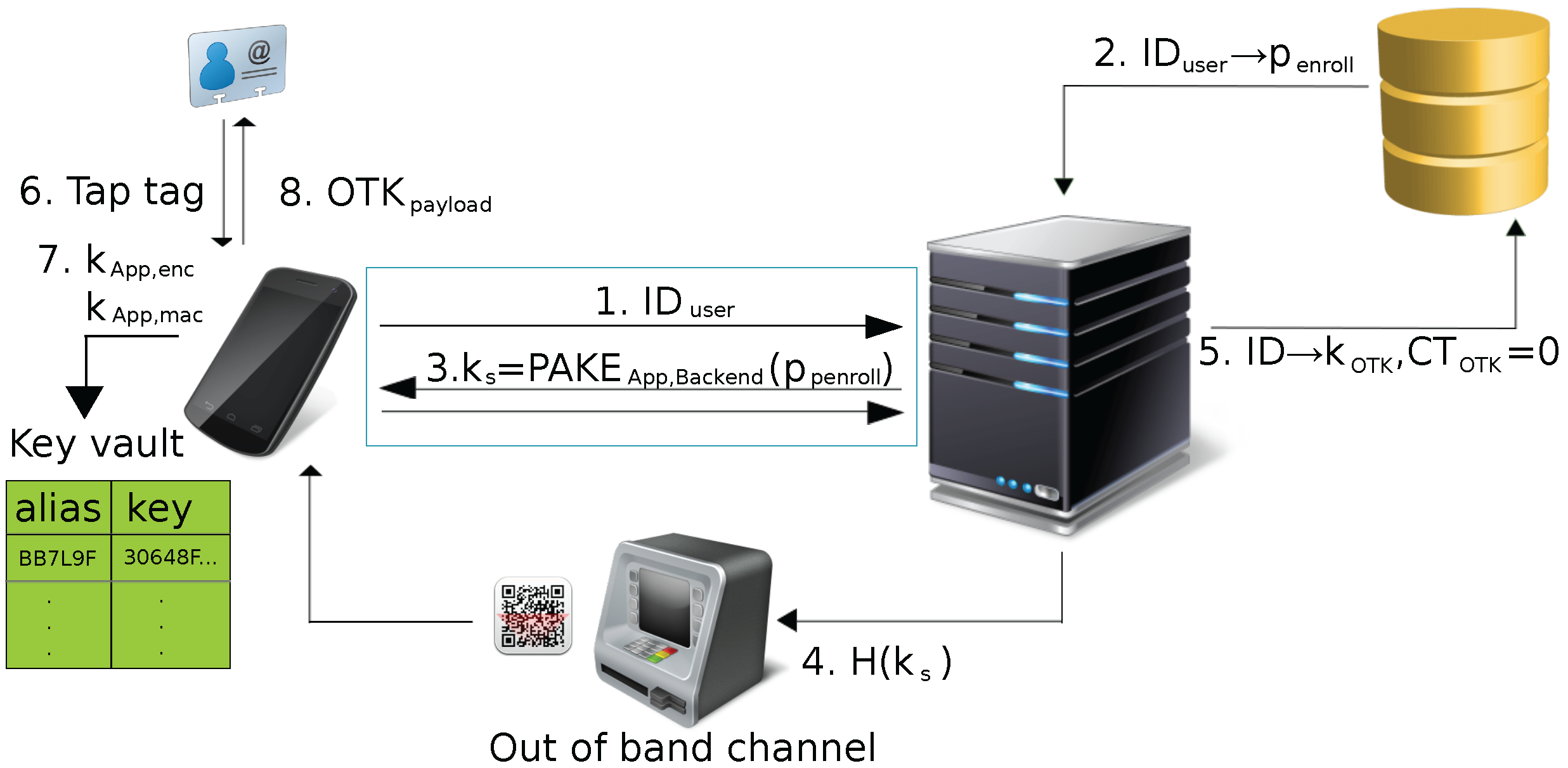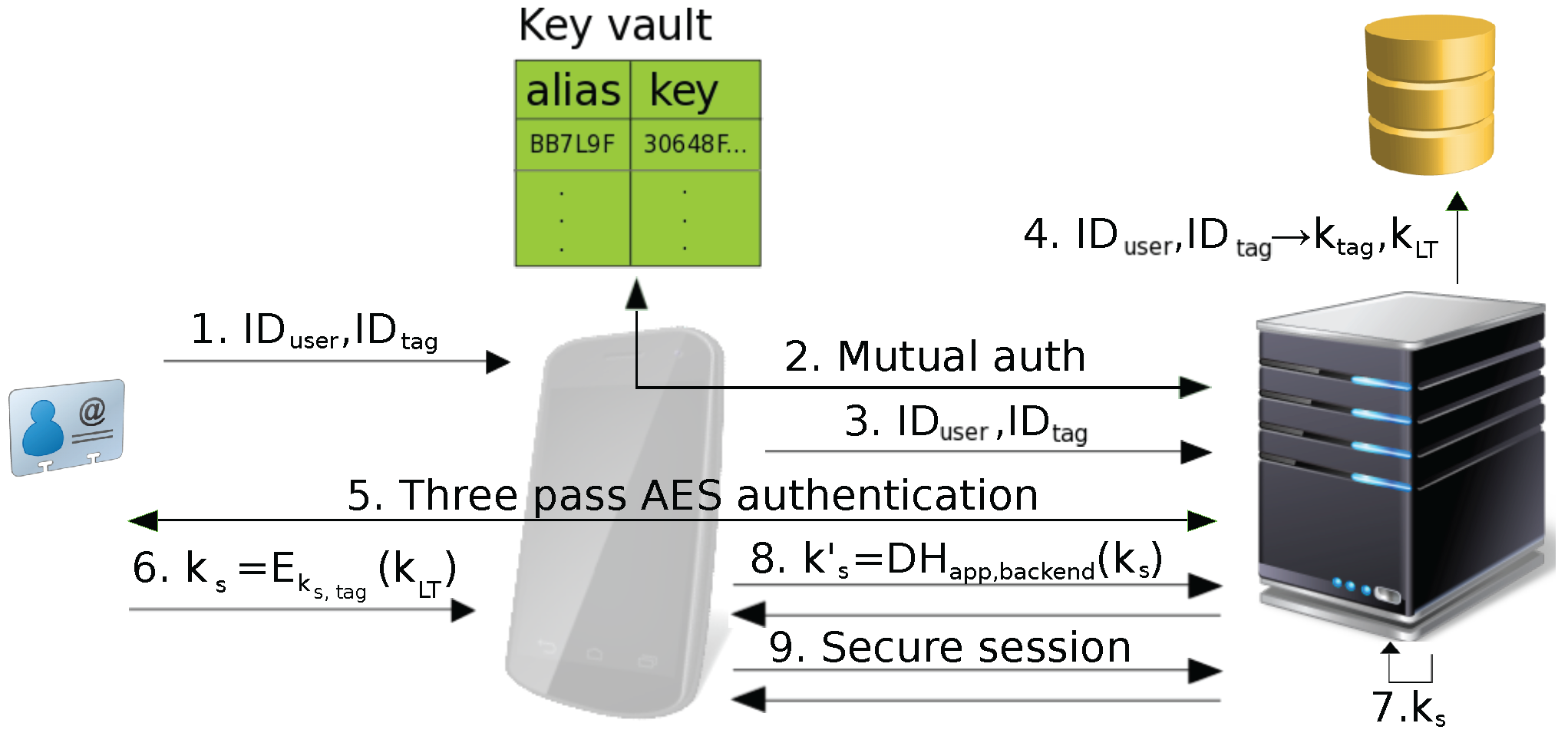 Table 1. Symbols used in cryptographic protocols.
Symbol
Definition
Encryption of

m

using key

k

Decryption of

c

using key

k

Message authentication code over

m

using key

k

Authenticated key-agreement between

A

and

B

using shared key

k

based on the principles of Diffie-Hellman key exchange
Password-authenticated key-agreement between

A

and

B

using password

p

Rotation of

x

to the left by

n

bits

x

scrambled following a defined scheme
Concatenation of

a

and

b

Random value
Shared key
Public key of asymmetric key pair
Private key of asymmetric key pair
© 2017 by the authors. Licensee MDPI, Basel, Switzerland. This article is an open access article distributed under the terms and conditions of the Creative Commons Attribution (CC BY) license (http://creativecommons.org/licenses/by/4.0/).