Open Access This article is
freely available
re-usable
Article
The Design and Application of Game Rewards in Youth Addiction Care
1
Faculty of Industrial Design Engineering, Delft University of Technology, 2628 CE Delft, The Netherlands
2
Parnassia Addiction Research Centre (PARC), Brijder Jeugd, Parnassia Group, 2512 HN The Hague, The Netherlands
*
Author to whom correspondence should be addressed.
Received: 17 January 2019 / Accepted: 2 April 2019 / Published: 6 April 2019
Abstract
:
Different types of rewards are applied in persuasive games to encourage play persistence of its users and facilitate the achievement of desired real-world goals, such as behavioral change. Persuasive games have successfully been applied in mental healthcare and may hold potential for different types of patients. However, we question to what extent game-based rewards are suitable in a persuasive game design for a substance dependence therapy context, as people with substance-related disorders show decreased sensitivity to natural rewards, which may result in different responses to commonly applied game rewards compared to people without substance use disorders. In a within-subject experiment with 20 substance dependent and 25 non-dependent participants, we examined whether play persistence and reward evaluation differed between the two groups. Results showed that in contrast to our expectations, substance dependent participants were more motivated by the types of rewards compared to non-substance dependent participants. Participants evaluated monetary rewards more positively than playing for virtual points or social rewards. We conclude this paper with design implications of game-based rewards in persuasive games for mental healthcare.
Keywords:
gamification; play persistence; reward types; addiction; youth; persuasive game design
1. Introduction
We hypothesize that all separate reward types will be less motivating for them compared to their non-substance dependent counter-parts.
2. Materials and Methods
2.1. Ethics
The Medical Ethical Committee of the Leiden University Medical Centre in the Netherlands granted exemption for a full ethical application.
2.2. Participants
Participants (aged between 12–24 years) were recruited from two locations in the Netherlands. A total of 32 non-substance dependent adolescents were recruited from a secondary school and 36 substance dependent adolescents were recruited from a substance addiction care facility. Due to computer problems during the test, we had to exclude 23 participants (16 substance dependent and 7 non-dependent adolescents). Approximately 50% of these participants (
N
= 11) did not play the game for all three types of rewards because of software problems. The other 50% of these participants (
N
= 12) unwillingly pressed the stop-button while playing, even though they did not want to stop playing the game. At the start of the experiment we clearly explained to participants that they could press the stop-button if they wanted to stop playing the game (see
Figure 1
). This was important for our analysis, since the stop-button was directly related with the dependent variable "play persistence". However, since participants pressed the stop-button even though they did not want to stop playing, either they did not understand this explanation or they pressed the button by accident. When participants did not play the game for all three types of rewards, we had to exclude them from the whole study as we could not compare their play persistence for the different types of rewards anymore.
The final study sample consisted of 45 participants, with 20 substance dependent and 25 non-dependent adolescents. The group of substance dependent adolescents contained fewer females (15%) compared to non-dependent adolescents (52%), matching the general substance dependence population that also consists of more males [
51
,
52
]. We did not collect personal information regarding the type of substance dependence, since this was not the focus of the study. In addition, it was often comorbid and asking for this information might have decreased the participants' motivation to engage in the playtest study. Adolescents in Dutch addiction care most often receive therapy for cannabis, alcohol, and gaming. A smaller group receives therapy for simulants (mainly amphetamine, but also cocaine or ecstasy) [
53
,
54
,
55
]. We tried to match the age of both substance dependent and non-dependent groups. The average age of the respondents from the secondary school was around 16 years old (14–18 years old), and patients who are in therapy at the youth addiction care clinic are generally around 18 years old (12–22 years old) [
54
].
2.3. Design
Per type of reward, participants were able to spend a maximum of 40 min playing the game. If participants used the maximum playing time with all types of rewards, the maximum playing time would be two hours. Participants in current study played the game with all types of rewards in a total of 30–60 min. The game consisted of a four by four grid with 16 buttons. Of these buttons, 8 randomly displayed multiplications of 2 up to 9, and the other 8 displayed possible answers of the multiplication products. Of these 8 possible answers of the products, 6 matched the outcomes and 2 were incorrect. Participants were instructed to match a multiplication product, and after each match the screen refreshed.
Participants received incremental rewards after a specific number of correct answers (after 3, 6, 9, 12, 15, 18, 21, 24, 27, 30, 33, 36, 39, and 42 correct answers). The screen showed how many correct matches were needed to obtain the next reward and how many rewards the participant had already earned. Participants could, thus, earn a total of 14 rewards per session and complete a maximum number of 315 products if they played the maximum play time and always answered correctly. During the whole game, the screen showed a "stop-playing" button at the top of the screen. This provided the participant with the possibility to stop playing the game at any moment when preferred (see
Figure 1
). After hitting the "stop-playing" button, a new game started with similar exercises but with another randomly chosen different reward type until the player had played for all three reward types. At the end of the study, all participants received 10 euros for their participation, regardless of their score in the game. The participants were not informed about the participation fee beforehand.
In total, participants played three game-sessions. In each session they would play for one of the three reward types: monetary rewards, virtual points, or a social reward (see
Figure 2
). Regarding the monetary reward, participants could receive 50 Eurocent per reward until they reached a total of 7 Euros. They received this reward type after the study. Regarding the virtual points, participants could receive 5 points per reward until they reached a maximum of 70 points. The third reward consisted of a social reward, where participants saw a pop-up picture of a randomly selected blurry face, with a thumbs up and a textual compliment. The blurry faces were taken from a pool of portraits of participants of the study that we photographed before starting the study. For ethical considerations we blurred the photographs to the extent that faces known to the participant were recognized but faces unknown to the participant were not. Participants received one compliment per reward moment, which could vary according to five different kinds of texts: "Well done!", "Wonderful!", "How smart!", "Calculation tiger!", "Thumbs up!".
2.4. Variables and Measures
As the independent variable we used the type of reward (monetary rewards, virtual points, and social rewards) and reward evaluation was considered as the dependent variable. We used time in minutes that users spent playing the game, until they hit the "stop-playing" button, as a measure of play persistence (time spent playing as a measure of persistence was also used in a previous study [
56
]). Participants could evaluate the reward by answering the following four questions on a five-point Likert scale (0 (= totally disagree), until (4 = totally agree)): (1) "I did not want to quit while winning/earning "the reward type" (only fill in if you have stopped before the end of the test)"; (2) "I wanted to continue playing because of "the reward type"; (3) "I think that "the reward type" is a good reward"; (4) "I am happy with the amount of "the reward type" I have won".
2.5. Procedure
Participants first provided written informed consent for study participation, after which they received an iPad for use in the present study. At the start of the game, participants filled in their name and were instructed as a practice to first complete as many multiplications as possible within two minutes. After that, participants received information about how the game worked. They were also given the opportunity to ask questions if anything was unclear. If there were no questions or all questions were answered, the game started. After the third and last game-session, participants were asked some final questions about playing the game in general. For each respondent, all game sessions took place during one session, in which the order of the types of rewards was randomized.
3. Results
3.1. Strategy of Analysis
All analyses were conducted in SPSS version 22. Since the data were not normally distributed, as shown by a Kolmogorov-Smirnov test, we applied nonparametric tests. Without the first item, Cronbach's Alphas for the evaluation of monetary rewards, virtual points, and social rewards were respectively 0.84, 0.85, and 0.82.
3.2. Manipulation Checks
According to the nonparametric independent samples tests there was no statistically significant difference between our control variable "order of reward type" and time participants played with the rewards (all
p
-values > = 0.20). Furthermore, there was no significant difference between the "order of reward type" and reward evaluation of all types of rewards (all
p
-values > = 0.29).
3.3. Difference in Playing Time According to Reward Types between Substance Dependent and Non-Dependent Adolescents
To test differences in playing time we conducted a GEE-analysis (Generalized Estimating Equations), including playing time as the dependent variable, reward type as the within-subject variable, group (substance dependent vs. non-dependent) as a factor, and gender as a covariate (see
Table 1
). The significant effect of reward type (monetary, social, and virtual points) indicated that adolescents played longer for monetary rewards (
M
= 24.35,
SD
= 11.39) compared to social rewards (
M
= 9.30,
SD
= 10.22) or virtual points (
M
= 12.06,
SD
= 11.15). Results further showed significant effects for the factor group (substance dependent vs. non-dependent) (
X2
= 13.77,
p
< 0.05) and the covariate gender (
X2
= 11.84,
p
< 0.05). Regardless of type of reward and gender, adolescents with substance dependence (
M
= 18.14,
SD
= 14.23) played longer compared to non-dependent adolescents (
M
= 12.91,
SD
= 10.84). The significant effect of gender suggested that girls (
M
= 16.83,
SD
= 12.27) played longer compared to boys (
M
= 14.36,
SD
= 12.89), regardless of group and type of reward.
3.4. Difference in Reward Evaluation According to Reward Types between Substance Dependent and Non-Dependent Adolescents
In a second GEE-analysis with reward evaluation as a dependent variable, we tested the effects of reward type and group while controlling for the covariate gender. The type of reward was the only significant variable (
X
2
= 30.61,
p
< 0.05). Adolescents evaluated playing for monetary rewards (
M
= 3.02,
SD
= 1.00) significantly more positively than playing for virtual points (
M
= 2.22,
SD
= 1.03) or social rewards (
M
= 2.35,
SD
= 1.03) (see
Table 2
).
3.5. General Results
Results showed that there was a statistically significant difference in playing time according to reward types. Participants played significantly longer when they were playing for monetary rewards compared to the other types of rewards. In addition, there was a statistically significant difference in participants' reward evaluations of the game according to reward type, and participants evaluated playing for money more positively compared to the other types of rewards. When comparing substance dependent and non-dependent participants, results showed that substance dependent participants played longer compared with non-dependent participants. In addition, regardless of type of reward, female participants played longer compared to male participants.
4. Discussion
Our findings suggest that rewards can successfully motivate both substance dependent and non-dependent adolescents to continue their interaction with a game. When users interact more or for longer with a game, it is more likely that the transfer effect of the game will be achieved. Therefore, our findings confirm that rewards may successfully be applied in persuasive game design for both substance dependent and non-dependent adolescents to enhance motivation for tasks (e.g., therapy adherence). However, this study only focused on the effects of rewards on serious tasks and not therapeutic tasks. With serious tasks there is a direct interaction between rewards and behavior, but with therapeutic tasks the point of impact generally takes more time. In addition, in persuasive game design for therapeutic tasks it is needed to carefully match the rewards with the desired transfer effect in order to avoid confounding conflicts between the two, and to also study contributions to long-term therapy effects. This study shows that with serious tasks, rewards are suitable to enhance motivation to continue interaction with a product. More research is, however, needed to see if rewards are also effective for therapeutic tasks with a more long-term effect.
5. Rewards in Persuasive Game Design: Implications
The present study investigated if game-based rewards can be used as motivating game-elements in a persuasive game for adolescents with a substance use disorder. The results turned out to be positive, since the types of rewards motivated substance dependent adolescents in addiction care more compared to non-dependent adolescents in high-school. Thus, a persuasive game designer developing eHealth for an addiction care context can consider using rewards to motivate patients. However, how rewards can best be applied in a persuasive game does not follow from our study. In the present section, we will provide suggestions for reward inclusion in persuasive games.
6. Rewards in Persuasive Game Design: Case Study
In a youth addiction care context, we involved patients and therapists in a Persuasive Game Design process aimed at realizing a transfer effect to enhance a patient's motivation to set and achieve cognitive behavioral therapy-related goals. To understand what game-experiences patients expected to be motivating, we used Playful Experiences (PLEX) cards representing 22 game experience categories [
78
]. The most motivating experience patients selected was the experience of "thrill" [
79
]. We then carried out brainstorm sessions with game designers from a serious game design agency in the Netherlands to generate the following game mechanics that we expected could motivate patients in a youth addiction care context [
80
]: risk taking, progression map system, selfie photograph feedback system, reward system, and personal values. These mechanics were evaluated by nine patients and eight therapists, who ranked them based on the expected motivational impact for the transfer effect. Interestingly, patients and therapists differed in their ranking. Patients rated risk taking and personal rewards as the best motivating mechanics, while therapists rated risk taking and external rewards as most favorable [
80
]. The preference of therapists regarding the external rewards seemed to correspond with current therapy techniques that already apply external rewards to patients by using contingency management [
47
]. However, it is essential for rewards to correspond with both the context of application, i.e., the addiction care context, and the preference of the end-user, i.e., the patient.
In order to optimize the motivational effect of a reward in a persuasive game, a game designer can tailor, as in the Personalized Design Process model [
81
], the reward as much as possible to the preference, type [
82
], or personality [
83
] of the end-user. Moreover, it is possible to design a game in which end-users can choose or generate their own rewards, or to let fellow players tailor the rewards for them. In our persuasive game design for a therapy context, patients did not find our pre-set reward (a 3D printed token of a goat that was related to the level they achieved) motivating. Therefore, we wanted to provide them with a reward for their accumulated points that would be more personally relevant and motivating. This resulted in giving patients the opportunity to choose their own reward in collaboration with their therapist. In addition, we aimed to increase the patients' therapeutic involvement in goal setting by using mechanisms similar to those used in the "shared decision-making" approach in therapy [
84
]. The rationale for this adaptation was based on patients' negative evaluations of the pre-set tasks in setting goals. According to the patients, this procedure made it more difficult for them to set goals which were sufficiently challenging, personally relevant, and valuable. In the adapted version, both the therapists and patients could decide on which long-term therapy-related goals they would use together. This ensured that these goals were relevant for the patient's health objectives and of intrinsic value to the patient. In addition, patients could type in their own short-term tasks. In sum, in our iteration we included three opportunities to personalize the game: reward, (main) goals, and short-term tasks. However, it can be debated how much personalization would be possible and preferable in game design. For example, would it be preferable to design one game for each individual user, or to design one game that is so open that it can be fully personalized to each individual user? In both situations one can ask if these games would have enough overlap to be considered as the same game resulting in the same comparable effect.
7. Conclusions and Future Research
Involving rewards as a basic game-element in persuasive game design to redesign psychotherapy has shown potential for youth addiction care, as substance dependent adolescents were more motivated by rewards compared to non-dependent adolescents. In the current study, participants received rewards based on a fixed reinforcement schedule. It would be interesting to explore different schedules for providing rewards, since specific users may prefer a variable schedule more than a fixed one, which can be used for personalization. In addition, it is interesting to study how the motivating effects of rewards differ when embedded in a game and when isolated in shell-games. The mathematical game that was used in the current study can be considered a "shell-game", since the rewards were not integrated with each task (i.e. calculation). Future studies can focus on possible differences in the effects of rewards in both integrated and shell games. We expect that monetary rewards are more effective in shell games compared to embedded games, since they have an external value outside the game.
Alignment of a reward to the transfer effect and user-context of a persuasive game will inform design decisions as to the most optimal reward type, form, and interaction structure for a given player and context. The present paper presented a start in fundamental research on the motivational effect of game-based rewards in persuasive games. Since rewards are so fundamental for human behavior and motivation, and thus for persuasive game research, future research is strongly welcomed, which on the one hand elaborates on reward design (e.g., reward (sub)types, combinations, and interactive structure), and on the other hand on users (e.g., personality and context of use).
Author Contributions
Conceptualization, V.T.V., R.S., and M.M.M.v.D.; methodology, R.S.; validation, R.S.; writing—original draft preparation, M.M.M.v.D.; writing—review and editing, M.M.M.v.D., V.T.V., and R.S.; supervision, V.T.V., and R.S.; project administration, V.T.V.; funding acquisition, V.T.V., and R.S.
Funding
This research was funded by Dutch governmental funding of the CRISP grant on "G-Motiv project: Designing Motivation: Changing Human Behavior Using Game-Elements" grant, as well as by the NWO and ClickNL Creative Industry grant for the application "NextLevel project: Gamedesign Principles for Effective e-health-based Mental Healthcare Therapy".
Acknowledgments
We gratefully express our thanks for support and participation in the reported experiment of the Mistral clinic Brijder Jeugd, ROC Delft, Mildred Valkonet, Ellis Bartholomeus, Ivo Salters, and Ed Tan.
Conflicts of Interest
The authors declare no conflict of interest. The funders had no role in the design of the study; in the collection, analyses, or interpretation of data; in the writing of the manuscript, or in the decision to publish the results.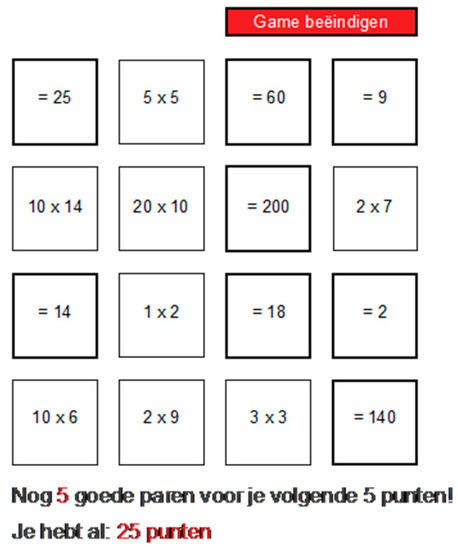 Figure 1. The tablet-based game showing the game-task to combine multiplications and outcomes. Translation of text in red button upper right: "Ending the Game". Text below states: "Get another 5 correct combinations to receive 5 more points! You already have: 25 points".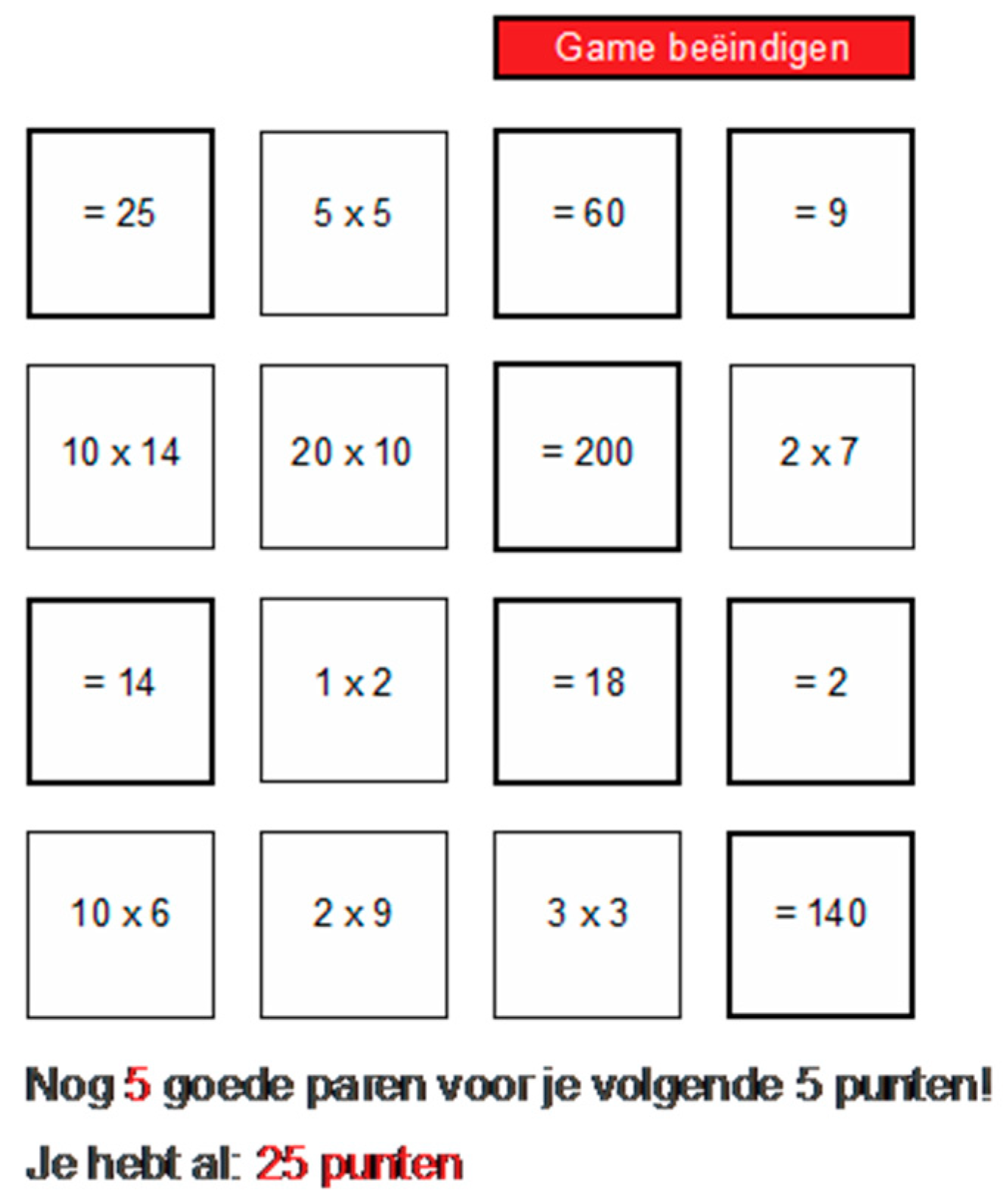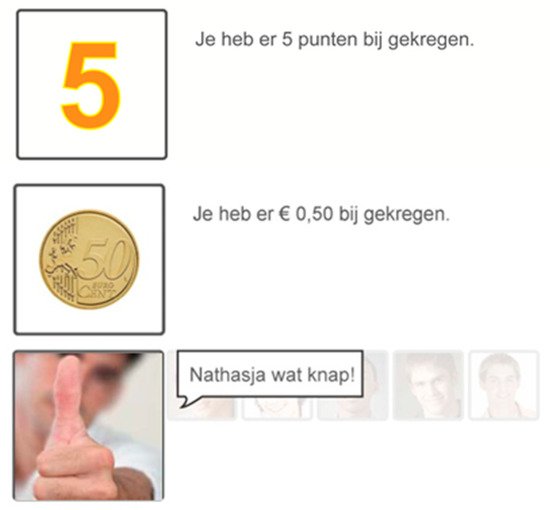 Figure 2. Examples of three types of rewards (translation from top to bottom: "You earned 5 more points", "You earned 50 more Eurocents", "Natasha, how smart!").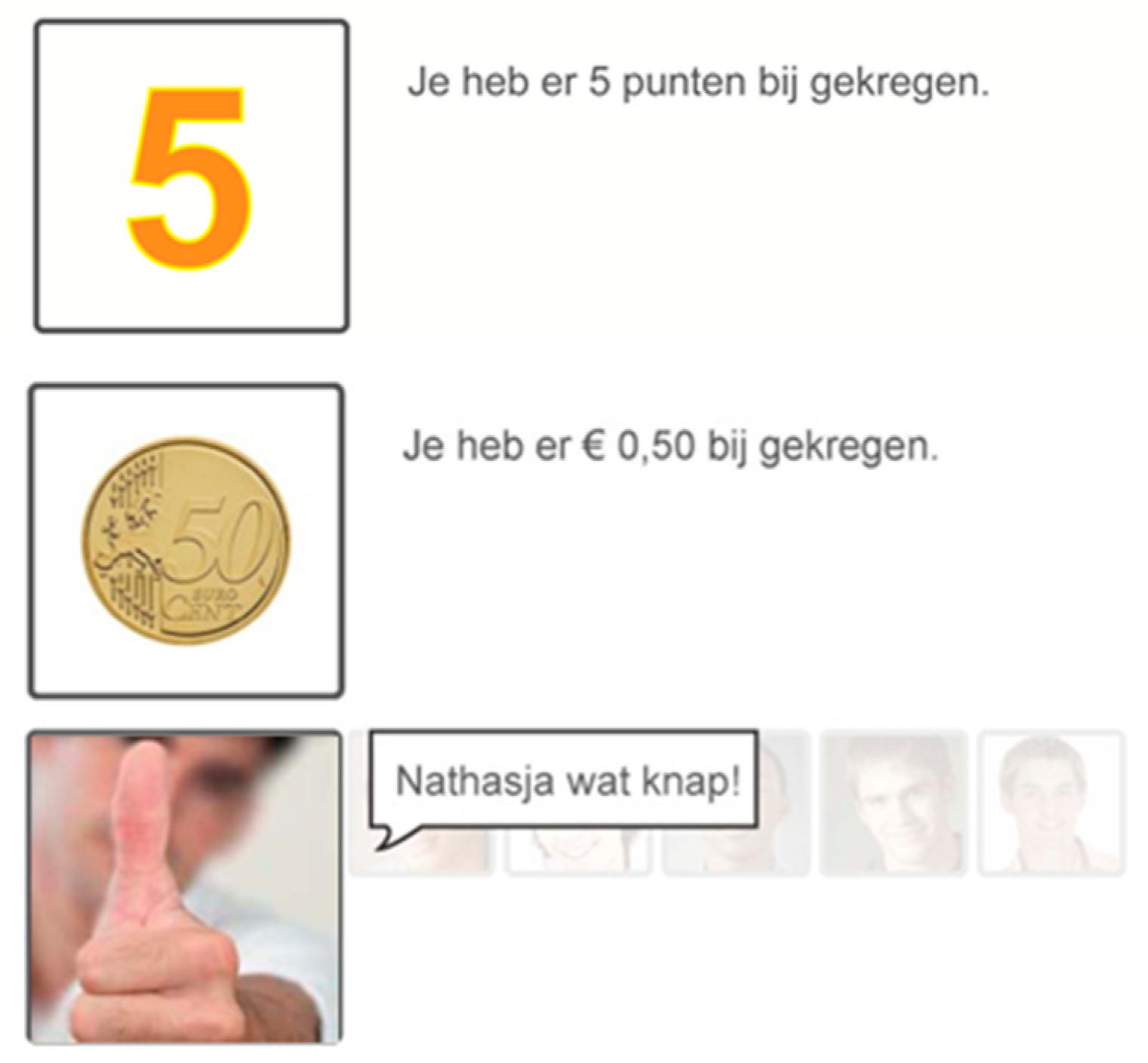 | | B | SE | Wald X2 (95% CI) | Sig |
| --- | --- | --- | --- | --- |
| Virtual points | −12.29 | 1.91 | 41.37 (−16.04 to −8.55) | 0.000 |
| Social rewards | −15.05 | 2.26 | 44.40 (−19.47 to −10.62) | 0.000 |
| Monetary rewards | . | . | . | . |
| Substance dependent | 7.20 | 1.94 | 13.77 (3.40 to 11.01) | 0.000 |
| Non-substance dependent | . | . | . | . |
| Gender | 5.35 | 1.55 | 11.84 (2.30 to 8.40) | 0.000 |
| | B | SE | Wald X2 (95% CI) | Sig |
| --- | --- | --- | --- | --- |
| Virtual points | −0.88 | 0.17 | 28.38 (−1.21 to −0.56) | 0.000 |
| Social rewards | −0.66 | 0.16 | 16.64 (−0.97 to −0.34) | 0.000 |
| Monetary rewards | . | . | . | . |
| Substance dependent | −0.02 | 0.19 | 0.01 (−0.39 to 0.36) | 0.93 |
| Non-substance dependent | . | . | . | . |
| Gender | −0.04 | 0.18 | 0.05 (−0.40 to 0.31) | 0.82 |

© 2019 by the authors. Licensee MDPI, Basel, Switzerland. This article is an open access article distributed under the terms and conditions of the Creative Commons Attribution (CC BY) license (http://creativecommons.org/licenses/by/4.0/).