Open Access This article is
freely available
re-usable
Article
Virtual Reality and Its Applications in Education: Survey
1
Institute of Mechatronics and Information Systems, Lodz University of Technology, Stefanowskiego 18/22 Str., 90-924 Lodz, Poland
2
iCV Research Lab, Institute of Technology, University of Tartu, Tratu 50411, Estonia
3
School of Computer Science and Statistics, Trinity College Dublin, 2 Dublin, Ireland
4
Department of Electrical and Electronic Engineering, Hasan Kalyoncu University, Gaziantep, Turkey
*
Author to whom correspondence should be addressed.
Received: 20 September 2019 / Accepted: 12 October 2019 / Published: 16 October 2019
Abstract
:
In the education process, students face problems with understanding due to the complexity, necessity of abstract thinking and concepts. More and more educational centres around the world have started to introduce powerful new technology-based tools that help meet the needs of the diverse student population. Over the last several years, virtual reality (VR) has moved from being the purview of gaming to professional development. It plays an important role in teaching process, providing an interesting and engaging way of acquiring information. What follows is an overview of the big trend, opportunities and concerns associated with VR in education. We present new opportunities in VR and put together the most interesting, recent virtual reality applications used in education in relation to several education areas such as general, engineering and health-related education. Additionally, this survey contributes by presenting methods for creating scenarios and different approaches for testing and validation. Lastly, we conclude and discuss future directions of VR and its potential to improve the learning experience.
Keywords:
virtual reality; education; immersive education
2. Types of Virtual Educational Environments
3. Educational VR Applications
In [
75
], the authors analysed a total of 99 papers implementing educational VR software. According to this survey, several application domains, such as health-related, engineering, science and general-purpose educational tools, were notably more prevalent. It was noticed that this trend has been occurring up to present; thus, in this section, we present the most interesting and recent applications related to those educational domains.
3.1. Engineering Education
Virtual environments are widely used as an engineering training simulators. The popularity of VR in this field can be attributed to the attractiveness of its use in preparing engineering students for real-world industrial situations, as well as allowing them to make early in-design decisions in a cost-effective manner [
76
]. It gives engineers a better understanding of the design and helps to facilitate the changes wherever necessary. Moreover, it helps to reduce the time and cost factor, which plague many modern design processes [
77
].
Figure 3
illustrates some of such applications.
In this section, several state-of-the-art applications will be described briefly.
Figure 3
presents screenshots of selected virtual environments for engineering education purpose. For instance, education of civil engineering was aimed in [
82
]. The goal of the project was to motivate and engage young students, as well as to allow them to understand planning issues often restricted by their current knowledge. The general aims in the project were to explain the role of civil engineering to K-12 students and their relevance to society. In their accompanying research [
83
], the authors created a VR platform to introduce civil engineering to pre-university students through a VR game. The obtained results show that VR is a relevant asset in Civil Engineering Education as it allows for participants with no prior training to properly interact with the platform. The authors of [
78
] presented a VR application to promote electrical engineering education. They designed and developed online laboratories that students could remotely access using VR. These projects enabled students to use virtual breadboards and virtual instruments to perform simple electronic laboratory work. The created application housed realistic 3D model prototypes of all of the equipment as well as relevant electrical components for the experiments. Virtual environments like these could be used in tandem with other study materials, allowing students to learn and participate from home or work. Also, it minimises the concerns of teachers regarding time, cost and risk of dangerous experimental strategies. Sampio et al. [
84
] focused on producing 3D models that could be interacted with and provide better structural understanding for civil engineering students. The models were of roofs; walls, including all of the structural elements; and a bridge. The interaction with the models allowed both for monitoring the progress of construction and valuable information about each element.
A more interesting approach was presented in [
79
], where the authors created a VR system for robotics education and training. The application was equipped with both visual and haptic feedback based interaction and contained a built-in physics engine. Robotic arms can be controlled by either a virtual pendant or programmed to follow specific instructions. Results of using this application indicated that users trained on this system were better equipped for completing tasks on real robots compared to their counterparts who were briefed with traditional training materials. Similar approaches, with similar results, have also been presented in [
80
,
85
]. To ease the process of creating virtual models of existing machinery, the authors presented a new method of acquiring a 3D model based on image scanning [
81
]. Also, the authors presented Virtual Mechatronics Laboratory (ViMeLa) in [
36
]. The goal of this project is to enrich study programs by implementing a VR-based tool for teaching and learning mechatronics in higher education institutions. ViMeLa delivered a VRspace, where students could experiment with simple machinery which allows them to make and later learn from mistakes without real-world consequences (i.e., expensive dameage). A similar example was presented in [
86
], where the authors described a system for learning the inner operations of an intelligent factory, according to the concept of Industry 4.0.
3.2. Medical Education
Medical VR is an area with great opportunities, which is confirmed by many clinical researchers and real medical practitioners [
87
,
88
]. It helps physicians, nurses and students to improve the quality of medical skills through real-life scenarios, which provide an opportunity to learn-by-doing. Although the field is brand new, there are already great examples of VR applications having a positive effect on medical education. In this section, the most interesting VR medical educational applications are briefly described.
Figure 4
presents screenshots of selected VR environments.
In [
39
], the authors present a VR system, which offers a real-time 3D representation of heart structure in an interactive environment. The application allows particular interaction, such as free manipulation, and models disassemble to present true anatomical relations of different parts of the heart. Different shades of flesh colours with slight exaggeration were used to achieve a realistic representation of the various structure of the model. Further, the position of the heart is set to the correct anatomical orientation. The application aims to help with understanding the complexity of heart structure. Also, it seeks to clarify the anatomical relations of its different parts. A similar approach is presented by Seo et al. in [
90
]. The main goal of the proposed application is to support learning in canine anatomy education. It allows the students to interact with either individual bones or groups of bones, to identify them and to assemble a real animal skeletal in 3D space.
Wang et al. [
60
] present Simodont—a 3D VR simulation system for dental crown preparation training. The simulator can distinguish dental students and prosthodontics residents both time- and skill-wise, thus establishing its validity as a teaching tool. As it offers realistic clinical situations, it allows students to practice more extensively than with phantom leads or plastic manikins. An exciting application is presented in [
91
]. The authors created a VR-based training simulation for advanced cardiac life support. The scenario consists of time-sensitive and team-based medical tasks provided guidance on the clinical interventions provided during cardiac arrest and respiratory failures. It is intended for newly formed clinicians teams, which need to practice the action of saving patients life. The authors of [
92
] present a VR simulation in nursing education. They recreated a real hospital ward, full of avatars of demented patients, their family members and hospital staff. This project aims to prepare students for the nursing role and to present their responsibilities in a realistic environment. The goal of the application showed in [
93
] is to improve the teaching of surgical hand preparation, which is a crucial practice in preventing post-surgical infection. In addition, VRmagic Eyesi Ophthalmic Surgical Simulator [
89
] provides realistic environment to acquire psychomotor skills and develop microsurgical spatial awareness, which may be applied to real-life cataract and vitreoretinal surgery. It is addressed to beginner ophthalmic surgeons to familiarise them with the safe handling of a patient's eye in a safe environment and to allay their stress in the operating theatre.
3.3. Complex Educational Topics: Space Technology and Mathematics
VR has introduced a new way of teaching astronomy and space technologies [
94
,
95
,
96
]. Mintz et al. proposed a new interactive virtual environment (VE), which employed a dynamic 3D model of the solar system [
97
]. The learner can enter a virtual model of the physical world. Then he/she can zoom in or out and change his/her viewpoint and perspective, while the created virtual world continues to operate in its natural manner. A significant advantage of such an education tool is creating the ability to travel in space and create a unique user experience for learners [
98
]. Other tools were also developed to display the astronomical objects in a way as astronauts see them in a spacecraft. The tools are aiming to preserve correct visible sizes of objects.
Existence of complexity in some courses makes them a perfect target for VR. For example, geometry in mathematics can be easily targeted for improvement by using VR [
99
,
100
,
101
]. Kaufmann et al. proposed an eD geometric construction tool based on the collaborative augmented reality system [
102
]. Pasqualotti and Freitas investigated the use of VEs in teaching and learning and proposed a conceptual model for the teaching and learning of mathematics [
103
].
3.5. Special Needs Education
The literature is increasingly recognising the potential benefits of VR as a tool supporting the unique needs learning process. Many research indicates the critical role of this technology in improving the behavioural, communication and social skills of children who have autism spectrum disorder (ASD) [
121
]. In recent times, VR is being considered as the best method to monitor ASD intervention through VR- based human–computer everyday tasks, as can be seen in
Figure 6
.
For example, in [
74
], researchers present a VR enabled an application for enhancing emotional and social adaptation skills for children with ASD. The application consists of six unique learning scenarios: emotion control and relaxation, simulation of various social situations, facilitation of consolidation and generalisation. The app is designed and developed with corresponding psychoeducation procedures and protocols. In [
124
], VR is used to improve job-interviewing skills of high school students with ASD. Similarly, Burke et al. present a study, [
122
], of whether a virtual interactive training agent may improve job interviewing skills of people with autism and developmental disabilities. Their results are promising—all participants developed the ability to identify strengths, self-promote, self-advocate, answer situational questions and respond to behavioural/social questions.
VR can provide patients with a fun interactive environment as they can be guided to maintain high quality and intensive physiotherapy. Some current systems used in physiotherapies like BioTrak and IREX have high efficiency, although their prices are high. Thus, this leads to the necessities of low-cost options. The hardware, provided by the video game consoles emerged as a brilliant opportunity because it is designed to obtain the 3D position of game players in real-time. In [
125
], the authors present a VR tool for hand rehabilitation. The application in the form of a game has different options, tasks and exercises related to 3D grabbing, reaching, pointing, lifting, throwing and other activities for hand rehabilitation where the leap motion is the central concept of VR and physiotherapy. The authors of [
126
] describe the technologies and original designs available at LIRKIS Laboratory and their relation to the disabled people education. In [
123
], the authors investigate whether manipulations of spatial distance in VR can influence treadmill exercise performance in patients with intermittent claudication; a cramping pain or discomfort in the legs, which occurs during exercise. Ravi et al. [
127
] evaluate the effectiveness of VR systems used in the motor rehabilitation of children with cerebral palsy. In [
128
], the authors check the therapeutic effect of VR physiotherapy on gait balance and the occurrence of falls after a stroke. A group of 30 patients took part in clinical trial rehabilitation with Nintendo Wii. They use different games such as tennis, hula hoop, soccer and boxing, requiring the maintenance of balance. The clinical trial proves that interactive games are a useful tool for gait balance rehabilitation in post-stroke patients, with repercussions on the reduction of falls.
5. Challenges and Issues
It was proved repeatedly that VR has great potential for positive educational outcomes by providing more engaging environment stimulating various perception points. Although, as long as it is a new delivery method for knowledge, it lacks the more in-depth research [
138
]. In this section, we present VR advancements in education and summarise the most important issues and drawbacks of using VR technology as an educational tool. The majority of modern existing VR solutions are based on HMDs, which provide a total immersion through 3D virtual environment imitating the reality. According to [
37
], one of the key issues that should be addressed in the very near feature is the lack of visual realism and realism of the dynamics and interaction. It can be concluded that existing techniques used to generate VR graphics and displaying technology are quite limited. Note that, psycho-visually, the human brain's construction allows us to detect even small unrealistic details, which can easily break the immersion. Thus, in the creation of the VR world, maximising the appearance of reality is an ongoing challenge.
Realistic VR environments require computationally powerful hardware for rendering, which goes hand in hand with the price. According to [
37
], high costs of developing or purchasing a VR system is a significant hurdle to overcome. Currently, tools providing high-end VR experiences, such as Oculus Rift or HTC Vive cost approximately
$
400–600, respectively; they should be supported by computationally powerful PC, which is still a relatively expensive alternative to conventional methods of teaching. However, using HMDs bright immersive VR experiences into the homes and classes with much lower cost and space requirements than previous generations of VR hardware [
139
]. VR technology is under constant development, seeking low-cost, wearable solutions for the mass market. Professional technology companies provide products that incorporate mobile phones. For example, Samsung Gear VR, Google Daydream, or a more low-end Google Cardboard, are more accessible than the above mentioned high-end solutions (e.g., HTC Vive or Oculus), they do not require an additional computer, only a low-cost headset with a phone. However, experiences or simulations generated on mobile may not match the ones generated on a PC concerning immersion. Additionally, the mobile solutions have minimal interaction capabilities in comparison with what is achievable with high-end solutions. Nonetheless, the trade-off between accessibility and price might be the key factor in using the mobile solutions by a wider audience. Educational simulations might not require the highest available quality but are rather based on the content of the experience and possibility to provide a large number of headsets for a class of students at a significantly lower cost compared to high-end HMDs.
Human factor and physical side effects are another issues [
37
]. Recent reports suggested that the use of HMDs may have unwanted physical/physiological side effects such as anxiety, stress, addiction isolation and mood changes [
140
]. Further, simulated motions can affect one perception of time and space, inducing dizziness and nausea, called VR sickness or cybersickness [
141
]. For instance, in [
142
], 150 subjects were tested in an immersed virtual environment for 20 min; 61% of subjects reported symptoms during 20-min immersion and a 10-min post-immersion; 5% percent of the subjects had to withdraw from the experiment because of severe symptoms. The authors suggested the use of adaptation and the anti-motion sickness drug to reduce this kind of side effects. HMD worn on the head, due to unnatural postural demands, may have a negative effect on dissociation of accommodation/convergence and cardiovascular change [
140
].
However, there are only a few scientific studies presenting clinical trials on the effect of using HMDs. Notably, most of the scientific experiments were carried out using very early HMD technologies. Due to the technical advancements in HMD technology, new investigations are required in this domain. Furthermore, every man is unique and may have different perception; therefore, scenarios preparing for education, especially for kids or handicapped should be accurately examined and evaluated, consulted with professional psychologists and educators.
6. Conclusions
The education system has been evolving for centuries. It has always adapted to the available technology and needs of the students. We are now on the threshold of another development and it is a duty of scholars, educators and teachers to embrace it and prepare for it. The generation that is starting education right now has been online for whole their lives. Digital world is as important and immersive as the real one. They are digital natives, born onto the world of mobile phones, omnipresent Internet and immediate access to most of desired information or data, is it music, video or content. Educating Generation Z is a challenge and it requires a completely different approach to maximise efficiency and engagement.
There are numerous proven advantages of using VR technology in education. First of all, VR provides outstanding visualisation, which cannot be obtained in traditional classroom. It reflects the world that young generations feels comfortable in. It is inclusive, allowing everybody, everywhere, regardless of status, financial situation and disability to participate in education process. It gives virtually unlimited access to information, books or articles. Modern technology used in classroom increases engagement, stimulates cooperation and involvement. It is used for highly efficient blended learning, encouraging self-study and individual pursuit of knowledge.
Although using modern technology in education environment is clearly beneficial, it is not without risks or dangers. One of the main issue is the lack of flexibility. During traditional classes students may ask questions, receive answers, take part in this discussion. Using a virtual reality headset with specific software, the students have to follow the rules and are not able to do anything else except what they are supposed to do. Some educators are naturally resistant to change and their involvement and active participation is crucial for successful introduction of technology into the classroom. Others might tend to over rely on technological developments, leading to lack of teacher–student interaction. A human teacher is also a natural filter and moderator of information acquired by students, absolutely necessary to assess validity and relevance of obtained data. What is more, focusing too much on digital education solutions might distort the balance between teaching hard and soft skills, to the big advantage of the former, while the latter remains very important in the modern workplace. Although we might be tempted to replace all old-fashioned solutions with modern digital ones, there must be an equilibrium between state-of-the-art solutions and human interaction, mentoring and teacher–student relationship.
Author Contributions
Conceptualization, D.K., T.T, and G.A.; methodology, D.K., T.S., S.W. T.T., R.E.H., E.A., A.H., C.O. and G.A.; investigation, D.K., T.S., S.W. T.T., R.E.H., E.A., A.H., C.O. and G.A.; resources, D.K., C.O. and G.A.; writing–original draft preparation, D.K., T.S., S.W. T.T., R.E.H., E.A., A.H., C.O. and G.A.; writing–review and editing, D.K., T.S., S.W. T.T., R.E.H., E.A., A.H., C.O. and G.A.; visualization, D.K., T.S., S.W. T.T., R.E.H., E.A., A.H., C.O. and G.A.; supervision, D.K, C.O., and G.A.; funding acquisition, D.K. and G.A.
Funding
This publication has been co-funded by the Erasmus+ Programme of the European Union (Strategic Partnership, ViMeLa, 2017-1-PL01-KA203-038675). This publication reflects the views only of the authors, the National Agency and European Commission cannot be held responsible for any use, which may be made of the information contained therein. This work has been partially supported by Estonian Research Grant (PUT638); the Estonian Centre of Excellence in IT (EXCITE), funded by the European Regional Development Fund; and the Scientific and Technological Research Council of Turkey (TÜBITAK) (116E097).
Conflicts of Interest
The authors declare no conflict of interest.

Figure 1.
Different types of VR used for the purpose of education. From left: VR environment using common mouse/keyboard on a stereoscopic display [
39
], Experience room used to show tsunami [
40
], a Science educator in a primary school taking students to virtual Egypt via the Google Expeditions App [
41
].


Figure 2.
Selected examples that affect immersion level in VR-based education. From left: Immersive system based on wearable devices for providing on-the-job training [
55
]. Tilt Brushas: a tool in VR education [
56
]. Virtual Reality Cycling Platform [
61
]. Haptic feedback system used with Simodont for teaching dental procedures [
60
].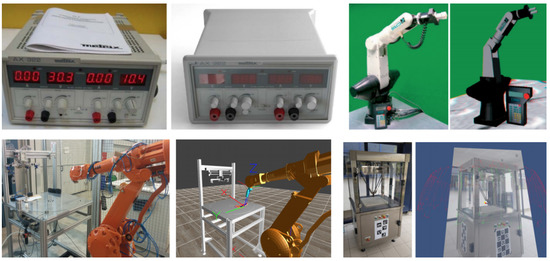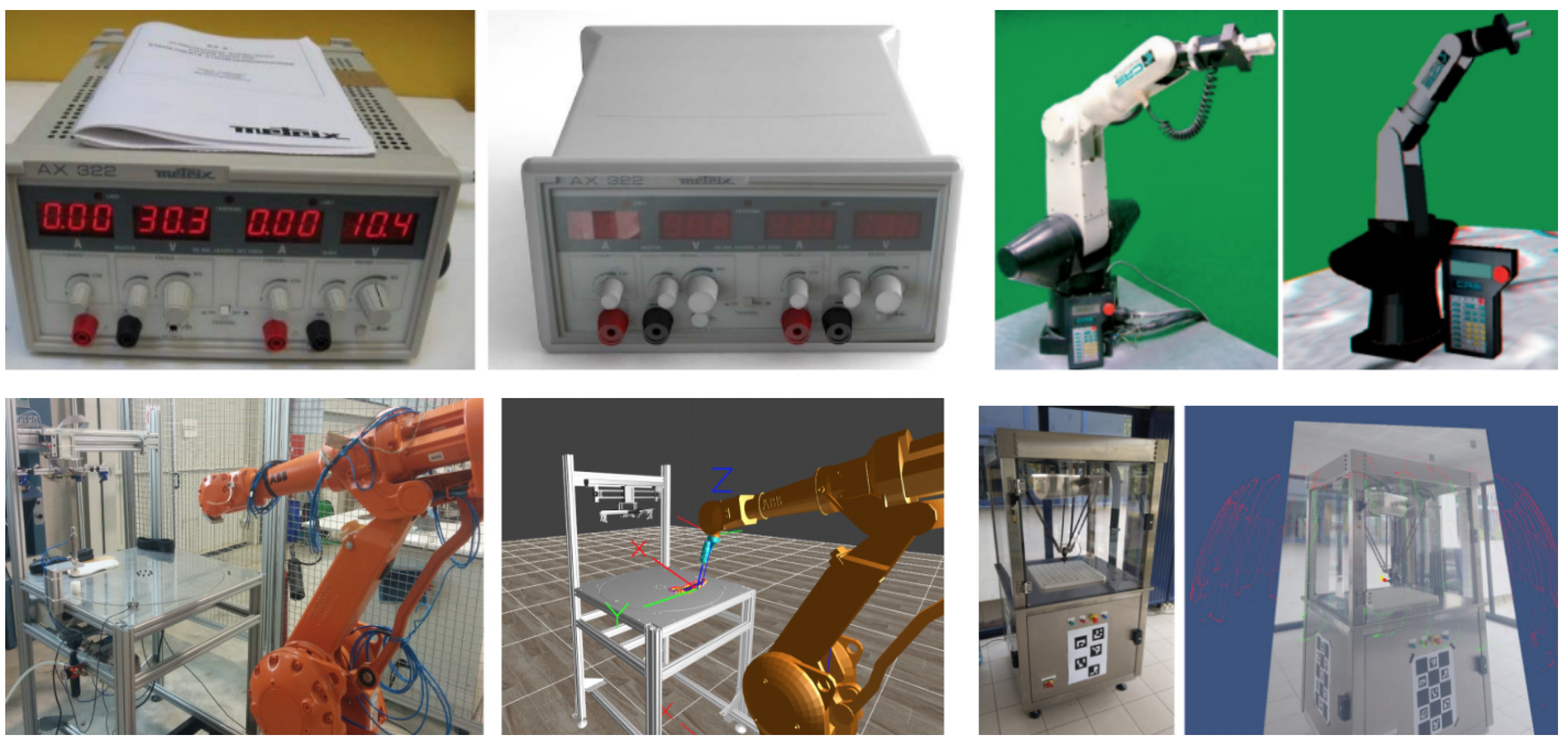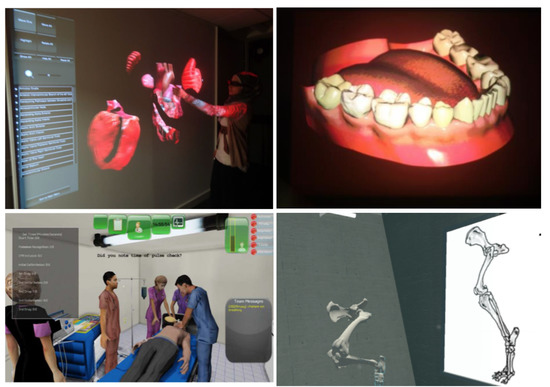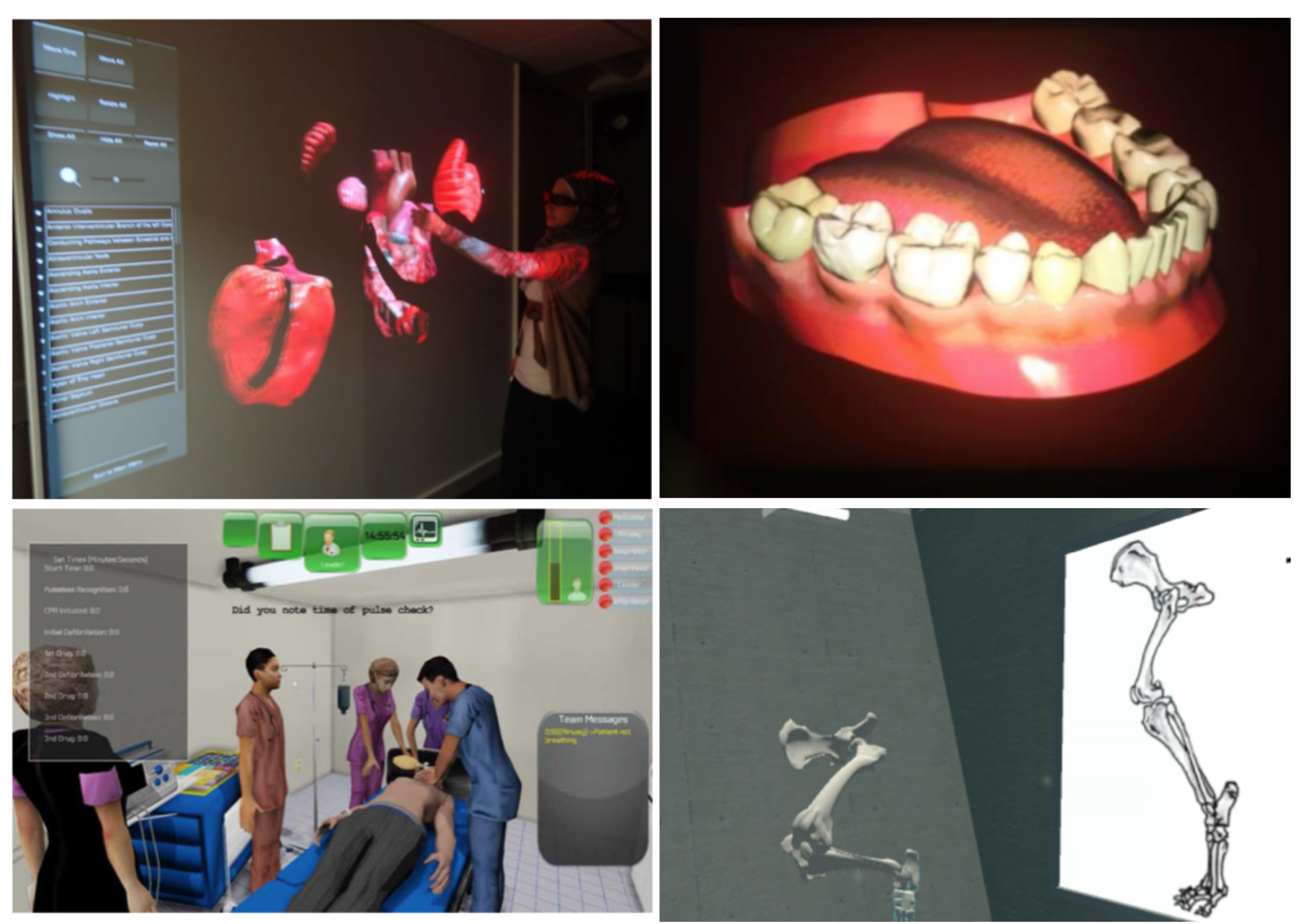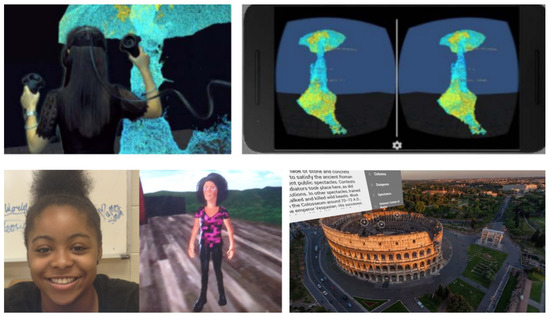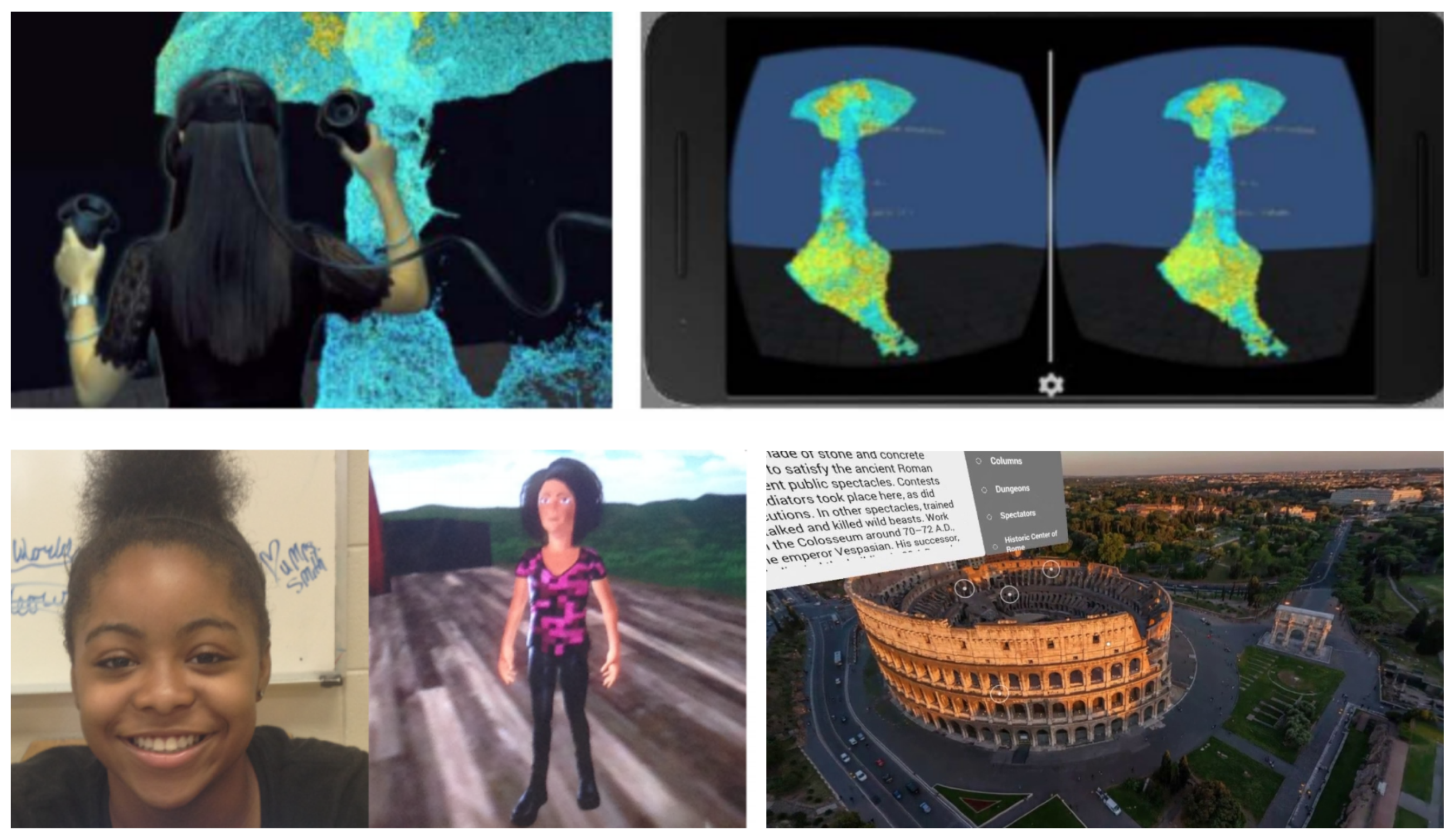 Table 1. Comparison of the most popular models of head mounted display systems for virtual reality (VR) used for educational purposes.
Technology
Advantages
Disadvantages
HTC Vive Pro

DS: 1440 ×1600 per eye

FOV ≈ 110

External virtual controllers

Tracking area: 10 m × 10 m

Weight: 550 g

Stationary/long setup time

Oculus Quest

DS: 1440 × 1600 per eye

FOV ≈ 90

External virtual controllers

Portable

Weight: 571 g

Samsung Gear VR

DS: 1480 × 1440 per eye (smartphone dependant)

Weight: 345 g + smartphone

Price: 130 €

Portable

FOV ≈ 101

Low battery life

Computation capabilities (smartphone dependant)

No positional tracking

Google Cardboard

Weight ≈ smartphone

Price: 7 €

Portable

DS: smartphone dependant

FOV ≈ 90

Low battery life

Computation capabilities (smartphone dependant)

No positional tracking

© 2019 by the authors. Licensee MDPI, Basel, Switzerland. This article is an open access article distributed under the terms and conditions of the Creative Commons Attribution (CC BY) license (http://creativecommons.org/licenses/by/4.0/).