Gut Microbial Composition and Function Are Altered in Patients with Early Rheumatoid Arthritis
1
Research Center, BIFIDO Co., Ltd., 23-16, Nonggongdanji-gil, Hongcheon 25117, Korea
2
Department of Food and Nutrition, Research Institute of Human Ecology, Seoul National University, 1, Gwanak-ro, Gwanak-gu, Seoul 08826, Korea
3
Division of Rheumatology, Department of Internal Medicine, Seoul St. Mary's Hospital, College of Medicine, The Catholic University of Korea, 222 Banpo-Daero, Seocho-gu, Seoul 137-701, Korea
4
Institute of Health and Environment, Graduate School of Public Health, Seoul National University, 1, Gwanak-ro, Gwanak-gu, Seoul 08826, Korea
5
Rheumatism Research Center, Catholic Research Institute of Medical Science, College of Medicine, The Catholic University of Korea, Seoul 137-040, Korea
*
Authors to whom correspondence should be addressed.
Received: 30 March 2019 / Revised: 11 May 2019 / Accepted: 14 May 2019 / Published: 16 May 2019
Abstract
Rheumatoid arthritis (RA) is an autoimmune disease characterized by synovial inflammation of the joints and extra-articular manifestations. Recent studies have shown that microorganisms affect RA pathogenesis. However, few studies have examined the microbial distribution of early RA patients, particularly female patients. In the present study, we investigated the gut microbiome profile and microbial functions in early RA female patients, including preclinical and clinically apparent RA cases. Changes in microbiological diversity, composition, and function in each group were analyzed using quantitative insights into microbial ecology (QIIME) and phylogenetic investigation of communities by reconstruction of unobserved states (PICRUSt). The results revealed the dysbiosis due to decreased diversity in the early RA patients compared with healthy subjects. There were significant differences in the microbial distribution of various taxa from phylum to genus levels between healthy subjects and early RA patients. Phylum Bacteroidetes was enriched in early RA patients, while Actinobacteria, including the genus
Collinsella,
was enriched in healthy subjects. Functional analysis based on clusters of orthologous groups revealed that the genes related to the biosynthesis of menaquinone, known to be derived from gram-positive bacteria, were enriched in healthy subjects, while iron transport-related genes were enriched in early RA patients. Genes related to the biosynthesis of lipopolysaccharide, the gram-negative bacterial endotoxin, were enriched in clinically apparent RA patients. The obvious differences in microbial diversity, taxa, and associated functions of the gut microbiota between healthy subjects and early RA patients highlight the involvement of the gut microbiome in the early stages of RA.
View Full-Text
►

▼

Figures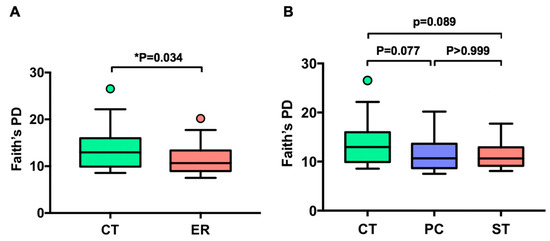 Figure 1
This is an open access article distributed under the
Creative Commons Attribution License
which permits unrestricted use, distribution, and reproduction in any medium, provided the original work is properly cited (CC BY 4.0).

Share & Cite This Article
MDPI and ACS Style
Jeong, Y.; Kim, J.-W.; You, H.J.; Park, S.-J.; Lee, J.; Ju, J.H.; Park, M.S.; Jin, H.; Cho, M.-L.; Kwon, B.; Park, S.-H.; Ji, G.E. Gut Microbial Composition and Function Are Altered in Patients with Early Rheumatoid Arthritis. J. Clin. Med. 2019, 8, 693.
Note that from the first issue of 2016, MDPI journals use article numbers instead of page numbers. See further details here.
Related Articles
Comments
[Return to top]