Analysis of Tumor Angiogenesis and Immune Microenvironment in Non-Functional Pituitary Endocrine Tumors
Department of Neurosurgery, Keio University School of Medicine, 35 Shinanomachi, Shinjuku-ku, Tokyo 160-8582, Japan
*
Author to whom correspondence should be addressed.
Received: 15 April 2019 / Revised: 6 May 2019 / Accepted: 14 May 2019 / Published: 16 May 2019
Abstract
Cavernous sinus (CS) invasion is an aggressive behavior exhibited by pituitary neuroendocrine tumors (PitNETs). The cause of CS invasion in PitNETs has not been fully elucidated. The tumor immune microenvironment, known to promote aggressive behavior in various types of tumors, has not been examined for PitNETs. Vascular endothelial growth factor (VEGF)/VEGF receptor (VEGFR) signaling is strongly associated with the tumor immune microenvironment. In the present study, these molecular and histopathological characteristics were examined in invasive non-functional PitNETs (NF-PitNETs). Twenty-seven patients with newly diagnosed NF-PitNETs (with CS invasion: 17, without CS invasion: 10) were analyzed by immunohistochemistry for VEGF-A/VEGFR1 and 2, hypoxia-inducible Factor (HIF), tumor-infiltrating lymphocytes, immunosuppressive cells including regulatory T cells (Tregs) and tumor-associated macrophages (TAMs), and immune checkpoint molecules. Previously validated tumor proliferation markers including mitotic count, Ki-67 index, and p53 were also analyzed for their expressions in NF-PitNETs. VEGF-A and VEGFR1 were expressed on not only vascular endothelial cells, but also on tumor cells. The expressions of VEGF-A and VEGFR1 were significantly higher in NF-PitNETs with CS invasion. The number of TAMs and the expression of PD-L1 were also significantly higher in NF-PitNETs with CS invasion than in NF-PitNETs without CS invasion. The high expression of VEGF-A and VEGFR1 and associated immunosuppressive microenvironment were observed in NF-PitNETs with CS invasion, suggesting that a novel targeted therapy can be applied.
View Full-Text
►

▼

Figures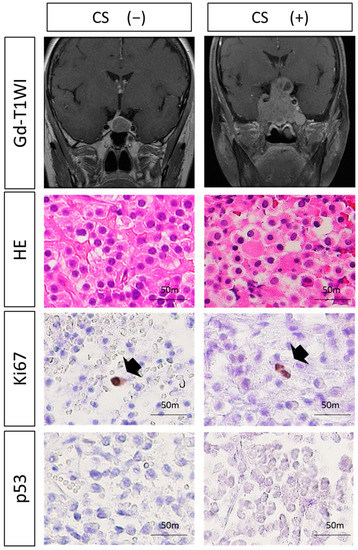 Figure 1
This is an open access article distributed under the
Creative Commons Attribution License
which permits unrestricted use, distribution, and reproduction in any medium, provided the original work is properly cited (CC BY 4.0).

Share & Cite This Article
MDPI and ACS Style
Sato, M.; Tamura, R.; Tamura, H.; Mase, T.; Kosugi, K.; Morimoto, Y.; Yoshida, K.; Toda, M. Analysis of Tumor Angiogenesis and Immune Microenvironment in Non-Functional Pituitary Endocrine Tumors. J. Clin. Med. 2019, 8, 695.
Note that from the first issue of 2016, MDPI journals use article numbers instead of page numbers. See further details here.
Related Articles
Comments
[Return to top]