The Different Microbial Etiology of Prosthetic Joint Infections according to Route of Acquisition and Time after Prosthesis Implantation, Including the Role of Multidrug-Resistant Organisms
1
Infectious Diseases Unit, Hospital de la Santa Creu i Sant Pau - Institut d'Investigació Biomèdica Sant Pau, 08025 Barcelona, Spain
2
Department of Medicine, Universitat Autònoma de Barcelona, 08193 Barcelona, Spain
3
Department of Infectious Diseases, Hospital Universitari Bellvitge, 08097 Barcelona, Spain
4
Department of Infectious Diseases, Hospital Clínic Universitari, 08036 Barcelona, Spain
5
Department of Infectious Diseases, Hospital Universitari Vall d'Hebron, 08035 Barcelona, Spain
6
Department of Infectious Diseases, Parc de Salut Mar, 08003 Barcelona, Spain
7
Department of Infectious Diseases, Hospital Universitario Ramón y Cajal – IRYCIS, 28034 Madrid, Spain
8
Department of Infectious Diseases, Hospital Universitari Valdecilla, 39008 Santander, Spain
9
Department of Infectious Diseases, Clinical Microbiology and Preventive Medicine, Hospital Universitario Virgen Macarena, 41009 Sevilla, Spain
10
Department of Infectious Diseases, Hospital Universitario Cruces, 48903 Bilbao, Spain
11
Department of Infectious Diseases, Clinical Microbiology and Preventive Medicine, Hospital Universitario Virgen del Rocío, 41013 Sevilla, Spain
12
Department of Internal Medicine-Infectious Diseases, Hospital Universitario del Bierzo, 24404 León, Spain
13
Infectious Diseases Unit, Department of Internal Medicine, Hospital Universitario Son Espases, 07120 Palma de Mallorca, Spain
14
Department of Clinical Microbiology, IIS-Fundación Jiménez Díaz, 28040 Madrid, Spain
15
Department of Infectious Diseases, Hospital Universitario de Basurto, 48013 Bilbao, Spain
16
Department of Orthopedic and Traumatology, Hospital Universitario Central de Asturias, 33011 Oviedo, Spain
17
Unit of Nosocomial Infection, Hospital Universitari Arnau de Vilanova, 25198 Lleida, Spain
18
Department of Internal Medicine, Hospital Clínico Universitario de Valladolid, 47003 Valladolid, Spain
19
Infectious Diseases Unit, Department of Internal Medicine, Hospital Universitario Puerta de Hierro, 28222 Madrid, Spain
20
Department of Infectious Diseases, Hospital Regional Universitario Málaga, 29010 Málaga, Spain
21
Department of Clinical Microbiology, Hospital de la Santa Creu i Sant Pau - Institut d'Investigació Biomèdica Sant Pau, 08025 Barcelona, Spain
22
Department of Orthopedic and Traumatology, Hospital de la Santa Creu i Sant Pau - Institut d'Investigació Biomèdica Sant Pau, 08025 Barcelona, Spain
*
Author to whom correspondence should be addressed.
†
Members of the Group (in alphabetical order)
Received: 17 April 2019 / Revised: 6 May 2019 / Accepted: 9 May 2019 / Published: 13 May 2019
Abstract
The aim of our study was to characterize the etiology of prosthetic joint infections (PJIs)—including multidrug-resistant organisms (MDRO)—by category of infection. A multicenter study of 2544 patients with PJIs was performed. We analyzed the causative microorganisms according to the Tsukayama's scheme (early postoperative, late chronic, and acute hematogenous infections (EPI, LCI, AHI) and "positive intraoperative cultures" (PIC)). Non-hematogenous PJIs were also evaluated according to time since surgery: <1 month, 2–3 months, 4–12 months, >12 months. AHIs were mostly caused by
Staphylococcus aureus
(39.2%) and streptococci (30.2%). EPIs were characterized by a preponderance of virulent microorganisms (
S. aureus,
Gram-negative bacilli (GNB), enterococci), MDROs (24%) and polymicrobial infections (27.4%). Conversely, coagulase-negative staphylococci (CoNS) and
Cutibacterium
species were predominant in LCIs (54.5% and 6.1%, respectively) and PICs (57.1% and 15.1%). The percentage of MDROs isolated in EPIs was more than three times the percentage isolated in LCIs (7.8%) and more than twice the proportion found in AHI (10.9%). There was a significant decreasing linear trend over the four time intervals post-surgery for virulent microorganisms, MDROs, and polymicrobial infections, and a rising trend for CoNS, streptococci and
Cutibacterium
spp. The observed differences have important implications for the empirical antimicrobial treatment of PJIs.
View Full-Text
►

▼

Figures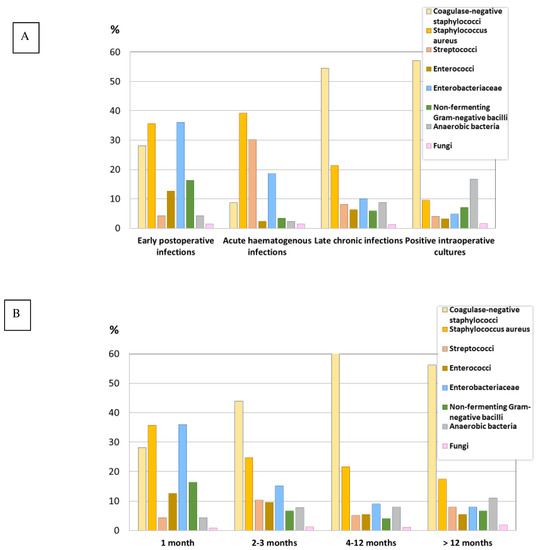 Figure 1
This is an open access article distributed under the
Creative Commons Attribution License
which permits unrestricted use, distribution, and reproduction in any medium, provided the original work is properly cited (CC BY 4.0).

Share & Cite This Article
MDPI and ACS Style
Benito, N.; Mur, I.; Ribera, A.; Soriano, A.; Rodríguez-Pardo, D.; Sorlí, L.; Cobo, J.; Fernández-Sampedro, M.; del Toro, M.D.; Guío, L.; Praena, J.; Bahamonde, A.; Riera, M.; Esteban, J.; Baraia-Etxaburu, J.M.; Martínez-Alvarez, J.; Jover-Sáenz, A.; Dueñas, C.; Ramos, A.; Sobrino, B.; Euba, G.; Morata, L.; Pigrau, C.; Horcajada, J.P.; Coll, P.; Crusi, X.; Ariza, J.; REIPI (Spanish Network for Research in Infectious Disease) Group for the Study of Prosthetic Joint Infections/GEIO (Group for the Study of Osteoarticular Infections), SEIMC (Spanish Society of Infectious Diseases and Clinical Microbiolo. The Different Microbial Etiology of Prosthetic Joint Infections according to Route of Acquisition and Time after Prosthesis Implantation, Including the Role of Multidrug-Resistant Organisms. J. Clin. Med. 2019, 8, 673.
Note that from the first issue of 2016, MDPI journals use article numbers instead of page numbers. See further details here.
Related Articles
Comments
[Return to top]