Influence of Hospital Volume of Procedures by Year on the Risk of Revision of Total Hip and Knee Arthroplasties: A Propensity Score-Matched Cohort Study
1
Agency for Heath Quality and Assessment of Catalonia (AQuAS), 08005 Barcelona, Spain
2
CIBER Epidemiology and Public Health (CIBERESP), 28029 Madrid, Spain
3
Institute of Biomedicine (IBIOMED), University of León, León 24071, Spain
4
Sant Rafael University Hospital, 08035 Barcelona, Spain
5
Health Services and Policy Research Group, University of Exeter Medical School, Exeter EX1 2LU, UK
6
Royal Devon and Exeter NHS Foundation Trust, Exeter EX2 5DW, UK
7
Santa María University Hospital, 25198 Lleida, Spain
8
Health Services Research on Chronic Patients Network (REDISSEC), 28029 Madrid, Spain
*
Author to whom correspondence should be addressed.
Received: 2 April 2019 / Revised: 7 May 2019 / Accepted: 10 May 2019 / Published: 13 May 2019
Abstract
The volume of total hip (THA) and knee arthroplasties (TKA) performed in a hospital per year could be an influential factor on the revision of these procedures. The aims of this study were: To obtain comparable cohorts in higher- and lower-volume hospitals; and to assess the association between the hospital volume and the incidence of revision. Data from patients undergoing THA and TKA caused by osteoarthritis and recorded in the Catalan Arthroplasty Register (RACat) between January 2005 and December 2016 were used. The main explanatory variable was hospital volume by year (higher/lower). The cut-off point was fixed, based on previous research, at 50 THA and 125 TKA procedures/year. To obtain comparable populations, a propensity-score matching method (1:1) was used. Patient characteristics prior to and after matching were compared. To assess differences by volume, subhazard ratios (SHRs) from competing risks models were obtained. After matching, 13,772 THA and 36,316 TKA patients remained in the study. Prior to matching, in both joints, significant differences in all confounders were observed between volume groups. After matching, none of them remained significant. Both in THA and TKA, a higher risk of revision in higher-volume hospitals was observed (THA SHR: 1.25, 95%CI: 1.02–1.53; and TKA SHR: 1.29, 95%CI: 1.16–1.44). Unlike other contexts, currently in Catalonia, higher-volume hospitals have a greater risk of revision than lower-volume hospitals. Further research could be valuable to define context-dependent measures to reduce the incidence of revision.
View Full-Text
►

▼

Figures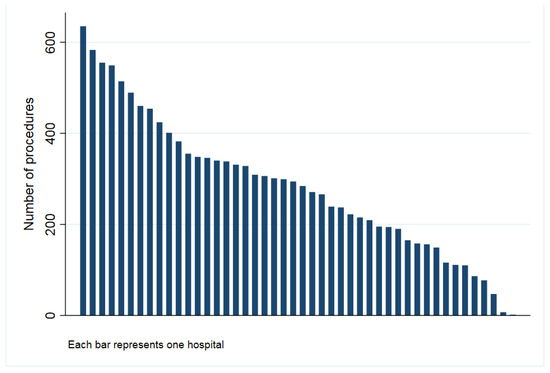 Figure 1
This is an open access article distributed under the
Creative Commons Attribution License
which permits unrestricted use, distribution, and reproduction in any medium, provided the original work is properly cited (CC BY 4.0).

Share & Cite This Article
MDPI and ACS Style
Arias-de la Torre, J.; Pons-Cabrafiga, M.; Valderas, J.M.; Evans, J.P.; Martín, V.; Molina, A.J.; Pallisó, F.; Smith, K.; Martinez, O.; Espallargues, M. Influence of Hospital Volume of Procedures by Year on the Risk of Revision of Total Hip and Knee Arthroplasties: A Propensity Score-Matched Cohort Study. J. Clin. Med. 2019, 8, 670.
Note that from the first issue of 2016, MDPI journals use article numbers instead of page numbers. See further details here.
Related Articles
Comments
[Return to top]