Mineralocorticoid Receptor May Regulate Glucose Homeostasis through the Induction of Interleukin-6 and Glucagon-Like peptide-1 in Pancreatic Islets
1
Department of Metabolic Medicine, Faculty of Life Sciences, Kumamoto University, Kumamoto 860-8556, Japan
2
Food and Health Sciences, Prefectural University of Kumamoto, Kumamoto, 862-8502, Japan
*
Authors to whom correspondence should be addressed.
Received: 11 April 2019 / Revised: 8 May 2019 / Accepted: 9 May 2019 / Published: 14 May 2019
Abstract
Because the renin-angiotensin-aldosterone system influences glucose homeostasis, the mineralocorticoid receptor (MR) signal in pancreatic islets may regulate insulin response upon glucose load. Glucagon-like peptide-1 (GLP-1) production is stimulated by interleukin-6 (IL-6) in pancreatic α-cells. To determine how glucose homeostasis is regulated by interactions of MR, IL-6 and GLP-1 in islets, we performed glucose tolerance and histological analysis of islets in primary aldosteronism (PA) model rodents and conducted in vitro experiments using α-cell lines. We measured active GLP-1 concentration in primary aldosteronism (PA) patients before and after the administration of MR antagonist eplerenone. In PA model rodents, aldosterone decreased insulin-secretion and the islet/pancreas area ratio and eplerenone added on aldosterone (E+A) restored those with induction of IL-6 in α-cells. In α-cells treated with E+A, IL-6 and GLP-1 concentrations were increased, and anti-apoptotic signals were enhanced. The E+A-treatment also significantly increased MR and IL-6 mRNA and these upregulations were blunted by MR silencing using small interfering RNA (siRNA). Transcriptional activation of the IL-6 gene promoter by E+A-treatment required an intact MR binding element in the promoter. Active GLP-1 concentration was significantly increased in PA patients after eplerenone treatment. MR signal in α-cells may stimulate IL-6 production and increase GLP-1 secretion, thus protecting pancreatic β-cells and improving glucose homeostasis.
View Full-Text
►

▼

Figures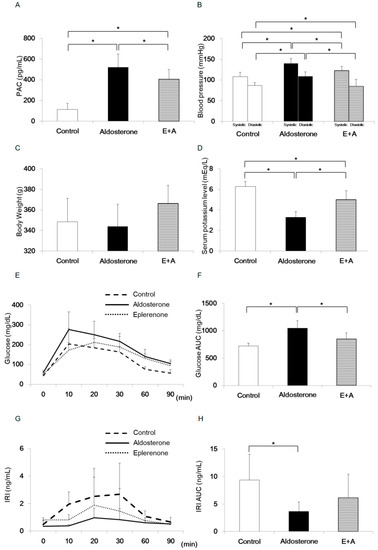 Figure 1
This is an open access article distributed under the
Creative Commons Attribution License
which permits unrestricted use, distribution, and reproduction in any medium, provided the original work is properly cited (CC BY 4.0).

Share & Cite This Article
MDPI and ACS Style
Goto, R.; Kondo, T.; Ono, K.; Kitano, S.; Miyakawa, N.; Watanabe, T.; Sakaguchi, M.; Sato, M.; Igata, M.; Kawashima, J.; Motoshima, H.; Matsumura, T.; Shimoda, S.; Araki, E. Mineralocorticoid Receptor May Regulate Glucose Homeostasis through the Induction of Interleukin-6 and Glucagon-Like peptide-1 in Pancreatic Islets. J. Clin. Med. 2019, 8, 674.
Note that from the first issue of 2016, MDPI journals use article numbers instead of page numbers. See further details here.
Related Articles
Comments
[Return to top]