Stem Cells Inhibition by Bevacizumab in Combination with Neoadjuvant Chemotherapy for Breast Cancer
1
Department of Medical Oncology, Institut Paoli-Calmettes, 13009 Marseille, France
2
Aix Marseille Univ, CNRS U7258, INSERM U1068, Institut Paoli-Calmettes, CRCM, 13009 Marseille, France
3
Department of Biopathology, Institut Paoli-Calmettes, 13009 Marseille, France
4
Department of Medical Oncology, Institut Curie, Paris & St Cloud, Université Paris Descartes, 75005 Paris, France
5
Department of Medical Oncology, Institut Jean Godinot, 51100 Reims, France
6
Department of Surgical Oncology, Institut Paoli-Calmettes, 13009 Marseille, France
7
Department of Clinical Research and Innovation, Institut Paoli-Calmettes, 13009 Marseille, France
8
Department of Clinical Research and Innovation, Biostatistics unit, Institut Paoli-Calmettes, 13009 Marseille, France
*
Author to whom correspondence should be addressed.
†
These authors contributed equally to this work.
Received: 8 April 2019 / Revised: 29 April 2019 / Accepted: 3 May 2019 / Published: 6 May 2019
Abstract
Preclinical works have suggested cytotoxic chemotherapies may increase the number of cancer stem cells (CSC) whereas angiogenesis inhibition may decrease CSC proliferation. We developed a proof of concept clinical trial to explore bevacizumab activity on breast CSC. Breast cancer patients requiring preoperative chemotherapy were included in this open-label, randomized, prospective, multicenter phase II trial. All received FEC-docetaxel combination, and patients randomized in the experimental arm received concomitant bevacizumab. The primary endpoint was to describe ALDH1 (Aldehyde dehydrogenase 1) positive tumor cells rate before treatment and after the fourth cycle. Secondary objectives included safety, pathological complete response (pCR) rate, disease-free survival (DFS), relapse-free survival (RFS), and overall survival (OS). Seventy-five patients were included. ALDH1+ cells rate increase was below the predefined 5% threshold in both arms for the 32 patients with two time points available. Grade 3 or 4 adverse events rates were similar in both arms. A non-significant increase in pCR was observed in the bevacizumab arm (42.6% vs. 18.2%,
p
= 0.06), but survival was not improved (OS:
p
= 0.89; DFS:
p
= 0.45; and RFS:
p
= 0.68). The increase of ALDH1+ tumor cells rate after bevacizumab-based chemotherapy was less than 5%. However, as similar results were observed with chemotherapy alone, bevacizumab impact on breast CSC cells cannot be confirmed.
View Full-Text
►

▼

Figures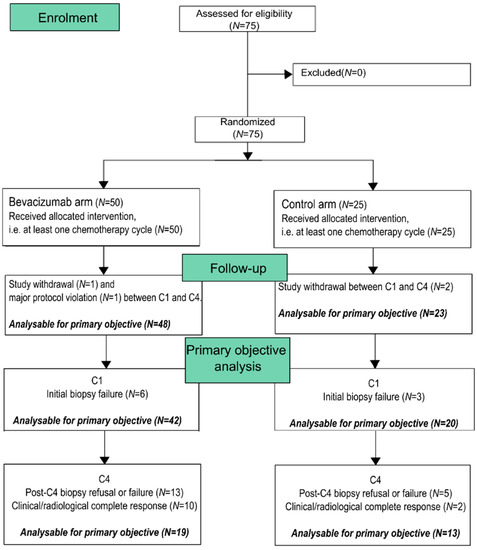 Figure 1
This is an open access article distributed under the
Creative Commons Attribution License
which permits unrestricted use, distribution, and reproduction in any medium, provided the original work is properly cited (CC BY 4.0).

Share & Cite This Article
MDPI and ACS Style
Sabatier, R.; Charafe-Jauffret, E.; Pierga, J.-Y.; Curé, H.; Lambaudie, E.; Genre, D.; Houvenaeghel, G.; Viens, P.; Ginestier, C.; Bertucci, F.; Sfumato, P.; Extra, J.-M.; Gonçalves, A. Stem Cells Inhibition by Bevacizumab in Combination with Neoadjuvant Chemotherapy for Breast Cancer. J. Clin. Med. 2019, 8, 612.
Note that from the first issue of 2016, MDPI journals use article numbers instead of page numbers. See further details here.
Related Articles
Comments
[Return to top]