Disulfiram (Antabuse) Activates ROS-Dependent ER Stress and Apoptosis in Oral Cavity Squamous Cell Carcinoma
1
Department of Otolaryngology–Head and Neck Surgery, Wayne State University School of Medicine, Detroit, MI 48201, USA
2
Carman and Ann Adams Department of Pediatrics, Wayne State University School of Medicine, Detroit, MI 48201, USA
3
Division of Hematology/Oncology, Department of Medicine, University of Alabama at Birmingham, Birmingham, AL 35294, USA
4
Wayne State University School of Medicine, Detroit, MI 48201, USA
5
Henry Ford Hospital, Diagnostic Radiology Residency, Detroit, MI 48202, USA
6
Degenerative Diseases Program, Sanford Burnham Prebys Medical Discovery Institute, La Jolla, CA 92037, USA
7
Molecular Therapeutics Program, Karmanos Cancer Institute, Wayne State University School of Medicine, Detroit, MI 48201, USA
*
Authors to whom correspondence should be addressed.
Received: 26 March 2019 / Revised: 29 April 2019 / Accepted: 30 April 2019 / Published: 6 May 2019
(This article belongs to the Section
Oncology
)
Abstract
A paucity of advances in the development of novel therapeutic agents for squamous cell carcinomas of the head and neck, oral cavity (OSCC) and oropharynx, has stagnated disease free survival rates over the past two decades. Although immunotherapies targeted against checkpoint inhibitors such as PD-1 or CTLA-4 are just now entering the clinic for late stage disease with regularity the median improvement in overall survival is only about three months. There is an urgent unmet clinical need to identify new therapies that can be used alone or in combination with current approaches to increase survival by more than a few months. Activation of the apoptotic arm of the unfolded response (UPR) with small molecules and natural products has recently been demonstrated to be a productive approach in pre-clinical models of OSCC and several other cancers. The aim of current study was to perform a high throughput screen (HTS) with a diverse chemical library to identify compounds that could induce CHOP, a component of the apoptotic arm of the UPR. Disulfiram (DSF, also known as Antabuse) the well-known aversion therapy used to treat chronic alcoholism emerged as a hit that could generate reactive oxygen species, activate the UPR and apoptosis and reduce proliferation in OSCC cell cultures and xenografts. A panel of murine embryonic fibroblasts null for key UPR intermediates (e.g., Chop and Atf4) was resistant to DSF suggesting that an intact UPR is a key element of the mechanism regulating the antiproliferative effects of DSF.
View Full-Text
►

▼

Figures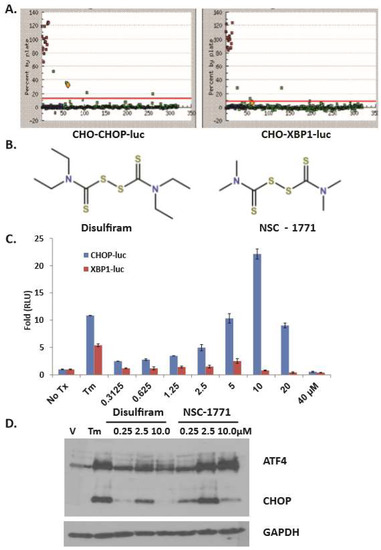 Figure 1
This is an open access article distributed under the
Creative Commons Attribution License
which permits unrestricted use, distribution, and reproduction in any medium, provided the original work is properly cited (CC BY 4.0).

Share & Cite This Article
MDPI and ACS Style
Shah O'Brien, P.; Xi, Y.; Miller, J.R.; Brownell, A.L.; Zeng, Q.; Yoo, G.H.; Garshott, D.M.; O'Brien, M.B.; Galinato, A.E.; Cai, P.; Narula, N.; Callaghan, M.U.; Kaufman, R.J.; Fribley, A.M. Disulfiram (Antabuse) Activates ROS-Dependent ER Stress and Apoptosis in Oral Cavity Squamous Cell Carcinoma. J. Clin. Med. 2019, 8, 611.
Note that from the first issue of 2016, MDPI journals use article numbers instead of page numbers. See further details here.
Related Articles
Comments
[Return to top]