Disease-Specific Comorbidity Clusters in COPD and Accelerated Aging
1
CIRO+, Centre of Expertise for Chronic Organ Failure, 6085 NM Horn, The Netherlands
2
Department of Respiratory Medicine, MUMC+, Maastricht University Medical Centre, 6229 ER Maastricht, The Netherlands
3
Department of Respiratory Medicine, AZ Sint-Lucas, 9000 Ghent, Belgium
4
NUTRIM School of Nutrition and Translational Research in Metabolism, Maastricht University Medical Centre+, 6229 ER Maastricht, The Netherlands
5
Viscovery Software GmbH, 1130 Vienna, Austria
*
Author to whom correspondence should be addressed.
Received: 17 March 2019 / Revised: 31 March 2019 / Accepted: 11 April 2019 / Published: 14 April 2019
Abstract
Background: Patients with chronic obstructive pulmonary disease (COPD) often suffer from multiple morbidities, which occur in clusters and are sometimes related to accelerated aging. This study aimed to assess the disease specificity of comorbidity clusters in COPD and their association with a biomarker of accelerated aging as a potential mechanistic factor. Methods: Body composition, metabolic, cardiovascular, musculoskeletal, and psychological morbidities were objectively evaluated in 208 COPD patients (age 62 ± 7 years, 58% males, FEV
1
50 ± 16% predicted) and 200 non-COPD controls (age 61 ± 7 years, 45% males). Based on their presence and severity, the morbidities were clustered to generate distinct clusters in COPD and controls. Telomere length in circulating leukocytes was compared across the clusters. Results: (co)morbidities were more prevalent in COPD patients compared to controls (3.9 ± 1.7 vs. 2.4 ± 1.5,
p
< 0.05). A "Psychologic" and "Cachectic" cluster were only present in the COPD population. "Less (co)morbidity", "Cardiovascular", and "Metabolic" clusters were also observed in controls, although with less complexity. Telomere length was reduced in COPD patients, but did not differ between the (co)morbidity clusters in both populations. Conclusions: Two COPD-specific comorbidity clusters, a "Cachectic" and "Psychologic" cluster, were identified and warrant further studies regarding their development. Accelerated aging was present across various multimorbidity clusters in COPD.
View Full-Text
►

▼

Figures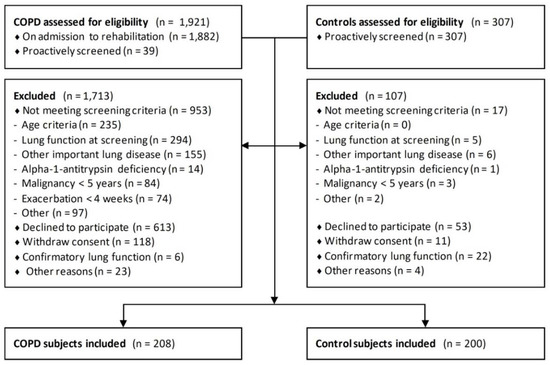 Figure 1
This is an open access article distributed under the
Creative Commons Attribution License
which permits unrestricted use, distribution, and reproduction in any medium, provided the original work is properly cited (CC BY 4.0).

Share & Cite This Article
MDPI and ACS Style
Triest, F.J.J.; Franssen, F.M.E.; Reynaert, N.; Gaffron, S.; Spruit, M.A.; Janssen, D.J.A.; Rutten, E.P.A.; Wouters, E.F.M.; Vanfleteren, L.E.G.W. Disease-Specific Comorbidity Clusters in COPD and Accelerated Aging. J. Clin. Med. 2019, 8, 511.
Note that from the first issue of 2016, MDPI journals use article numbers instead of page numbers. See further details here.
Related Articles
Comments
[Return to top]