Application of Diagnostic Interview for Internet Addiction (DIA) in Clinical Practice for Korean Adolescents
1
Department of Psychiatry, SMG-SNU Boramae Medical Center, Seoul 07061, Korea
2
Department of Psychiatry, Eulji General Hospital, Seoul 01830, Korea
3
I Will Center, Seoul Metropolitan Boramae Youth Center, Seoul 07062, Korea
4
Department of Psychiatry, Uijeongbu St. Mary's Hospital, The Catholic University of Korea College of Medicine, Gyeonggi 11765, Korea
5
Department of Psychiatry and Behavioral Science, Seoul National University College of Medicine, Seoul 03080, Korea
*
Authors to whom correspondence should be addressed.
Received: 4 January 2019 / Revised: 25 January 2019 / Accepted: 2 February 2019 / Published: 6 February 2019
Abstract
The increased prevalence of Internet Gaming Disorder (IGD) and the inclusion of IGD in DSM-5 and ICD-11 emphasizes the importance of measuring and describing the IGD symptoms. We examined the psychometric properties of the Diagnostic Interview for Internet Addiction (DIA), a semi-structured diagnostic interview tool for IGD, and verified the application of DIA in clinical practice for Korean adolescents. The DIA is conducted in a manner that interviews both adolescents and their caregivers, and each item has a standardized representative question and various examples. It consists of 10 items based on the DSM-5 IGD diagnostic criteria, which is cognitive salience, withdrawal, tolerance, difficulty in regulating use, loss of interest in other activities, persistent use despite negative results, deception regarding Internet/games/SNS use, use of Internet/games/SNS to avoid negative feelings, interference with role performance, and craving. The study included 103 adolescents divided into three subgroups (mild risk, moderate risk, and addicted group) based on the total score of DIA. Demographic and clinical characteristics were compared among the DIA subgroups using the chi-square test and analysis of variance (ANOVA), and correlation analysis was used to examine the associations of IGD symptoms with clinical variables (e.g., impulsivity, aggression, depression, anxiety, self-esteem). The DIA total score was significantly correlated with Internet and smartphone addiction, depression, state anxiety, self-esteem, impulsivity, aggression, and stress. Furthermore, the moderate risk and addicted group showed significantly higher levels of Internet and smartphone addiction, anxiety, depression, impulsivity, aggression, stress, and lower self-esteem compared with the mild risk group. The Junior Temperament and Character Inventory (JTCI), which measures temperament and character traits, revealed that the mild risk group had higher levels of persistence and self-directedness than did the addicted group. Our findings confirmed the psychometric properties of DIA and the application of the DIA classifications in Korean adolescents.
View Full-Text
►

▼

Figures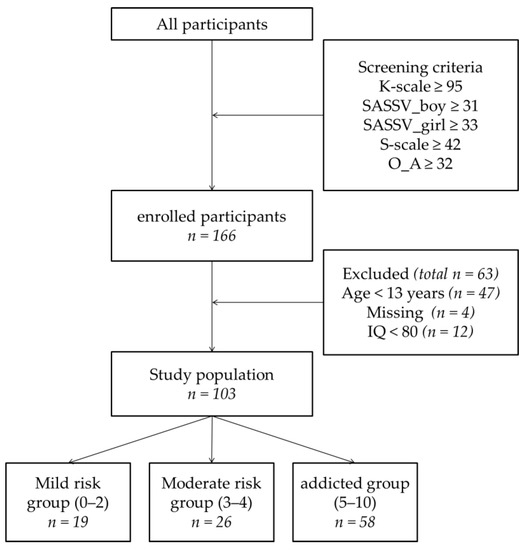 Figure 1
This is an open access article distributed under the
Creative Commons Attribution License
which permits unrestricted use, distribution, and reproduction in any medium, provided the original work is properly cited (CC BY 4.0).

Share & Cite This Article
MDPI and ACS Style
Ryu, H.; Lee, J.Y.; Choi, A.R.; Chung, S.J.; Park, M.; Bhang, S.-Y.; Kwon, J.-G.; Kweon, Y.-S.; Choi, J.-S. Application of Diagnostic Interview for Internet Addiction (DIA) in Clinical Practice for Korean Adolescents. J. Clin. Med. 2019, 8, 202.
Note that from the first issue of 2016, MDPI journals use article numbers instead of page numbers. See further details here.
Related Articles
Comments
[Return to top]