Indoxyl Sulfate Induces Apoptosis through Oxidative Stress and Mitogen-Activated Protein Kinase Signaling Pathway Inhibition in Human Astrocytes
1
Institute of Clinical Medicine, College of Medicine, Kaohsiung Medical University, Kaohsiung 807, Taiwan
2
Faculty of Medicine, College of Medicine, Kaohsiung Medical University, Kaohsiung 807, Taiwan
3
Department of Family Medicine, Kaohsiung Medical University Hospital, Kaohsiung 807, Taiwan
4
Division of Nephrology, Department of Internal Medicine, Kaohsiung Medical University Hospital, Kaohsiung 807, Taiwan
5
Faculty of Renal Care, College of Medicine, Kaohsiung Medical University, Kaohsiung 807, Taiwan
6
Graduate Institute of Medicine, College of Medicine, Kaohsiung Medical University, Kaohsiung 807, Taiwan
*
Author to whom correspondence should be addressed.
Received: 14 January 2019 / Revised: 27 January 2019 / Accepted: 31 January 2019 / Published: 5 February 2019
Abstract
Uremic toxins accumulated in chronic kidney disease (CKD) increases the risk of cognitive impairment. Indoxyl sulfate (IS) is a well-known protein-bound uremic toxin that is correlated with several systemic diseases, but no studies on human brain cells are available. We investigated the effect of IS on primary human astrocytes through next-generation sequencing and cell experiment confirmation to explore the mechanism of IS-associated brain damage. Total RNAs extracted from IS-treated and control astrocytes were evaluated by performing functional and pathway enrichment analysis. The toxicities of IS in the astrocytes were investigated in terms of cell viability through flow cytometry; the signal pathway was then investigated through immunoblotting. IS stimulated the release of reactive oxygen species, increased nuclear factor (erythroid-derived 2)-like 2 levels, and reduced mitochondrial membrane potential. IS triggered astrocyte apoptosis by inhibiting the mitogen-activated protein kinase (MAPK) pathway, including extracellular-signal-regulated kinase (ERK), MAPK/ERK kinase, c-Jun N-terminal kinase, and p38. The decreased ERK phosphorylation was mediated by the upregulated dual-specificity phosphatase 1, 5, 8, and 16. In conclusion, IS can induce neurotoxicity in patients with CKD and the pathogenesis involves cell apoptosis through oxidative stress induction and MAPK pathway inhibition in human astrocytes.
View Full-Text
►

▼

Figures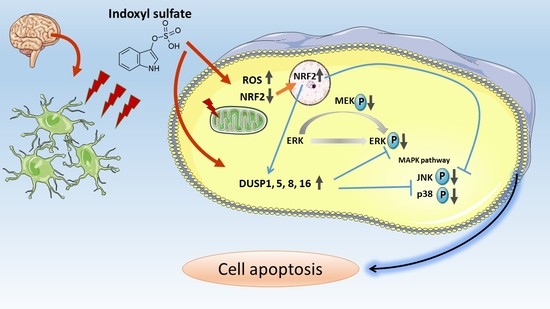 Graphical abstract
This is an open access article distributed under the
Creative Commons Attribution License
which permits unrestricted use, distribution, and reproduction in any medium, provided the original work is properly cited (CC BY 4.0).

Share & Cite This Article
MDPI and ACS Style
Lin, Y.-T.; Wu, P.-H.; Tsai, Y.-C.; Hsu, Y.-L.; Wang, H.Y.; Kuo, M.-C.; Kuo, P.-L.; Hwang, S.-J. Indoxyl Sulfate Induces Apoptosis through Oxidative Stress and Mitogen-Activated Protein Kinase Signaling Pathway Inhibition in Human Astrocytes. J. Clin. Med. 2019, 8, 191.
Note that from the first issue of 2016, MDPI journals use article numbers instead of page numbers. See further details here.
Related Articles
Comments
[Return to top]