The Correlation between Severity of Neurological Impairment and Left Ventricular Function in Patients after Acute Ischemic Stroke
1
Division of Cardiology, Department of Internal Medicine, Kaohsiung Chang Gung Memorial Hospital and Chang Gung University, Kaohsiung 83301, Taiwan
2
Center for Shockwave Medicine and Tissue Engineering, Kaohsiung Chang Gung Memorial Hospital, Kaohsiung 83301, Taiwan
3
Department of Anesthesiology, Kaohsiung Chang Gung Memorial Hospital and Chang Gung University College of Medicine, Kaohsiung 83301, Taiwan
4
Department of Neurology, Cognition and Aging Center, Kaohsiung Chang Gung Memorial Hospital and Chang Gung University College of Medicine, Kaohsiung 83301, Taiwan
5
Clinical Trial Center, Kaohsiung Chang Gung Memorial Hospital, Kaohsiung 83301, Taiwan
6
Quanzhou University of Information Engineering, Quanzhou 362000, China
7
Department of Computer Science & Engineering, National Sun Yat-sen University, Kaohsiung 80424, Taiwan
8
Institute for Translational Research in Biomedicine, College of Medicine, Kaohsiung Chang Gung Memorial Hospital and Chang Gung University, Kaohsiung 83301, Taiwan
9
Department of Medical Research, China Medical University Hospital, China Medical University, Taichung 40402, Taiwan
10
Department of Nursing, Asia University, Taichung 41354, Taiwan
*
Author to whom correspondence should be addressed.
Received: 2 January 2019 / Revised: 27 January 2019 / Accepted: 31 January 2019 / Published: 5 February 2019
Abstract
Despite left ventricular (LV) dysfunction increases the risk of incidental acute ischemic stroke (AIS), the association between LV function and severity of neurological deficits after AIS remains unclear. Between November 2015 and October 1017, a total of 99 AIS patients were prospectively enrolled and categorized into two groups based on National Institute of Health Stroke Scale (NIHSS). The AIS patients with NIHSS <6 were allocated into Group 1 (
n
= 50) and those with NIHSS ≥6 were into Group 2 (
n
= 49). Echocardiography was performed within 5 days after AIS to assess chamber size, left ventricular ejection fraction (LVEF) and valvular regurgitation. Besides, two inflammatory biomarkers, neutrophil-to-lymphocyte ratio (NLR) and platelet-to-lymphocyte ratio (PLR), were evaluated on admission. The results showed Group 2 had significantly higher value of NLR and PLR (all
p
-values < 0.01) but lower LVEF (
p
= 0.001) and frequency of mitral regurgitation (
p
= 0.021) than Group 1. The NIHSS and modified Rankin scale were significantly negatively correlated with LVEF, whereas both were significantly positively correlated with NLR and PLR (all
p
-values < 0.02). Multivariate analysis showed LVEF <65%, aging and inflammation were significantly associated with NIHSS ≥6 (all
p
-values < 0.01). In conclusion, the AIS patients with NIHSS ≥6 had lower LVEF but more clinically dominant mitral regurgitation and higher NLR and PLR compared to those with NIHSS <6.
View Full-Text
►

▼

Figures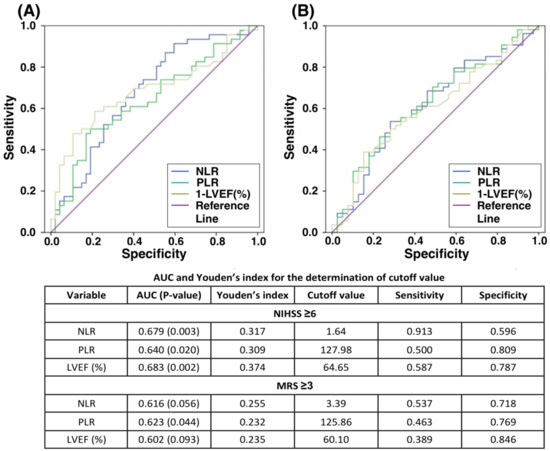 Figure 1
This is an open access article distributed under the
Creative Commons Attribution License
which permits unrestricted use, distribution, and reproduction in any medium, provided the original work is properly cited (CC BY 4.0).

Share & Cite This Article
MDPI and ACS Style
Sung, P.-H.; Chen, K.-H.; Lin, H.-S.; Chu, C.-H.; Chiang, J.Y.; Yip, H.-K. The Correlation between Severity of Neurological Impairment and Left Ventricular Function in Patients after Acute Ischemic Stroke. J. Clin. Med. 2019, 8, 190.
Note that from the first issue of 2016, MDPI journals use article numbers instead of page numbers. See further details here.
Related Articles
Comments
[Return to top]