Altered Adipose Tissue DNA Methylation Status in Metabolic Syndrome: Relationships Between Global DNA Methylation and Specific Methylation at Adipogenic, Lipid Metabolism and Inflammatory Candidate Genes and Metabolic Variables
1
Unidad de Gestión Clínica de Endocrinología y Nutrición del Hospital Virgen de la Victoria, Instituto de Investigación Biomédica de Málaga (IBIMA), Universidad de Málaga, 29010 Málaga, Spain
2
Centro de Investigación Biomédica en Red de Fisiopatología de la Obesidad y la Nutrición, CIBERobn, 28029 Madrid, Spain
3
Unidad de Cirugía Metabólica, Hospital Clínico Virgen de la Victoria, 29010 Málaga, Spain
4
Unidad de Gestión Clínica de Oncología Médica del Hospital Virgen de la Victoria, 29010 Málaga, Spain
*
Authors to whom correspondence should be addressed.
Received: 4 December 2018 / Revised: 9 January 2019 / Accepted: 10 January 2019 / Published: 13 January 2019
Abstract
Metabolic syndrome (MetS) has been postulated to increase the risk for type 2 diabetes, cardiovascular disease and cancer. Adipose tissue (AT) plays an important role in metabolic homeostasis, and AT dysfunction has an active role in metabolic diseases. MetS is closely related to lifestyle and environmental factors. Epigenetics has emerged as an interesting landscape to evaluate the possible interconnection between AT and metabolic disease, since it can be modulated by environmental factors and metabolic status. The aim of this study was to determine whether MetS has an impact on the global DNA methylation pattern and the DNA methylation of several genes related to adipogenesis (PPARG, PPARA), lipid metabolism (RXRA, SREBF2, SREBF1, SCD, LPL, LXRb), and inflammation (LRP1 C3, LEP and TNF) in visceral adipose tissue. LPL and TNF DNA methylation values were significantly different in the control-case comparisons, with higher and lower methylation respectively in the MetS group. Negative correlations were found between global DNA methylation (measured by LINE-1 methylation levels) and the metabolic deterioration and glucose levels. There were associations among variables of MetS, BMI, and HOMA-IR with DNA methylation at several CpG positions for the studied genes. In particular, there was a strong positive association between serum triglyceride levels (TG) with PPARA and LPL methylation levels. TNF methylation was negatively associated with the metabolic worsening and could be an important factor in preventing MetS occurrence according to logistic regression analysis. Therefore, global DNA methylation and methylation at specific genes related to adipogenesis, lipid metabolism and inflammation are related to the etiology of MetS and might explain in part some of the features associated to metabolic disorders.
View Full-Text
►

▼

Figures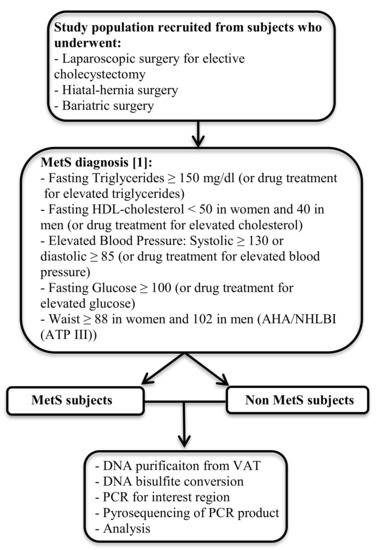 Figure 1
This is an open access article distributed under the
Creative Commons Attribution License
which permits unrestricted use, distribution, and reproduction in any medium, provided the original work is properly cited (CC BY 4.0).

Share & Cite This Article
MDPI and ACS Style
Castellano-Castillo, D.; Moreno-Indias, I.; Sanchez-Alcoholado, L.; Ramos-Molina, B.; Alcaide-Torres, J.; Morcillo, S.; Ocaña-Wilhelmi, L.; Tinahones, F.; Queipo-Ortuño, M.I.; Cardona, F. Altered Adipose Tissue DNA Methylation Status in Metabolic Syndrome: Relationships Between Global DNA Methylation and Specific Methylation at Adipogenic, Lipid Metabolism and Inflammatory Candidate Genes and Metabolic Variables. J. Clin. Med. 2019, 8, 87.
Note that from the first issue of 2016, MDPI journals use article numbers instead of page numbers. See further details here.
Related Articles
Comments
[Return to top]