Type 2 Diabetes Is Associated with a Different Pattern of Serum Polyamines: A Case–Control Study from the PREDIMED-Plus Trial
1
Department of Endocrinology and Nutrition, Virgen de la Victoria University Hospital, Institute of Biomedical Research in Malaga (IBIMA), Malaga 29010, Spain
2
CIBER Physiopathology of Obesity and Nutrition (CIBERobn), Institute of Health Carlos III, Madrid 28029, Spain
3
Eurecat, Centre Tecnològic de Catalunya, Centre for Omic Sciences (Joint Unit Eurecat-Universitat Rovira i Virgili), Unique Scientific and Technical Infrastructure (ICTS), Reus 43204, Spain
4
Department of Internal Medicine, Regional University Hospital of Malaga, Institute of Biomedical Research in Malaga (IBIMA), University of Malaga, Malaga 29010, Spain
5
Department of Medical Oncology, Virgen de la Victoria University Hospital, Institute of Biomedical Research in Malaga (IBIMA), Malaga 29010, Spain
*
Authors to whom correspondence should be addressed.
†
Current address: Laboratory of Biomedical Research-IBIMA, Virgen de la Victoria University Hospital, Campus de Teatinos s/n, Malaga 29010, Spain.
Received: 17 December 2018 / Revised: 5 January 2019 / Accepted: 7 January 2019 / Published: 10 January 2019
Abstract
Objective:
Polyamines are naturally occurring cationic molecules present in all living cells. Dysregulation of circulating polyamines has been reported in several conditions, but little is known about the levels of serum polyamines in chronic metabolic disorders such as type 2 diabetes (T2D). Therefore, the aim of this study was to evaluate the polyamine-related metabolome in a cohort of metabolic syndrome individuals with and without T2D.
Design and methods:
This was a nested case–control study within the PREDIMED-Plus trial that included 44 patients with T2D and 70 patients without T2D. We measured serum levels of arginine, ornithine, polyamines, and acetyl polyamines with an ultra-high performance liquid chromatography tandem mass spectrometry platform.
Results:
Our results showed that serum putrescine, directly generated from ornithine by the catalytic action of the biosynthetic enzyme ornithine decarboxylase, was significantly elevated in patients with T2D compared to those without T2D, and that it significantly correlated with the levels of glycosylated hemoglobin (HbA1c). Correlation analysis revealed a significantly positive association between fasting insulin levels and spermine. Multiple logistic regression analysis (adjusted for age, gender and body weight index) revealed that serum putrescine and spermine levels were associated with a higher risk of T2D.
Conclusions:
Our study suggests that polyamine metabolism is dysregulated in T2D, and that serum levels of putrescine and spermine are associated with glycemic control and circulating insulin levels, respectively.
View Full-Text
►

▼

Figures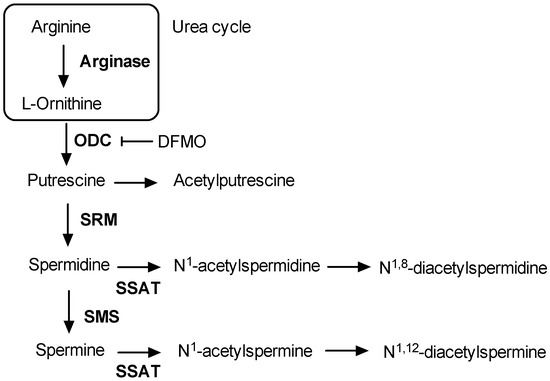 Figure 1
This is an open access article distributed under the
Creative Commons Attribution License
which permits unrestricted use, distribution, and reproduction in any medium, provided the original work is properly cited (CC BY 4.0).

Share & Cite This Article
MDPI and ACS Style
Fernandez-Garcia, J.C.; Delpino-Rius, A.; Samarra, I.; Castellano-Castillo, D.; Muñoz-Garach, A.; Bernal-Lopez, M.R.; Queipo-Ortuño, M.I.; Cardona, F.; Ramos-Molina, B.; Tinahones, F.J. Type 2 Diabetes Is Associated with a Different Pattern of Serum Polyamines: A Case–Control Study from the PREDIMED-Plus Trial. J. Clin. Med. 2019, 8, 71.
Note that from the first issue of 2016, MDPI journals use article numbers instead of page numbers. See further details here.
Related Articles
Comments
[Return to top]