Waist Circumference and All-Cause Mortality Independent of Body Mass Index in Korean Population from the National Health Insurance Health Checkup 2009–2015
1
Department of Family Medicine, Korea University College of Medicine, Seoul 02841, Korea
2
Department of Medical Statistics, Catholic University College of Medicine, Seoul 06591, Korea
3
Division of Endocrinology and Metabolism, Department of Internal Medicine, The Catholic University of Korea, Sosa-ro 327, Wonmi-gu, Bucheon 14647, Korea
4
Department of Family Medicine, Center for Obesity, Metabolism and Nutrition, Dongguk University Ilsan Hospital, Dongguk University College of Medicine, Goyang 10326, Korea
5
Department of Family Medicine, Ulsan University College of Medicine, Seoul 05505, Korea
6
Division of Endocrinology and Metabolism, Department of Internal Medicine, Kangbuk Samsung Hospital, Sungkyunkwan University School of Medicine, Seoul 03181, Korea
†
These authors contributed equally to this work.
*
Authors to whom correspondence should be addressed.
Received: 6 November 2018 / Revised: 2 January 2019 / Accepted: 4 January 2019 / Published: 10 January 2019
Abstract
Background: Waist circumference (WC) is an index of abdominal obesity and associated with co-morbidities and mortality. Higher WC is positively associated with increased mortality; therefore, we examined the relationship between WC and mortality in Korean populations with the interaction of body mass index (BMI) and WC for mortality. Methods: A total of 23,263,878 subjects (men = 11,813,850 and women = 11,450,028) who were older than 20 years and underwent the National Health Insurance Service health checkup were included. WC was divided into six categories by 5 cm increments and level 3 (85–90 cm in men and 80–85 cm in women) was referenced. Multivariable Cox proportional hazard models were used to obtain the hazard ratios (HRs) and 95% confidence intervals for all-cause mortality according to the six levels of WC. Results: WC in 5 cm increments showed a positively increased all-cause mortality after adjusting for all covariates including BMI. Men showed higher HRs for mortality than women as WC increased, and the HRs were higher in the lower WC levels, but lower in the higher WC levels among the subjects aged 65–85 years than subjects aged 40–65 years. Even in subjects with normal weight and overweight, increased WC (levels 4, 5, and 6) showed increased HRs for mortality (HRs = 1.156, 1.412, and 1.614 in normal BMI and 1.145, 1.401, and 1.909 in overweight, respectively). Conclusion: There was a linear association between WC and all-cause mortality across all BMI categories even in the subjects with normal or overweight BMI. Physicians should check WC routinely even in the subjects with normal weight or overweight.
View Full-Text
►

▼

Figures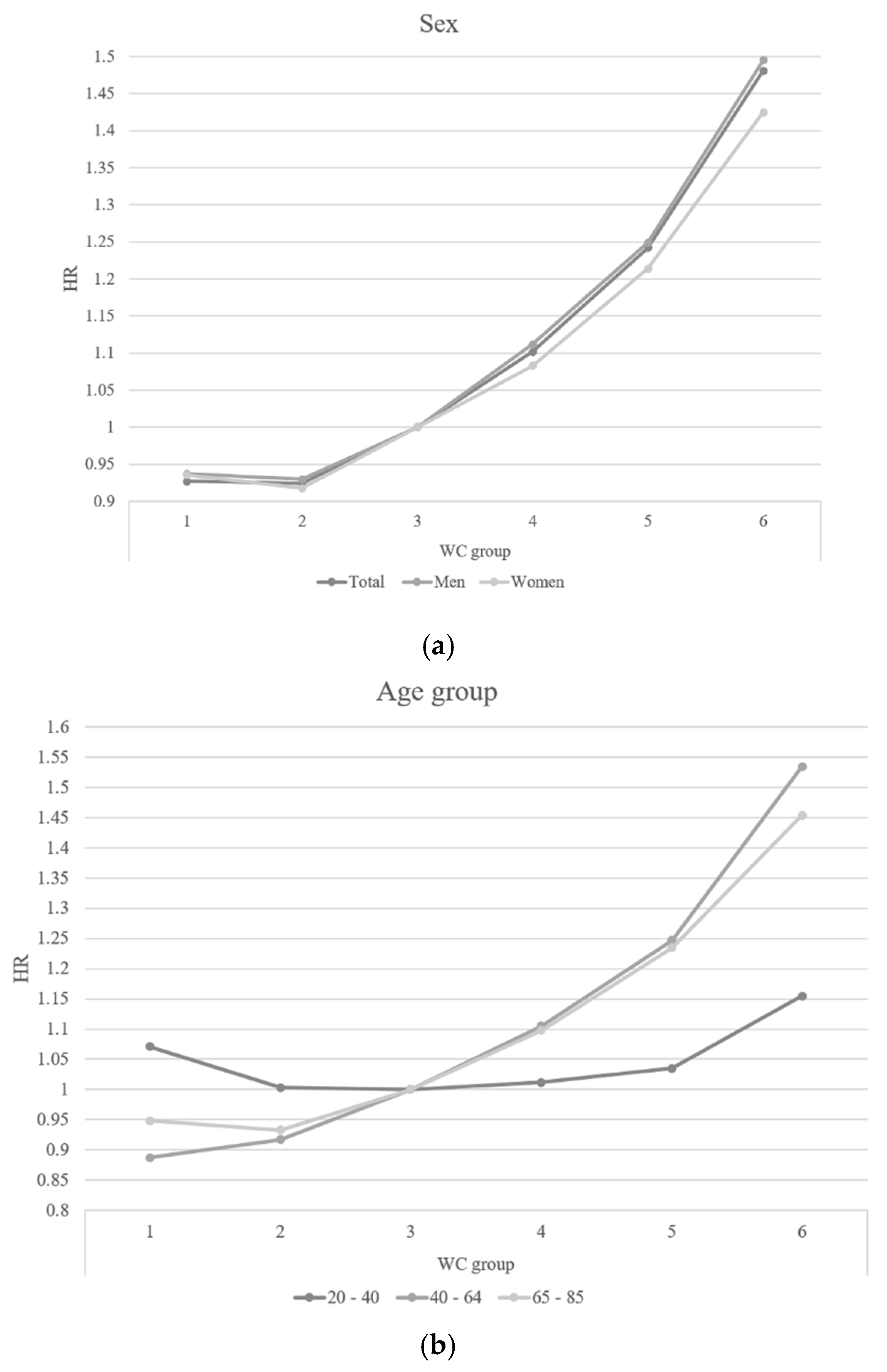 Figure 1
This is an open access article distributed under the
Creative Commons Attribution License
which permits unrestricted use, distribution, and reproduction in any medium, provided the original work is properly cited (CC BY 4.0).

Share & Cite This Article
MDPI and ACS Style
Kim, Y.-H.; Kim, S.M.; Han, K.-D.; Jung, J.-H.; Lee, S.-S.; Oh, S.W.; Park, H.S.; Rhee, E.-J.; Lee, W.-Y.; Yoo, S.J. Waist Circumference and All-Cause Mortality Independent of Body Mass Index in Korean Population from the National Health Insurance Health Checkup 2009–2015. J. Clin. Med. 2019, 8, 72.
Note that from the first issue of 2016, MDPI journals use article numbers instead of page numbers. See further details here.
Related Articles
Comments
[Return to top]