CTLA-4 Genetic Variants Predict Survival in Patients with Sepsis
1
Department of Anesthesiology, University Medical Center, Georg August University, D-37075 Goettingen, Germany
2
Department of Anesthesiology and Intensive Care Medicine, Klinikum Region Hannover, D-30459 Hannover, Germany
3
Faculty of Medicine, Technion–Israeli Institute of Technology, 31096 Haifa, Israel
4
Department of Thoracic and Cardiovascular Surgery, University Medical Center, Eberhard Karls University, D-72076 Tuebingen, Germany
5
Department of General and Visceral Surgery, University Medical Center, Georg August University, D-37075 Goettingen, Germany
6
Department of Medical Bioinformatics, University Medical Center, Georg August University, D-37077 Goettingen, Germany
7
Department of Pharmacology, University Medical Center, Ernst-Moritz-Arndt-University, D-17487 Greifswald, Germany
8
Department of Clinical Pharmacology, University Medical Center, Georg August University, D-37075 Goettingen, Germany
†
These authors contributed equally.
*
Author to whom correspondence should be addressed.
Received: 13 December 2018 / Revised: 26 December 2018 / Accepted: 7 January 2019 / Published: 10 January 2019
Abstract
Cytotoxic T lymphocyte-associated protein 4 (CTLA-4) is a coinhibitory checkpoint protein expressed on the surface of T cells. A recent study by our working group revealed that the rs231775 single nucleotide polymorphism (SNP) in the CTLA-4 gene was associated with the survival of patients with sepsis and served as an independent prognostic variable. To further investigate the impact of CTLA-4 genetic variants on sepsis survival, we examined the effect of two functional SNPs, CTLA-4 rs733618 and CTLA-4 rs3087243, and inferred haplotypes, on the survival of 644 prospectively enrolled septic patients. Kaplan–Meier survival analysis revealed significantly lower 90-day mortality for rs3087243 G allele carriers (
n
= 502) than for AA-homozygous (
n
= 142) patients (27.3% vs. 40.8%,
p
= 0.0024). Likewise, lower 90-day mortality was observed for TAA haplotype-negative patients (
n
= 197; compound rs733618 T/rs231775 A/rs3087243 A) than for patients carrying the TAA haplotype (
n
= 447; 24.4% vs. 32.9%,
p
= 0.0265). Carrying the rs3087243 G allele hazard ratio (HR): 0.667; 95% confidence interval (CI): 0.489–0.909;
p
= 0.0103) or not carrying the TAA haplotype (HR: 0.685; 95% CI: 0.491–0.956;
p
= 0.0262) remained significant covariates for 90-day survival in the multivariate Cox regression analysis and thus served as independent prognostic variables. In conclusion, our findings underscore the significance of CTLA-4 genetic variants as predictors of survival of patients with sepsis.
View Full-Text
►

▼

Figures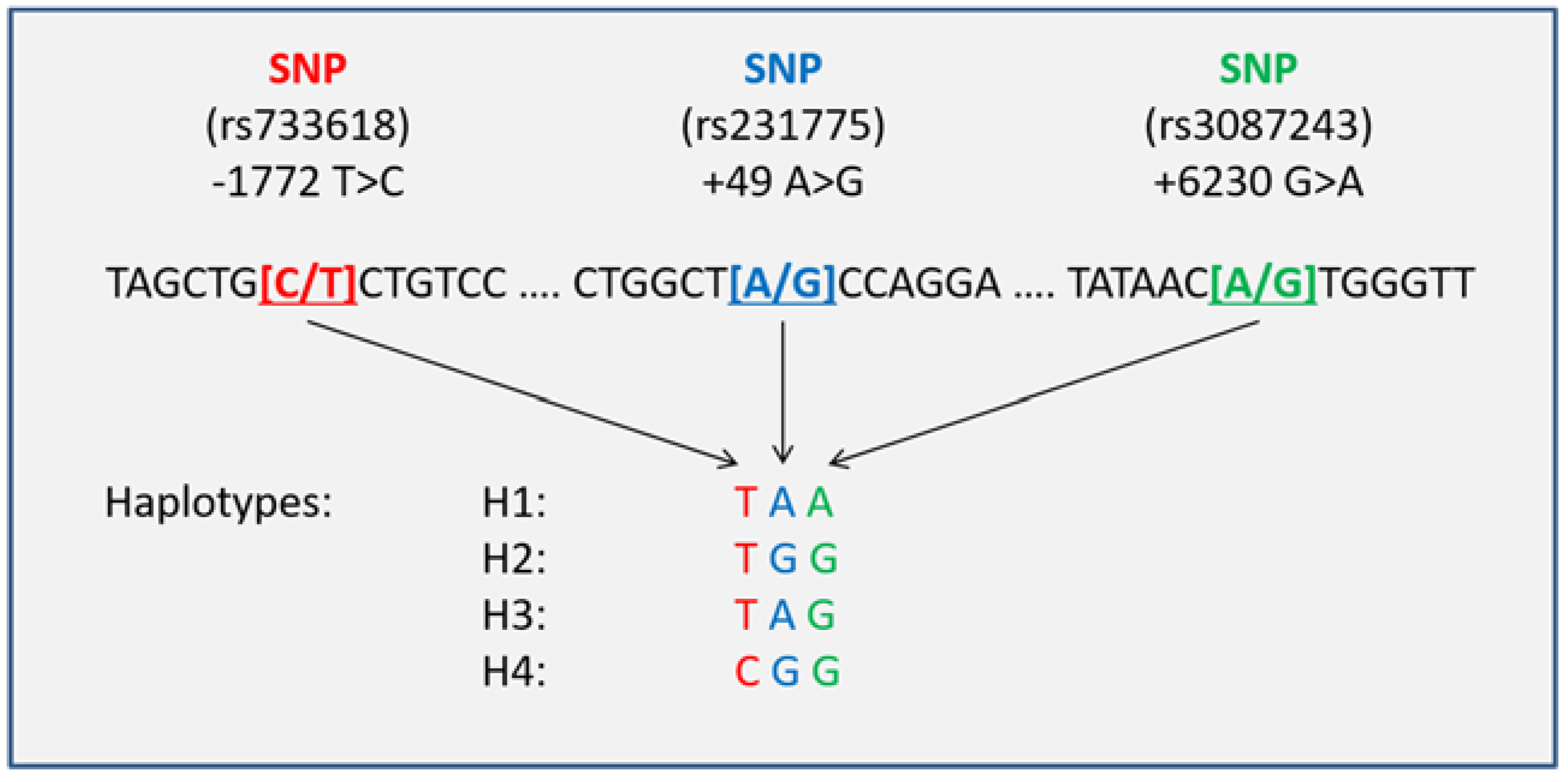 Figure 1
This is an open access article distributed under the
Creative Commons Attribution License
which permits unrestricted use, distribution, and reproduction in any medium, provided the original work is properly cited (CC BY 4.0).

Share & Cite This Article
MDPI and ACS Style
Mewes, C.; Büttner, B.; Hinz, J.; Alpert, A.; Popov, A.-F.; Ghadimi, M.; Beissbarth, T.; Tzvetkov, M.; Jensen, O.; Runzheimer, J.; Quintel, M.; Shen-Orr, S.; Bergmann, I.; Mansur, A. CTLA-4 Genetic Variants Predict Survival in Patients with Sepsis. J. Clin. Med. 2019, 8, 70.
Note that from the first issue of 2016, MDPI journals use article numbers instead of page numbers. See further details here.
Related Articles
Comments
[Return to top]