Bidirectional Association between Nonalcoholic Fatty Liver Disease and Gallstone Disease: A Cohort Study
1
Department of Occupational and Environmental Medicine, Kangbuk Samsung Hospital, Sungkyunkwan University School of Medicine, Seoul 03181, Korea
2
Center for cohort studies, Total Healthcare Center, Kangbuk Samsung Hospital, Sungkyunkwan University School of Medicine, Seoul 04514, Korea
3
Department of Clinical Research Design & Evaluation, SAIHST, Sungkyunkwan University, Seoul 06351, Korea
4
Department of Anatomy and Cell Biology, College of Medicine, Chung-Ang University, Seoul 06974, Korea
5
Department of Family Medicine, Kangbuk Samsung Hospital, Sungkyunkwan University School of Medicine, Seoul 03181, Korea
6
Department of Laboratory Medicine, Kangbuk Samsung Hospital, Sungkyunkwan University School of Medicine, Seoul 03131, Korea
7
Department of Healthcare Management and Institute of Global Healthcare Research, Eulji University, Seongnam 13135, Korea
8
Global Health Unit, Department of Health Sciences, University Medical Centre Groningen, University of Groningen, Groningen 9712, The Netherlands
9
Division of Gastroenterology and Hepatology, Department of Internal Medicine, Kangbuk Samsung Hospital, Sungkyunkwan University School of Medicine, Seoul 03181, Korea
*
Authors to whom correspondence should be addressed.
Received: 26 October 2018 / Revised: 19 November 2018 / Accepted: 19 November 2018 / Published: 21 November 2018
Abstract
Nonalcoholic fatty liver disease (NAFLD) and gallstone disease (GD) are often found to coexist but the sequential relationship of NAFLD and GD to each other remains controversial. We prospectively evaluated the bidirectional relationship of NAFLD with GD. A cohort study was performed on Korean adults who underwent a health checkup and were followed annually or biennially for a mean of 6.0 years. Fatty liver and gallstones were diagnosed by ultrasound. NAFLD was defined as hepatic steatosis on ultrasonography in the absence of excessive alcohol use or other identifiable causes. The NAFLD severity was determined by non-invasive fibrosis markers. Among 283,446 participants without either gallstones or cholecystectomy at baseline, 6440 participants developed gallstones. Among 219,641 participants without NAFLD at baseline, 49,301 participants developed NAFLD. The multivariable-adjusted hazard ratio (95% confidence interval) for incident gallstone comparing the NAFLD group vs. the non-NAFLD group was 1.26 (1.17–1.35). Increased non-invasive fibrosis markers of NAFLD were positively associated with an increased incidence of gallstones in a graded and dose-responsive manner (
p
-trend < 0.01). The multivariable-adjusted hazard ratios (95% confidence intervals) for incident NAFLD comparing gallstone and cholecystectomy to no GD were 1.14 (1.07–1.22) and 1.17 (1.03–1.33), respectively. This large-scale cohort study of young and middle-aged individuals demonstrated a bidirectional association between NAFLD and GD. NAFLD and its severity were independently associated with an increased incidence of gallstones, while GD and cholecystectomy were also associated with incident NAFLD. Our findings indicate that the conditions may affect each other, requiring further studies to elucidate the potential mechanisms underlying this association.
View Full-Text
►

▼

Figures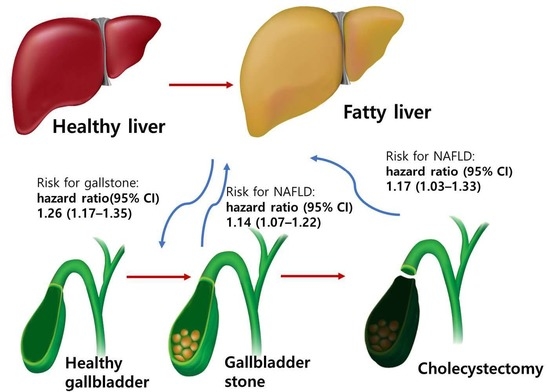 Graphical abstract
This is an open access article distributed under the
Creative Commons Attribution License
which permits unrestricted use, distribution, and reproduction in any medium, provided the original work is properly cited (CC BY 4.0).

Share & Cite This Article
MDPI and ACS Style
Chang, Y.; Noh, Y.-H.; Suh, B.-S.; Kim, Y.; Sung, E.; Jung, H.-S.; Kim, C.-W.; Kwon, M.-J.; Yun, K.E.; Noh, J.-W.; Shin, H.; Cho, Y.K.; Ryu, S. Bidirectional Association between Nonalcoholic Fatty Liver Disease and Gallstone Disease: A Cohort Study. J. Clin. Med. 2018, 7, 458.
Note that from the first issue of 2016, MDPI journals use article numbers instead of page numbers. See further details here.
Related Articles
Comments
[Return to top]