Open Access This article is
freely available
re-usable
Review
The Soft- and Hard-Heartedness of Cardiac Fibroblasts: Mechanotransduction Signaling Pathways in Fibrosis of the Heart
1
Institute for Experimental Medical Research, Oslo University Hospital and University of Oslo, 0450 Oslo, Norway
2
Center for Heart Failure Research, Oslo University Hospital, 0450 Oslo, Norway
3
Department of Bioengineering, University of California San Diego, La Jolla, CA 92093, USA
4
Department of Medicine, University of California San Diego, La Jolla, CA 92093, USA
*
Author to whom correspondence should be addressed.
Academic Editors: Carsten Tschöpe and Sophie Van Linthout
Received: 31 March 2017 / Accepted: 8 May 2017 / Published: 19 May 2017
Abstract
:
Cardiac fibrosis, the excessive accumulation of extracellular matrix (ECM), remains an unresolved problem in most forms of heart disease. In order to be successful in preventing, attenuating or reversing cardiac fibrosis, it is essential to understand the processes leading to ECM production and accumulation. Cardiac fibroblasts are the main producers of cardiac ECM, and harbor great phenotypic plasticity. They are activated by the disease-associated changes in mechanical properties of the heart, including stretch and increased tissue stiffness. Despite much remaining unknown, an interesting body of evidence exists on how mechanical forces are translated into transcriptional responses important for determination of fibroblast phenotype and production of ECM constituents. Such mechanotransduction can occur at multiple cellular locations including the plasma membrane, cytoskeleton and nucleus. Moreover, the ECM functions as a reservoir of pro-fibrotic signaling molecules that can be released upon mechanical stress. We here review the current status of knowledge of mechanotransduction signaling pathways in cardiac fibroblasts that culminate in pro-fibrotic gene expression.
Keywords:
fibrosis; cardiac fibroblast; myofibroblast; mechanotransduction; stiffness; extracellular matrix; integrins; syndecan; cytoskeleton; linker of the nucleoskeleton and cytoskeleton
1. Cardiac Fibrosis and Heart Disease
2. Mechanical Forces of the Heart
3. Cardiac Fibroblasts and Mechanotransduction
4. Mechanical Activation of Extracellular Matrix: A Vigilant Pro-Fibrotic Reservoir
Both stretch and stiffness of the ECM will determine how prone the ECM is to "activation"; i.e., the liberation of ECM-derived molecules that stimulate pro-fibrotic cell responses [
9
,
64
]. Although not traditionally considered mechanotransduction, compelling evidence describes ECM "activation" by myofibroblasts as a central part of fibrosis development [
60
,
67
,
68
,
69
,
70
,
71
]. ECM stiffness is in constant balance with the cell's intrinsic stiffness, or pre-stress [
43
]. However, myofibroblasts gain contractile properties allowing them to "pull" on the ECM. This is termed cell traction forces (
Box 1
) and has recently been shown to activate ECM-stored signaling molecules in a specific manner [
60
,
68
]. There is also evidence suggesting that an excessively stretched ECM will release or expose signaling molecules that are normally concealed by the intact ECM. This may represent a mechanism to alert resident cells of increased mechanical burden [
21
,
72
].
4.1. Transforming Growth Factor β Activation; A Potent Signal Activated in ECM during Increased Stress
4.2. DAMPs Are Stress-Induced Initiators of Inflammation and Fibrosis
The ECM may itself activate cardiac fibroblasts in response to mechanical stress by activating toll-like receptors (TLRs;
Figure 3
). TLRs are central for the innate immune system's response to pathogen-associated molecular patterns (PAMPs) such as lipopolysaccharide (LPS) derived from the bacterial cell wall. Endogenous molecules that activate these same pathways are called danger-associated molecular patterns (DAMPs) and are associated with sterile inflammation [
21
]. DAMPs include intracellular cell components such as mitochondrial DNA [
93
,
94
], heat-shock proteins [
95
,
96
,
97
], high mobility group box 1 (HMGB1) [
98
,
99
] and IL1α [
100
,
101
] that are released into the extracellular space during cellular stress, as well as ECM-derived molecules released during tissue damage. The latter group includes tenascin C [
102
], fibronectin EDA [
72
], and ECM-localized small leucine-rich proteoglycans (SLRPs) biglycan and decorin [
103
].
Downstream signaling of TLRs involves activation of the transcription factor nuclear factor kappa-light-chain-enhancer of activated B cells (NFκB). Lumican, also a member of the SLRP family, induces pro-fibrotic signaling through activation of NFκB and is associated with increased cardiac fibrosis and development of heart failure in mice subjected to left ventricular pressure overload [
104
,
105
]. Moreover, the shed extracellular domain of the transmembrane proteoglycan syndecan-4 activates NFκB, and affects transcription of collagens and SMA in cultured cardiac fibroblasts [
106
]. Smaller fragments of the large extracellular carbohydrate chain hyaluronic acid (HA) have also been found to activate TLRs [
107
,
108
]. Although there is no direct proof that mechanical forces alone can induce the release of ECM-derived DAMPs, it is plausible that high mechanical load will cause some degree of ECM damage with the consequence of DAMP release. SLRPs, syndecans, glypicans and hyaluronic synthase (HAS) 1 and 2 are upregulated in the pressure overloaded heart [
104
,
105
,
109
,
110
,
111
,
112
] and could represent such DAMPs in the mechanically stressed heart.
Conceptually, the role of ECM as a reservoir for pro-fibrotic signaling molecules is attractive. The existence of signaling factors that are ready to be released from the ECM by mechanical force would constitute a rapid and efficient mechanism for alarming cardiac fibroblasts of tissue injury or stress. Presumably, the amount of force needed to release DAMPs by mechanical disruption of the ECM is somewhat higher than the force needed for the specific activation of TGFβ. Such a difference in activation threshold would enable responses fine-tuned to the degree of a mechanical burden.
5. Cell Surface Mechanotransduction: A Strained Relationship between the ECM and Cell Interior
Mechanotransduction at the cell surface culminates at focal adhesions, specialized plasma membrane protein complexes comprised of adhesion receptors, signaling molecules and cytoskeletal proteins [
113
]. Mechanotransduction is mediated through transmembrane adhesion receptors that have the unique ability to sense the extracellular mechanical environment and translate it into cellular responses. They are attached to the ECM as well as the cytoskeleton thereby forming a physical link from the exterior to the interior of the cell. Of these transmembrane adhesion proteins, integrins are the best understood when it comes to mechanotransduction [
114
] but also other proteins such as transmembrane proteoglycans [
109
] can transmit mechanical signals across the membrane (
Figure 3
). Since mechanotransduction can occur in both directions, cell surface signaling through adhesion receptors is often referred to as inside-out and outside-in signaling [
115
,
116
]. Mechanotransduction between neighboring cells can occur through cell-cell attachment sites called adherans junctions. This has recently been reviewed for cardiac fibroblasts elsewhere [
114
], thus we here focus on ECM-cell mediated mechanotransduction.
5.1. Integrins Are Main Constituents of Focal Adhesions Integrating Extracellular and Intracellular Signals
5.2. Syndecan-4 Is Part of the Mechanosensory Apparatus of Fibroblasts
5.3. Stretch-Activated Ion Channels (SACs); Functional Roles in Fibrosis Still to Be Explored
Another means of cell surface mechanotransduction is ion currents through mechanosensitive channels. Although direct proof of mechanoactivation of these channels in cardiac fibroblasts is limited, we will briefly review the current knowledge of this mechanism in myofibroblasts across different organ systems that develop fibrosis, including heart, liver, lung and vasculature.
Cardiac fibroblasts are considered non-excitable cells, yet they do express several ion channels including voltage-gated sodium channel Na
v
1.5 [
182
], ATP-sensitive potassium channels (K
ATP
) [
183
], calcium- activated big potassium channels (BKCa) [
184
], and non-selective cation channels [
175
,
185
,
186
,
187
]. Mechanical cues can lead to opening of so-called stretch-activated ion channels (SACs). TRPCs are candidates for the stretch-activated currents measured in cardiac fibroblasts (
Figure 3
) [
187
,
188
,
189
]. In agreement, myofibroblast differentiation in response to TGFβ and matrix stiffness depends on the presence of TRPC3 [
190
], TRPC6 [
175
] and transient receptor potential vanilloid (TRPV) 4 [
186
,
191
] and involve Smad, MRTF-A and Akt signaling. Pharmacological inhibition or genetic ablation of TRPC3 and TRPV4 prevent fibrosis in pressure-overloaded hearts [
190
] and bleomycin-treated lungs [
192
], respectively, suggesting central roles for these channels in pro-fibrotic signaling.
Although not yet studied in the heart, the most solid data for a stretch-activated channel is Piezo1 [
193
] which is important for volume homeostasis in erythrocytes [
194
]. Interestingly, low levels of Piezo1 mRNA are detected in mouse heart, and Piezo1 channel electrophysiological properties are similar to that of endogenous cardiac cation non-selective stretch-activated channels. It will be exciting to follow the future elucidation of the role of Piezo1 in cardiac fibroblasts.
6. Mechanotransduction by the Cytoskeleton: Actin' on Nuclear Translocation
The cytoskeleton is a dynamic structural network essential for cell shape, stability and function, and provides physical connectivity throughout the cell. The cytoskeletal pre-stress (the level of isometric tension in the cytoskeleton), is constantly adjusted to create a balance between cytoskeletal stiffness and ECM stiffness. Thus, ECM stiffness is a crucial regulator of cytoskeletal pre-stress [
43
,
195
] which is largely determined by the formation of polymeric F-actin fibers from G-actin monomers.
The mechanisms whereby cells adjust pre-stress involve mechanotransduction signaling pathways from surface molecules (e.g., integrins and syndecans) to the family of small Rho GTPases, of which RhoA has been extensively studied [
196
]. RhoA interacts with, and thereby activates, Rho kinase (ROCK) which phosphorylates several downstream targets involved in stress fiber formation and dissociation, including LIM kinases (LIMK) and myosin light chain (MLC). LIMK will phosphorylate cofilin, an actin depolymerizing factor which is inhibited by phosphorylation [
197
], while phosphorylation of MLC directly increases actin contractility. The net result of RhoA activity is enhanced actin fiber formation [
196
] which subsequently affects nuclear translocation of transcription factors and thereby gene regulation.
6.1. Myocardin-Related Transcription Factors Are Liberated from Actin by Mechanical Stimulation
The myocardin-related transcription factors (MRTF) A and B bind to G-actin monomers present in the cytosol under low tension conditions. In response to enhanced extracellular mechancal cues, G-actin assembles into F-actin polymers thereby liberating MRTF from G-actin and allowing it to enter the nucleus (
Figure 3
) [
198
,
199
,
200
]. Interestingly, nuclear shuttling of MRTF seems also to be controlled by nuclear RhoA activity and its effector mDia2, which can shuttle between the nucleus and cytoplasm. Nuclear actin polymerization, Rho and the mammalian homolog of Diaphanous (mDia) all activate MRTF [
201
] which initiates gene transcription by acting as a cofactor for serum response factor (SRF). SRF binds to CArG box elements in the promoter region of its target genes which comprise a group of smooth muscle (and myofibroblast) marker genes including SMA and SM22. Genetic knockout of MRTF-A reduces fibrosis and scar formation following myocardial infarction [
202
] and in bleomycin-induced pulmonary fibrosis [
203
]. Thus, MRTF-A is essential for myofibroblast differentiation of development of cardiac fibrosis in response to mechanical cues.
6.2. Hippo Signaling Pathway Is Regulated by Cytoskeletal Dynamics
The Hippo signaling pathway has emerged as an important mechanotransduction pathway in response to matrix stiffness [
204
,
205
,
206
]. Although the identity of the mechanosensor that initiates Hippo signaling is not clear, cytoskeletal dynamics are central for pathway activity. Thus, inhibition of Rho and disruption of F-actin results in pathway inactivation [
207
]. When Hippo signaling is absent, the transcription coactivators YAP and its paralog TAZ (transcriptional coactivator with PDZ-binding motif) can translocate between the cytoplasm and nucleus. YAP and TAZ are phosphorylated by upstream kinases which, depending on the phosphorylation site, target them for degradation [
208
] or retain them in the cytoplasm [
209
] through binding to cytoplasmic angiomotin. F-actin regulates YAP activity by competitive binding to angiomotin thereby releasing YAP and allowing nuclear translocation [
209
,
210
]. Since F-actin is regulated by the mechanical properties of the ECM, a stiff matrix will promote nuclear translocation of YAP/TAZ while soft culturing conditions render them cytoplasmic [
35
,
211
].
Although YAP and TAZ have not yet been studied in cardiac fibroblasts, nuclear localization induces myofibroblast differentiation in liver [
35
,
212
], lung [
211
] and skin [
213
]. Mice lacking or overexpressing constituents of the Hippo signaling pathway have demonstrated reduced and increased fibrosis, respectively [
214
,
215
]. Likewise, knockdown or pharmacological inhibition of YAP/TAZ delays wound healing [
216
] and prevents TGFβ-induced renal fibrosis [
217
]. Indeed, upregulation of ECM genes, including CTGF has been found to depend on YAP/TAZ activity [
180
].
Since YAP and TAZ are transcriptional co-activators, they regulate gene expression through interaction with transcription factors, including those of the TEA domain (TEAD) transcription factor family [
218
]. Interestingly, direct interaction of YAP/TAZ with Smad3 of the TGFβ signaling pathway has been shown in keratinocytes [
219
] and LLC-PK1 cells [
220
]. As such, YAP/TAZ activation may comprise a mechanism for the established necessity of mechanical stress for TGFβ-induced myofibroblast differentiation [
221
]. However, YAP/TAZ do not require TGFβ to induce pro-fibrotic effects in response to matrix stiffness [
35
,
211
]. In line with this, TAZ was recently found to enhance Smad3 sensitivety to the Acta2 (SMA) promoter, synergize with MRTF in binding to TEAD elements, while antagonizing MRTF binding to the Acta2 promoter [
220
]. Thus TAZ seems to facilitate mechanical and/or chemical pro-fibrotic signaling depending on the context.
Collectively, these results demonstrate the importance of the cytoskeleton in regulating the pro-fibrotic gene program by acting on nuclear translocation of transcription regulators.
7. Nuclear Mechanosensing: Long-Distance Communication
The cytoskeleton provides a physical coupling from cell surface focal adhesions to protein complexes in the nuclear membrane. This extraordinary structural connectivity throughout the cell enables long-range force propagation from ECM structures directly to the nucleus thus allowing propagation of mechanical signals more rapidly than by chemical diffusion or translocation-based signaling [
222
].
The nucleus consists of the nuclear interior and the nuclear envelope, a continuous membrane system comprising the outer and inner phospholipid bilayer membranes and the nuclear lamina on the interior side of the membrane. The translation of mechanical cues into changes in cell phenotype is accomplished by specialized proteins that are part of the linker of the nucleoskeleton and cytoskeleton (LINC) complex that span the nuclear envelope bridging the cytoskeleton to the nuclear lamina (
Figure 3
) [
223
]. This complex regulates transcription factors and chromatin structure in the nucleus and thereby gene transcription [
222
,
224
]. Although studies examining cardiac fibroblasts are sparse, data from fibroblast cell lines and mouse embryonic fibroblasts shed light on nuclear mechanotransduction events most likely also relevant to cardiac fibroblasts.
7.1. Linker of Nucleoskeleton and Cytoskeleton; A Complex for Nuclear Detection of Force
7.2. Nuclear Shape and Stiffness Is Associated with Cardiac Fibrosis
The nucleus itself has a stiffness in the range of 0.1 to 10 kPa [
248
] which is 2–10 times higher than the cytoskeleton [
249
,
250
]. Changes in nuclear shape and stiffness are associated with changes in gene expression and cell differentiation status. Thus it is likely that this physical parameter may play a role in cardiac fibroblast differentiation into myofibroblasts. Indeed, there are strong correlations between changes in nuclear shape and changes in fibroblast collagen synthesis in osteogenic cells [
251
]. Conversely, nuclear shape is affected by substrate stiffness as a result of stiffness-induced changes in actomyosin tension being more round on soft substrates (0.4 kPa) and flattened on stiff substrates (308 kPa) [
252
]. Nuclear shape was associated with cell responses to substrate stiffness including cell spreading and migration speed. This "stiffness-sensing" was lost when the LINC complex was disrupted suggesting that an intact nucleus-cytoskeleton connection is required for rigidity sensing.
The amount and localization of densely packed heterochromatin has been found to affect the physical properties of the nucleus, providing structural stability and rigidity when located in the nuclear periphery in proximity of the nuclear lamina. Likewise, the location of chromatin affects packaging and thereby gene transcription, being more actively transcribed when located in the center of the nucleus and silenced along the periphery [
253
]. Recently it was demonstrated that physical deformation of the nucleus can rapidly (less than 15 s) modulate gene expression [
254
] by directly affecting chromatin structure. It is likely that this is a ubiquitous and efficient way for cells to accommodate transcriptional activity in response to external mechanical forces.
Lamins are essential for nuclear lamina structure and thereby nuclear stiffness. Cardiac cells from Lmnaknock-out mice have disrupted nuclear lamina. This is also observed in mice overexpressing the nucleosomal binding protein high mobility group nucleosome binding domain 5 (HMGN5) [
255
]. HMGN5 disrupts H1 histone and chromatin interaction and thereby reduces chromatin compaction [
256
], suggesting a link between lamin and chromatin structure. Similar to Lmna knock-out mice, HMGN5 overexpressing mice die before 8 weeks of age due to heart failure characterized by ventricular wall thinning and substantial fibrosis [
255
]. Nuclei of cardiac fibroblasts and myocytes in the maturing heart are exposed to increasing mechanical stress. Thus, the fragile nucleus with reduced stiffness displays decompacted chromatin and nuclear blebbing, characteristics of cell death. These observations emphasize the mechanosensitivity of nuclei and the importance of nuclear structural integrity for cardiac cell adaption to mechanical forces.
Several questions remain regarding the detailed mechanisms of this fascinating long-range communication system that enables cells to sense and translate extracellular mechanical cues into transcriptional changes. Together with advanced molecular biology methods to study chromatin dynamics and the rapidly growing knowledge of epigenetic gene regulatory mechanisms, a better understanding of nuclear mechanotransduction, also in cardiac fibroblasts, is expected in the near future.
8. Manipulating the Soft and Hard-Heartedness of Cardiac Fibroblasts
Injectable synthetic or native matrix-derived hydrogels are clinically attractive because of their minimal invasiveness as they can be delivered to the heart as liquid through intramyocardial catheters where after they polymerize into gels in the tissue. However, there are limitations and challenges to this approach that need to be addressed. Importantly, safety in human patients has to be assessed for translation from pre-clinical models. Although synthetic biomatrices are designed to mimic the properties of the natural tissue, differences in structure and composition to the native ECM exist, and native-derived hydrogels have been obtained from decellularized ECM from pigs, opening for challenges related to species-differences
Even though successful treatment of fibrosis is currently lacking, there have been enormous advances in this field over recent years providing substantially more insight into cardiac fibroblast physiology and pathophysiology and opening for translation of pre-clinical findings that in the future may offer benefit for patients. A better understanding of the importance of mechanical cues in regulating the pro-fibrotic signaling in the heart is part of this foundation. It is likely that this increased knowledge will enable manipulation and control of the soft- and hard-heartedness of cardiac fibroblasts and hopefully, ultimately enable the prevention, reduction and reversion of cardiac fibrosis.
Acknowledgments
The authors are grateful for the funding from The Research Council of Norway, Anders Jahre's Fund for the Promotion of Science, the South-Eastern Regional Health Authority, Norway (K.M.H., I.G.L. and G.C.), the Simon Fougner Hartmanns Family Fund (I.G.L. and G.C.), Denmark, and the European Commission Marie Curie Actions' COFUND program (K.M.H.). A.D.M is supported by California Institute of Regenerative Medicine grant RT3-07899, by the National Biomedical Computation Resource (NIH grant P41 GM103426) and by NIH R01 grants HL105242, HL121754, HL137100, and NIH U01 grants HL121754 and HL126273. Artwork by Debbie Maizels, Zoobotanica Scientific Illustration.
Author Contributions
All authors contributed to the design, draft and revision of the work. The final version was approved by all authors.
Conflicts of Interest
ADM is a co-founder of and has an equity interest in Insilicomed, Inc. He serves as a scientific advisor to the company. Some research grants to ADM, including some of those acknowledged here, have been identified for conflict of interest management based on the overall scope of the project and its potential benefit to Insilicomed, Inc. ADM is required to disclose this relationship in publications acknowledging the grant support, however the research subject matter and findings reported do not involve the company in any way and they have no known relationship to the business activities or interests of the company. The terms of this arrangement have been reviewed and approved by the University of California San Diego in accordance with its conflict of interest policies. The other authors have no competing interests to declare.

Figure 1. Cardiac fibroblasts are located in between cardiomyocytes where they ensure the appropriate amount and composition of extracellular matrix (ECM) in the healthy heart. Mechanical stress induces fibrosis during cardiac remodeling, e.g., hypertrophic remodeling. Fibrosis compromises cardiac function, and results from activation of cardiac fibroblasts and transition into a myofibroblast phenotype characterized by excessive production of ECM.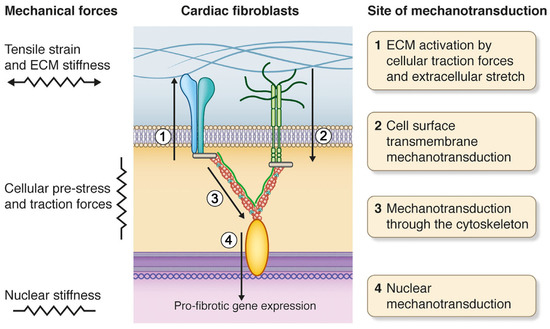 Figure 2. Mechanical forces are translated into biochemical activity by mechanotransduction, which occurs at different cellular sites and by "activation" of the ECM. In cardiac fibroblasts, mechanical stress leads to pro-fibrotic gene expression.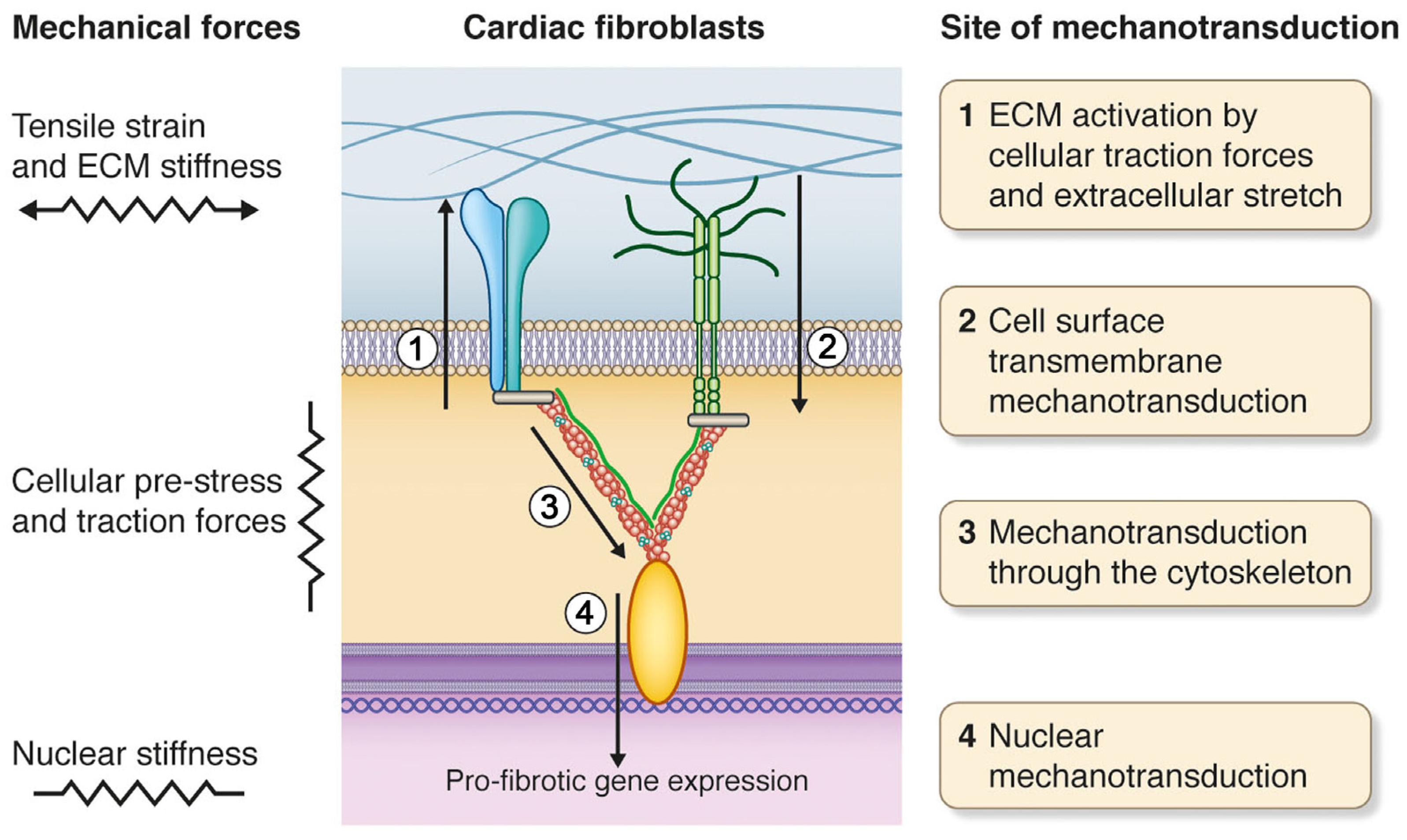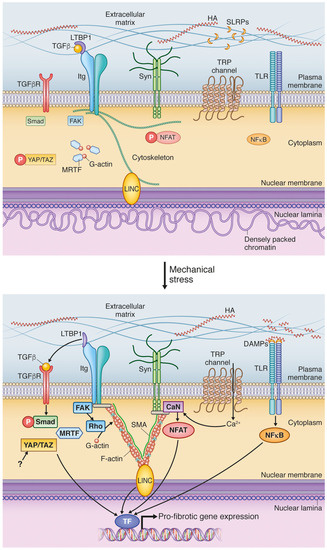 Figure 3. Mechanotransduction signaling pathways in the cardiac fibroblast. Hyaluronic acid (HA), small leucine-rich proteoglycans (SLRPs), latent TGFβ binding protein 1 (LTBP1), transforming growth factor β (TGFβ), TGFβ receptor (TGFβR), integrins (itg), syndecan (syn), transient receptor potential (TRP) channel, toll-like receptor (TLR), focal adhesion kinase (FAK), Yes-associated protein (YAP), transcriptional coactivator with PDZ-binding motif (TAZ), myocardin-related transcription factor (MRTF), nuclear factor of activated T-cells (NFAT), nuclear factor kappa-light-chain-enhancer of activated B cells (NFκB), danger-associated molecular patterns (DAMPs), calcineurin (CaN), smooth muscle α-actin (SMA), linker of nucleoskeleton and cytoskeleton (LINC), transcription factors (TF).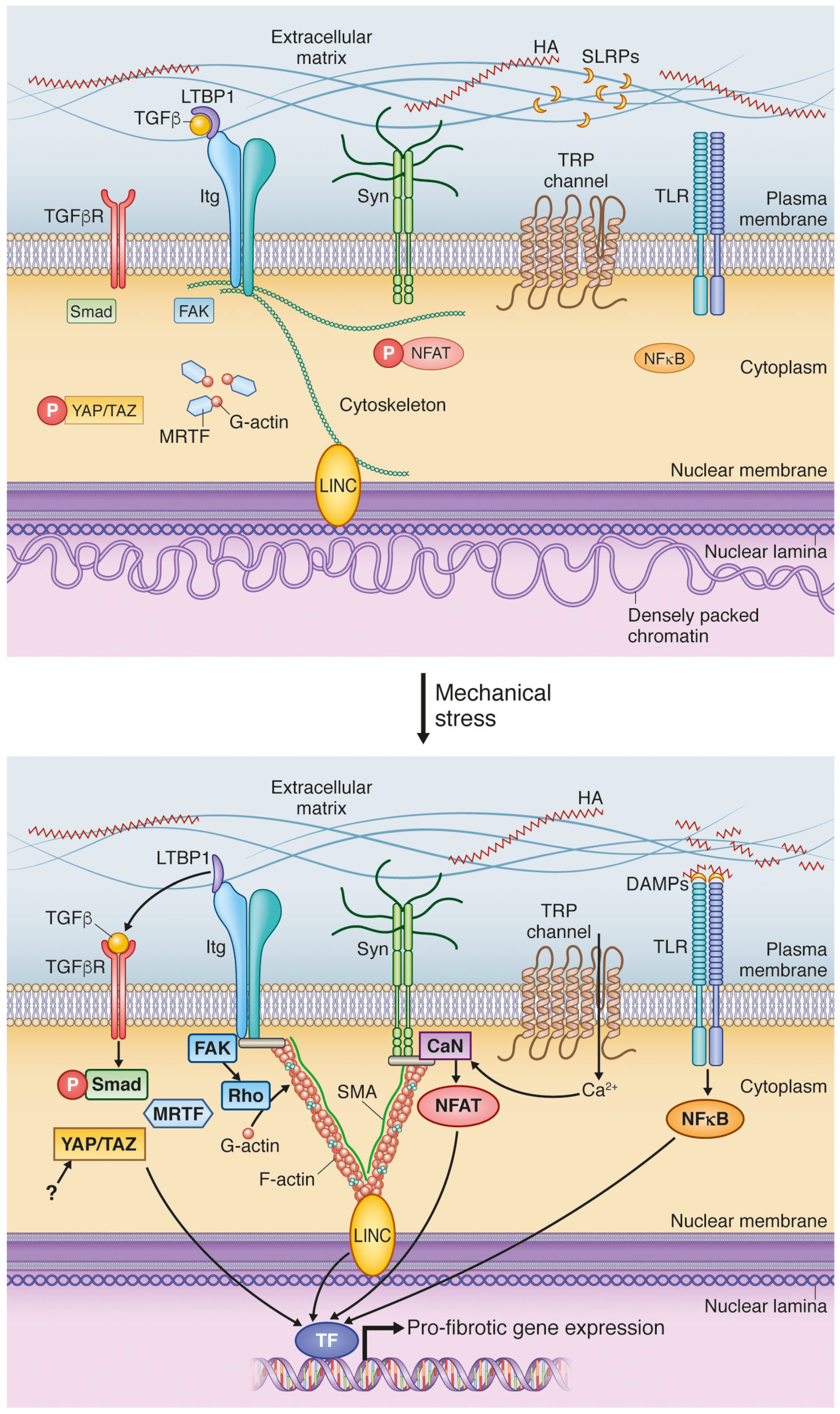 © 2017 by the authors. Licensee MDPI, Basel, Switzerland. This article is an open access article distributed under the terms and conditions of the Creative Commons Attribution (CC BY) license (http://creativecommons.org/licenses/by/4.0/).