Open Access This article is
freely available
re-usable
Review
Endothelial to Mesenchymal Transition (EndoMT) in the Pathogenesis of Human Fibrotic Diseases
1
Jefferson Institute of Molecular Medicine, Department of Dermatology and Cutaneous Biology, Thomas Jefferson University, 233 S. 10th Street, Suite 509 BLSB, Philadelphia, PA 19107, USA
2
Rheumatology Division, Department of Medicine, Thomas Jefferson University, 233 S. 10th Street, Suite 509 BLSB, Philadelphia, PA 19107, USA
*
Author to whom correspondence should be addressed.
Academic Editors: David A. Brenner, Tatiana Kisseleva and Jonas Fuxe
Received: 21 January 2016 / Accepted: 6 April 2016 / Published: 11 April 2016
Abstract
:
Fibrotic diseases encompass a wide spectrum of clinical entities including systemic fibrotic diseases such as systemic sclerosis, sclerodermatous graft
versus
host disease, nephrogenic systemic fibrosis, and IgG
4
-associated sclerosing disease, as well as numerous organ-specific disorders including radiation-induced fibrosis, and cardiac, pulmonary, liver, and kidney fibrosis. Although their causative mechanisms are quite diverse, these diseases share the common feature of an uncontrolled and progressive accumulation of fibrous tissue macromolecules in affected organs leading to their dysfunction and ultimate failure. The pathogenesis of fibrotic diseases is complex and despite extensive investigation has remained elusive. Numerous studies have identified myofibroblasts as the cells responsible for the establishment and progression of the fibrotic process. Tissue myofibroblasts in fibrotic diseases originate from several sources including quiescent tissue fibroblasts, circulating CD34+ fibrocytes, and the phenotypic conversion of various cell types including epithelial and endothelial cells into activated myofibroblasts. However, the role of the phenotypic transition of endothelial cells into mesenchymal cells (Endothelial to Mesenchymal Transition or EndoMT) in the pathogenesis of fibrotic disorders has not been fully elucidated. Here, we review the evidence supporting EndoMT's contribution to human fibrotic disease pathogenesis.
Keywords:
Endothelial Mesenchymal Transition; EndoMT; fibrosis; fibrotic diseases; systemic sclerosis; idiopathic pulmonary fibrosis; endothelial cell; myofibroblast; collagen; extracellular matrix; transforming growth factor-β
Acknowledgments
Supported by NIH/NIAMS grant AR19616 to S.A.J. and by grant AR065638 to S.A.J. (Supplement to F.A.M). The expert assistance of Ruth M. Johnson in preparation of the manuscript is gratefully acknowledged.
Conflicts of Interest
The authors declare no conflict of interest.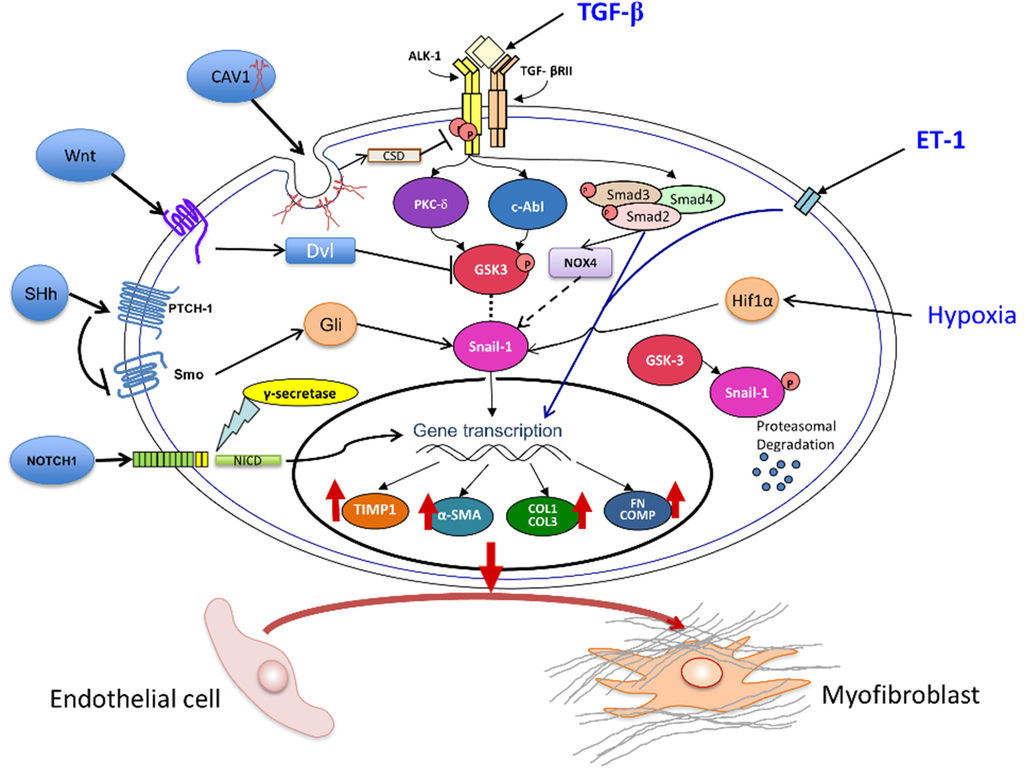 Figure 1. Molecular Mechanisms of EndoMT. The diagram shows the TGF-β, ET-1, NOTCH, CAV-1, Wnt, NOX4, and HIF-1α pathways that may participate in the EndoMT process. The most important pathway is initiated following TGF-β-binding and subsequent activation of Smad-dependent and Smad-independent TGF-β intracellular signaling. TGF-β causes a direct stimulation of NOX4 expression that results in Snail1 mediated EndoMT. ET-1 induces a synergistic stimulation of TGF-β-induced EndoMT involving the canonical Smad pathways. Hypoxia also induces EndoMT through the effects of Hif1α activation of Snail1. Snail1 has emerged as a crucial regulatory molecule in EndoMT and its levels are modulated by GSK3-mediated phosphorylation as phosphorylated Snail1 undergoes proteasomal degradation. Cav1 exerts an inhibitory effect owing to the internalization of TGF-β receptors and their subsequent degradation. Morphogen pathways including Wnt, Sonic Hh, and NOTCH also may modulate EndoMT. The ultimate effect of these complex intracellular signaling events is the activation of a mesenchymal cell specific transcriptional gene regulation program leading to the increased production of various myofibroblast-specific and profibrotic macromolecules including α-SMA, COL1, COL3, FN, COMP, and the MMP-inhibitor TIMP. These events are accompanied by the repression of EC-specific gene products such as CD31/PECAM-1, VE-cadherin, and von Willebrand Factor (not shown in the diagram) resulting in the phenotypic conversion of EC into myofibroblasts, the cells ultimately responsible for the fibrotic process.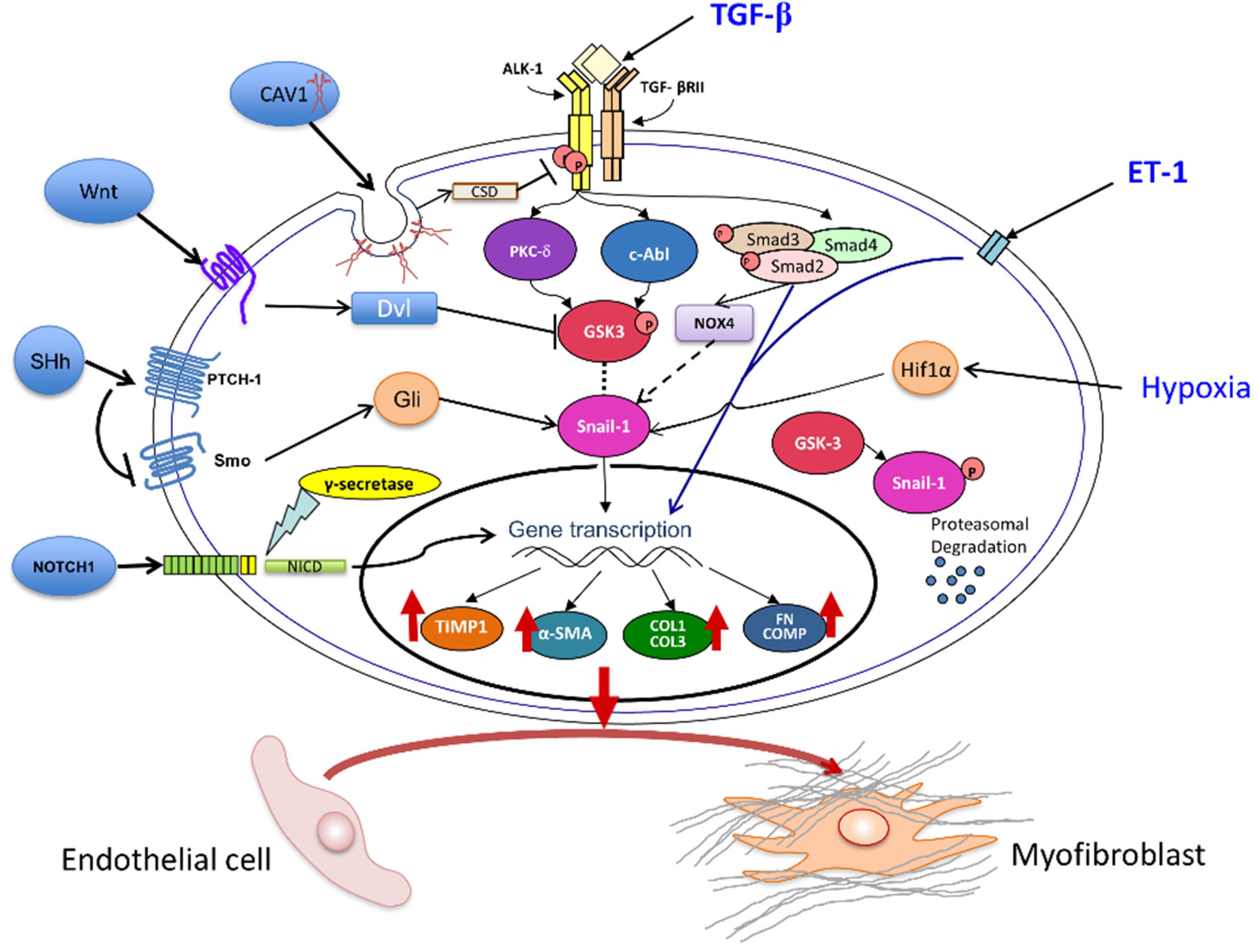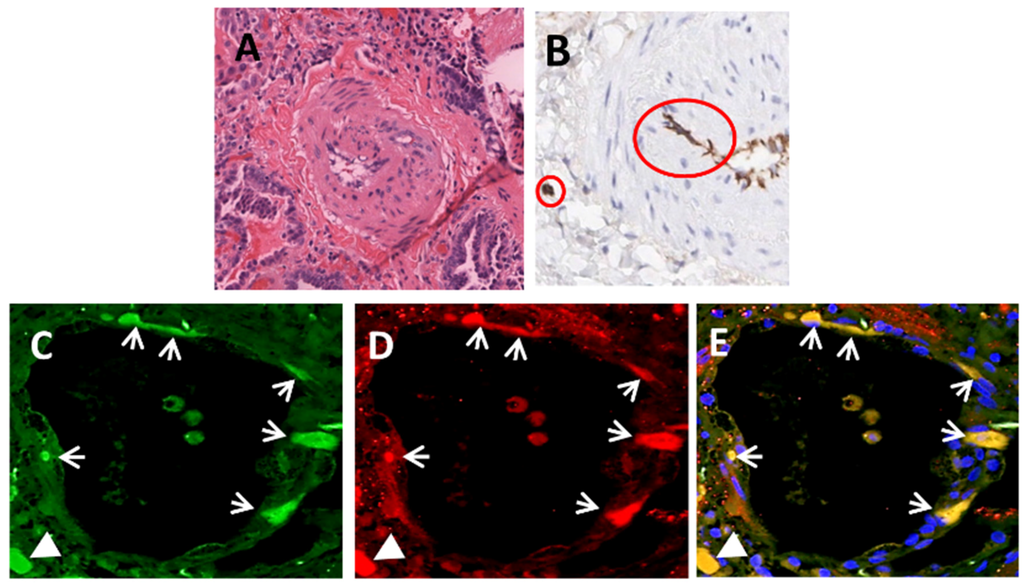 Figure 2.
Immunohistology and confocal microscopy staining of medium-sized pulmonary arteries in SSc-associated pulmonary fibrosis lung tissues. (
A
) Histopathology of a pulmonary arteriole showing severe proliferative vasculopathy with luminal occlusion; (
B
) CD31-expressing cells (brown staining) in the subendothelial region of a small pulmonary arteriole and in the lung parenchyma (red circles). (
C
–
E
) small arteriole in affected SSc lung; (
C
) Staining for vWF (green); (
D
) Staining for α-SMA (red); (
E
) Overlay (yellow). Note numerous cells in the endothelial lining (arrows) and one cell in the subendothelial tissue (arrowhead) displaying co-expression of EC (vWF) and myofibroblast (α-SMA) molecular markers as evidenced by the yellow color in the overlay image. Adapted from Ref. [
64
].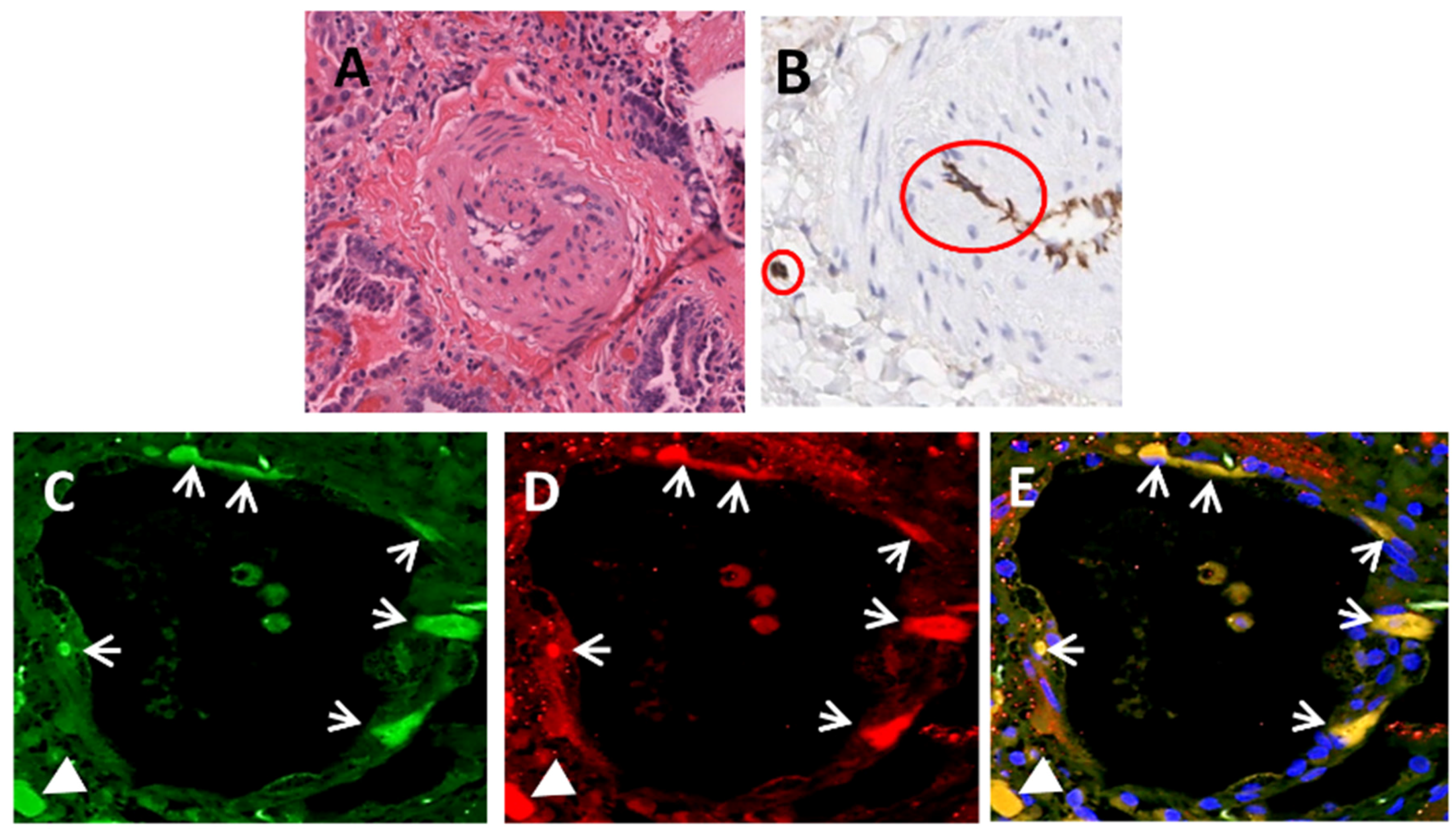 Table 1. The spectrum of human fibrotic diseases.
A. Systemic Fibrotic Diseases
•

Systemic Sclerosis

•

IgG4-associated Tissue Fibrosis

•

Gd-contrast Agent-induced Nephrogenic Systemic Fibrosis

•

Sclerodermatous Graft

vs.

Host Disease
B. Organ-Specific Fibrotic Diseases
Cardiac Fibrosis
•

Pressure Overload

•

Post-myocardial-infarction

•

Chagas Disease-induced fibrosis
Kidney Fibrosis
•

Diabetic and Hypertensive Nephropathy

•

Urinary Tract Obstruction-induced Kidney Fibrosis

•

Inflammatory/Autoimmune-induced Kidney Fibrosis

•

Aristolochic acid Nephropathy

•

Polycystic Kidney Disease
Pulmonary Fibrosis
•

Idiopathic Pulmonary Fibrosis

•

Silica-induced Pneumoconiosis (Silicosis)

•

Asbestos-induced Pulmonary Fibrosis (Asbestosis)

•

Chemotherapeutic Agent-induced Pulmonary Fibrosis
Liver and Portal Vein Fibrosis
•

Alcoholic and Non-Alcoholic Liver Fibrosis

•

Hepatitis C-induced Liver Fibrosis

•

Primary Biliary Cirrhosis

•

Parasite-induced Liver Fibrosis (Schistosomiasis)
C. Other Organ-specific Fibrotic Diseases
•

Intestinal Fibrosis

•

Bladder Fibrosis

•

Radiation-induced Fibrosis (various organs)

•

Peritoneal Sclerosis

•

Localized Scleroderma, Diffuse Fasciitis, and Keloids

•

Dupuytren's Disease

•

Peyronie's Disease

•

Myelofibrosis

•

Oral Submucous Fibrosis
Table 2. Demonstration of EndoMT in human fibrotic diseases.
Fibrotic Disease
Evidence of EndoMT in Affected Tissues
Source of Data
Tissue Source
Method(s)
SSc-associated Pulmonary Fibrosis
Lung transplants
Immunohistochemistry
Mendoza

et al.

[64]
Immunofluorescence
Gene Expression
Radiation-induced Pulmonary Fibrosis
Lung tissues (Surgery)
Immunofluorescence
Choi

et al.

[129]
SSc-associated Pulmonary Hypertension
Lung biopsies
Immunofluorescence
Good

et al.

[66]
Idiopathic Pulmonary Hypertension
Lung transplants
Immunofluorescence
Ranchoux

et al.

[65]
Transmission Electron Microscopy
Immunoelectron Microscopy
Cardiac Fibrosis
Heart transplants
Gene Expression
Xu

et al.

[170]
Chronic kidney disease-associated cardiac fibrosis
Heart tissue (Autopsies and cardiac surgery)
Immunohistochemistry
Charytan

et al.

[171]
Gene Expression
Diabetic kidney disease-associated renal fibrosis
Kidney biopsies
Immunohistochemistry
Li

et al.

[106]
Idiopathic Portal Hypertension
Liver biopsies
Immunohistochemistry
Kitao

et al.

[62]
Intestinal Fibrosis
Colonic mucosa
Immunohistochemistry
Reider

et al.

[59]
Radiation-induced Rectal Fibrosis
Rectal tissues (Surgery)
Immunofluorescence
Mintet

et al.

[63]
© 2016 by the authors; licensee MDPI, Basel, Switzerland. This article is an open access article distributed under the terms and conditions of the Creative Commons by Attribution (CC-BY) license (http://creativecommons.org/licenses/by/4.0/).