Open Access This article is
freely available
re-usable
Review
Osteopontin—A Master Regulator of Epithelial-Mesenchymal Transition
1
Loyola University Medical Center, Department of Surgery, 2160 S First Ave, Maywood, IL 60153, USA
2
Burn and Shock Trauma Institute, Loyola University Chicago, 2160 S First Ave, Maywood, IL 60153, USA
3
Division of Gastroenterology and Hepatology, Medical University of South Carolina, Charleston, South Carolina, USA
4
The Oncology Institute, Cardinal Bernardin Cancer Center, Loyola University Medical Center, Maywood, IL 60153, USA
*
Author to whom correspondence should be addressed.
Academic Editor: David T. Harris
Received: 21 December 2015 / Accepted: 14 March 2016 / Published: 23 March 2016
Abstract
:
Osteopontin (OPN) plays an important functional role in both physiologic and pathologic states. OPN is implicated in the progression of fibrosis, cancer, and metastatic disease in several organ systems. The epithelial-mesenchymal transition (EMT), first described in embryology, is increasingly being recognized as a significant contributor to fibrotic phenotypes and tumor progression. Several well-established transcription factors regulate EMT and are conserved across tissue types and organ systems, including TWIST, zinc finger E-box-binding homeobox (ZEB), and SNAIL-family members. Recent literature points to an important relationship between OPN and EMT, implicating OPN as a key regulatory component of EMT programs. In this review, OPN's interplay with traditional EMT activators, both directly and indirectly, will be discussed. Also, OPN's ability to restructure the tissue and tumor microenvironment to indirectly modify EMT will be reviewed. Together, these diverse pathways demonstrate that OPN is able to modulate EMT and provide new targets for directing therapeutics.
Keywords:
osteopontin; epithelial-mesenchymal transition; cancer-associated fibroblasts; tumor microenvironment; tumor metastasis; fibrosis
2. OPN Signaling and Transcriptional Regulation of EMT
OPN plays an important regulatory role in the expression of many well-known activators of the epithelial-mesenchymal transition. It is important to note that activation of EMT does not always translate to cancer progression and cells within a tumor can be at different stages of EMT [
13
,
17
]. Nevertheless, the interplay between OPN and several common EMT pathways (TWIST, ZEB, SNAIL) is critical to activation and progression in several settings. These relationships will be reviewed in this section and are presented in
Table 1
.
2.1. Overview of Twist and EMT
2.3. Overview of ZEB and EMT
Zinc finger E-box-binding homeobox (ZEB) is a family of zinc finger transcription factors that plays a major role in both normal development and disease. There have been two homologous ZEB proteins found in vertebrates, ZEB1 and ZEB2. All ZEB proteins have two zinc finger clusters that bind to ZEB boxes of the regulatory regions of target genes [
41
]. Mutations in ZEB genes have been shown to cause severe syndromic malformations, highlighting their importance in early embryonic developmental processes including those involving EMT. As a result, recent studies have found that ZEB1 and ZEB2 play critical roles in repressing E-cadherin leading to the activation of EMT programs [
42
].
ZEB1 and ZEB2 are known to be mediated by signaling cascades triggered by TGFβ, NF-κB, MAPK/ERK, and HIF-1α, amongst others, in activated tumors resulting in EMT [
43
]. In well-differentiated areas of carcinomas, ZEB1 is expressed at low levels, but high ZEB1 expression has been found to be inversely correlated to the expression of E-cadherin in dedifferentiated, fibroblastic-like cells at the periphery of invading tumors [
44
]. Specifically, high ZEB1 expressing cells have been found in invading endometrial, colorectal, lung, breast, prostate, gallbladder, hepatocellular, and pancreatic carcinomas [
45
].
In addition, stromal cells in colorectal, breast, lung, and bladder carcinomas have been found to be ZEB1-positive, suggesting that paracrine ZEB1 signaling could be responsible for E-cadherin down-regulation in parts of the tumor. Interestingly, ZEB2 has been shown to be highly expressed in E-cadherin-positive epithelial cells in the esophagus, stomach, colon, rectum, hepatocytes, and renal tubule, and subsequently down-regulated during transition to carcinomas [
46
,
47
,
48
]. This provides further evidence that both ZEB1 and ZEB2 can exert transcriptional regulation of EMT.
2.4. OPN, ZEB, and EMT
OPN-related signaling cascades interact with ZEB family members leading to modulation of EMT, both directly and indirectly. OPN is a potent activator of NF-κB and therefore can regulate NF-κB/ZEB-dependent EMT. In liver fibrosis, OPN is a key regulator of the deposition of type 1 collagen. This occurs through OPN binding to a cell surface integrin (α
v
β
3
) and activating the PI3K/pAkt/NF-κB-signaling pathway. Activation of NF-κB, in this setting, is a direct downstream effect of OPN [
49
]. In the breast cancer cell line MCF10A, activation of NF-κB leads to the adoption of an EMT-like phenotype. This is related to an association between activation of NF-κB and increased expression of both ZEB1 and ZEB2 [
50
]. The connection between NF-κB activation and ZEB1 extends beyond mammary tumors [
51
]. In
Helicobacter pylori
infection, gastric epithelial cells undergo EMT in response to chronic exposure. Infection with H. pylori results in recruitment and activation of NF-kB leading to transactivation of ZEB1, explaining the mechanism through which EMT is induced by the bacteria [
52
].
OPN can also regulate ZEB-related EMT through non-NF-κB pathways. One of the most commonly cited regulatory elements of ZEB1 and ZEB2 are microRNAs (miRNA) from the miR-200 family. Members of this family suppress tumor invasiveness and metastasis by inhibiting ZEB1 and ZEB2 initiated EMT. Interestingly, p53 appears to exert anti-tumor and anti-invasive properties in part through upregulation of miR-200 family members [
53
]. OPN and p53 interact in many settings, suggesting a role for OPN in this miR-200/ZEB feedback loop. A summary of these interactions is shown in
Figure 2
B.
2.5. Overview of Snail and EMT
Snail was first discovered in 1984 and found to be essential for the development of the mesoderm and neural crest. Absence of Snail during embryonic development is lethal. The Snail family members are characterized as zinc-finger transcription factors that bind to a CAGGTG motif, known as the E-box. Much like TWIST and ZEB, Snail has also been shown to be a strong repressor of E-cadherin and a key transcription factor promoting EMT [
54
]. In particular, Snail is present in invasive human carcinoma cell lines and tumors where E-cadherin expression has been lost, suggesting that the same molecules are used to trigger EMT during embryonic development and tumor progression.
In addition to down-regulating E-cadherin, Snail has been associated with the down-regulation of other epithelial factors including Claudins, Occludins, and Muc1 [
55
,
56
]. Snail is also responsible for up-regulating genes associated with mesenchymal and invasive traits, such as fibronectin and MMP-9. The Snail family is the most widely studied of the major EMT program activators. As a result, numerous signaling pathways are implicated in the induction of Snail1 and Snail2 expression, including TGF-β, integrin-link kinase (ILK), phosphatidylinositol 3-kinase (PI3-K), MAPK/ERK, glycogen synthase kinase 3-β (GSK-3β), Raf kinase inhibitor protein (RKIP), NF-κβ, and Tat-interacting protein (TIP30) [
57
,
58
]. Environmental signals, such as hypoxia and stress, are also known inducers of Snail1 and Snail2. The various molecular pathways that converge on Snail1 and Snail2 are well-described in several other reviews [
41
,
58
,
59
].
3. Section 2: OPN Modifies the Microenvironment to Regulate EMT
A major regulatory component of EMT comes from the complex interaction between the cell and its surrounding environment comprised of other cells, stromal elements, infiltrating immune mediators, cytokines, microRNA, exosomes, and other factors. In a healing wound, this is broadly termed the tissue microenvironment whereas in malignancy, it is the tumor microenvironment. In each setting, the microenvironment can influence the progression of physiologic and pathologic processes.
OPN is a known mediator of the composition of the microenvironment, including playing a functional role in cell-microenvironment interplay. There is mounting evidence that OPN is able to modify the tissue and tumor microenvironment to support EMT. In the following section, the role OPN plays in influencing the structure of the microenvironment will be discussed; more specifically, how OPN regulates EMT using the microenvironment.
3.1. Myofibroblast Activation and Fibrosis
Fibrosis is the abnormal wound healing response characterized by the excessive deposition of extracellular matrix (ECM) proteins such as collagen and fibronectin [
75
]. It is seen in organs such as the lung, liver, heart, and kidney, and as the fibrosis progresses, it can cause organ failure [
8
,
76
,
77
]. Fibrosis is often the final outcome of chronic inflammatory diseases, and develops from the simultaneous activation of multiple profibrotic pathways [
75
]. In normal tissue repair and healing response, fibroblasts within the injured tissue are transformed into myofibroblasts. In turn, myofibroblasts deposit ECM to aid in closing the wound and undergo apoptosis after the wound has healed [
76
]. However, in chronic injury and/or abnormal tissue repair, myofibroblasts persist and resist apoptosis.
OPN is critically involved in the fibroblast to myofibroblast transformation. Research has shown that OPN expression is required for TGFβ mediated myofibroblast differentiation and subsequent cardiac fibrosis [
78
]. In lung fibrosis and asthma, OPN is necessary for airway remodeling in response to chronic bronchial injury. This is, in part, due to OPN activating fibroblasts into myofibroblasts that orchestrate the repair process [
79
]. OPN expression is capable of inducing pulmonary fibrosis by initiating the migration, adhesion, and proliferation of fibroblasts through cytokine signaling and macrophage activation [
80
]. An abundant source of OPN in pulmonary fibrosis comes from epithelial cells which have undergone EMT—an alternative source of myofibroblasts in the microenvironment. In idiopathic pulmonary fibrosis, OPN induces fibrosis by increasing the expression of tissue inhibitor of metalloproteinase (TIMP) and type 1 collagen in fibroblasts and increasing the expression of the OPN activating protein matrix metallopretease 7 (MMP7) in alveolar epithelial cells [
81
].
Another area where OPN's role in fibrosis is well-studied is the liver. The most common causes of liver fibrosis are chronic heptatitis B and C virus infection, alcohol abuse, primary biliary cirrhosis, primary sclerosing cholangitis, and NASH [
82
,
83
,
84
]. Hepatic stellate cells (HSCs) are the liver analogue to myofibroblasts in other regions of injury. In chronic liver disease (CLD), a greater response and proliferation is required and leads to an abnormal fibrogenic response—a process that is driven by HSCs. In models of chronic inflammation and hepatic fibrosis, OPN is upregulated in activated HSCs and further induces HSC activation [
49
,
85
]. Patients with alcoholic liver fibrosis have high levels of OPN in liver adipose tissue, and serum elucidating the clinical relevance of OPN in fibrosis. Interestingly, it has also been shown that OPN expression upregulates the expression of type 1 collagen and type 2 transforming growth factor-β receptor mRNA, suggesting that it not only promotes fibrosis but makes HSCs more sensitive to signaling molecules that promote fibrosis and EMT.
3.2. Activated Myofibroblasts Regulate EMT
3.3. Cancer-Associated Fibroblast Activation and Tumorigenicity
OPN is able to generate activated myofibroblasts that contribute to fibrosis across many organ systems. In cancer, the tumor microenvironment is populated by a similar cellular component, termed cancer-associated fibroblasts (CAF). CAFs (also called tumor-associated fibroblasts or carcinoma-associated fibroblasts) are derived from several sources including local fibroblasts, transformed tumors cells, and mesenchymal stem cells (MSCs) commonly recruited from the bone marrow [
99
]. OPN modulates tumor-specific EMT by generating CAFs (from both resident fibroblasts and recruited MSCs) which secrete a multitude of factors into the tumor microenvironment support tumor invasiveness and metastases [
100
].
Tumor-derived and exogenous OPN are both able to induce the transformation of MSCs to CAFs in breast cancer and liver cancer models. This occurs by stimulating MSCs to produce TGF-β creating a feedback loop that drives the CAF phenotype [
101
]. The transcription factor myeloid-zinc finger 1 (MZF1) is a critical intermediate to this process and activated through protein kinase A signaling [
102
]. In addition to MSCs, tumor-derived OPN is able to convert normal fibroblasts into CAFs. In both
in vitro
and
in vivo
breast cancer models, OPN secreted by tumor cells can promote the transformation of tissue-resident normal mammary fibroblasts into tumor-supporting CAFs [
103
].
3.4. Activated CAFs Regulate EMT
4. Conclusions
The importance of OPN as a key regulatory factor of EMT is increasingly being recognized in both fibrosis and cancer. Understanding how OPN both directly and indirectly influences EMT in multiple settings and disease states can offer new targets for clinical therapeutics. Importantly, OPN is able to guide EMT through specific cellular signaling pathways and by restructuring the microenvironment to modify EMT programs. The shared molecular pathways between OPN and many traditional "master regulators" provides evidence that OPN is a major regulator of EMT.
Acknowledgments
This work supported by NIH T32 GM08750-16.
Author Contributions
Authors Kothari, A.N., Kuo P.C., Mi, Z. conceived and designed the review; Kothari A.N., Arffa M., Chang, V. created the figures; Kothari A.N., Arffa M., Chang V., Blackwell R.H., Syn W.K., Zhang J., Kuo P.C., Mi, Z. all contributed to literature review and analysis of prior studies; Kothari A.N., Arffa M., Chang, V. wrote the paper; Blackwell, R.H., Syn, W.K., Zhang, Z, Kuo P.C., Mi, Z. provided critical review and edits.
Conflicts of Interest
The authors declare no conflict of interest.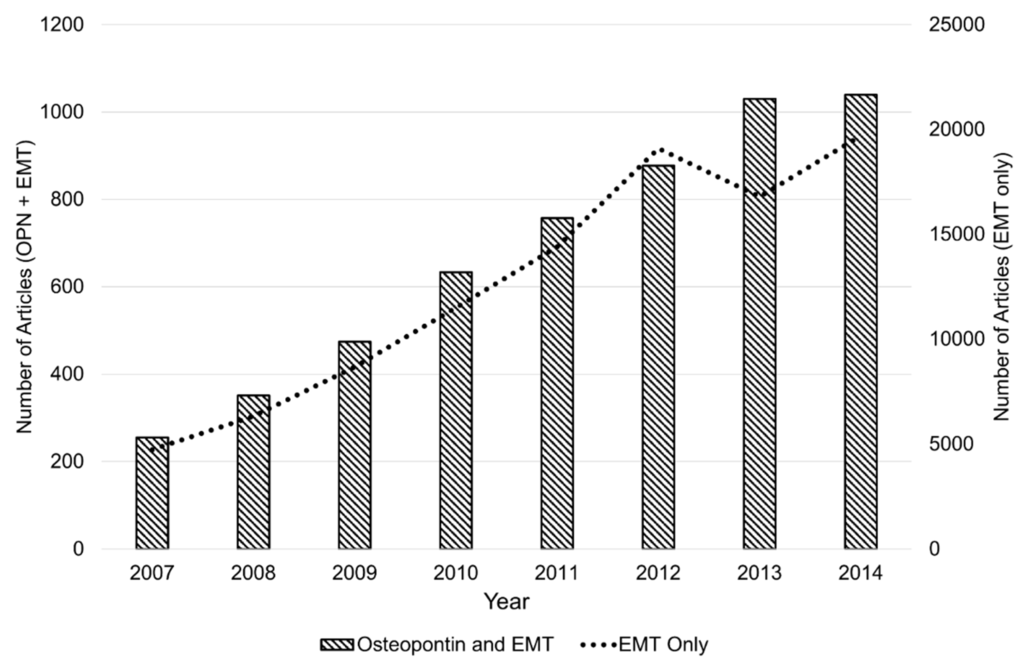 Figure 1.
The appearance of "osteopontin" and epithelial-mesenchymal transition in the same peer-reviewed scientific article over time (per year), beginning in 2007. Data on number of articles obtained using Google Scholar search with terms "osteopontin (OPN) + epithelial-mesenchymal transition (EMT)"
vs.
"EMT" only, excluding patents and citations.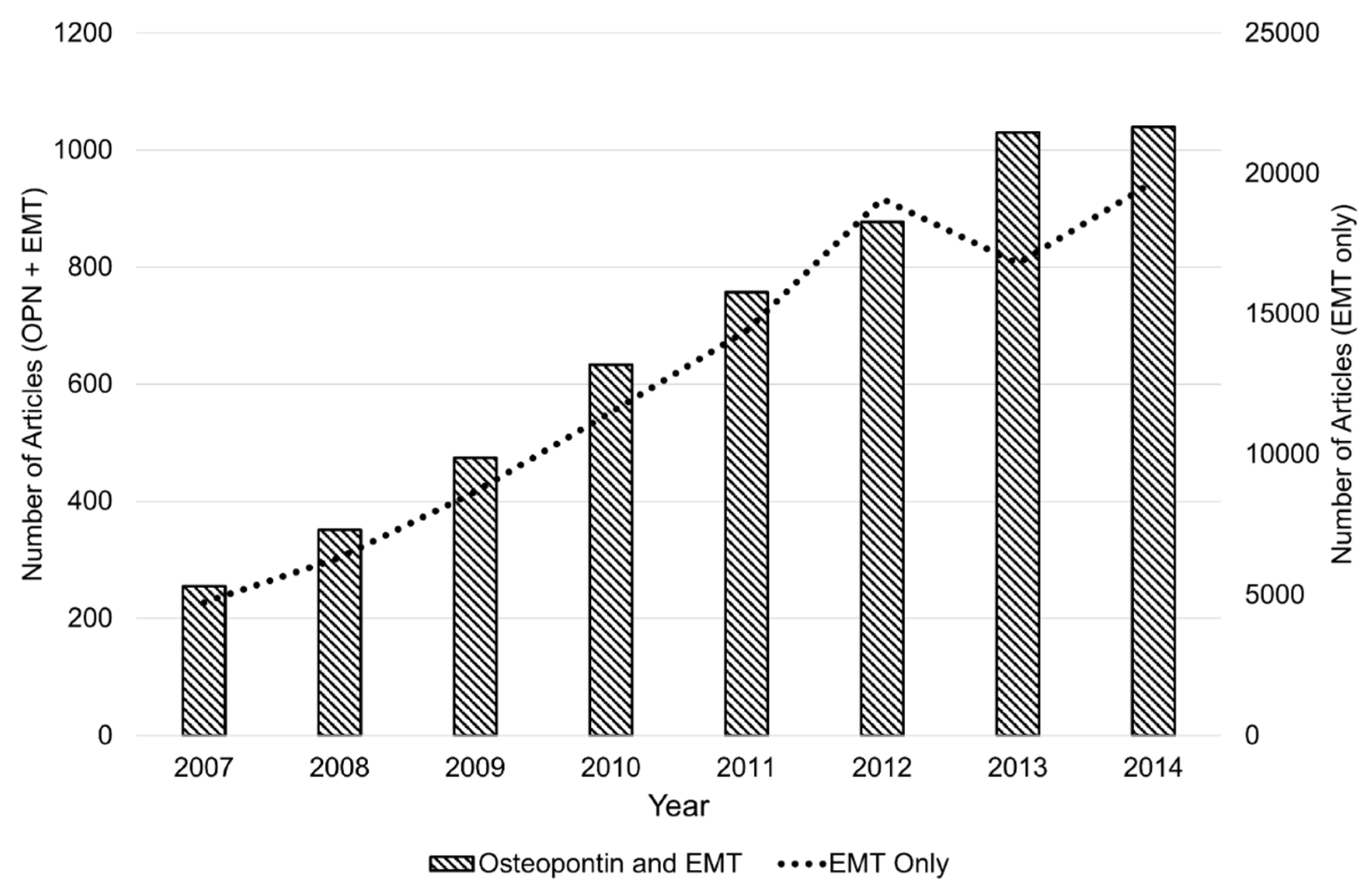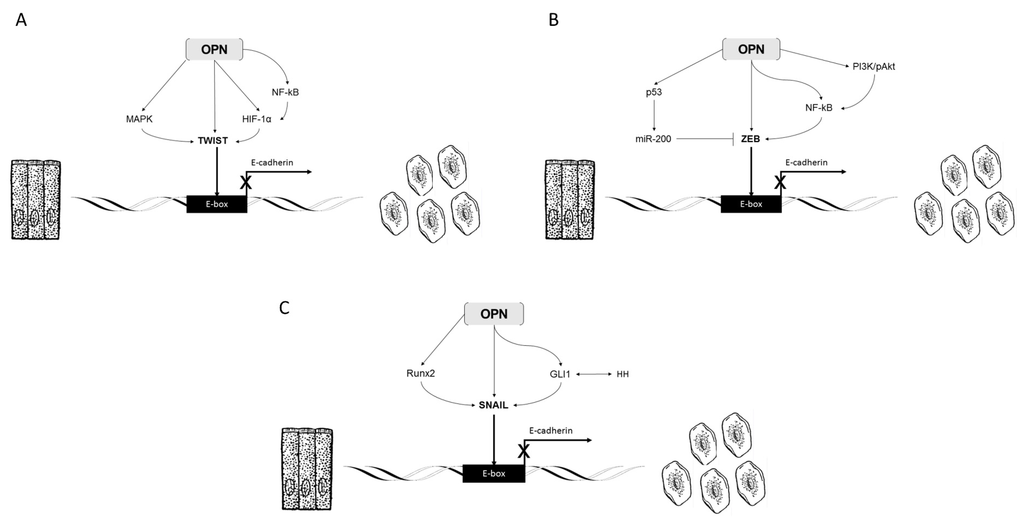 Figure 2. Overview of key EMT pathways regulated by osteopontin directly and indirectly. (A) Regulation of TWIST and EMT by OPN; (B) Regulation of zinc finger E-box-binding homeobox (ZEB) and EMT by OPN; (C) Regulation of SNAIL and EMT by OPN.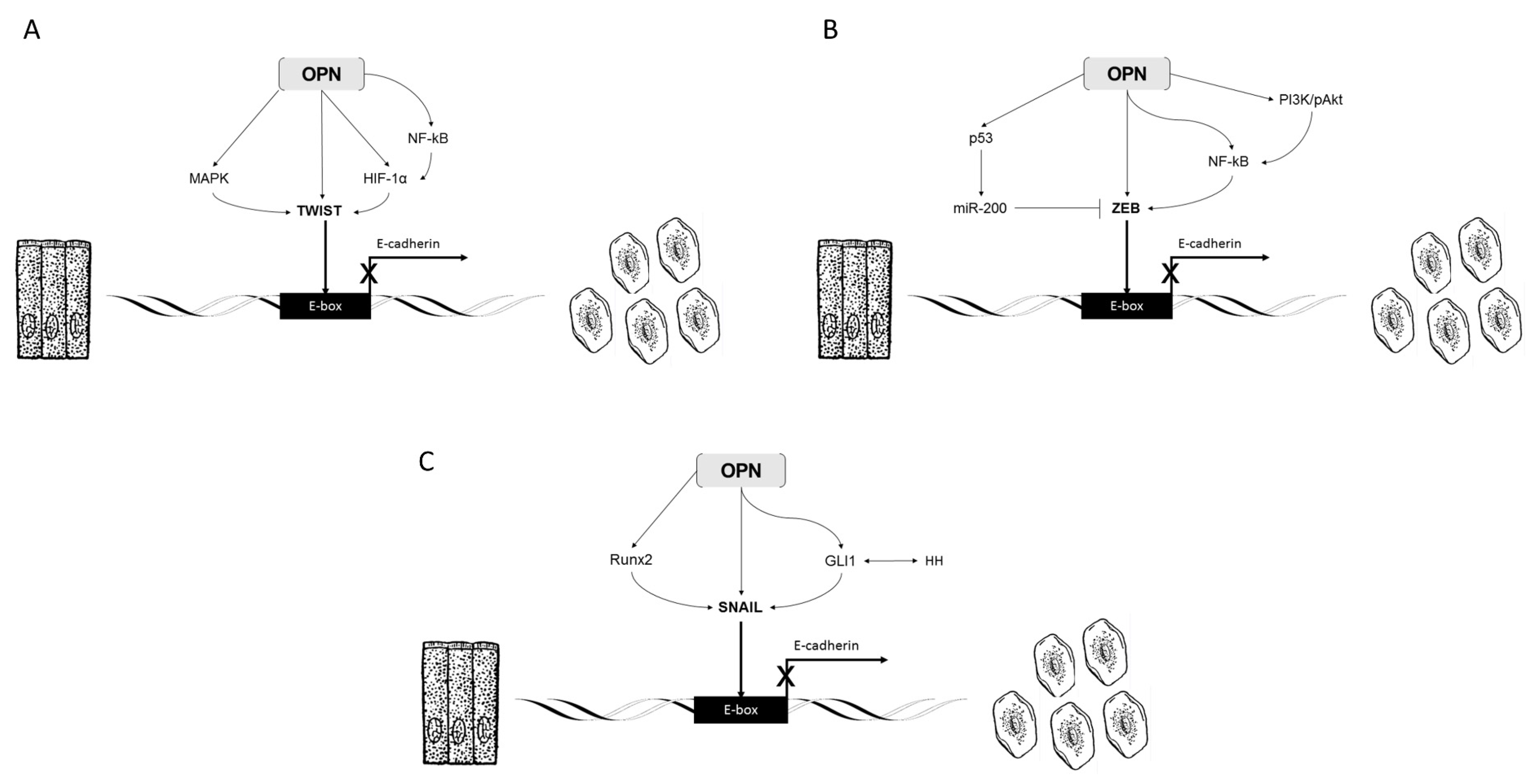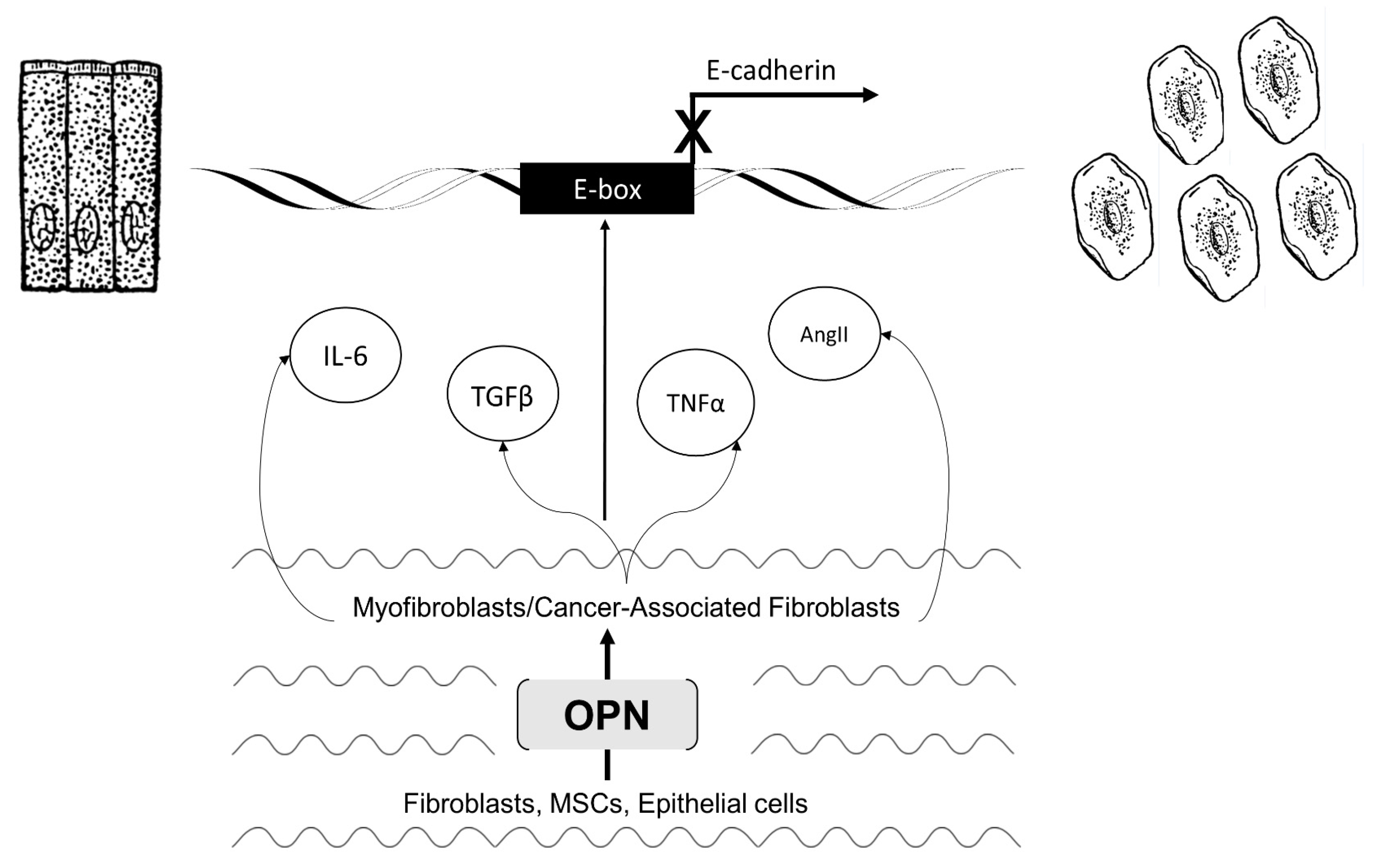 Table 1. Summary of current evidence linking osteopontin to epithelial-mesenchymal transition regulation.
Table 1. Summary of current evidence linking osteopontin to epithelial-mesenchymal transition regulation.

| Pathway | Model | Mechanism |
| --- | --- | --- |
| Twist | Osteoblast-like | Twist upregulation causes OPN mRNA upregulation |
| | Breast Cancer | OPN/Twist/Bmi-1 pathway activates EMT programs |
| | Hepatocellular Carcinoma | OPN activates PI3K/AKT/Twist pathway leading to EMT |
| | Ovarian Cancer | OPN upregulates HIF-1α through PI3K/AKT pathway, upregulating Twist |
| | Gastric Cancer | OPN upregulates HIF-1 α through PI3K/AKT pathway, upregulating Twist |
| | Colorectal Cancer | High OPN secreting cell lines interact with Twist enhances metastasis |
| ZEB | Breast Cancer | OPN activates NFκB and increases ZEB1 and 2 to induce EMT |
| | Gastric Epithelial Cells | OPN activates NFκB, which transactivates ZEB1 to induce EMT in H. Pylori infection |
| | Liver Cells | OPN activates PI3K/pAkt/NFkB-signaling to cause liver fibrosis |
| | Hepatocellular Carcinoma | OPN interacts with p53, which upregulates miR-200 family to downregulate ZEB1 and ZEB2 to suppress metastasis |
| Snail | Breast Cancer | OPN expression cause EMT through overexpression of Snail |
| | Breast Cancer | OPN interacts with Runx2, Runx/Snail positive tumors exhibit EMT and increased malignancy |
| | Hepatocellular Carcinoma | OPN expression cause EMT through overexpression of Snail |
| | Skin Cancer | OPN and GLI1 are coregulated, GLI1 induces Snail1 and promotes EMT |
| | Brain Tumor | OPN and GLI1 are coregulated, GLI1 induces Snail1 and promotes EMT |
| | Nonalcoholic Steatohepatitis | OPN and GLI1 are coregulated, GLI1 induces Snail1 and promotes EMT |
| | Melanoma | OPN and GLI1 are coregulated, GLI1 induces Snail1 and promotes EMT |
© 2016 by the authors; licensee MDPI, Basel, Switzerland. This article is an open access article distributed under the terms and conditions of the Creative Commons by Attribution (CC-BY) license (http://creativecommons.org/licenses/by/4.0/).