Open Access This article is
freely available
re-usable
Review
Homeostatic Signaling by Cell–Cell Junctions and Its Dysregulation during Cancer Progression
1
Department of Nature Medicine, Tianjin Medical University School of Pharmacy, Tianjin 300070, China
2
Department of Pharmacology, Southern Illinois University School of Medicine, Springfield, IL 62794, USA
3
Simmons Cancer Institute, Southern Illinois University School of Medicine, Springfield, IL 62794, USA
*
Author to whom correspondence should be addressed.
Academic Editors: David A. Brenner, Tatiana Kisseleva and Jonas Fuxe
Received: 18 December 2015 / Accepted: 5 February 2016 / Published: 17 February 2016
Abstract
:
The transition of sessile epithelial cells to a migratory, mesenchymal phenotype is essential for metazoan development and tissue repair, but this program is exploited by tumor cells in order to escape the confines of the primary organ site, evade immunosurveillance, and resist chemo-radiation. In addition, epithelial-to-mesenchymal transition (EMT) confers stem-like properties that increase efficiency of colonization of distant organs. This review evaluates the role of cell–cell junctions in suppressing EMT and maintaining a quiescent epithelium. We discuss the conflicting data on junctional signaling in cancer and recent developments that resolve some of these conflicts. We focus on evidence from breast cancer, but include other organ sites where appropriate. Current and potential strategies for inhibition of EMT are discussed.
Keywords:
E-cadherin; EMT; dissemination; breast cancer; human mammary epithelial cells; adherens junctions; tight junctions; claudins; PLEKHA7; miR30b; cancer stem cells
1. Breast Cancer
Breast cancer is the second most common cancer among women in the United States. Major achievements in breast cancer research in recent decades have led to a remarkable improvement in the five-year survival and quality of life. However, metastatic breast cancer remains a clinical challenge. For breast cancer patients of stages 0-III (
in situ
), the five-year survival is up to 52%; however, for stage IV (metastatic) breast cancer patients, the percentage drops to 16. Because of the high death rate and lack of effective therapies, prevention and treatment of metastasis is a major focus of cancer research.
Metastasis is a molecularly complex process involving a series of cellular events collectively known as the invasion-metastasis cascade [
1
,
2
,
3
,
4
]. For a cancer cell to form a metastatic secondary tumor, it needs to overcome a variety of challenges throughout its journey and at the secondary site. Numerous studies in the past dozen years have established that the epithelial-to-mesenchymal transition (EMT) program is frequently reactivated in invasive cancer cells and confers metastatic potential [
5
,
6
].
2. Epithelial-to-Mesenchymal Transition (EMT), Tumor Invasion, and Metastasis
3. Epithelial Cell–Cell Junctions Suppress EMT
Cell–cell junctions associated with cytoskeletal filaments are the basis of the tensile strength and structural integrity of epithelial tissues. A typical epithelial cell contains several major classes of functionally diverse cell–cell junctions: adherens junctions, tight junctions, desmosomes, and gap junctions (
Figure 1
A). Of these, only adherens junctions (AJ) and tight junctions (TJ) are known to play a necessary regulatory role in maintaining the epithelial program [
19
,
39
]. For more background on epithelial structure, see chapter 19 of Lodish
et al.
[
40
].
3.1. Adherens Junctions Suppress EMT
3.1.1. Organization of Adherens Junctions (AJ)
When epithelial cells meet, one of the first cell–cell structures to form is adherens junctions, initiated by interaction of opposing cadherin ectodomains [
22
]. Cadherins are type I transmembrane adhesion proteins whose function is dependent on extracellular Ca
2+
. The classical cadherins are E-, N-, R- and P-cadherins (reviewed in [
41
]). Each classical cadherin contains a single transmembrane segment, a short
C
-terminal cytosolic domain and five extracellular cadherin domains that are important for Ca
2+
binding and cell–cell adhesion. The distal cadherin domain is the most important domain for the conjunction with adjacent cells, while the
C
-terminal cytosolic domain is linked to the actin skeleton through adaptor proteins such as β-catenin, providing essential strong adhesion between cells.
Although structurally similar, these cadherins diverge functionally. N- and P-cadherins mediate weak, transient associations and are strongly associated with migratory behaviors. P-cadherin is expressed in progenitor cells and terminal end-buds in the developing mammary ducts [
42
]. It is only expressed in myoepithelium of the differentiated breast, but is upregulated in breast cancers.
N-cadherin is associated with mesenchymal cells, and the switch from E- to N-cadherin is a hallmark of EMT [
5
,
43
]. It is induced by the same mesenchymal transcription factors that repress E-cadherin [
44
]. This substitution allows epithelial cells to escape the homotypic interactions that bind them to adjacent epithelial cells and instead form weaker, transient adhesions with N-cadherin proffered by stromal fibroblasts [
44
,
45
]. The cytoplasmic tail of N-cadherin interacts with the cytoskeleton through the same catenins as E-cadherin. However, N-cadherin also interacts with neural cell adhesion molecule to promote focal adhesion formation and motility [
46
,
47
].Yamada and co-workers showed that these N-cadherin functions play a vital role in migration; knockdown of N-cadherin in post-EMT cells inhibited both cell–cell adhesion and migration in a 3D matrix [
48
]. The differing roles of N-cadherin and E-cadherin have also been probed in a revealing series of animal experiments. Kotb
et al.
found that substitution of N-cadherin for E-cadherin in mouse mammary glands by knock-in interfered with mammary development by causing premature involution and apoptosis of alveolar cells [
49
]. Remarkably, however, suppression of apoptosis by p53 inactivation allowed normal development and lactation. The mice later developed fibrocystic changes and eventually malignancy. Thus, N-cadherin is capable of providing cell–cell adhesion function to epithelial cells but fails at homeostatic signaling.
3.1.2. Loss of E-Cadherin in Cancer and EMT
3.1.3. Could E-Cadherin Abet Dissemination?
However, this simple model may not be the whole story. To test the role of E-cadherin in invasiveness, Shamir
et al.
devised a 3D-Matrigel model for cell dissemination [
70
]. Mammary explants from transgenic mice with inducible deletion of E-cadherin or expression of Twist1 were suspended in matrix, and cell behavior was tracked over time. Organoids were seeded and allowed to form cysts. While deletion of E-cadherin disrupted cell–cell junctions, it did not result in dissemination. In contrast, induction of Twist1 caused rapid dissemination and, surprisingly, the emigrating cells maintained surface expression of E-cadherin and β-catenin. Despite abundant evidence that Twist1 represses E-cadherin in other systems, here RNA expression profiles revealed little change in expression of epithelial cadherins, keratins, or other markers, though there was downregulation at the protein level. Still more unexpectedly, attenuation of E-cadherin in these cells actually inhibited dissemination. Although it may be argued that the system is artificial, the results could not be easily reconciled with the previously accepted model.
3.1.4. A Tale of Two E-cadherins
Another recent landmark study provides some illumination. The investigators sought to explain the paradoxical observation that, depending on the presence of E-cadherin, p120 can promote either epithelial junctional integrity or EMT and anchorage-independent growth of breast cancer cells [
71
]. Key to resolving the paradox was the discovery by Kourtidis
et al.
, using proteomic methods, that E-cadherin and p120 exist in two spatially and functionally distinct complexes at cell–cell junctions, one apical and the other basal [
65
]. The apical complex contains p120 partner PLEKHA7 which tethers E-cadherin and p120 to proteins required for maturation of microRNAs that suppress EMT. Intact, this complex was tumor suppressive. The basal complex lacked this microprocessor association and instead promoted growth by activating src, Rho-GAP, and expression of Snail, Myc, and cyclin D. In addition, a new cadherin, cadherin-11, was recruited into the basal complex by p120, and mesenchymal functions were dependent on its presence. Knockdown of PLEKHA7 disrupted apical localization of E-cadherin and p120, and processing of tumor-suppressive microRNAs was misregulated. Furthermore, these cells became anoikis-resistant. Importantly, the last was dependent on continued expression of E-cadherin and p120 at basolateral junctions. These findings could explain why in the Shamir 3D system E-cadherin expression was necessary for dissemination. Presumably, the basolateral complex was needed to activate Snail. They also beg the question whether Twist1 disrupts the PLEKHA7 apical complex, leaving the basolateral signaling hub intact. Thus, it seems that the route to invasiveness may either downregulate E-cadherin or co-opt it.
3.1.5. R-Cadherin
In addition to E-cadherin, several laboratories have reported that R-cadherin contributes to epithelial differentiation and that its knockdown similarly leads to EMT [
72
]. With breast cancer progression, R-cadherin is downregulated more consistently than E-cadherin. How the two coordinate their functions remains to be established.
3.2. Tight Junctions Block EMT
3.2.1. Organization and Function of Tight Junctions (TJ)
Tight junctions form the apical-most junctional complex in epithelial cells and play several essential structural roles [
73
]. First, they form a seal between cells that selectively regulates exchange of ions, macromolecules, and immune cells between the apical lumen and basolateral space. TJ mediate the blood-brain, blood-retinal, and blood-testis barriers. Second, they form a circumcellular diffusion barrier in the plasma membrane that results in separate apical and basolateral domains. Thus, integrins that bind to basal lamina cannot diffuse to the luminal face of the cell. How this apico-basal polarity is established will be covered in the next section. Third, TJ link adhesion molecules to an intracellular scaffold that anchors cytoskeletal elements and multiple signaling molecules that regulate cell proliferation and differentiation.
The cell–cell adhesion molecules that comprise TJ are illustrated in
Figure 2
. Occludin and claudins are tetraspanins that form very tight associations with counterparts on adjacent cells. BVES is a more recently discovered trispanin, and the Junctional Adhesion Molecules (JAMs) are type I proteins with Ig-like ectodomains. All interact with the scaffold proteins ZO-1 and ZO-2 [
73
].
3.2.2. Establishment of Apical-Basal Polarity and Formation of TJ
During growth and development, cell–cell junction formation and maturation proceeds in stages. Following formation of stable intercellular contacts at AJ, cells must establish apico-basal polarity to segregate basal adhesive from luminal cellular functions. The nascent AJ provides positional cues, as described below.
Apico-basal polarity is determined by interactions among three complexes: Par6, Crumbs, and Scribble [
74
];
Figure 2
B). The Par6 complex consists of three proteins, Par6, Par3, and aPKC. Crumbs consists of Crb3, Pals1, and Patj. Scribble consists of Scrib, Lgl, and Dlg. The Par6 complex localizes to the apical membrane through Par3 which also binds to the TJ protein Jam-A [
75
]. Crumbs binds to TJ by claudin-1 interaction with Patj [
76
]. In addition, the Par6 and Crumbs complexes interact with one another by Pals1 binding to Par6. The Scribble complex defines the basolateral membrane. This depends on prior formation of a nascent AJ by E-cadherin [
77
]. In turn, Scribble actively excludes Crumbs and Par6 from basal membranes [
78
]. Another AJ-associated protein, Par1b, also helps to specify the basolateral membrane by excluding the Par6 complex. The apical complexes reciprocate by excluding Scribble and Par1b from apical membranes. For a detailed review of this process, see Chatterjee [
74
].
The sequence of events between polarity establishment and TJ maturation is yet to be fully defined, but some clues have emerged. Chen and Macara [
79
] found that Par3 is required for TJ formation. Knockdown of Par3 in MDCKII cells disrupted TJ, while depletion of Par6 and aPKC did not. This effect was apparently mediated by activation of Rac. The Rac exchange factor TIAM was found to associate with Par3, and TIAM knockdown rescued TJ formation. Similarly, Suzuki
et al.
found that aPKC was not required for recruitment of claudins or occludin to cell–cell contact zones but was required for tight barrier function [
80
]. Others have explored the roles of ZO-1 and ZO-2. Tsukita
et al.
found that depletion of both disrupted TJ formation and AJ maturation into a continuous adhesion belt [
81
]. Fanning proposed that these proteins serve as a scaffold for assembly of the Apical Junctional Complex [
82
].
Polarity and TJ formation are actively modulated by one of the principal drivers of EMT, TGFβ. Ligation of TGFβ receptor II leads to phosphorylation of Par6 and consequent activation of ubiquitin ligase Smurf1 which causes degradation of RhoA and disassembly of TJ [
83
]. This action by Smurf1 regulates the local level of RhoA in lamellipodia and filopodia; RhoA in turn controls cell motility by regulating the interconversion of globular and filamentous actin [
84
]. The TGFβ receptor co-localizes and interacts with occludin at TJ, which presumably expedites EMT [
85
]. The source of TGFβ may be adjacent stromal, immune, or tumor cells [
86
]. Thus, autocrine signaling by a tumor cell could antagonize TJ formation by this pathway.
3.2.3. Claudins
These investigations revealed complex roles for claudins in epithelial homeostasis and tumor progression, suggesting that cancer cells find greater advantage in disrupting claudin signaling than eliminating it. The inability to form a generalized conclusion about claudins in cancer perhaps reflects the heterogeneity of cancer growth and invasion algorithms. Proteomic studies of claudin-containing complexes may resolve these conflicts, as described for E-cadherin.
3.2.4. Occludin
Occludin presents a simpler picture. Like E-cadherin, it is downregulated by EMT and in claudin-low breast cancers [
16
]. Other expression studies confirm the downregulation of occludin protein and mRNA in metastatic breast tumors [
108
]. Consistent with a tumor-suppressive role, Osani
et al.
found that occludin is epigenetically silenced in breast cancer and that its loss promotes metastasis [
109
]. Ectopic expression sensitized HeLa cells to apoptosis and inhibited migration and tumorigenesis. These effects depended on the
C
-terminal cytoplasmic tail that interacts with ZO-1. This apoptosis-sensitizing role was also reported by Beeman
et al.
who found that occludin sensitized MEC to apoptosis when claudins were disrupted with a peptide mimetic [
110
]. Deletion of occludin prevented this effect. Later studies indicated a role for this function in cell extrusion [
111
]. Presumably tumors have no use for this function.
3.2.5. Blood Vessel Epicardial Substance (BVES)
Blood Vessel Epicardial Substance (BVES) is a more recently discovered TJ trispanin structural protein that is likewise frequently downregulated during tumor progression by promoter hypermethylation and has properties of a tumor-suppressor [
112
,
113
]. Ectopic expression of a terminally truncated dominant negative mutant of BVES in human corneal epithelial cells and colon cancer cells promoted an EMT phenotype as well as upregulating RhoA and the proliferative transcription factor ZONAB. In contrast, ectopic expression of wildtype BVES reversed those effects. These results suggested an essential role for integral protein BVES in inhibiting EMT.
3.2.6. Junctional Adhesion Molecules (JAMs)
Junctional Adhesion Molecules (JAMs) are small Ig domain-containing proteins expressed at TJs of epithelial and endothelial cells but also in various leukocytes [
114
]. Tian
et al.
reported that upregulation of JAM-A led to EMT in human nasopharyngeal cancer cells via activation of the phosphoinositide 3-kinase (PI3K) pathway, while silencing of endogenous JAM-A or treating with PI3K inhibitor reversed EMT [
115
]. Moreover, the authors showed a positive correlation between JAM-A expression and poor prognosis of nasopharyngeal cancer patients, suggesting a therapeutic potential for inhibiting JAM-A in these patients [
115
]. Others reported a tumor-promoting role for JAM-A in breast cancer [
116
]. However, Gotte
et al.
found that JAM-A had an anti-migratory effect in breast cancer cells [
117
], and others found similar results [
118
]. Differences in genetic background make these results difficult to interpret, as availability of adaptor and signaling molecules may vary from one cell line to the next.
3.2.7. TJ Adaptor and Regulatory Molecules
Regulatory molecules at TJs play a more straightforward role in epithelial differentiation and EMT. ZO-1 and -2 are adaptor proteins that link the cytoplasmic tails of adhesion proteins to structural and signaling molecules. One of the functions of TJs is to arrest proliferative signaling by sequestering the transcription factor ZONAB. Binding ZONAB is the job of ZO-1, while ZO-2 traffics to the nucleus and downregulates AP-1-target genes such as cyclin D1 [
119
,
120
,
121
]. However, there is evidence that this circuit also contributes to epithelial differentiation. Tsukita's lab developed epithelial cells lacking ZO-1 and ZO-2 [
81
]. The cells were devoid of TJs and deficient in the ability to activate Rac and assemble mature belt-like AJs. Georgiadis and co-workers found that ZO-1 knockdown or ZONAB over-expression resulted in increased proliferation of retinal pigment epithelium (RPE)
in vivo
, with EMT-like changes, suggesting a critical role of ZO-1 in maintaining differentiation and homeostasis of the RPE monolayer [
122
]. These results suggest there is cross-talk between anti-proliferative and differentiative signaling pathways.
The latest development in this story is that the apical AJ protein PLEKHA7 has also been found at TJs and shown to regulate their assembly [
123
]. This implies that TJs may affect differentiative signaling by regulating processing of a set of microRNAs, perhaps overlapping with those regulated by AJs. Whether a TJ protein associates with PLEKHA7 may determine whether it favors MET or EMT and thus its effect in a particular tumor cell.
4. Targeting EMT Therapeutically
5. Conclusions
While cell-cell junctions play an integral role in suppressing tumorigenesis and progression, the literature reviewed here makes it clear that the signals that emanate from intercellular junctions are not exclusively anti-neoplastic. Cell-cell adhesion molecules such as claudins, N-cadherin, and even E-cadherin may play vital roles in cell migration. Driven by natural selection, cancer will opportunistically exploit whatever algorithms it finds in the nuclear toolbox of its tissue and cell-type of origin. This may mean shedding epithelial differentiation entirely, as in triple-negative breast cancers, and using stem-cell programs to emigrate as individual free-agents, later to invade and re-differentiate elsewhere. On the other hand, tumor cells may find growth and survival advantage in jiggering epithelial homeostatic programs to permit rapid proliferation in situ. Such cells may maintain robust junctional moorings until partial EMT or tissue disruption allows dispersal of cells singly or in small clusters that lodge in distant capillary nets and eventually give rise to new tumors. Many breast cancer and other cell lines maintain high expression of E-cadherin and other cell-cell adhesion molecules [
136
]. Such tumors can often be controlled initially with inhibitors of hormonal or growth factor signaling but eventually become resistant. A better understanding of how such tumors subvert homeostatic signaling could result in new combinatorial strategies to suppress relapse while minimizing toxicity to normal tissues.
Acknowledgments
This work was supported by the following grants: NIH grant 1R15CA151094-01 and Illinois Excellence in Academic Medicine grant 56253 to RCE.
Conflicts of interest
The authors declare no conflict of interest.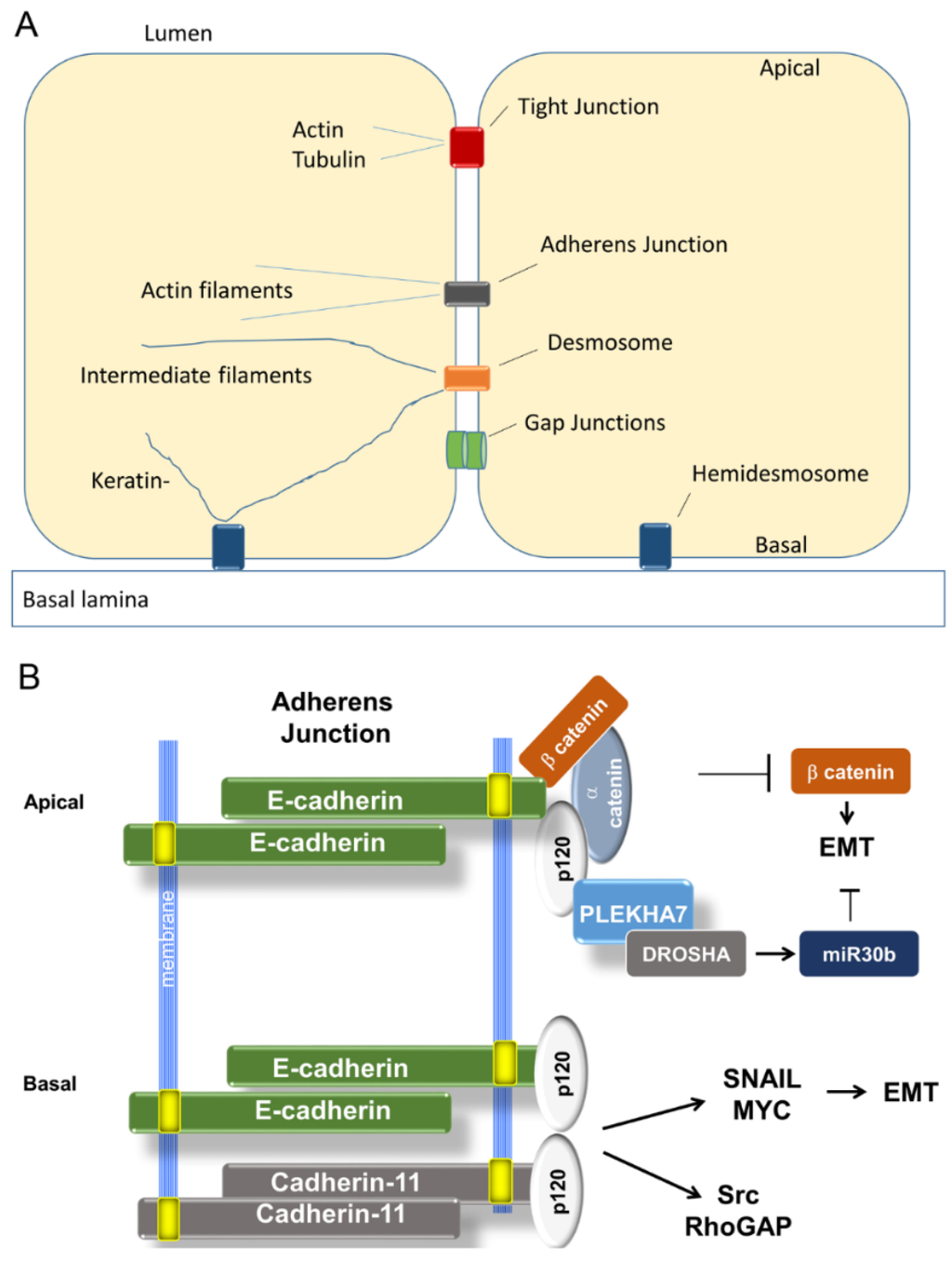 Figure 1.
Epithelial junctions. (
A
) Generalized schematic showing types of cell–cell and cell-matrix attachments of simple columnar epithelium. Except for gap junctions, each complex is linked both to cytoskeletal elements and to its own signaling apparatus. (
B
) Regulation of EMT–MET (epithelial-to-mesenchymal transition–mesenchymal-to-epithelial transition) by Adherens Junctions, adapted from Kourtidis
et al.
[
65
]. Canonically, E-cadherin sequesters β-catenin and downregulates Twist. More recently, E-cadherin was found to participate in two functionally distinct complexes, an apical one that opposes EMT and a basal one that promotes it. Apically, it interacts with PLEKHA7 and a microRNA processing complex that suppresses proliferation and mesenchymal functions. However, in basolateral locations it actually promotes those functions. This may explain the inconsistent patterns of E-cadherin expression across breast cancer subtypes and the observation that it sometimes seems to promote invasion/metastasis rather than suppress it. For simplicity, E-cadherin and cadherin-11 are shown as monomers and cytoskeletal interactions are omitted.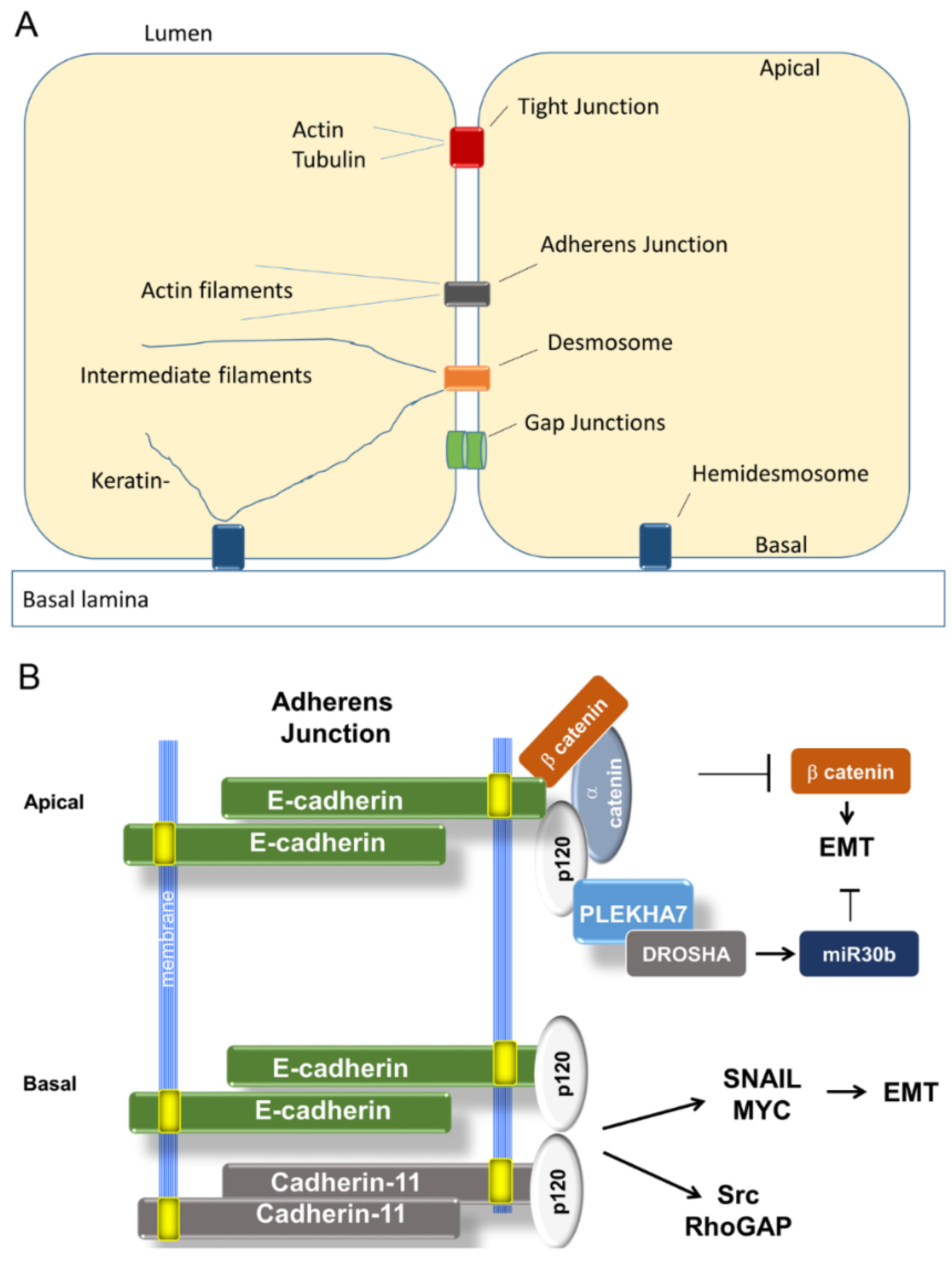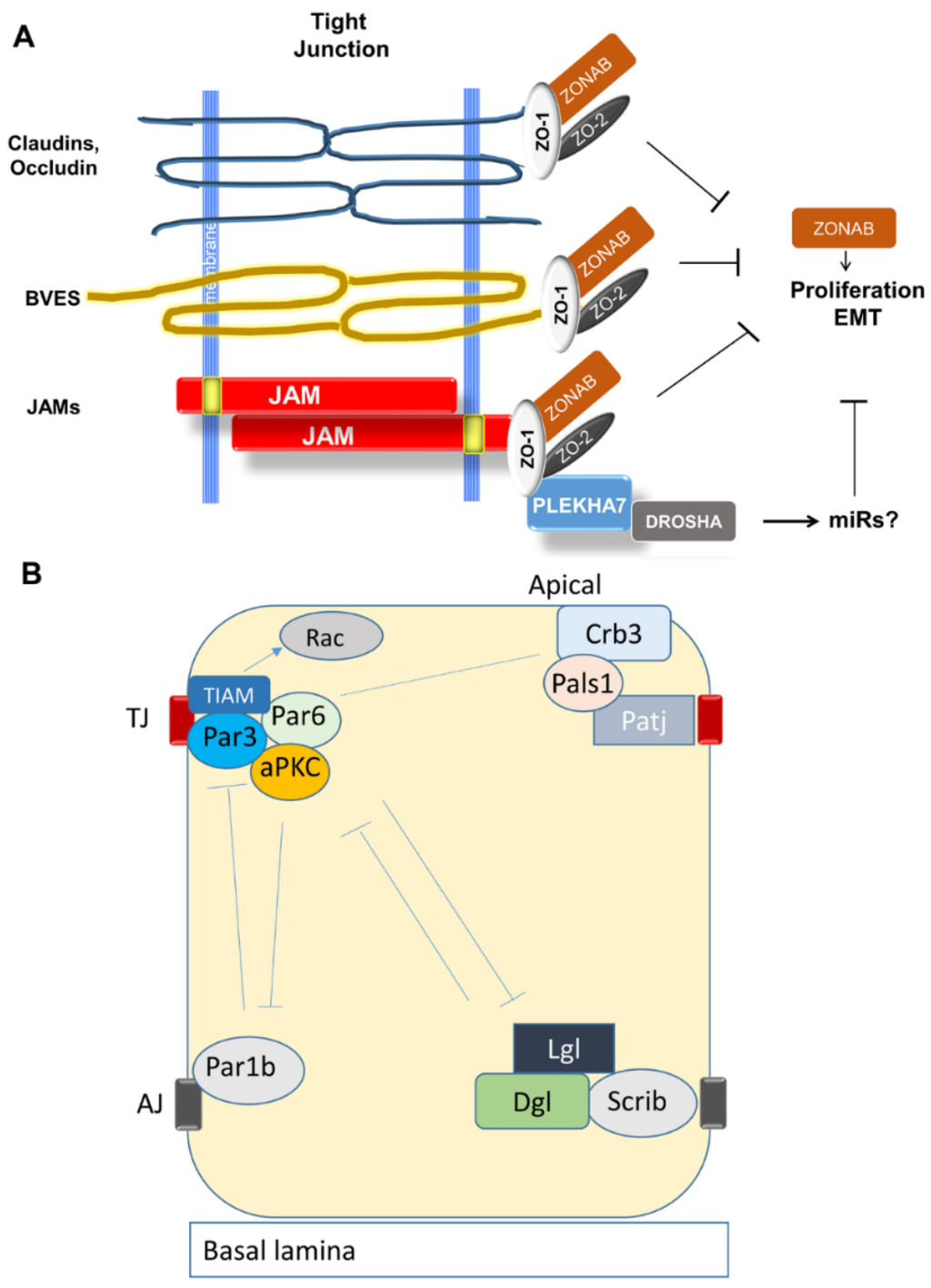 Figure 2. Tight Junctions. (A) A simple representation of signaling events at Tight Junctions showing the factors discussed in this review. For simplicity, adhesion molecules are represented as monomers. All interact independently with ZO-1, which sequesters proliferative transcription factor ZONAB. ZO-2 independently inhibits activity of other transcription factors. ZO-1 also binds PLEKHA7 to TJ (tight junction). By analogy with its role at AJ (adherens junction), PLEKHA7 may recruit miR-processing factors to TJ. (B) Establishment of apical-basal polarity by multiprotein complexes that specify apical and basal domains.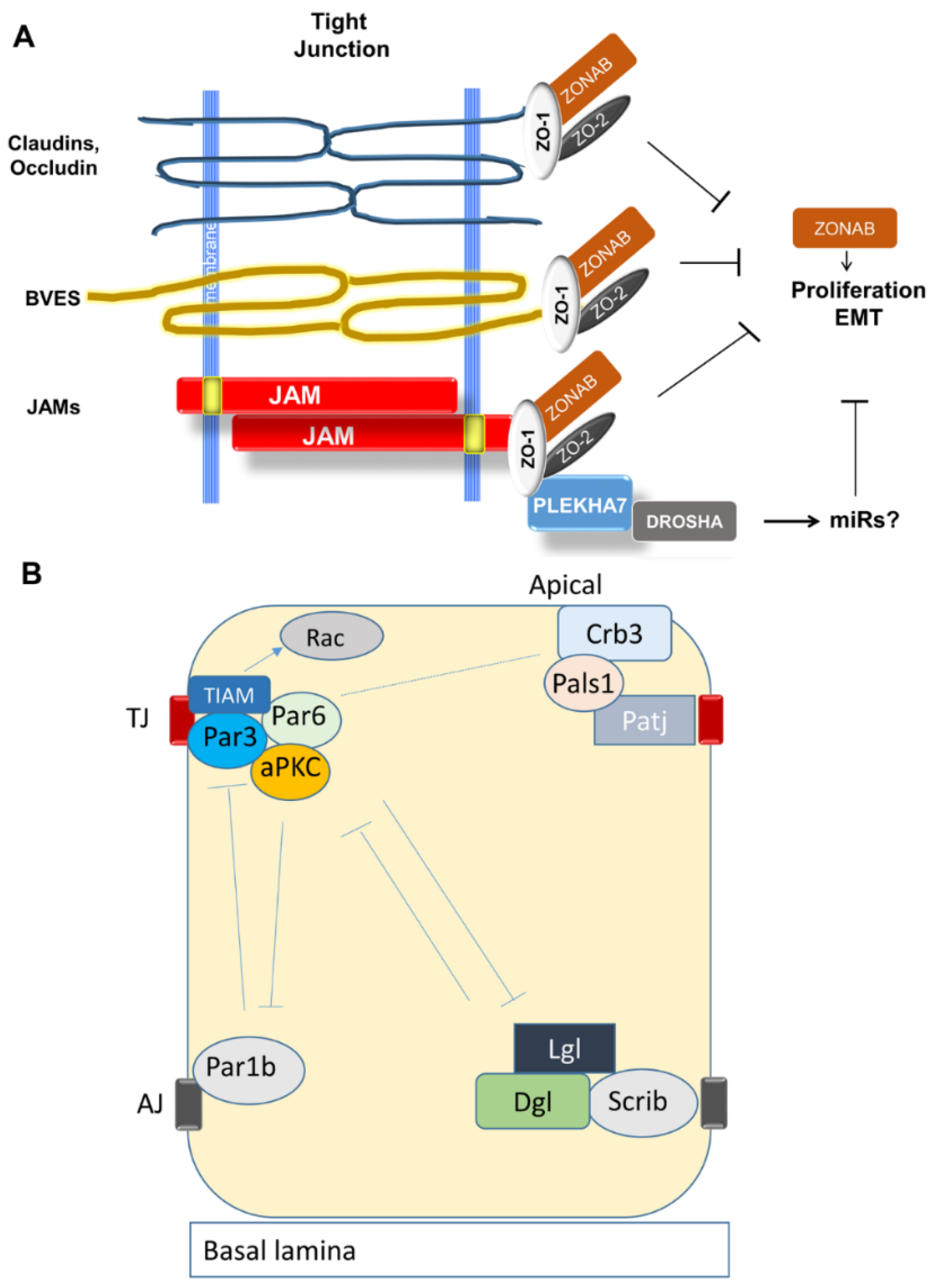 Table 1. Putative roles of claudins in various cancers.
Type of Claudin
Tumor Suppressor
Oncogene
Claudin-1
Lung cancer [93]
Colon cancer [94,95]
-
Melanoma [96]
Breast cancer [97]
Breast cancer [97]
Claudin-2
-
Breast cancer [98,99]
Claudin-3
-
Breast cancer [100,101]
Claudin-4
-
Breast cancer [100,101,102]
Claudin-5
-
Breast cancer [102,103]
Claudin-6
Breast cancer [104]
-
Claudin-7
Breast cancer [105]
Colorectal cancer [106]
Claudin-16
Breast cancer [107]
-
© 2016 by the authors; licensee MDPI, Basel, Switzerland. This article is an open access article distributed under the terms and conditions of the Creative Commons by Attribution (CC-BY) license (http://creativecommons.org/licenses/by/4.0/).